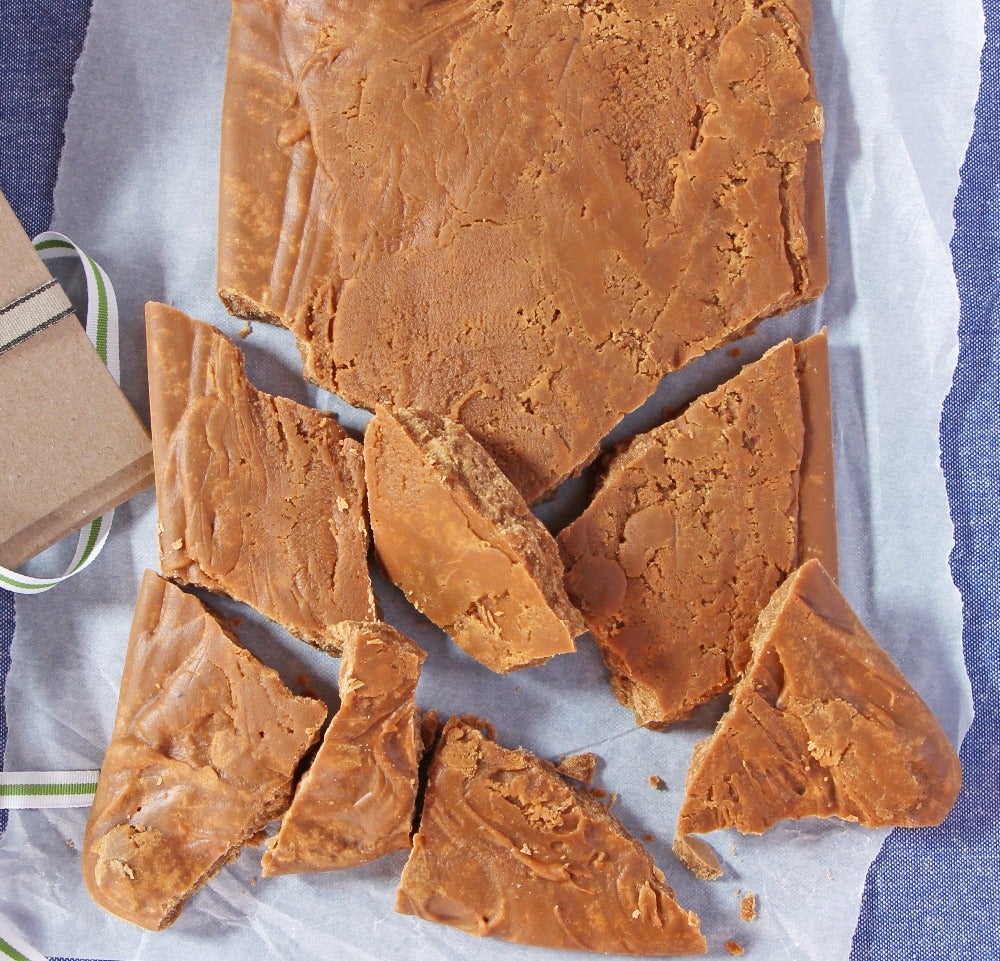 About the bake
This delightful clotted cream fudge by Gizzi Erskine is delicious, easy to make and the ideal homemade gift for your friends and family.
Method
Step 1:

Place all the ingredients in a large saucepan and heat gently, stirring until the sugar dissolves.

Step 2:

Bring to the boil, then cover and boil for a further 3 minutes. Uncover once more then continue to boil until the temperature reaches 116 °C (240 °F).

Step 3:

Remove from the heat and beat until the mixture becomes thick and creamy. Pour into a greased 20 cm (8 inch) square tin. Leave for 30 minutes.


How to Test if your Fudge is Ready

Drop some of the mixture into a bowl of very cold water, if the mixture forms a soft ball it is ready.

Step 4:

Mark into squares with a knife and leave until set. Cut into pieces and store in an airtight container.

Ingredients
275g

 Billington's Unrefined Golden Caster Sugar

100g

 Billington's Unrefined Light Muscovado Sugar

225g

 

Clotted cream

0.5 tsp

 Nielsen-Massey Vanilla Extract
Utensils
Saucepan

Spoon

Cooking thermometer

Beater

Square tin

Knife
Recipe Reviews
so tasty- all my family loved it! Thanks for the recipie! x
Made this yesterday as had a spare tub of clotted cream. The fudge is absolutely gorgeous, I'll certainly be making it again! x
So easy and it makes a fudge that is rich and crumbly. It's a regular recipe now
Ingredients
275g

 Billington's Unrefined Golden Caster Sugar

100g

 Billington's Unrefined Light Muscovado Sugar

225g

 

Clotted cream

0.5 tsp

 Nielsen-Massey Vanilla Extract
Utensils
Saucepan

Spoon

Cooking thermometer

Beater

Square tin

Knife