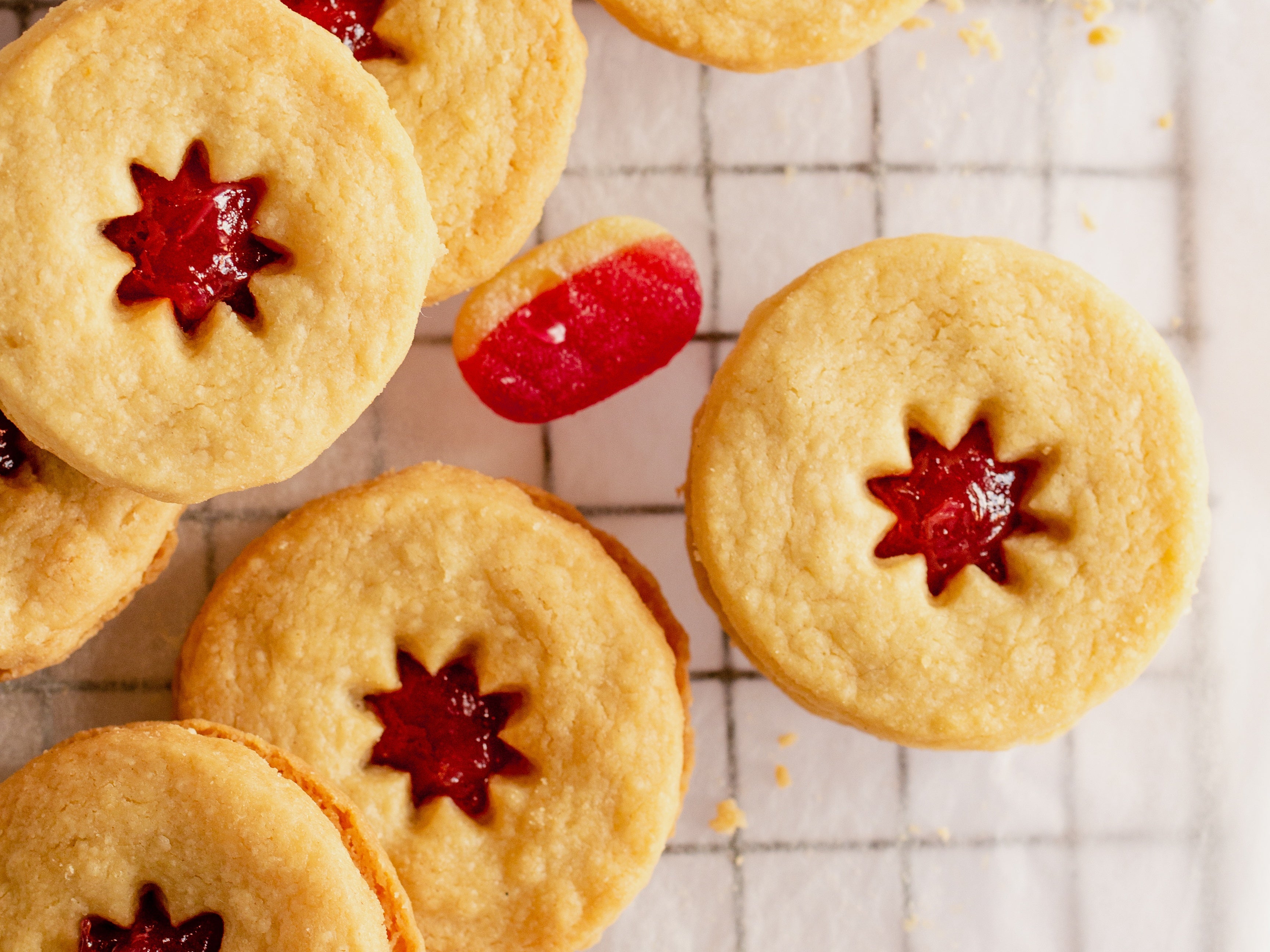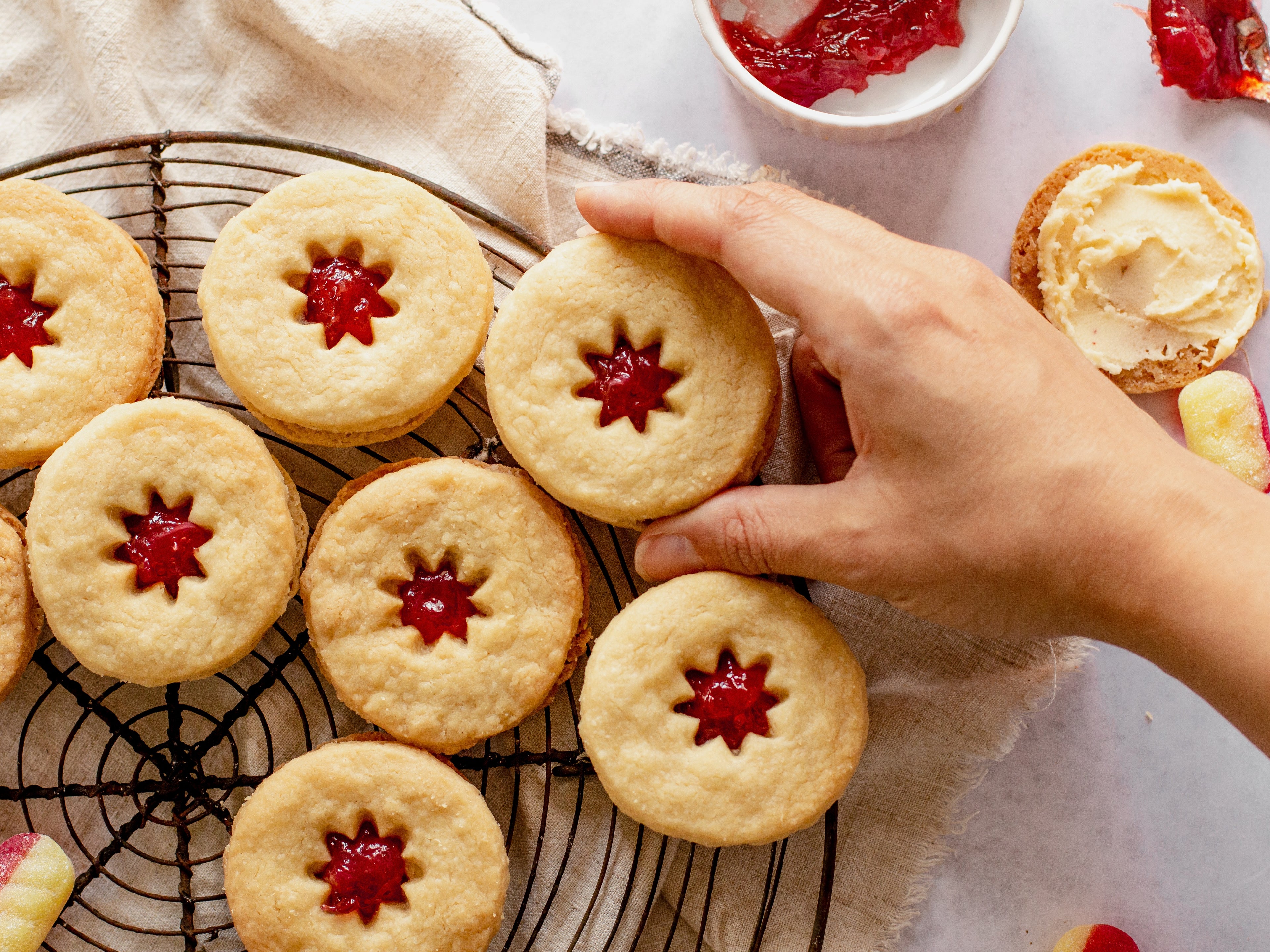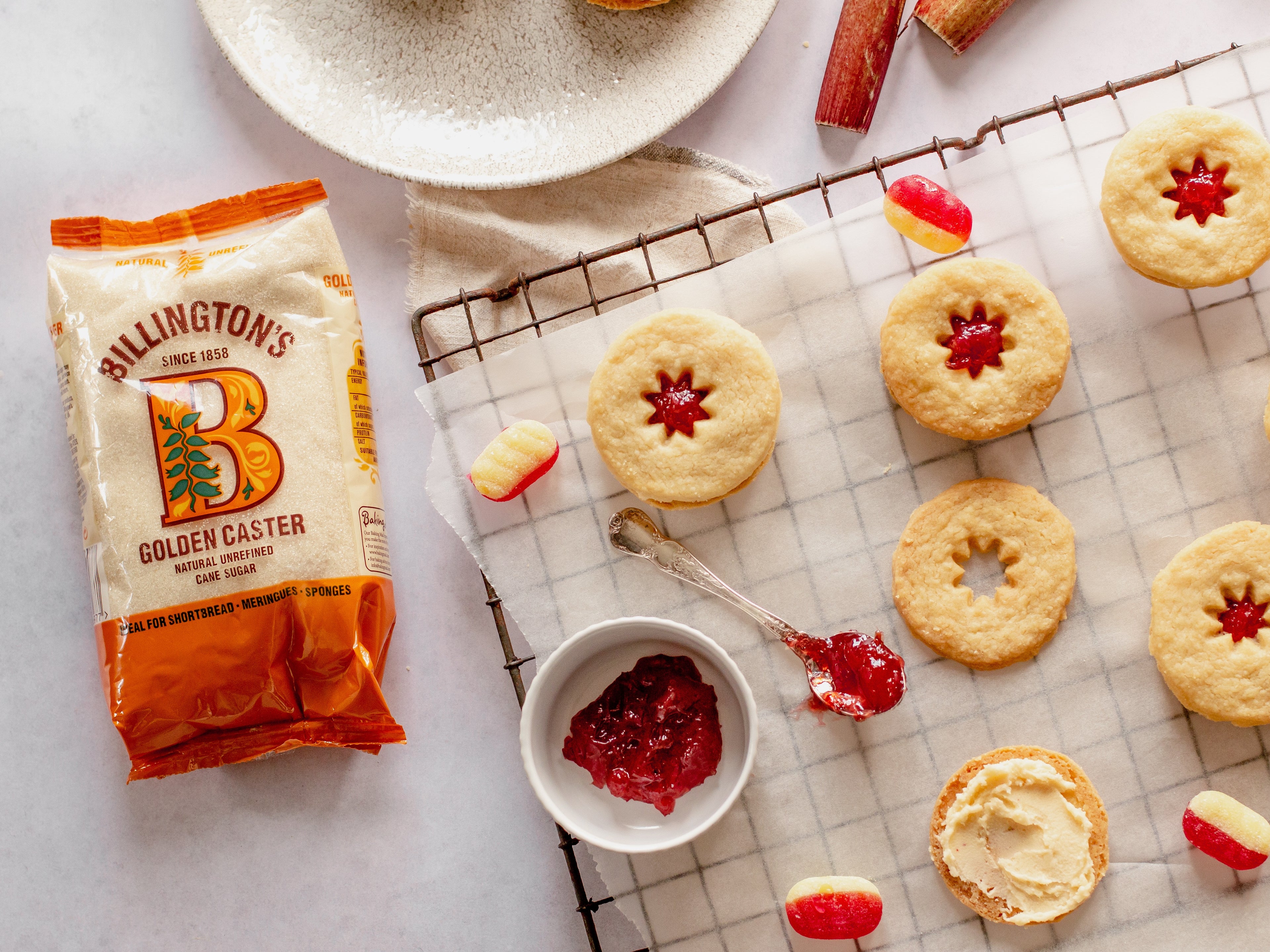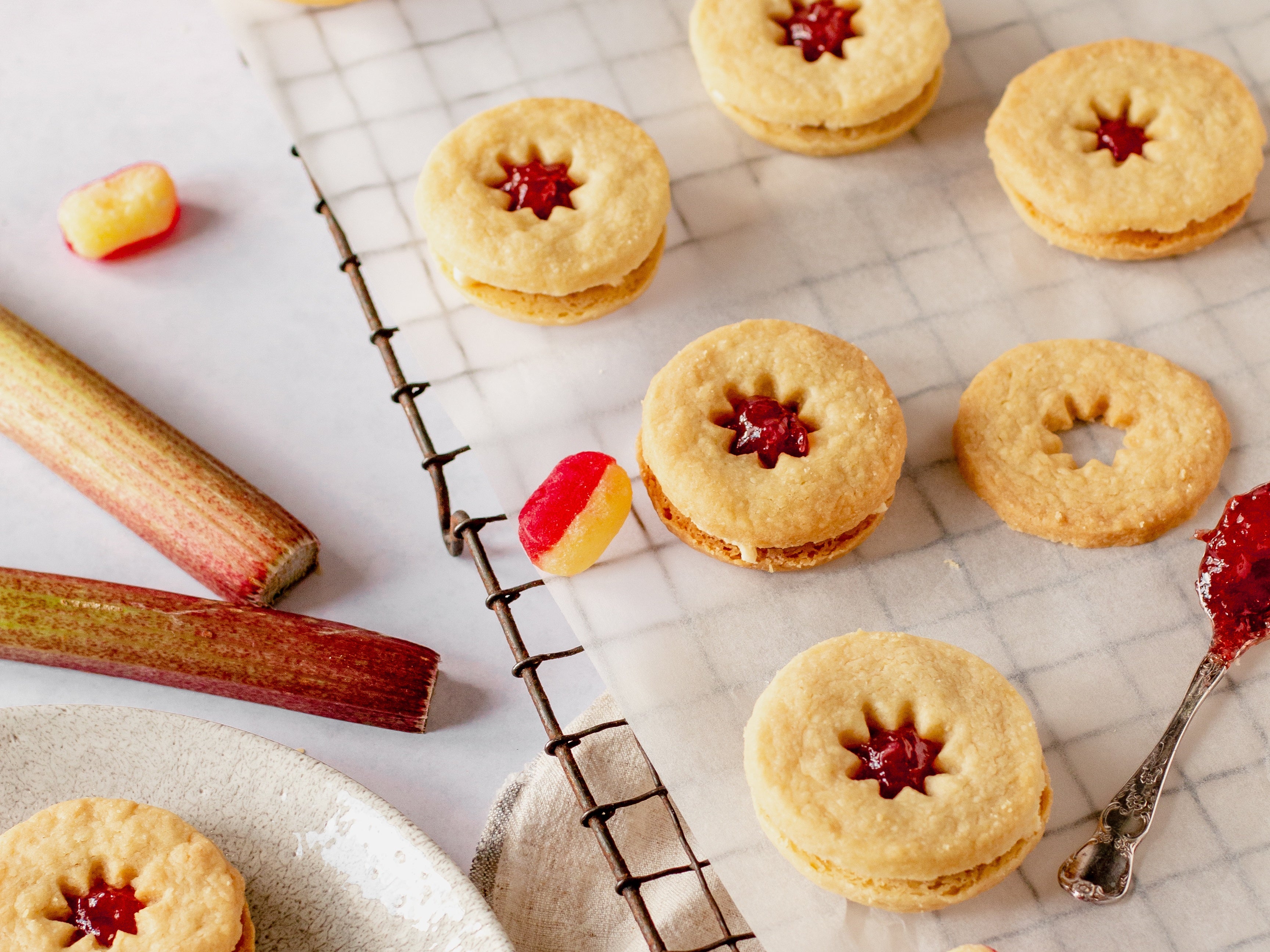 About the bake
Fan of Rhubarb and Custard sweets? You are going to love this recipe. Think classic jammy dodger recipe with a nostalgic Rhubarb and Custard twist. Rhubarb jam, vanilla biscuits and vanilla custard buttercream. All the yum.
This moreish biscuit recipe brings the perfect amount of crunch, squidge and mmmmm to your tea break. So get your cuppa ready.
Method
Step 1:

For the rhubarb jam, put the rhubarb, sugar and lemon juice in a pan over a medium heat and let the sugar melt gently.

Step 2:

Bring it to a simmer and cook for 5 mins, or until the rhubarb has started to soften.

Step 3:

Break the rhubarb up with the back of a fork, then continue to simmer, mixing every now and then for another 5-10 mins until the mixture is thick and jammy. To test it's ready, drop a small amount onto a plate and leave it to cool for 1 minute, then press your finger into it and if it wrinkles then the jam is ready. If it doesn't, leave it simmering for another minute and test again.

Step 4:

Leave the jam to cool in the pan, then chill in a bowl until ready to use. The jam will keep in a sealed and sterilised jar for up to one week.

Step 5:

Put the flour and butter into a food processor and pulse the mixture together until it resembles breadcrumbs.

Step 6:

Add the mixture to a large mixing bowl then add the golden caster sugar, custard powder and vanilla extract and mix it all together until it starts to form a dough.

Step 7:

Bring the mixture together with your hands to form a ball of dough, then wrap it and chill in the fridge for 20-30 minutes.

Step 8:

MY KITCHEN TIP: Be careful not to over work the dough as this develops the gluten too much and makes the biscuits tough.

Step 9:

Preheat the oven to 160C fan (180C, gas mark 4) and line 2 baking sheets with non-stick baking paper

Step 10:

Roll the dough out onto a lightly floured surface to the thickness of about 5mm then cut out 20 circles with a 6cm/5cm cutter. (you will need to re-roll the dough a few times but try to only re-roll twice to avoid over working the dough)

Step 11:

Lay the biscuits onto the prepared baking sheets and then cut out tiny hearts from the centres of half the biscuits.

Step 12:

MY KITCHEN TIP: If you think the dough has got too warm, pop the biscuits in the fridge on the baking sheets for 10 minutes and let the butter harden up a bit before baking. This helps the biscuits keep their shape, especially those with the cut-out heart centres.

Step 13:

Bake for 10-12 minutes, until pale golden, then remove and cool on a wire rack.

Step 14:

For the vanilla custard buttercream, put the icing sugar and custard powder into a large mixing bowl with 1tsp vanilla. Add the butter and beat together with an electric whisk or wooden spoon until light and fluffy.

Step 15:

Assemble the biscuits by spreading 1 tsp buttercream onto the rough side of the plain biscuits and top it with ½ tsp rhubarb jam. Place the cut out biscuits on top then leave them to set for 20-30 minutes before serving.

Step 16:

As with every baked good, these are best eaten fresh on the day, but they will keep in an air tight container in the fridge for 3-4 days.
Ingredients
For the Rhubarb Jam

200g

 

Rhubarb (trimmed and cut into small pieces)

200g

 Silver Spoon Jam Sugar

2 tbsp

 

Lemons (juice)

For the Custard Biscuits

175g

 

Allinson's plain flour

25g

 

Custard powder

125g

 

Unsalted butter (cold & cubed)

50g

 Billington's Unrefined Golden Caster Sugar

2 tsp

 Nielsen-Massey Vanilla Extract

For the Vanilla Custard Buttercream

125g

 Silver Spoon Icing Sugar

25g

 

Custard powder

100g

 

Unsalted butter (softened)

1 tsp

 Nielsen-Massey Vanilla Extract
We'd love to know how it went?
Was it yum? Did the recipe work well? Did you change any ingredients? Add anything?
Ingredients
For the Rhubarb Jam

200g

 

Rhubarb (trimmed and cut into small pieces)

200g

 Silver Spoon Jam Sugar

2 tbsp

 

Lemons (juice)

For the Custard Biscuits

175g

 

Allinson's plain flour

25g

 

Custard powder

125g

 

Unsalted butter (cold & cubed)

50g

 Billington's Unrefined Golden Caster Sugar

2 tsp

 Nielsen-Massey Vanilla Extract

For the Vanilla Custard Buttercream

125g

 Silver Spoon Icing Sugar

25g

 

Custard powder

100g

 

Unsalted butter (softened)

1 tsp

 Nielsen-Massey Vanilla Extract