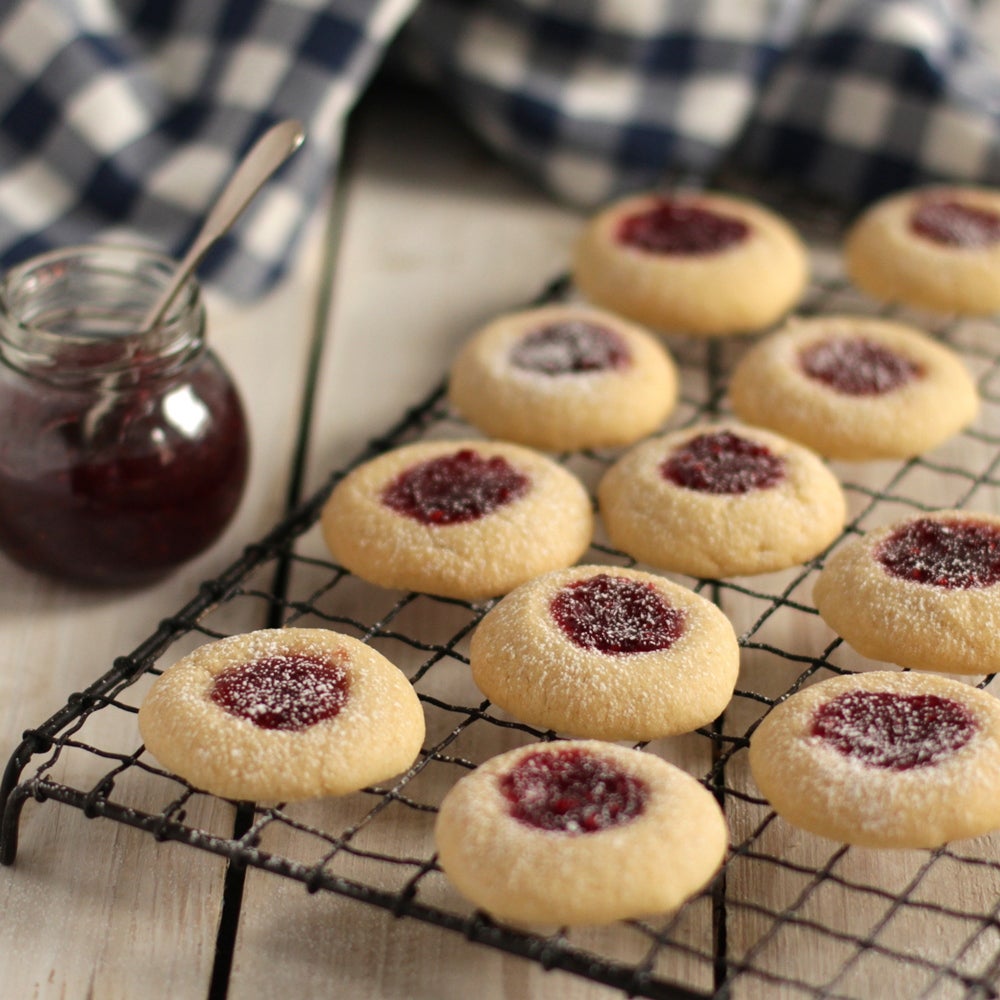 Raspberry Jam Thumbprint Biscuits
About the bake
Simple and fun little biscuits that are ideal to make with kids. Why not try these out over the holidays.

If you're a big fan of raspberry, why not try our delicious chocolate & raspberry fondant pudding.
Method
Step 1:

Pre-heat the oven to 180°C (fan 160°C/gas mark 4). Line 2 large baking trays with non-stick baking parchment.

Step 2:

Beat together the softened butter, sugar and vanilla until pale and fluffy.

Step 3:

Add in the beaten egg and mix until combined before adding the flour, baking powder and salt. Mix together until a soft dough is formed.

Step 4:

Roll the dough into small balls (approx. 3cm diameter) and place onto the baking trays, leaving a gap for the biscuits to spread in the oven. Gently press the centre of each biscuit with your thumb to create a hollow in the centre.

Step 5:

Add approximately ½ tsp of jam to the centre of each biscuit or until the hollow is filled.

Step 6:

Bake in the oven for 12-15 minutes until very lightly coloured. Leave to cool before moving to a wire rack.
Ingredients
200g

 

Butter (unsalted) (softened)

200g

 Silver Spoon Caster Sugar

320g

 Plain white flour

1

 

Egg(s) (free range) (medium)

1 tsp

 Nielsen-Massey Vanilla Extract

0.5 tsp

 

Baking powder

0.5 tsp

 

Salt

50g

 

Raspberry jam
Recipe Reviews
Really delicious, I kept showing off to my friends how beautiful and tasty they were.
Such an easy recipe to follow!! I'm not much of a sweet tooth so I reduced the sugar to 175g instead 200g and it's still a little bit more on sweet side. Especially with the raspberry preserves I've used. Next time I'll probably reduce it to 160g. It's amazing!!
This is such a quick and easy recipe yet the results are wonderful. Everyone who tries them loves them. I ABSOLUTELY recommend making them.
Excellent cookies. Slightly crisp outside and chewy inside and a pleasant sweetness. I've tried tons of thumbprint cookies and these are the best.
I've been making these for years but thought I'd try a new recipe and glad I did! My family say these are the best ever.

I rolled half of mine in egg white and chopped hazelnuts and used Nutella to fill. The other half was jam as the recipe.
Ingredients
200g

 

Butter (unsalted) (softened)

200g

 Silver Spoon Caster Sugar

320g

 Plain white flour

1

 

Egg(s) (free range) (medium)

1 tsp

 Nielsen-Massey Vanilla Extract

0.5 tsp

 

Baking powder

0.5 tsp

 

Salt

50g

 

Raspberry jam