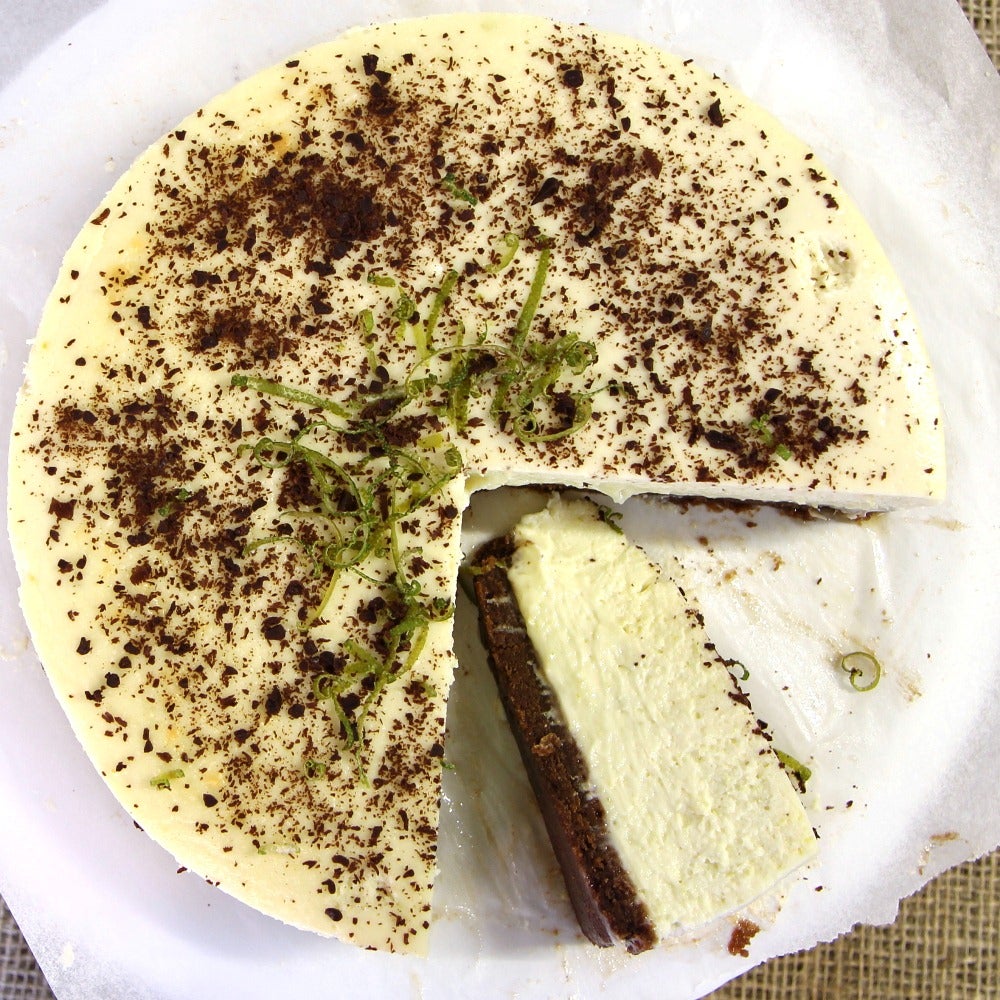 About our ginger key lime cheesecake recipe
We've spiced up this ginger & lime cheesecake by using ginger snap biscuits in the base, it goes really well with the fragrant and tangy lime.
If you love ginger-based recipes, we think you'll love our ginger biscuits and our ginger scones.
Method
Step 1:

Preheat the oven to 160°C (gas mark 3) and grease and line the base of a 20cm round springform tin.

Step 2:

To make the base place melt the butter and sugar together in a pan then add the crushed biscuits and stir until evenly coated.

Step 3:

Tip this into the prepared tin and spread evenly across then press down firmly using the back of a large spoon or your hand.

Step 4:

Place in the fridge for 20 minutes to cool and set the base.

Step 5:

For the filling beat together the cream cheese and caster sugar until the mixture is very smooth and thick, taking care not to over beat.

Step 6:

Add the eggs one at a time mixing after each one, you should have a smooth, creamy mixture. Finally mix in the lime juice and ¾ of the zest then fold in the chocolate chips.

Step 7:

Spoon this into the tin on top of the baked base, spread it evenly across the base.

Step 8:

Next wrap the base of the tin with foil and place it in a deep baking tray then fill with water to halfway up the side of the tin. Bake for 35-40 minutes. The top of the cheesecake will still be wobbly in the centre. It's important not to over cook it.

Step 9:

Remove from the oven and leave to cool in the tin before carefully removing, then leave to cool completely in the fridge.

Step 10:

Just before serving decorate with grated chocolate and lime zest.
Ingredients
For the Base

250g

 

Ginger snap biscuits

100g

 

Unsalted butter (softened)

35g

 Billington's Unrefined Molasses Sugar

For the Filling

700g

 

Cream cheese

150g

 Billington's Unrefined Golden Caster Sugar

3

 

Large free range egg(s)

6

 

Lime(s) zest

6

 

Lime(s) juice

150g

 

Dark chocolate chips

20g

 

Dark chocolate (grated)
Utensils
20cm round springform tin

Small saucepan

Spatula

Food mixer/electric hand mixer with beater attachment

Tin foil

Deep baking tray
We'd love a slice of advice.
Was it yum? Did the recipe work well? Did you customise the recipe?
Ingredients
For the Base

250g

 

Ginger snap biscuits

100g

 

Unsalted butter (softened)

35g

 Billington's Unrefined Molasses Sugar

For the Filling

700g

 

Cream cheese

150g

 Billington's Unrefined Golden Caster Sugar

3

 

Large free range egg(s)

6

 

Lime(s) zest

6

 

Lime(s) juice

150g

 

Dark chocolate chips

20g

 

Dark chocolate (grated)
Utensils
20cm round springform tin

Small saucepan

Spatula

Food mixer/electric hand mixer with beater attachment

Tin foil

Deep baking tray