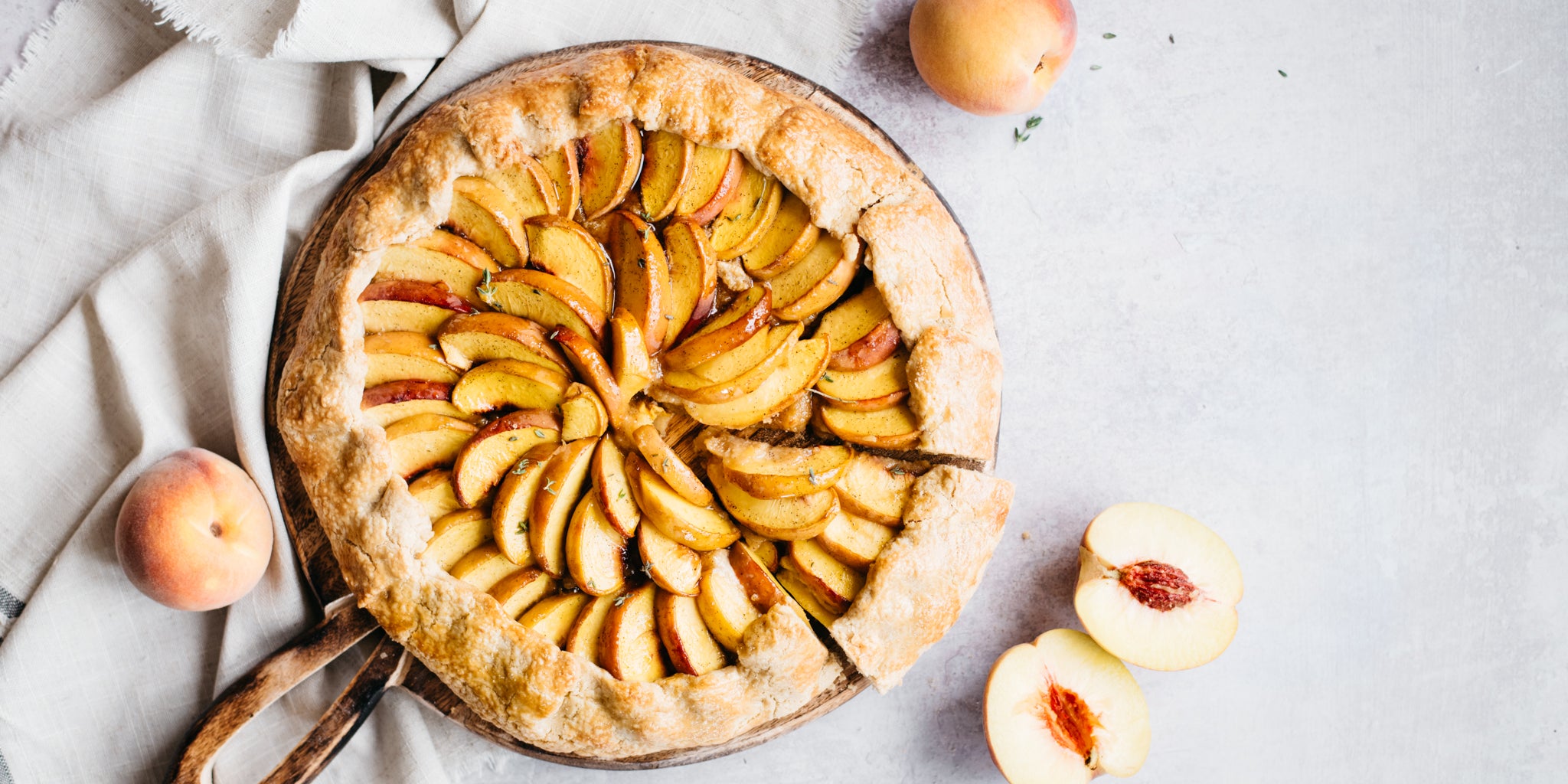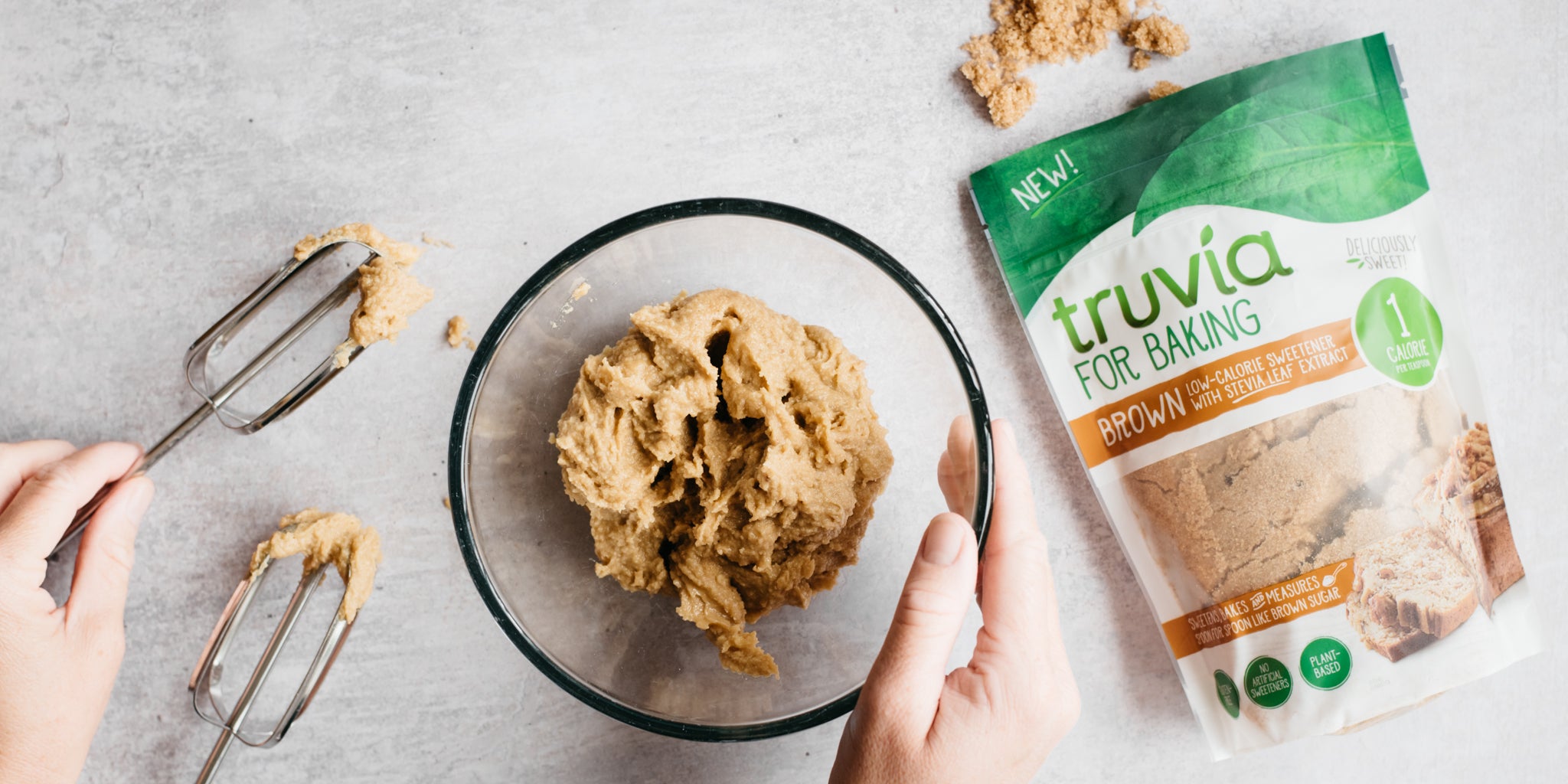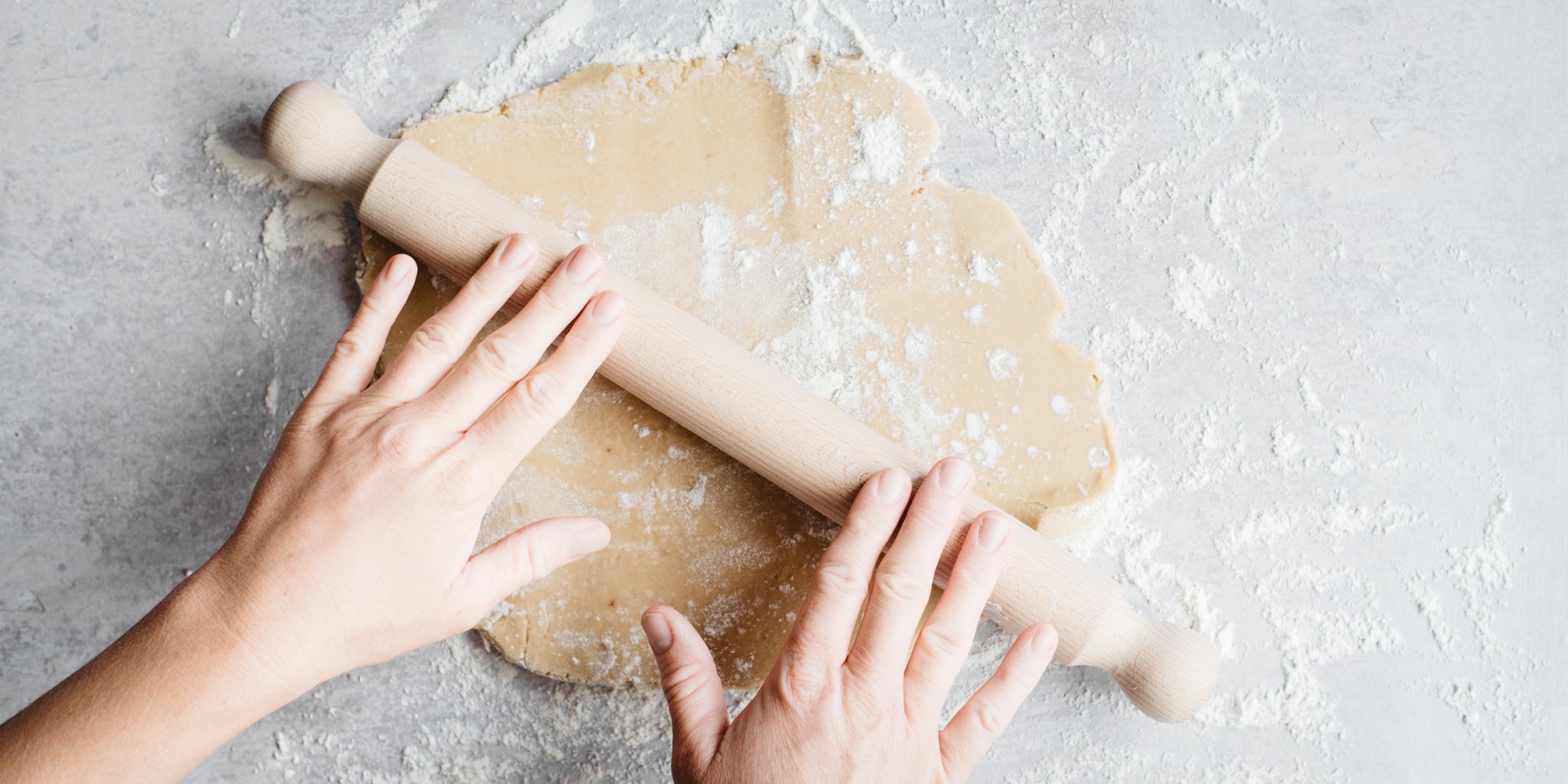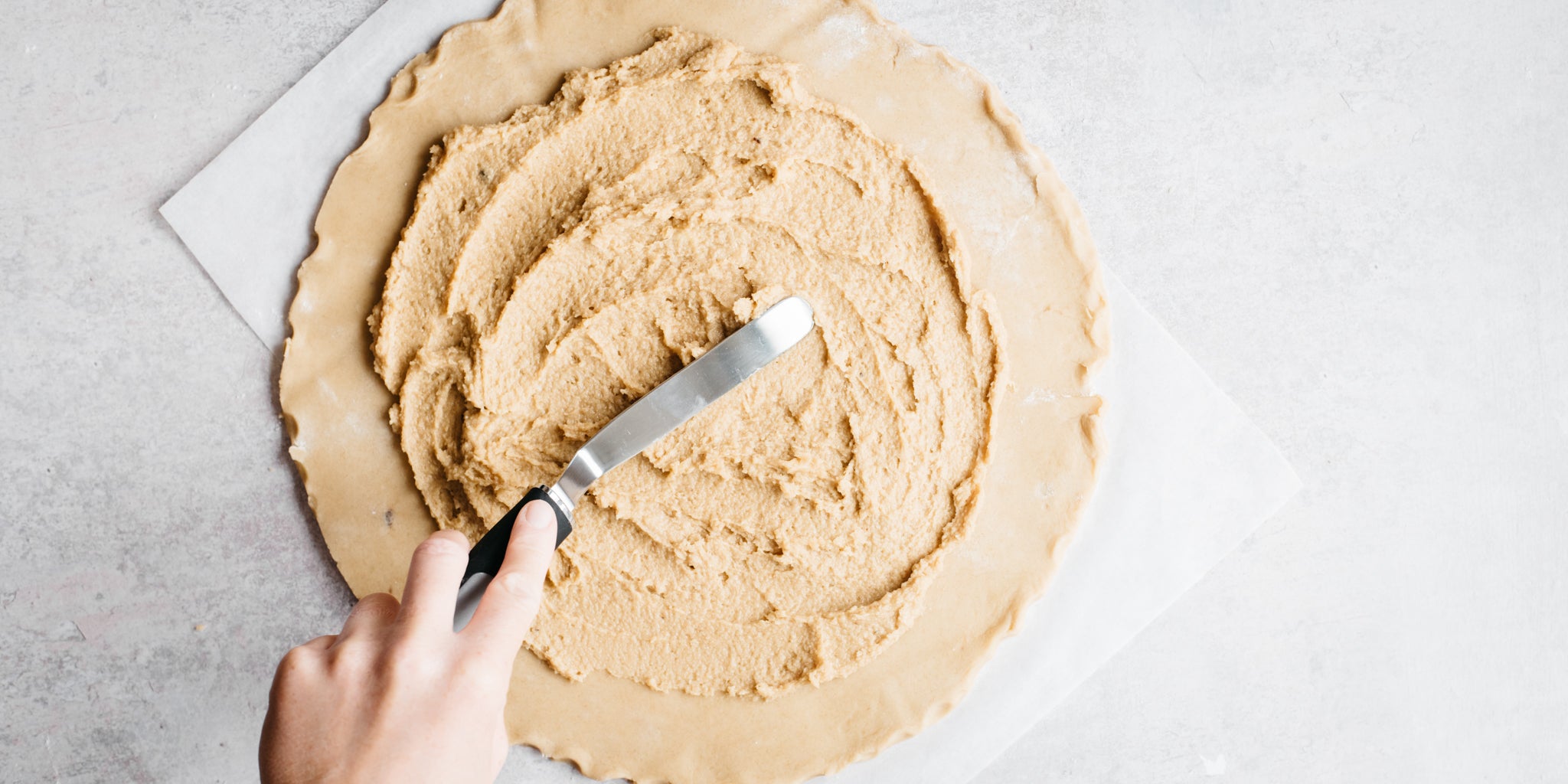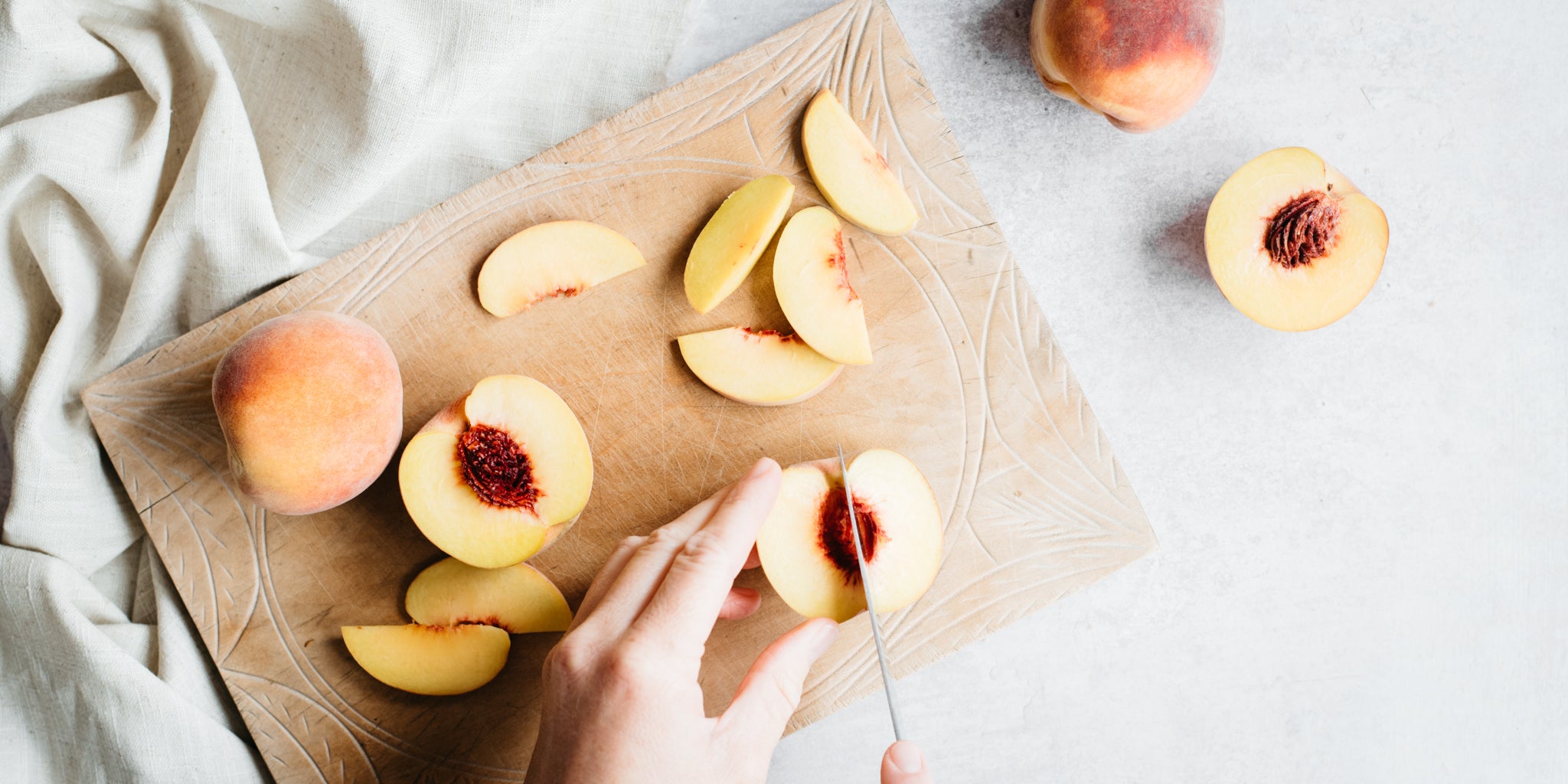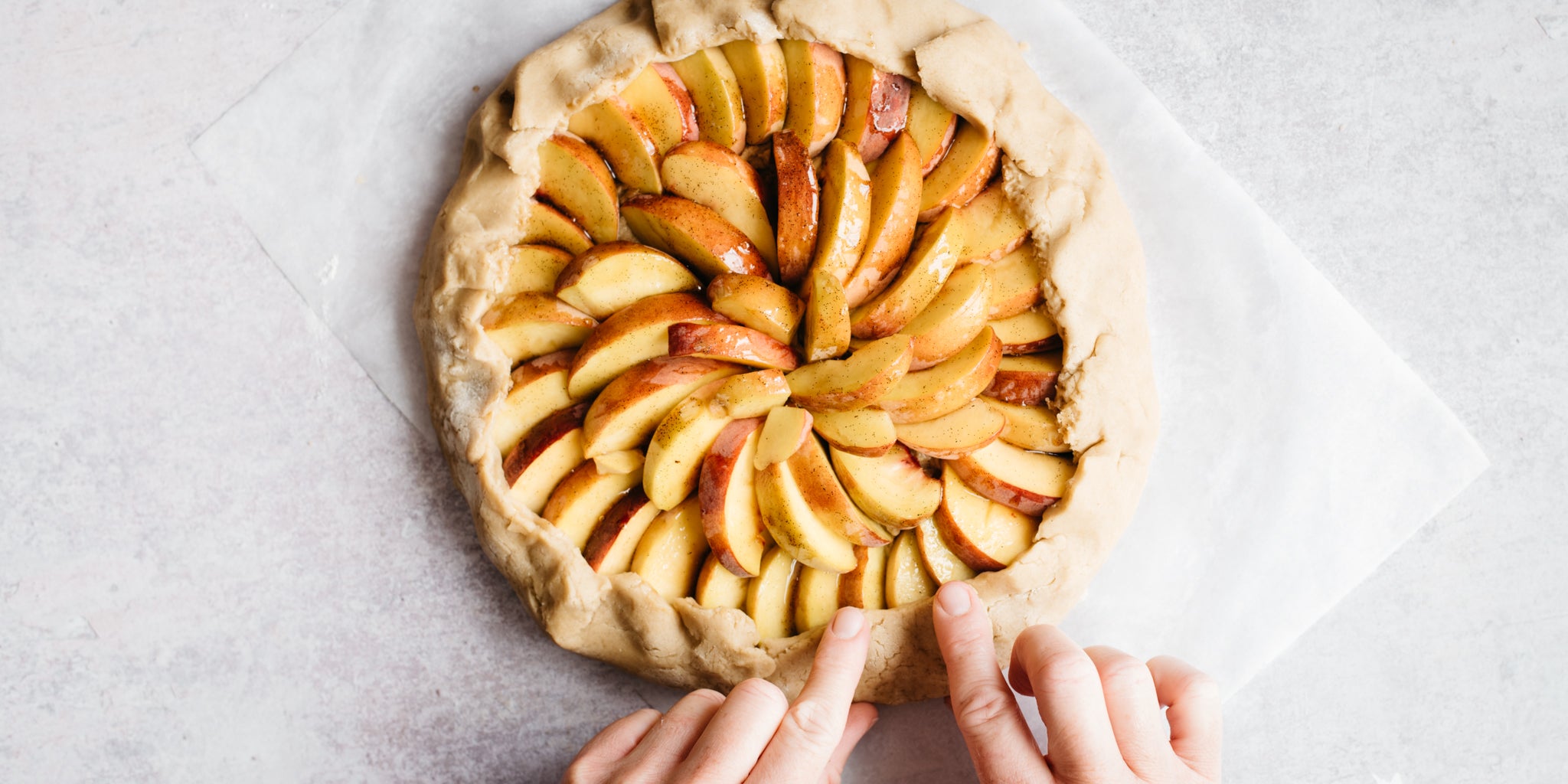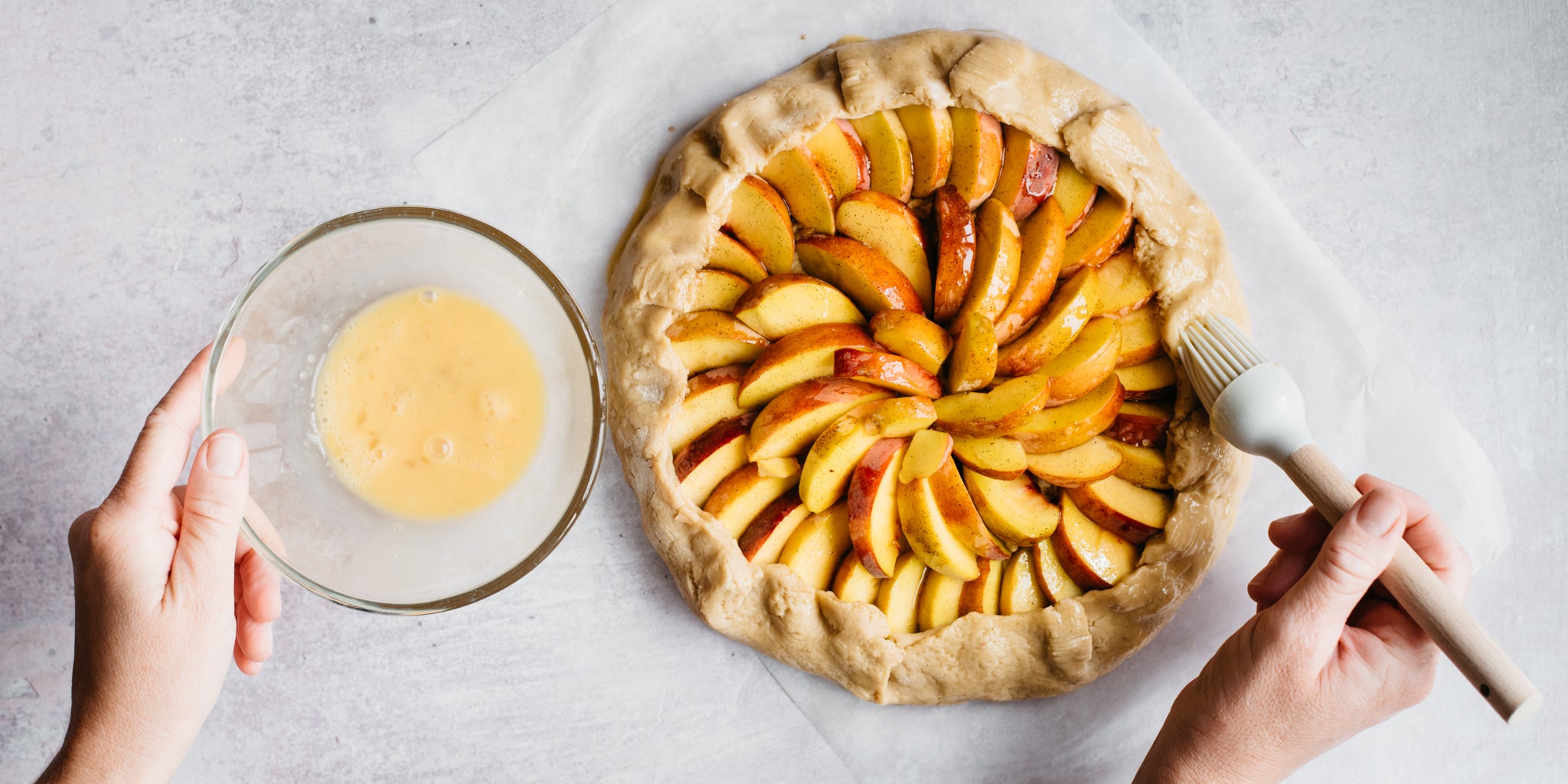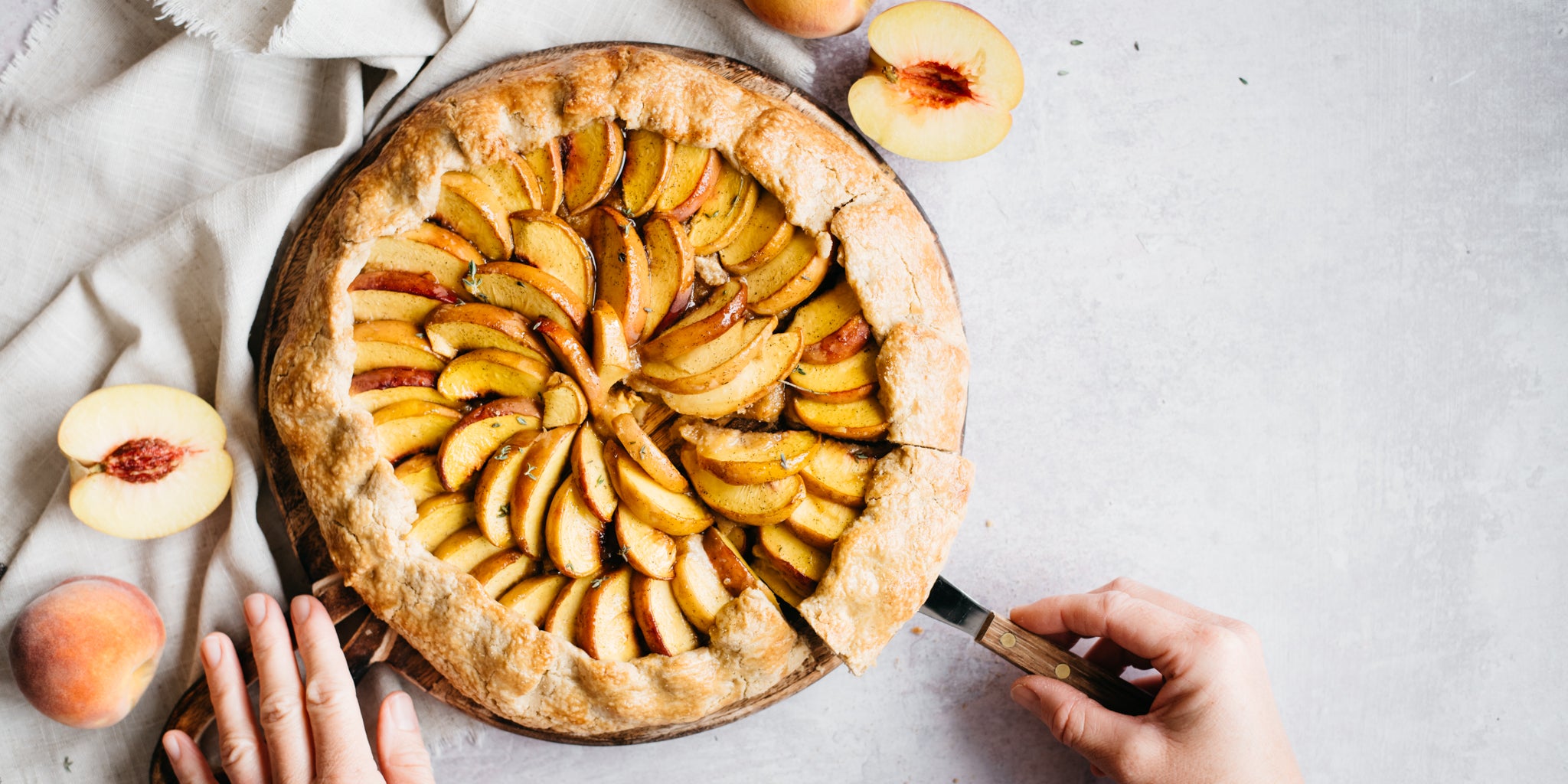 About the bake
Simple than a pie, this peach galette is a delightful comfort pud with a lighter, low sugar twist from Truvia for Baking. The fresh flavours of the peaches and the crisp pastry make this galette recipe a real winner.
Scroll through our recipe images for a handy step by step guide on how to make a galette.
Method
Step 1:

For the pastry, sieve the flour into a bowl, add the butter and rub together with your fingertips until the mixture resembles fine breadcrumbs. Stir in the Truvia for Baking Brown, then the egg yolks. Bring the pastry together with your hands then shape into a flattened disc. Wrap in cling film and chill in the fridge for about 30 minutes.

Step 2:

Next make the fragipan filling; beat together the butter and Truvia for Baking Brown with an electric whisk until pale and fluffy. Add the egg and whisk until combined then fold in the ground almonds and almond essence.

Step 3:

Cut each peach in half, remove the stone then cut each half into thin slices. Toss the peach slices in a bowl with the lemon juice, cornflour, and vanilla bean paste.

Step 4:

Put a baking tray on the middle shelf of the oven and preheat the oven to 200C/180C fan/gas mark 6.

Step 5:

Carefully roll out the pastry between two pieces of baking parchment to a circle approximately about 5mm thick and 35cm in diameter. Remove the top layer of parchment, then use your hands to press the edges of the circle to produce a neater but rustic edge.

Step 6:

Spread the frangipane mixture over the pastry leaving a 5cm border around the edge. Arrange the peach slices on top of the frangipane mixture then fold the edges of the pastry over to overlap the fruit. Brush the edge of the pastry with the beaten egg then carefully transfer the galette still on the parchment paper onto the hot baking tray.

Step 7:

Bake for 25-30 minutes until the pastry is golden and the fruit is softened. Allow the galette to cool slightly then brush over the warm apricot jam.
Ingredients
250g

 Allinson's Plain White Flour

180g

 

Unsalted butter (diced)

50g

 

Truvia for Baking - Brown

2

 

Medium free range egg yolks

For the frangipane filling

50g

 

Unsalted butter (softened)

50g

 

Truvia for Baking - Brown

1

 

Medium egg

100g

 

Ground Almonds

few drops

 

Nielsen-massey almond extract

For the peach topping

4

 

Large ripe peaches

1

 

Small lemon, juiced

1 tbsp

 

Cornflour

1 tsp

 Nielsen-Massey Vanilla Bean Paste

1

 

Egg (beaten)

3 tbsp

 

Reduced sugar apricot jam, warmed and sieved
Utensils
Sieve

Cling film

Electric whisk

Sharp knife

Baking tray

Baking parchment

Pastry brush
We'd love a slice of advice.
Was it yum? Did the recipe work well? Did you customise the recipe?
Ingredients
250g

 Allinson's Plain White Flour

180g

 

Unsalted butter (diced)

50g

 

Truvia for Baking - Brown

2

 

Medium free range egg yolks

For the frangipane filling

50g

 

Unsalted butter (softened)

50g

 

Truvia for Baking - Brown

1

 

Medium egg

100g

 

Ground Almonds

few drops

 

Nielsen-massey almond extract

For the peach topping

4

 

Large ripe peaches

1

 

Small lemon, juiced

1 tbsp

 

Cornflour

1 tsp

 Nielsen-Massey Vanilla Bean Paste

1

 

Egg (beaten)

3 tbsp

 

Reduced sugar apricot jam, warmed and sieved
Utensils
Sieve

Cling film

Electric whisk

Sharp knife

Baking tray

Baking parchment

Pastry brush