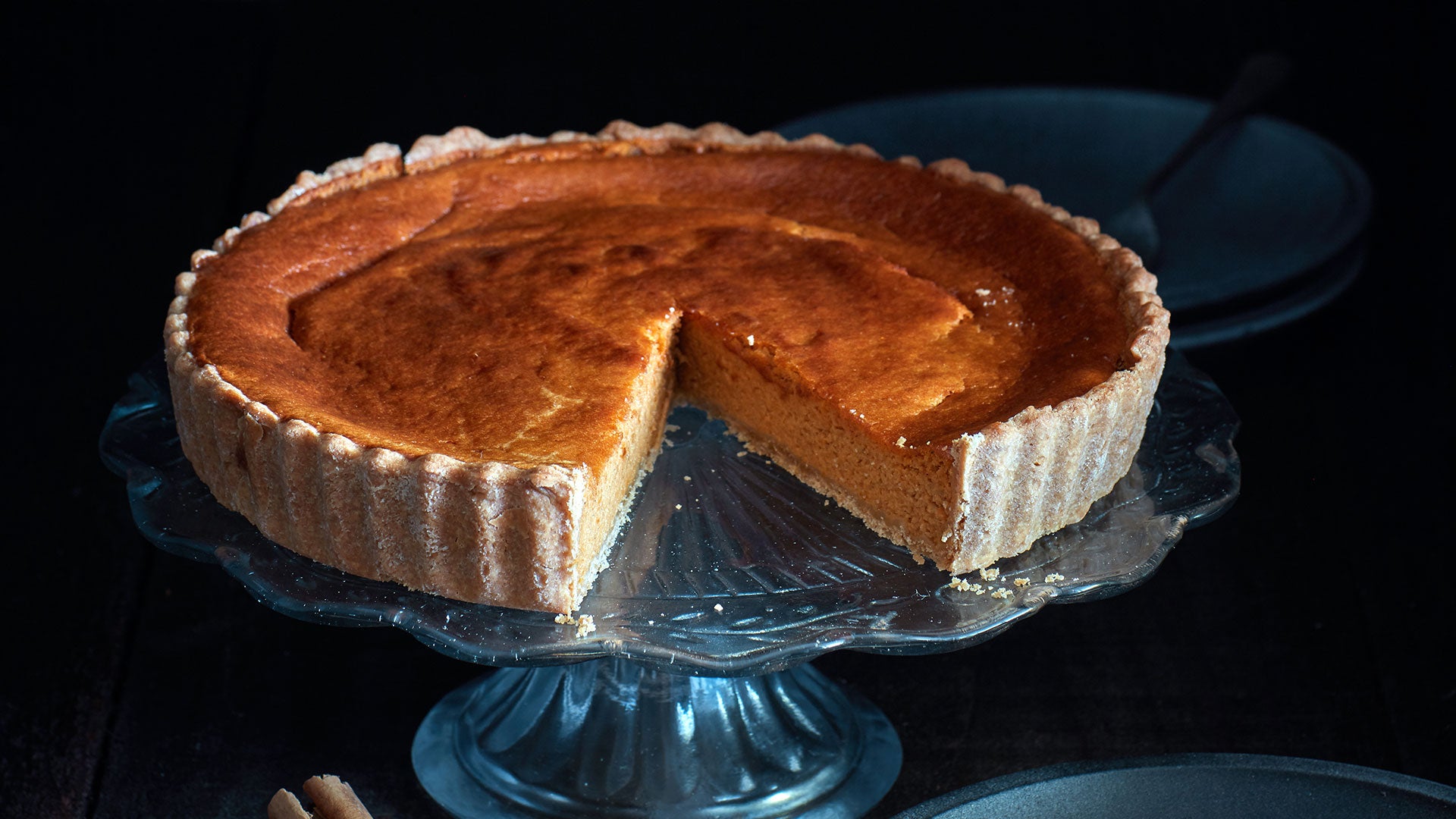 About the bake
This pumpkin pie is a lovely traditional American dish. It's perfect for autumnal evenings and a great way to feed the family something delicious and warming after dinner.

What does pumpkin pie taste like?

Pumpkin pie has a fruity, starchy-sweet flavour, from the pumpkin blending in with the sweetness of the golden caster sugar. You should also be able to smell the sweet fragrance of cinnamon and ground ginger.

If you enjoyed our pumpin pie recipe, give our hand-baked spiced pumpkin loaf a try!
Method
Step 1:

Preheat your oven to 200°C (180°C fan) gas mark 6.




Step 2:

To make the pastry, put the flour and butter into a food processor and pulse until the mixture resembles fine breadcrumbs (alternatively, rub the butter into the flour using your fingers).


Step 3:

Add the light muscovado sugar and pulse a couple of times (or stir) to combine.


Step 4:

Next add the egg yolk and 1 tbsp of the iced water and pulse (or stir with a blunt-ended cutlery knife) until the pastry comes together. Do not over process, or the pastry will be tougher.


Step 5:

Bring pastry together into a disc with your hands, wrap in clingfilm and chill for 30 minutes.


Step 6:

After your pastry has chilled, lightly dust a work surface with plain flour, roll it out to around 3mm thick and line a 9inch deep fluted flan tin with it. Prick the base with a fork and chill for another 30 minutes.


Step 7:

Next pop some baking parchment on top of your pastry case, fill it with ceramic baking beans or uncooked rice and bake on a baking sheet for 15 to 20 minutes.


Step 8:

Carefully remove the parchment and beans or rice, return the tin to the oven and bake for a further 5 to 8 minutes, or until the pastry is cooked through and golden.


Pastry Tips

To avoid a soggy bottom, as soon as you remove it from the oven while scorching hot, brush all over the hot pastry with egg white, this will seal the pastry.

Step 9:

Meanwhile, in a large bowl, lightly beat the eggs, golden caster sugar and vanilla using an electric beater until pale and fluffy, about 2 to 3 minutes and then add the spices and whisk again.


Step 10:

Next, stir the pumpkin puree in gently and lastly the evaporated milk, keeping the mixture aerated.


Step 11:

Finally, pour the mixture into your cooked pastry case, reduce oven temperature to 180°C (160°C fan) gas mark 4 and return the tart to the oven, baking for 45 to 50 minutes or until the filling feels lightly firm.


Step 12:

Leave to cool completely, slice and serve with vanilla ice- cream, whipped double cream or crème fraiche if desired.

Ingredients
For The Pastry

275g

 

Plain flour

190g

 

Unsalted butter (softened)

60g

 Billington's Unrefined Light Muscovado Sugar

1

 

Medium free range egg(s)

For The Filling

2

 

Large free range egg(s)

140g

 Billington's Unrefined Golden Caster Sugar

1 tsp

 Nielsen-Massey Vanilla Bean Paste

2 tsp

 

Ground cinnamon

1/2 tsp

 

Mixed spice

1/2 tsp

 

Ground ginger

Pinch

 

Ground nutmeg

275g

 

Pumpkin puree (tin)

200ml

 

Evaporated milk
Utensils
9in deep fluted flan tin

Food processor

Baking beans (or uncooked rice)

Baking parchment
We'd love a slice of advice.
Was it yum? Did the recipe work well? Did you customise the recipe?
Ingredients
For The Pastry

275g

 

Plain flour

190g

 

Unsalted butter (softened)

60g

 Billington's Unrefined Light Muscovado Sugar

1

 

Medium free range egg(s)

For The Filling

2

 

Large free range egg(s)

140g

 Billington's Unrefined Golden Caster Sugar

1 tsp

 Nielsen-Massey Vanilla Bean Paste

2 tsp

 

Ground cinnamon

1/2 tsp

 

Mixed spice

1/2 tsp

 

Ground ginger

Pinch

 

Ground nutmeg

275g

 

Pumpkin puree (tin)

200ml

 

Evaporated milk
Utensils
9in deep fluted flan tin

Food processor

Baking beans (or uncooked rice)

Baking parchment