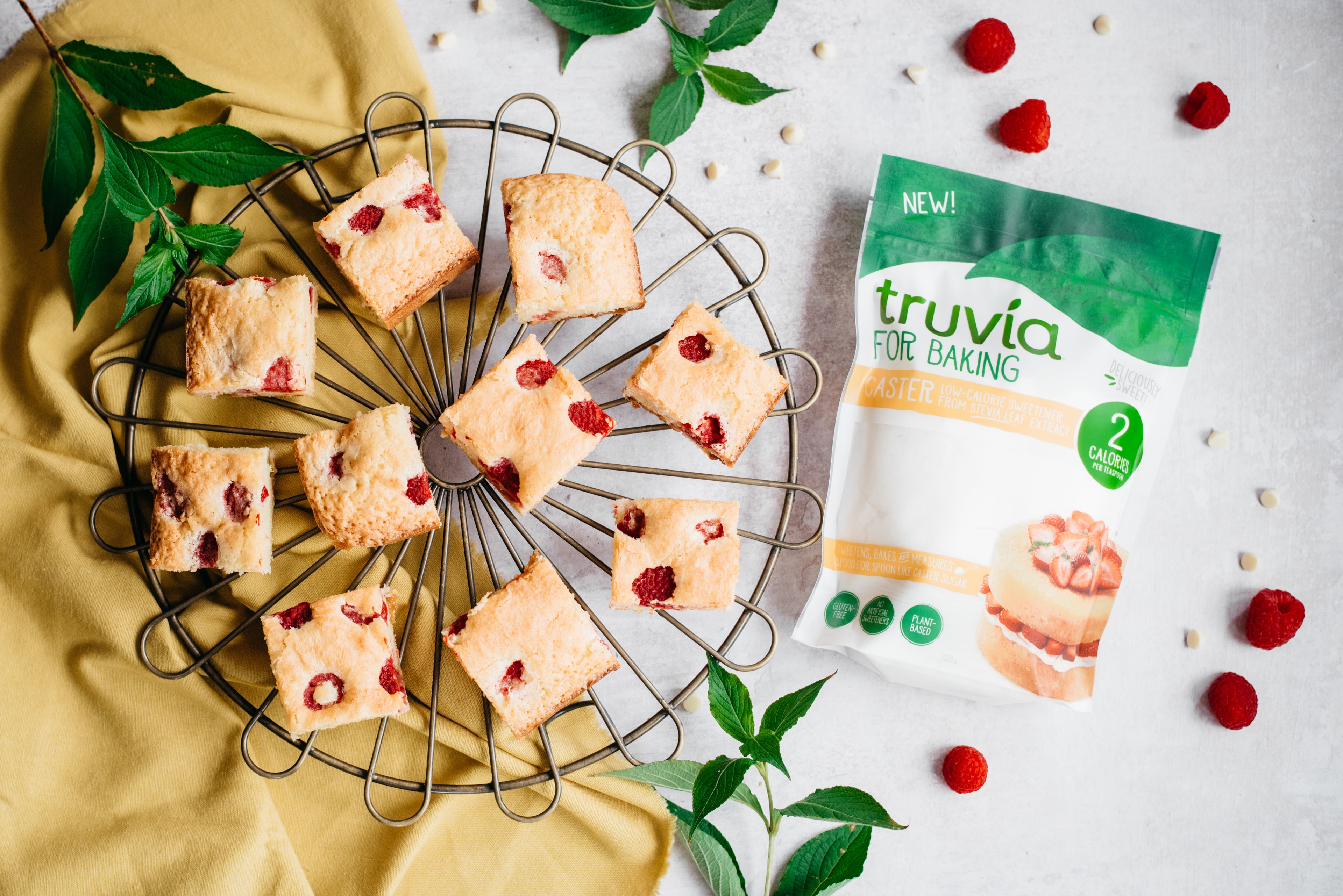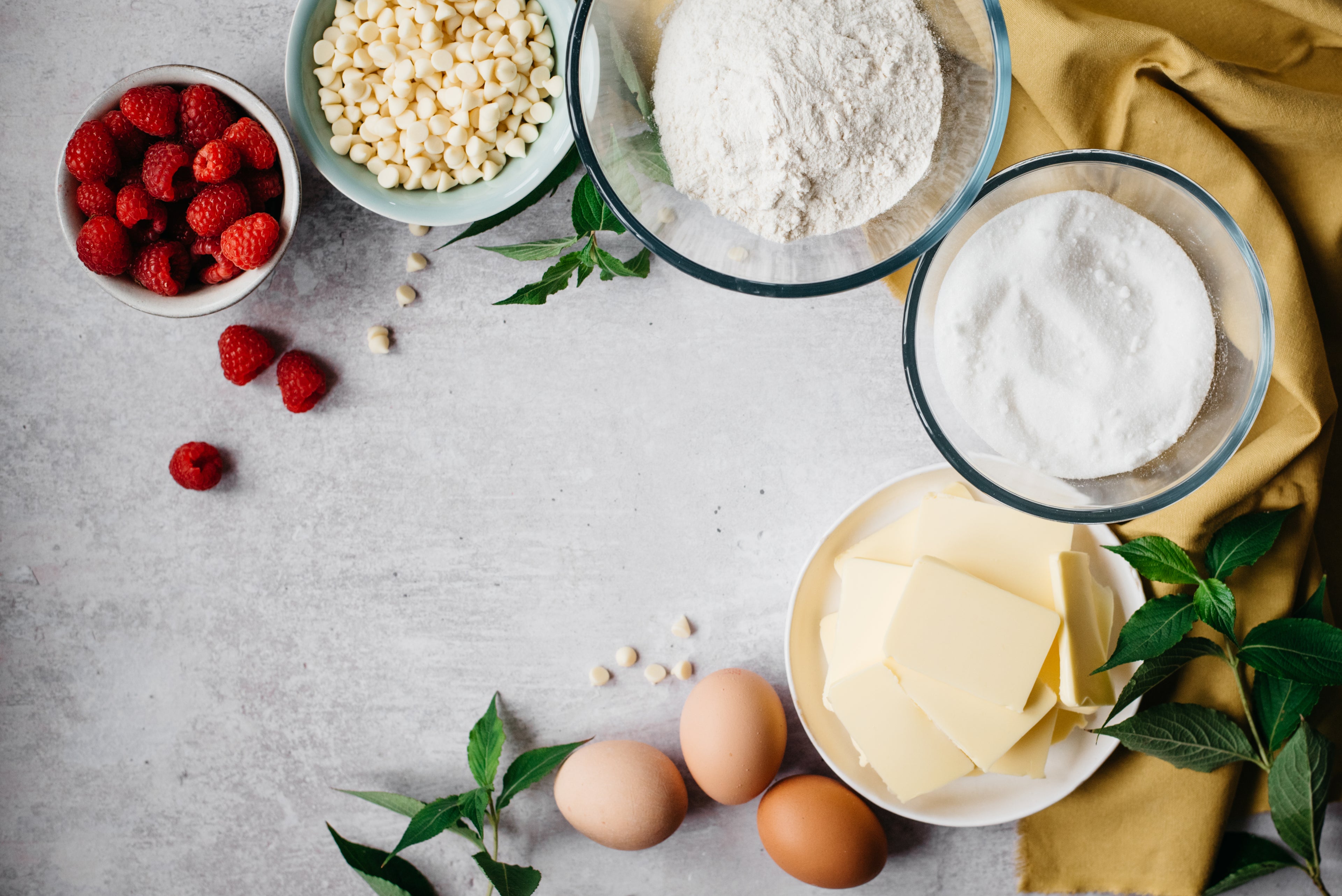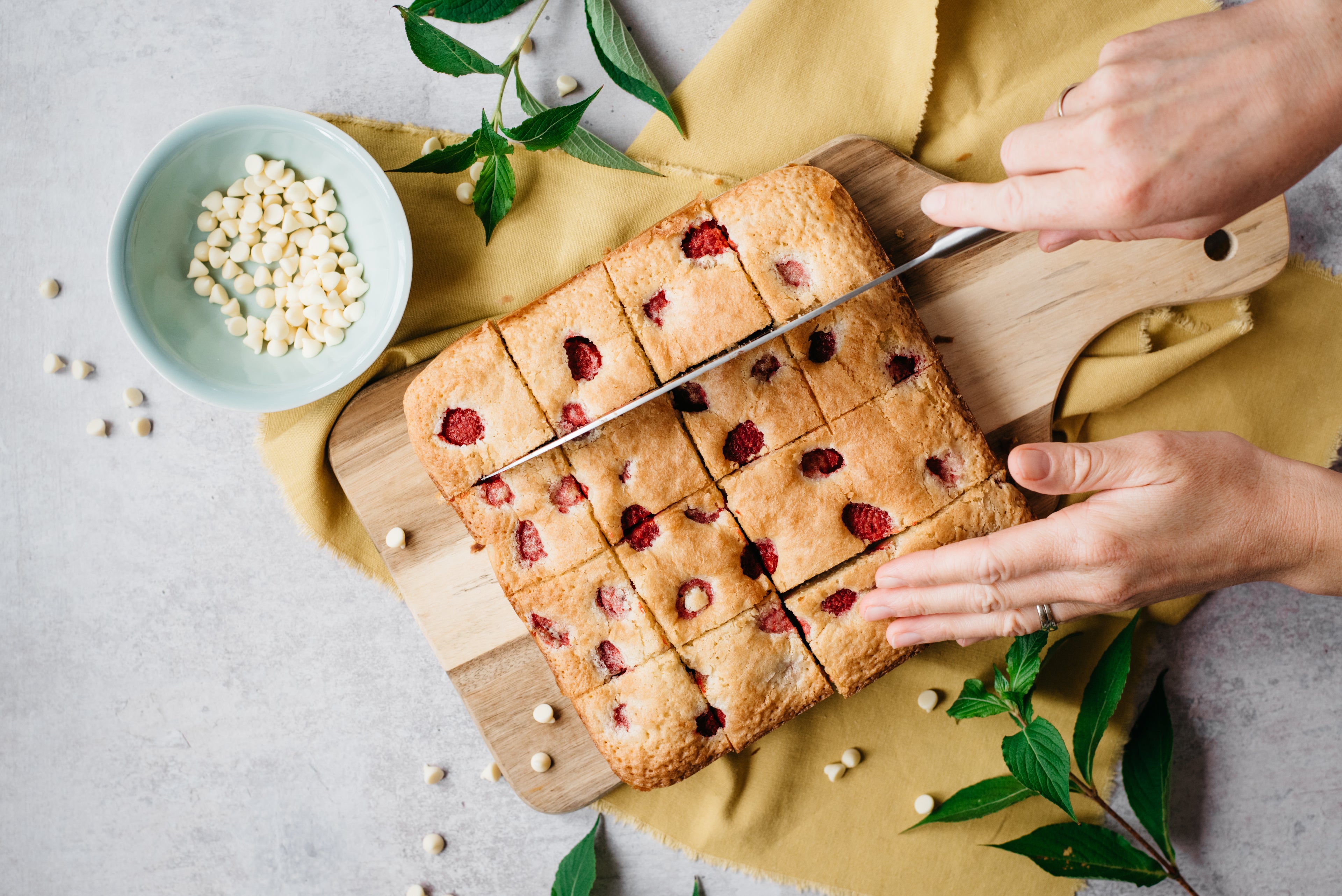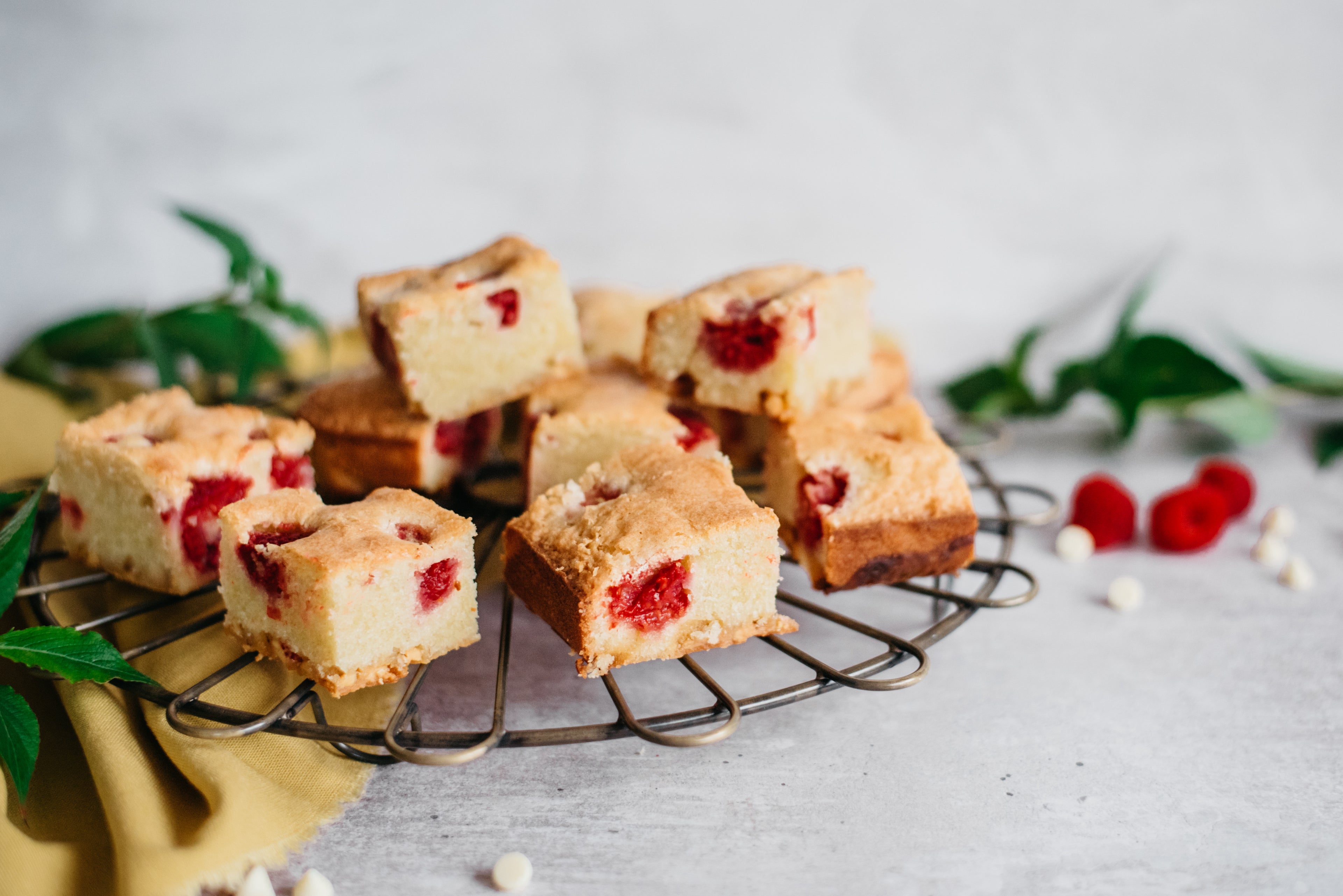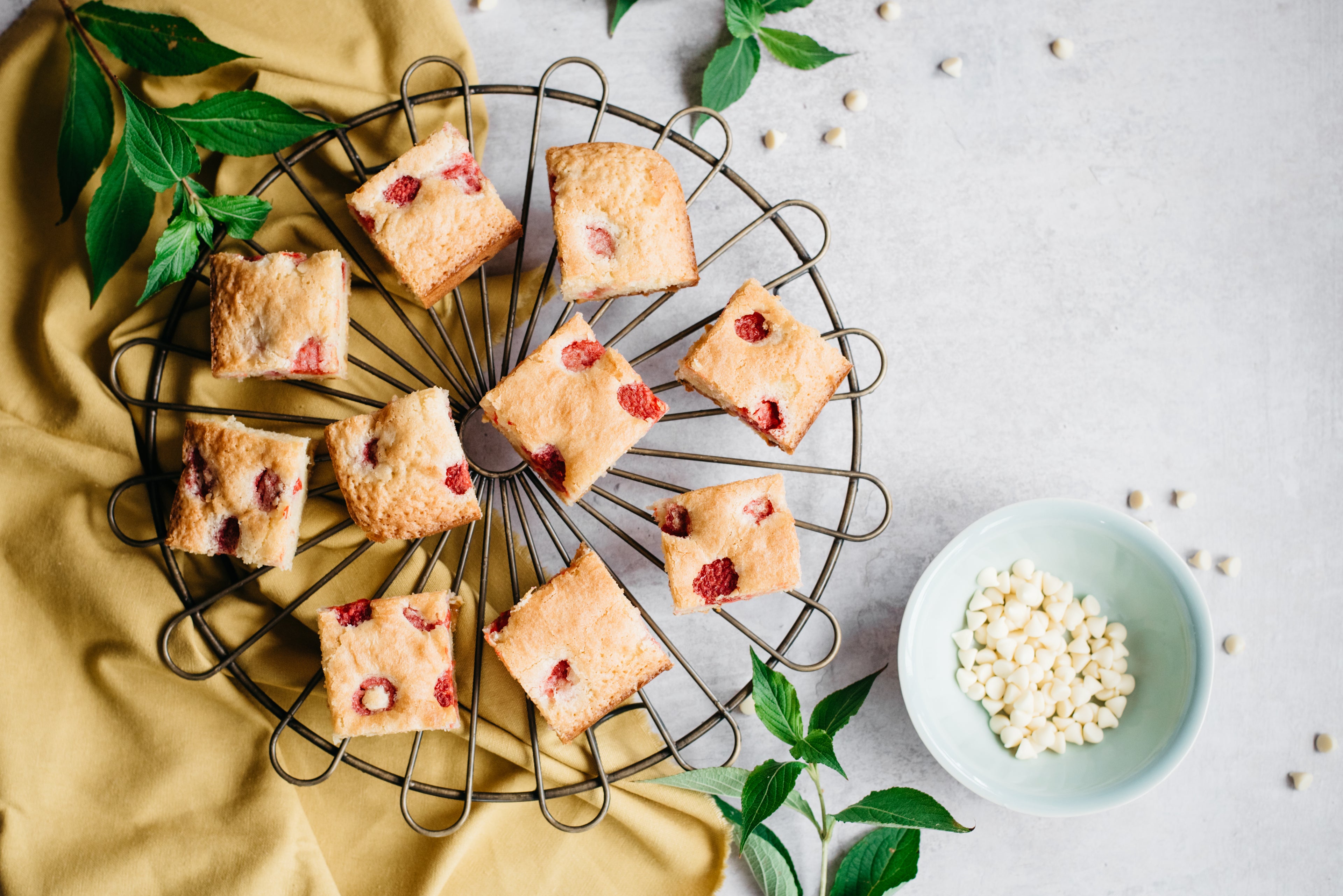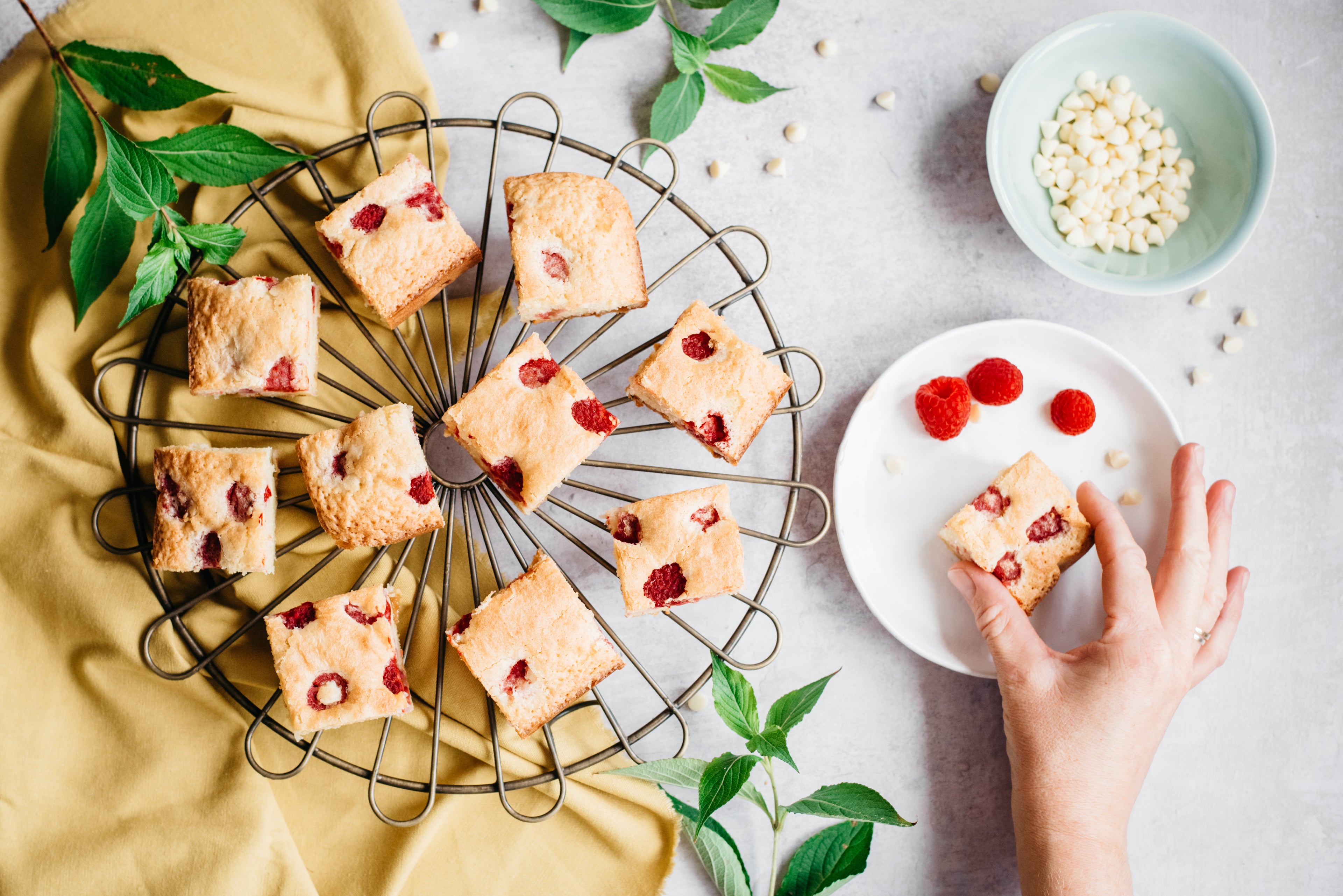 How to make Low Sugar Blondies
Our low sugar raspberry and white chocolate blondies uses Truvia For Baking Caster, our secret ingredient. With a soft and fudgy centre, these little gooey squares of joy are super tasty. If you're a brownie fan, you will love these blondies, which are basically the white chocolate equivalent! We will warn you though, you can't just eat one...
Low sugar blondies baking tips:
We recommend using fresh raspberries for this recipe as frozen raspberries give extra moisture when they defrost and may affect the bake time or blondie texture.
Don't worry if you can't get hold of white chocolate chunks, breaking a white chocolate bar into small 'chunks' works just as well.
Hungry for more? Why not give our low sugar banana bread recipe.
Method
Step 1:

Preheat your oven to 180°C (160°C fan). Lightly grease and line a shallow 20cm (8") square tin.

Step 2:

Gently melt the butter before setting aside whilst you continue with the next stage.

Be careful with the butter

Do not to overheat the butter when melting or it may start to split the mixture when added.

Step 3:

Break the eggs into a large bowl and add the Truvia for Baking Caster and vanilla. Using an electric mixer whisk together on a high speed for a few minutes until the mixture looks thick, creamy and paler in colour. This may take a 3-5 minutes depending on the powder of your mixer.

Step 4:

Slowly add the melted butter a little at a time and gently fold together using a rubber spatula or a large metal spoon.

Step 5:

Sift in the plain flour and again gently fold in until just combined. Finally add the white chocolate and half of the raspberries before folding again.

Step 6:

Pour the mixture into the prepared tin and sprinkle over the remaining raspberries. Push them gently half in so they stick but don't worry they will sink down a little once in the oven. Bake for 30-35 mins or until the middle no longer wobbles if the tin is gently shaken.

Step 7:

Leave in the tin on a cooling rack until completely cool before removing from the tin and cutting into 16 squares and enjoying.
Ingredients
185g

 

Butter

3

 

Medium eggs

200g

 

Truvia for Baking - Caster

1 tsp

 Nielsen-Massey Vanilla Extract

160g

 

Allinson's plain flour

150g

 

White chocolate (chunks)

125g

 

Raspberries
Utensils
20cm square tin

Large bowl

Electric mixer

Rubber spatula

Sieve
Nutritional Information
per 56g
203cal

 

Energy

14g

 

Fat

8.6g

 

of which Saturates

22g

 

Carbohydrates

3g

 

of which Sugars

0.1g

 

Protein

0.07g

 

Salt
We'd love a slice of advice.
Was it yum? Did the recipe work well? Did you customise the recipe?
Ingredients
185g

 

Butter

3

 

Medium eggs

200g

 

Truvia for Baking - Caster

1 tsp

 Nielsen-Massey Vanilla Extract

160g

 

Allinson's plain flour

150g

 

White chocolate (chunks)

125g

 

Raspberries
Utensils
20cm square tin

Large bowl

Electric mixer

Rubber spatula

Sieve
Nutritional Information
per 56g
203cal

 

Energy

14g

 

Fat

8.6g

 

of which Saturates

22g

 

Carbohydrates

3g

 

of which Sugars

0.1g

 

Protein

0.07g

 

Salt