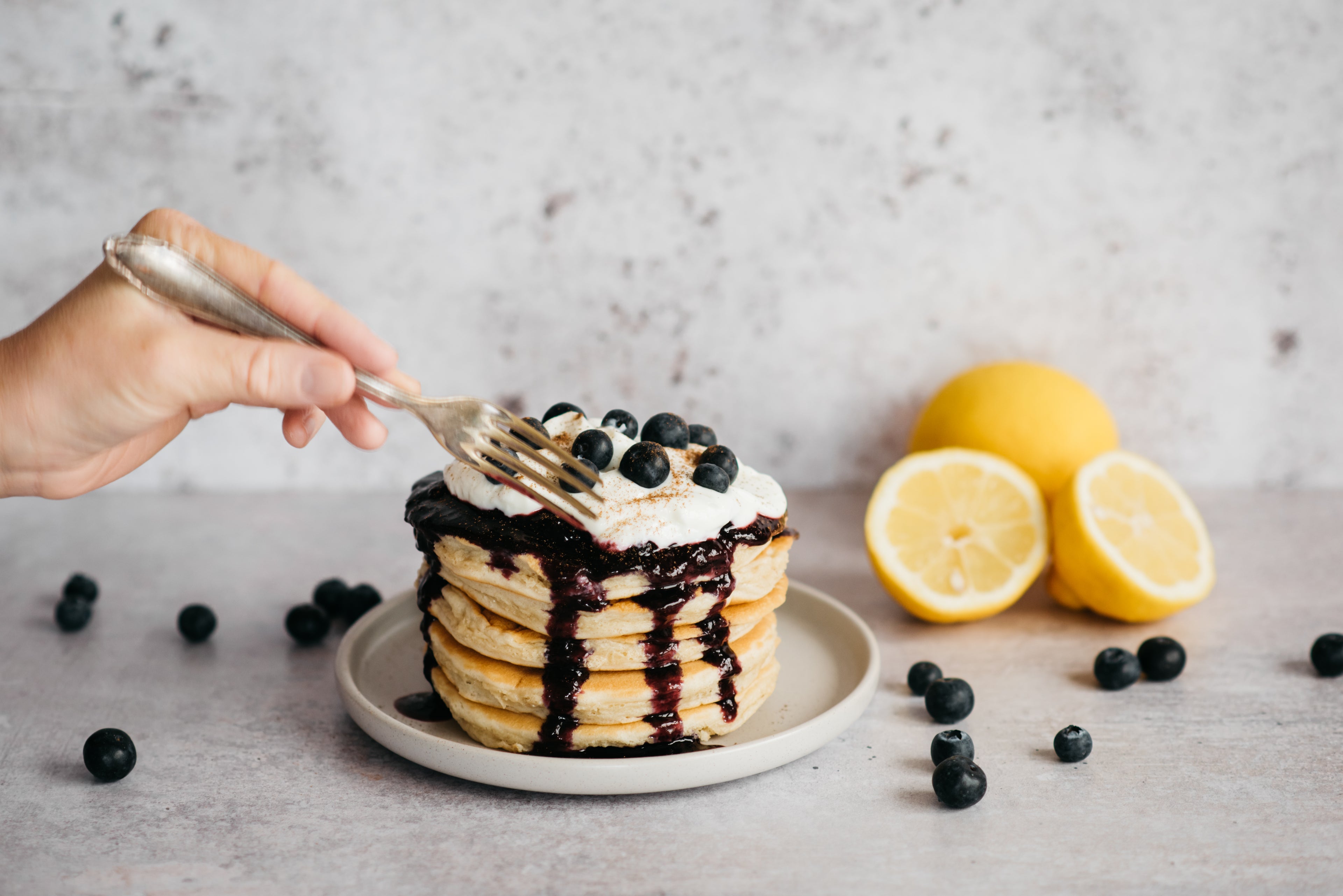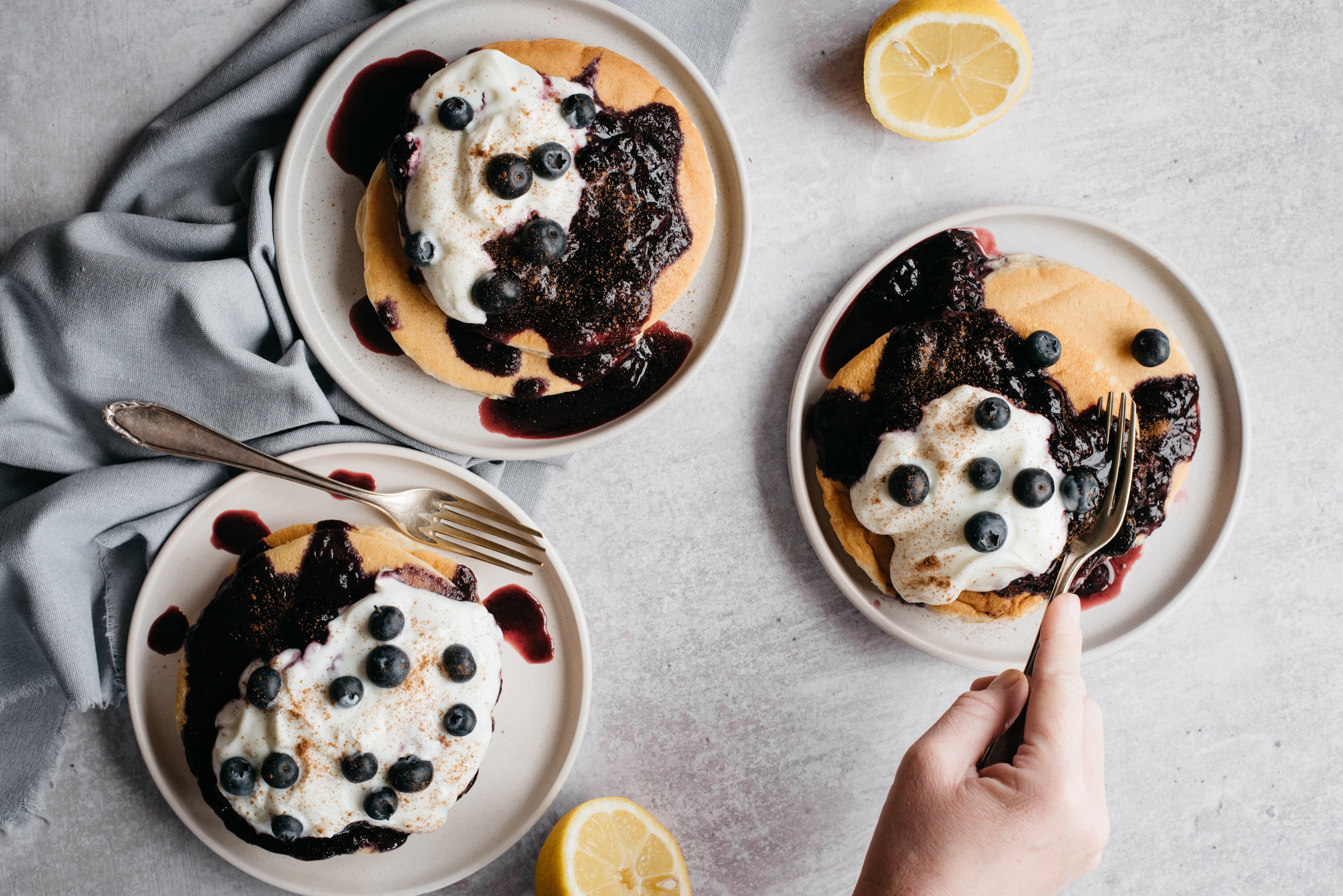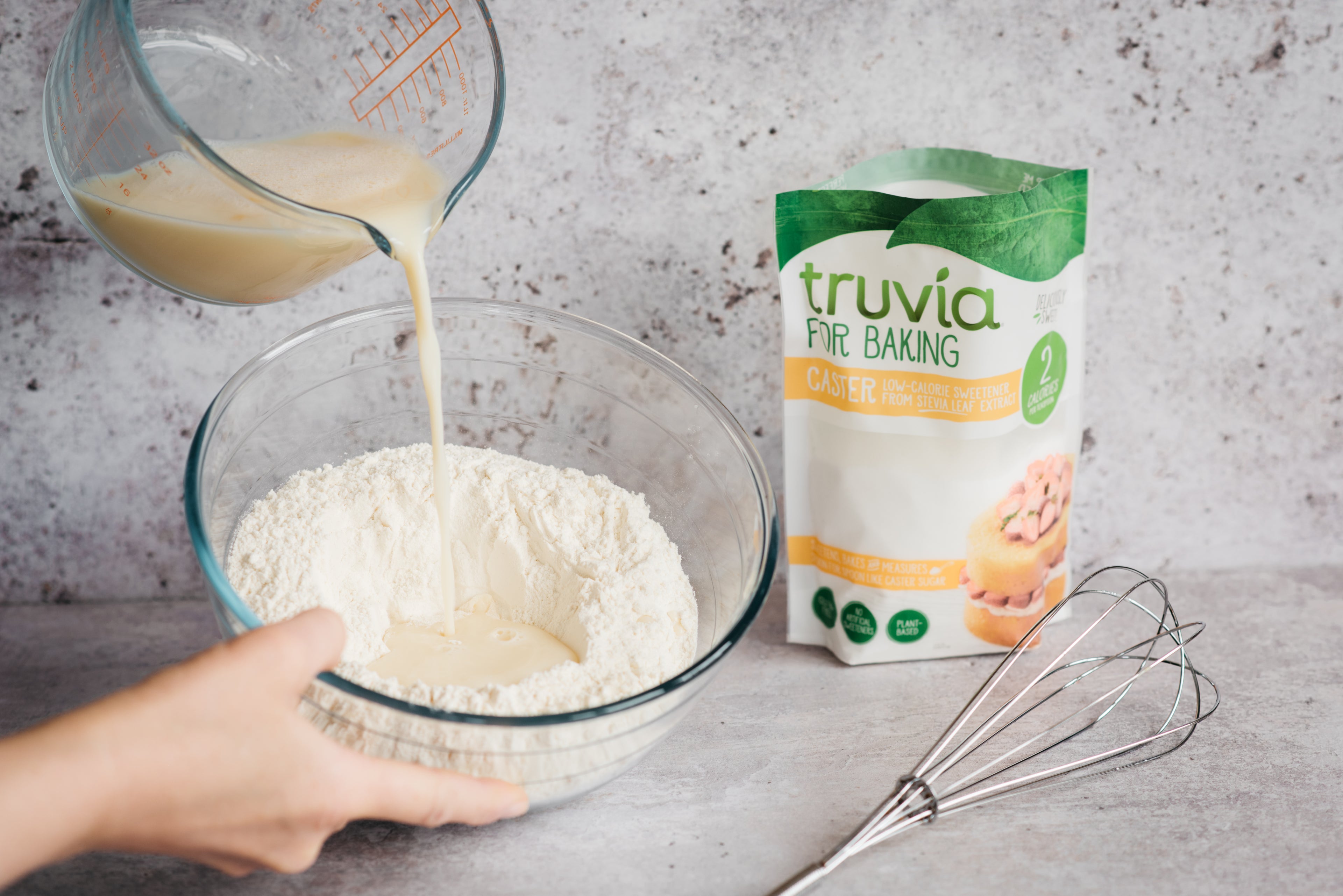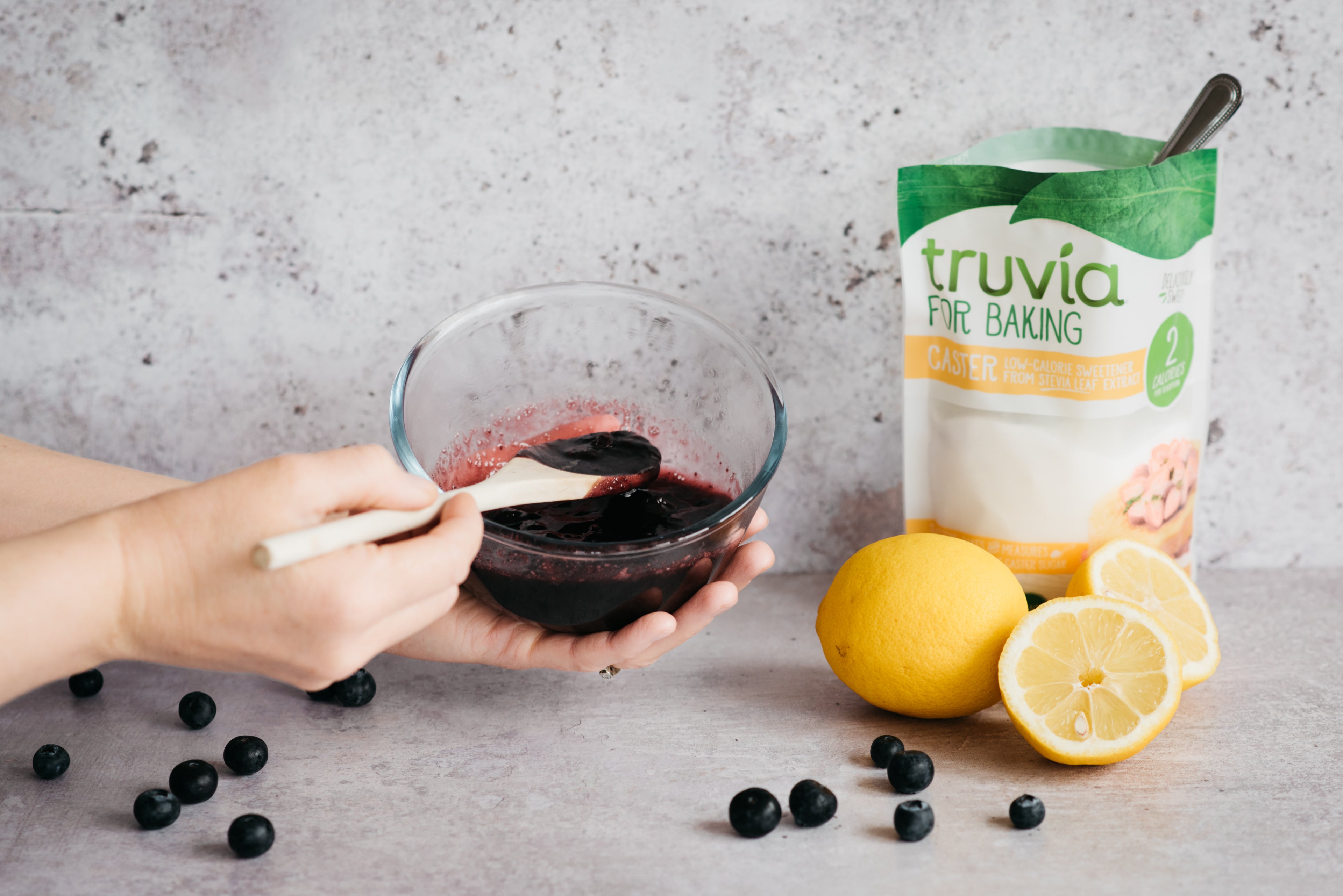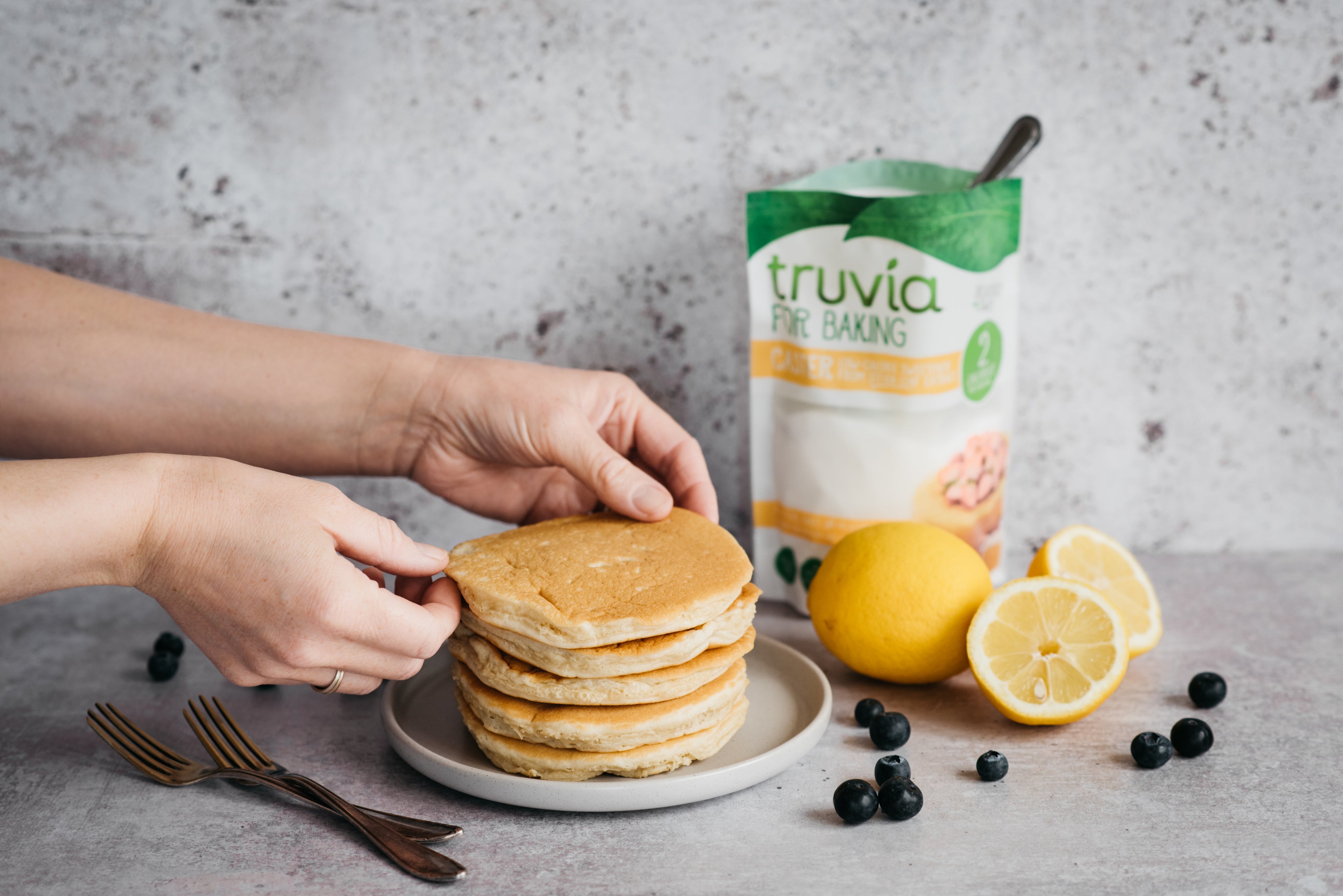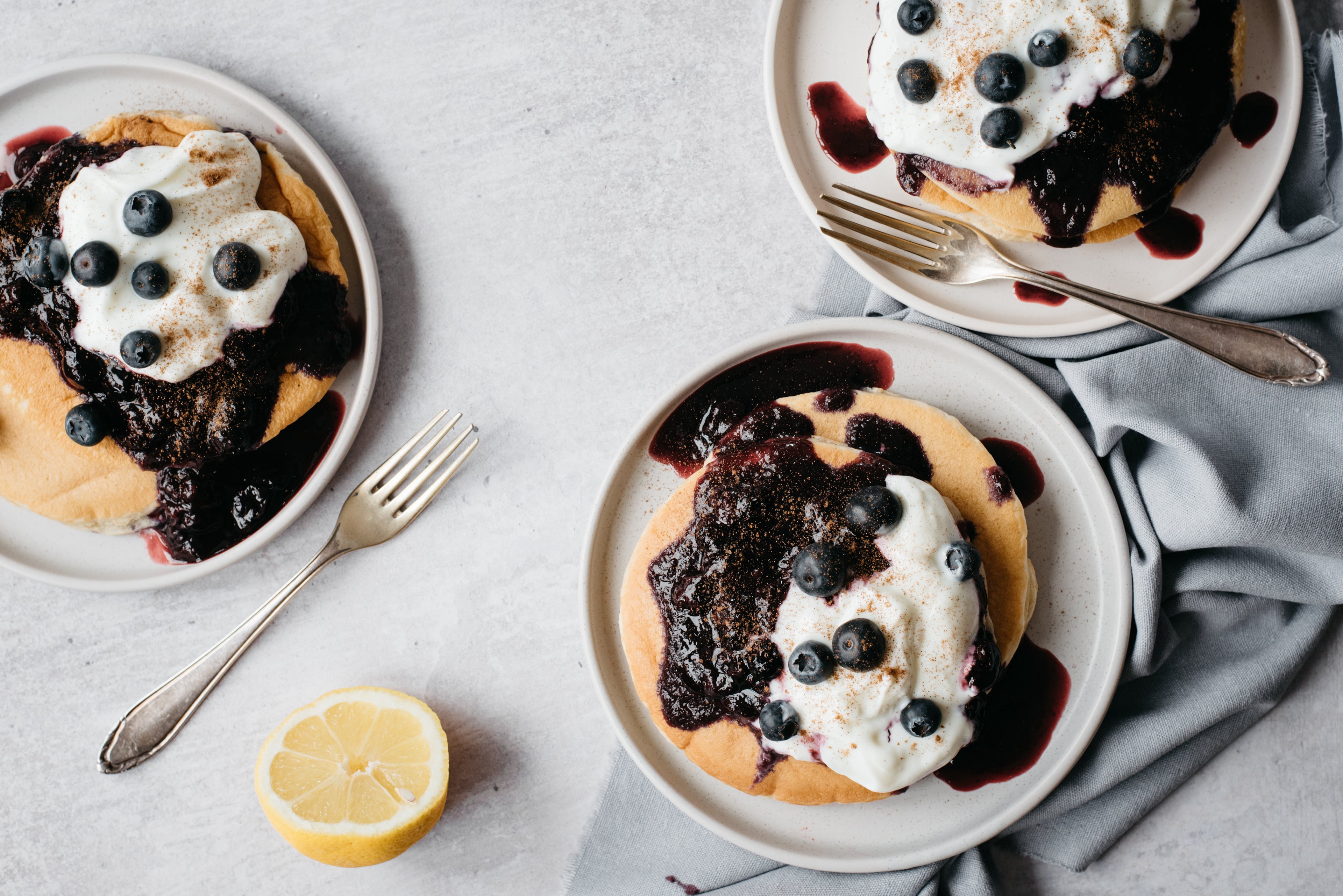 About our Vegan Pancake recipe
Looking for fluffy Vegan pancakes? Whether it's pancake day, breakfast, or brunch on your mind, in just six easy steps you can make these delicious Vegan cinnamon pancakes with blueberry compote.
Sshhh! We've got a secret ingredient, Truvia For Baking Caster. This sweetener bakes and measures spoon-for-spoon like caster sugar. The secret? It's sugar free, Vegan & Gluten Free. Whilst we've used self-raising flour in this recipe, to make the recipe completely Gluten Free swap this out for your flour of choice.
If blueberries don't tickle your tastebuds, swap them out for raspberries when making the compote.
Looking for some more plant-based baking? Try our vegan cheesecake cups. Of if you're on the hunt for more low sugar baking recipes, head to our low sugar hub.
Method
Step 1:

In a jug lightly whisk together the soya milk, cider vinegar and vanilla extract and set aside for 5 minutes.

Step 2:

Next sieve the flour, baking powder and cinnamon in a mixing bowl then stir in the truvia For Baking Caster Low Calorie Sweetener.

Step 3:

When the milk is ready make a well in the centre of the flour and gradually whisk in the milk to form a smooth batter but do not over mix. Set aside for 10 minutes.

Step 4:

Meanwhile prepare the blueberry compote; place all the ingredients into a small saucepan and gently bring to the boil then simmer gently for 8 minutes. Take the pan off the heat and as the compote cools it will thicken slightly. Taste to check that the compote is sweet enough and if required add a little more Truvia to your liking.

Step 5:

When ready to cook the pancakes, heat a non-stick frying pan or griddle pan on a high heat and add a knob of plant-based butter. When the butter is sizzling add a large spoonful of pancake batter. After a minute the top of the pancake will start to bubble, flip the pancake, and cook for another minute until golden on both sides. Transfer the pancake to a plate and cover with foil to keep warm. Repeat with the remaining batter until you have 12 pancakes.

Step 6:

To serve, divide the pancakes between 4 serving plates and top with the warm blueberry compote and spoonful of your favourite plant based yogurt.
Ingredients
For the pancakes

300ml

 

Unsweetened Soya Milk

1 tbsp

 

Apple cider vinegar

1 tsp

 Nielsen-Massey Vanilla Extract

200g

 Allinson's Self Raising Flour

2 tsp

 

Baking Powder

3/4 tsp

 

Ground cinnamon

2 tbsp

 

Truvia for Baking - Caster

30g

 

Vegan butter

For the blueberry compote

250g

 

Blueberries

1

 

Lemon zest & juice

1 tbsp

 

Truvia for Baking - Caster
Utensils
Jug

Whisk

Sieve

Mixing bowl

Small saucepan

Non stick frying pan

Plate

Kitchen foil
Nutritional Information
per 89g
103cal

 

Energy

1.8g

 

Fat

0.4g

 

of which Saturates

18g

 

Carbohydrates

3.9g

 

of which Sugars

3.1g

 

Protein

0.41g

 

Salt
We'd love a slice of advice.
Was it yum? Did the recipe work well? Did you customise the recipe?
Ingredients
For the pancakes

300ml

 

Unsweetened Soya Milk

1 tbsp

 

Apple cider vinegar

1 tsp

 Nielsen-Massey Vanilla Extract

200g

 Allinson's Self Raising Flour

2 tsp

 

Baking Powder

3/4 tsp

 

Ground cinnamon

2 tbsp

 

Truvia for Baking - Caster

30g

 

Vegan butter

For the blueberry compote

250g

 

Blueberries

1

 

Lemon zest & juice

1 tbsp

 

Truvia for Baking - Caster
Utensils
Jug

Whisk

Sieve

Mixing bowl

Small saucepan

Non stick frying pan

Plate

Kitchen foil
Nutritional Information
per 89g
103cal

 

Energy

1.8g

 

Fat

0.4g

 

of which Saturates

18g

 

Carbohydrates

3.9g

 

of which Sugars

3.1g

 

Protein

0.41g

 

Salt