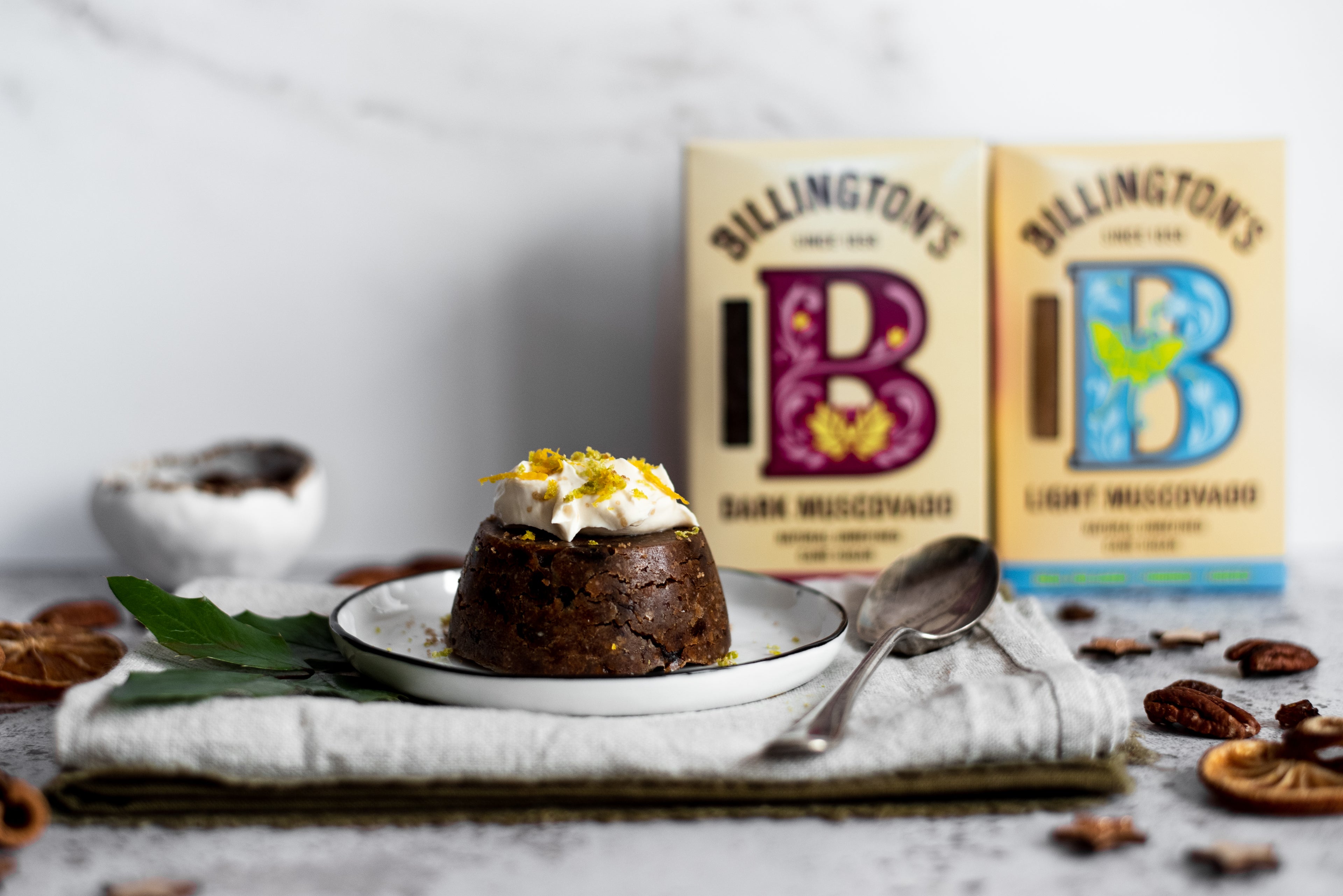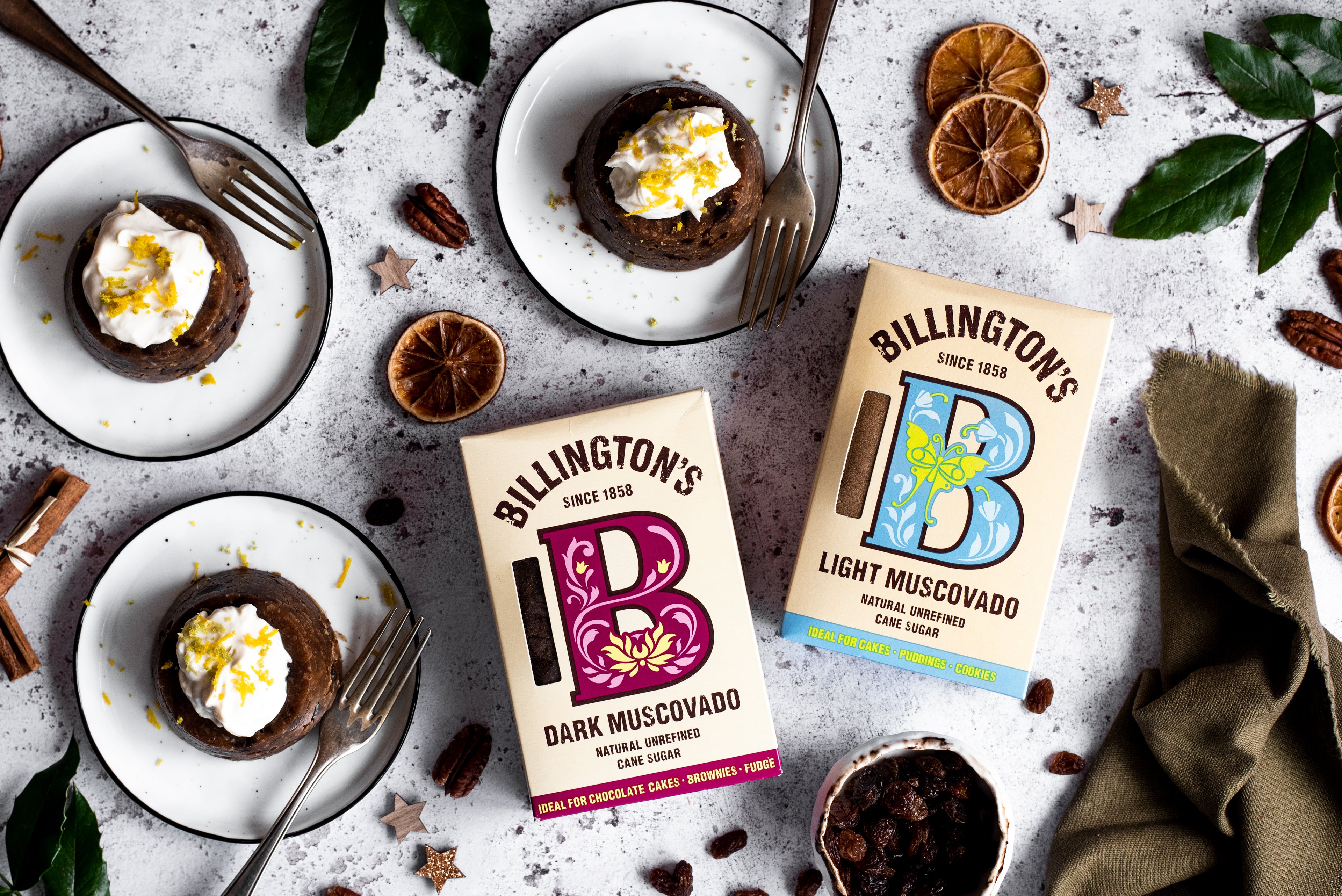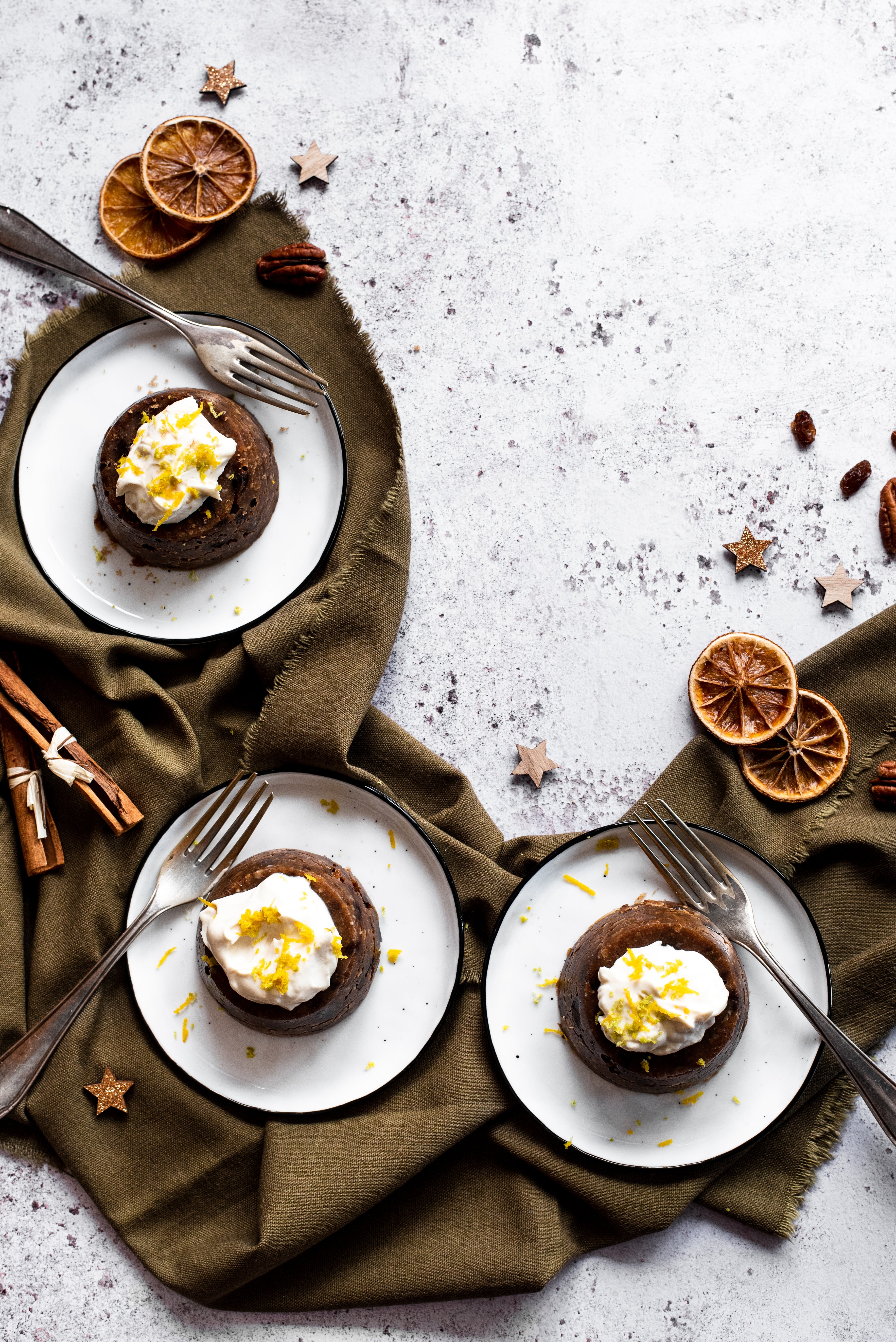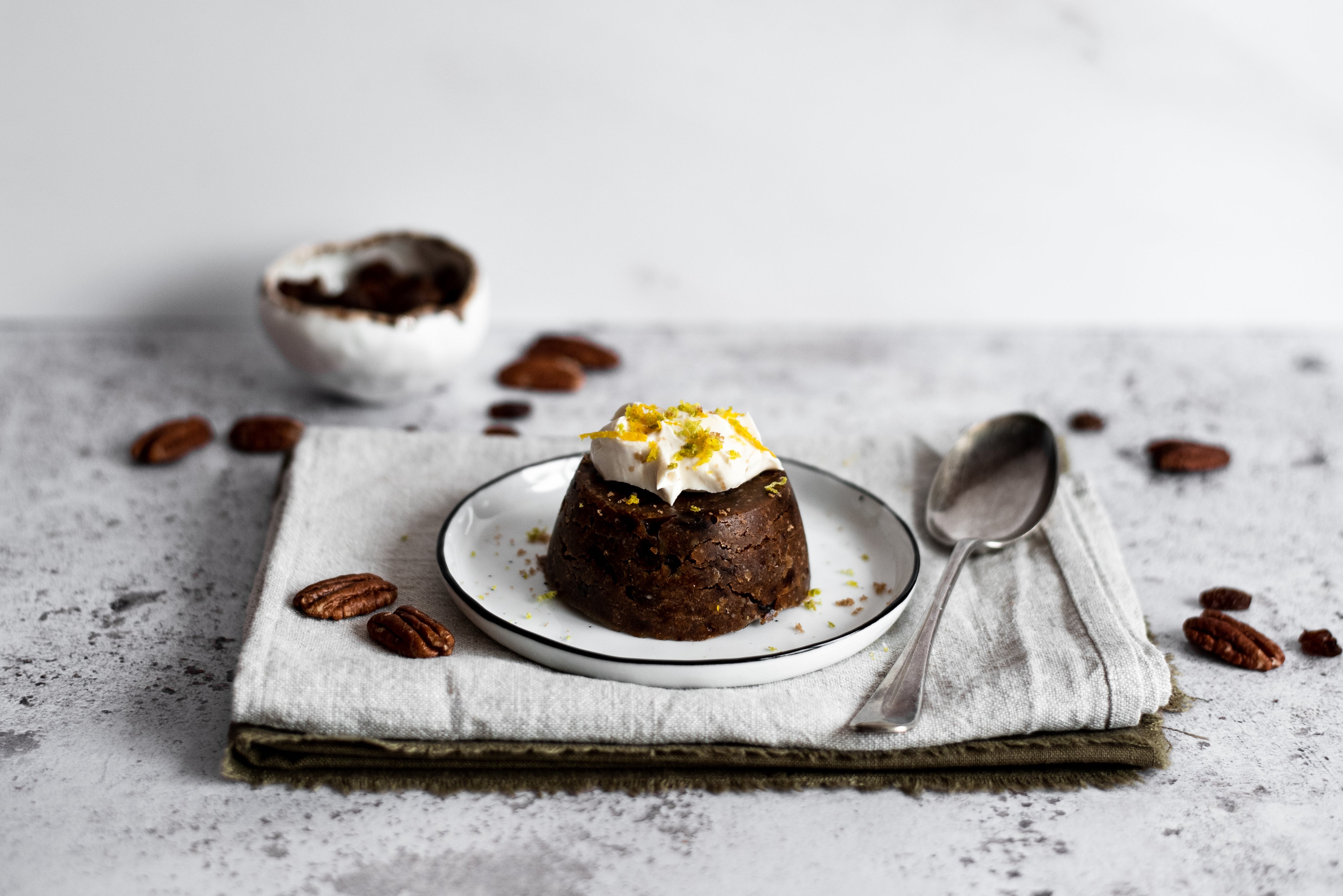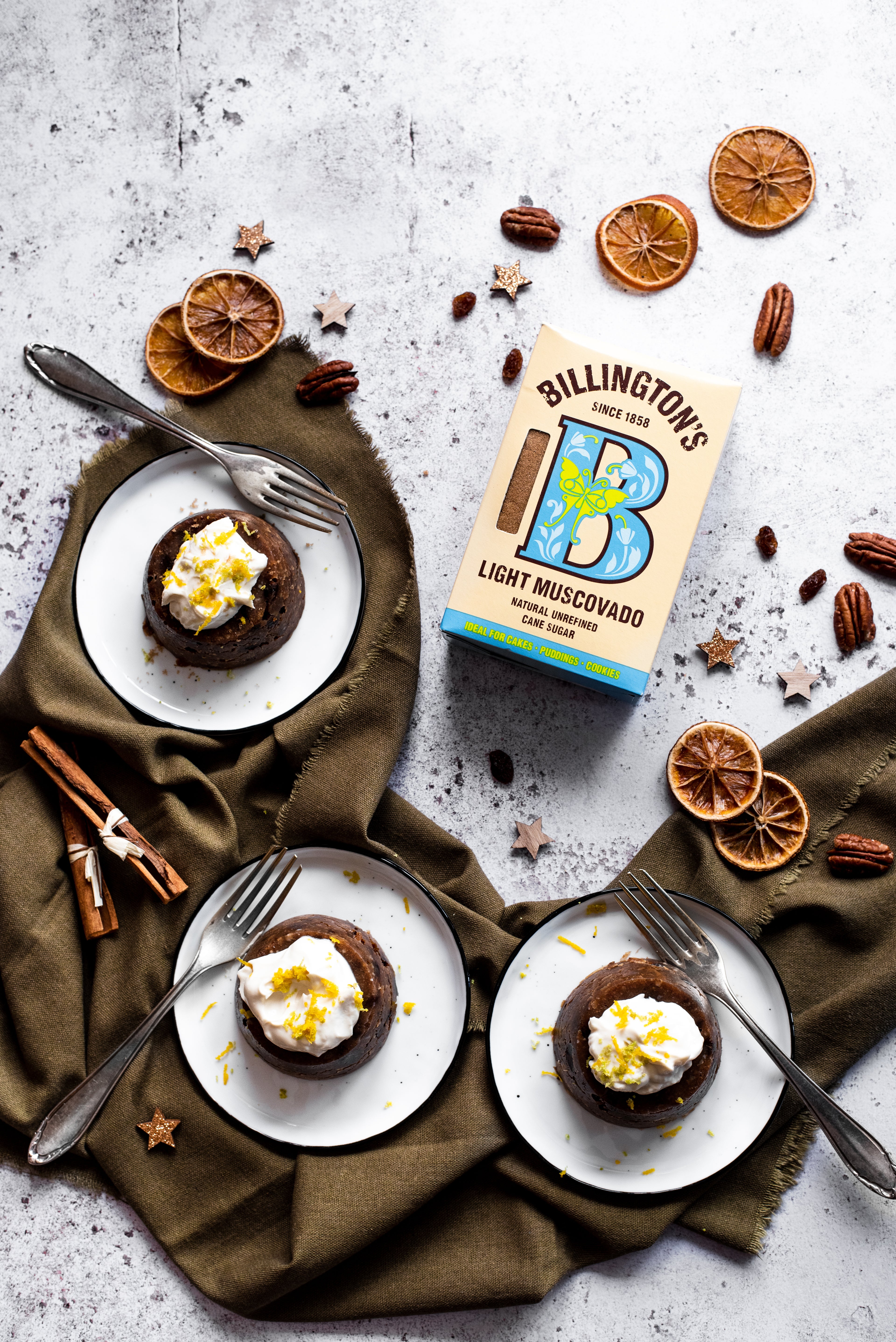 About the bake
The Rum and Lime in these Mini Christmas Puddings give a delicious alternative twist, enhanced with the taste of Unrefined Dark Muscovado. For more information on Unrefined Brown Sugars and how they can enhance your Christmas baking visit www.billingtons.co.uk.
Method
Step 1:

Preheat the oven to 180ºC (160ºC fan, gas mark 4). Using an electric mixer, combine the dark muscovado sugar with the butter until light and fluffy.

Step 2:

Add the flour, baking powder and spices, and then mix again until combined.

Step 3:

Slowly add the eggs, followed by all the remaining ingredients for the pudding, mixing together as you go.

Step 4:

Divide the mixture between the pudding moulds and transfer to a large roasting tray. Top each surface of the batter with another circle of baking parchment, then cover each with a square sheet of foil (roughly 10cm), then scrunch the foil around the rim making sure it is airtight.

Step 5:

Transfer the roasting tin to the oven and fill with boiling water from the kettle so that it comes roughly halfway up the side of each pudding mould. Cook for 45 minutes, or until springy and firm to the touch in the centre.

Step 6:

Meanwhile, make the spiced rum mascarpone cream. Beat all the ingredients together in a bowl and store in the fridge until ready to serve with the Christmas pudding.
Ingredients
For the Christmas Pudding

100g

 Billington's Unrefined Dark Muscovado Sugar

50g

 

Unsalted butter (softened)

125g

 Self-raising white flour

1 tsp

 

Baking powder

1 tsp

 

Cinnamon

1 tsp

 

Mixed spice

1/2 tsp

 

Freshly grated nutmeg

2

 

Medium(s) (lightly beaten)

2 tbsp

 

Black treacle

75ml

 

Spiced rum

100g

 

Apple(s) (peeled, cored & chopped into chunks)

75g

 

Currants

75g

 

Cranberries (dried)

50g

 

Pecan nuts (toasted & chopped)

400g

 

Luxury mincemeat

1

 

Orange(s) (zest & juice)

2 tbsp

 

Brandy

For the Mascarpone

2 tbsp

 Billington's Unrefined Light Muscovado Sugar

2 tbsp

 

Spiced rum

100g

 

Mascarpone cheese

100g

 

Greek yoghurt

1

 

Lime(s) (grated zest)
Utensils
Electric mixer

8x Pudding moulds

Large roasting tray

Baking parchment

Tin foil
We'd love a slice of advice.
Was it yum? Did the recipe work well? Did you customise the recipe?
Ingredients
For the Christmas Pudding

100g

 Billington's Unrefined Dark Muscovado Sugar

50g

 

Unsalted butter (softened)

125g

 Self-raising white flour

1 tsp

 

Baking powder

1 tsp

 

Cinnamon

1 tsp

 

Mixed spice

1/2 tsp

 

Freshly grated nutmeg

2

 

Medium(s) (lightly beaten)

2 tbsp

 

Black treacle

75ml

 

Spiced rum

100g

 

Apple(s) (peeled, cored & chopped into chunks)

75g

 

Currants

75g

 

Cranberries (dried)

50g

 

Pecan nuts (toasted & chopped)

400g

 

Luxury mincemeat

1

 

Orange(s) (zest & juice)

2 tbsp

 

Brandy

For the Mascarpone

2 tbsp

 Billington's Unrefined Light Muscovado Sugar

2 tbsp

 

Spiced rum

100g

 

Mascarpone cheese

100g

 

Greek yoghurt

1

 

Lime(s) (grated zest)
Utensils
Electric mixer

8x Pudding moulds

Large roasting tray

Baking parchment

Tin foil