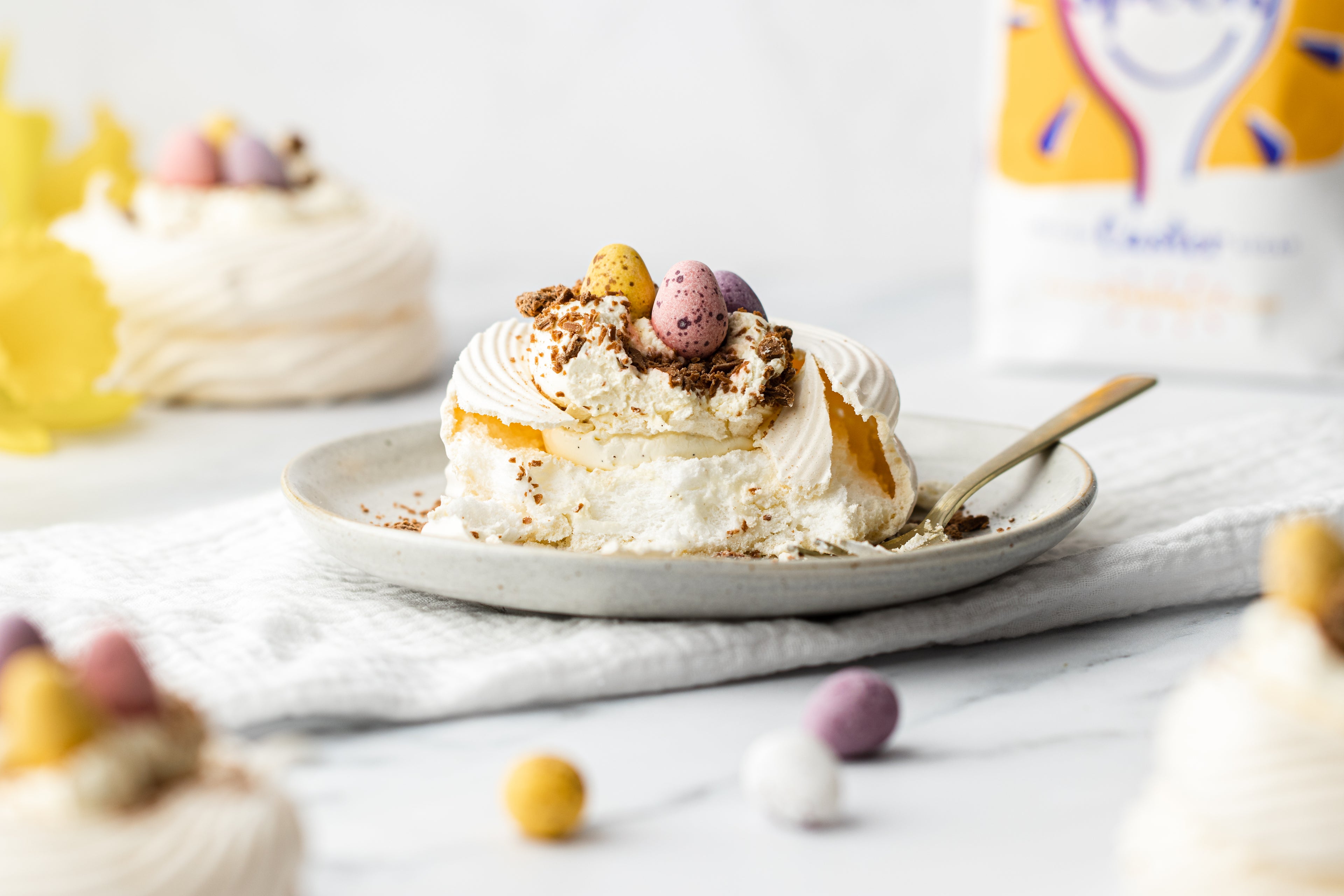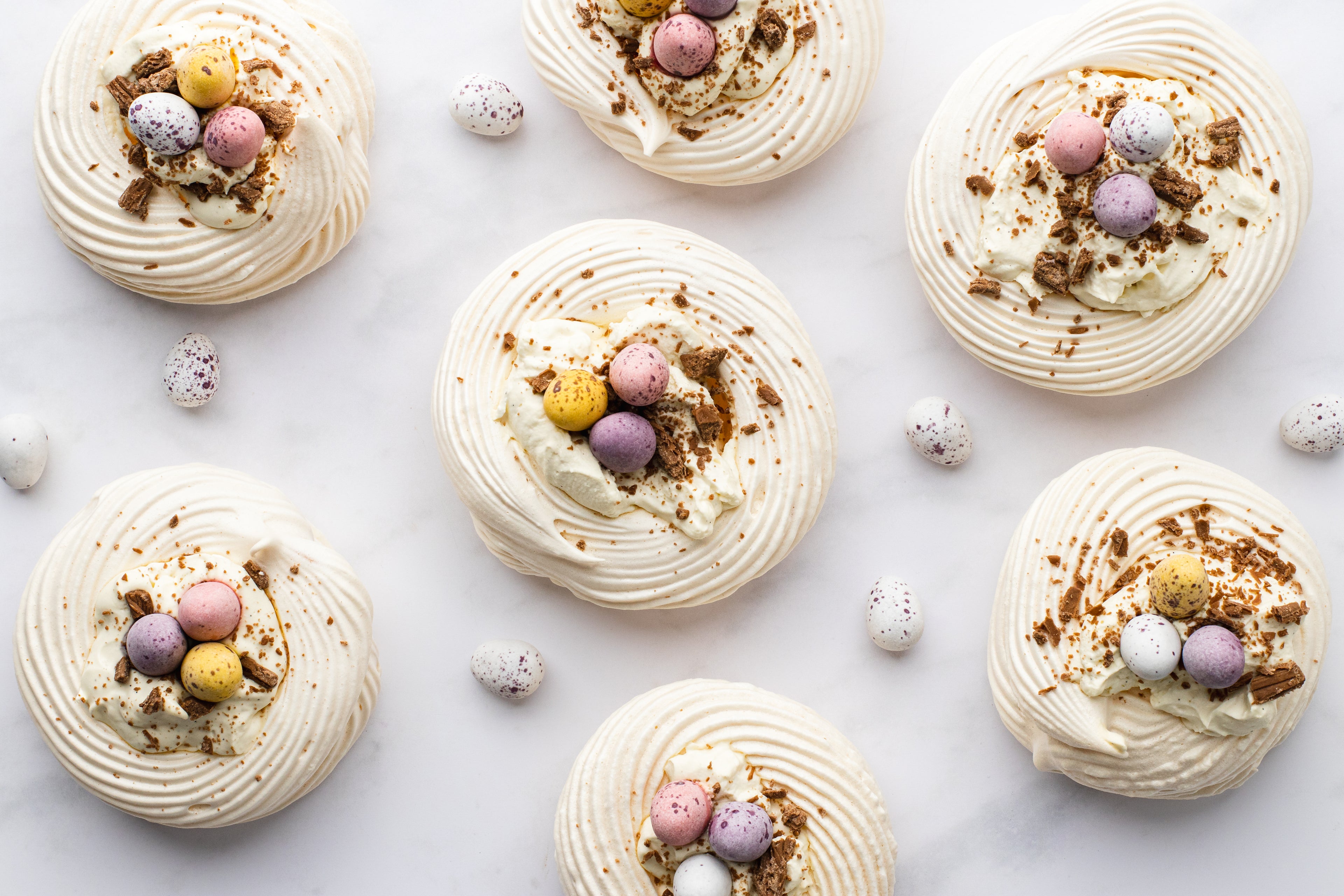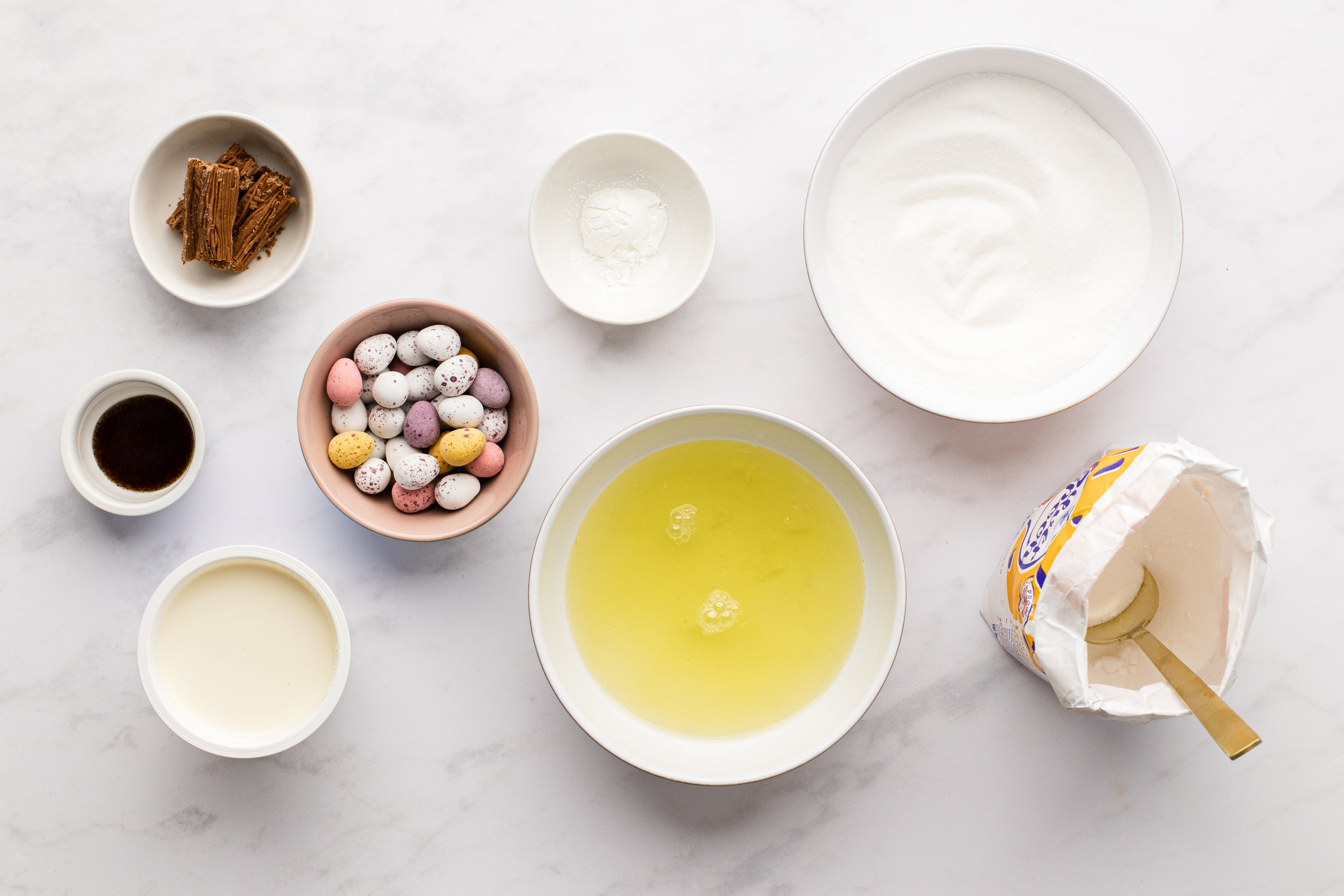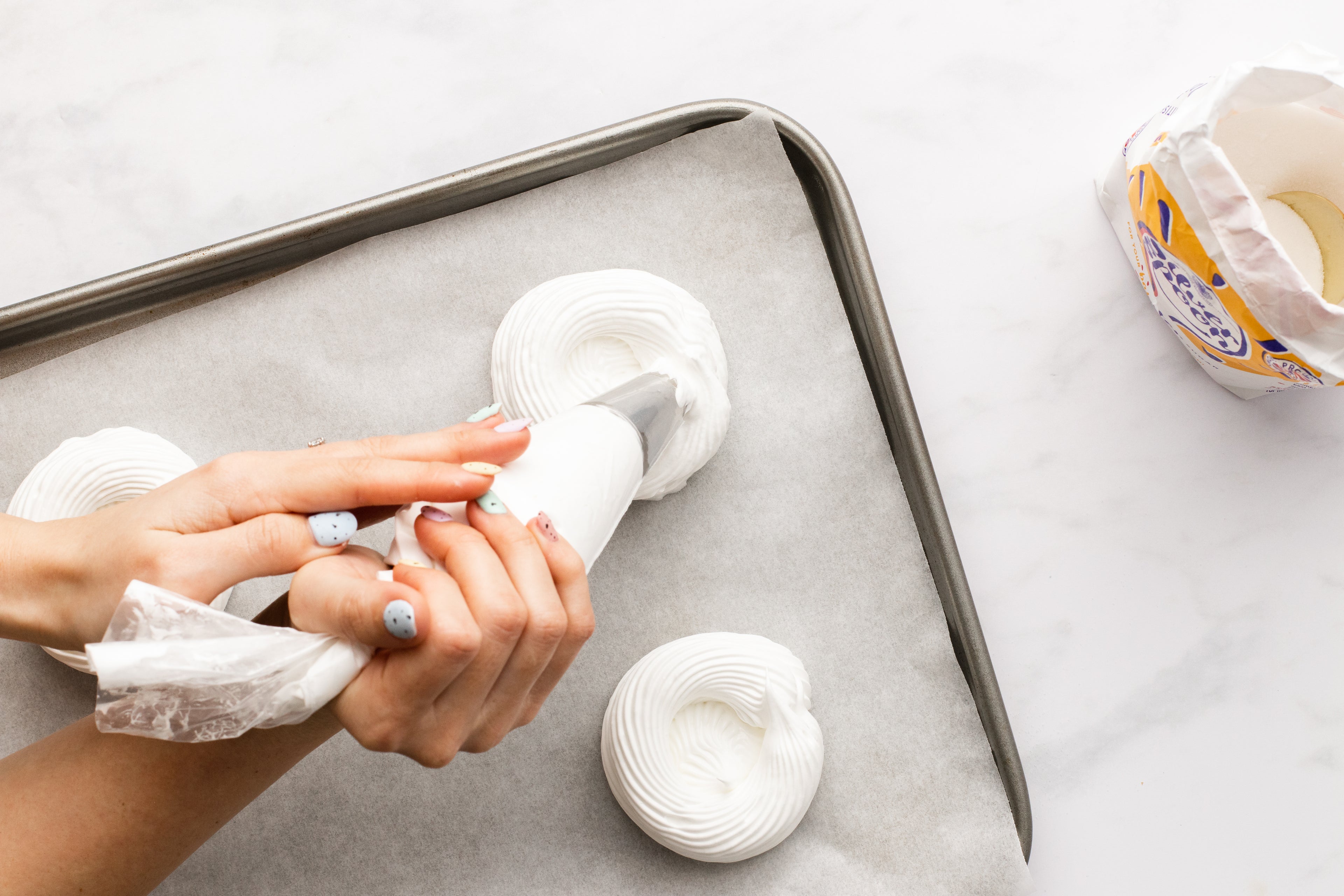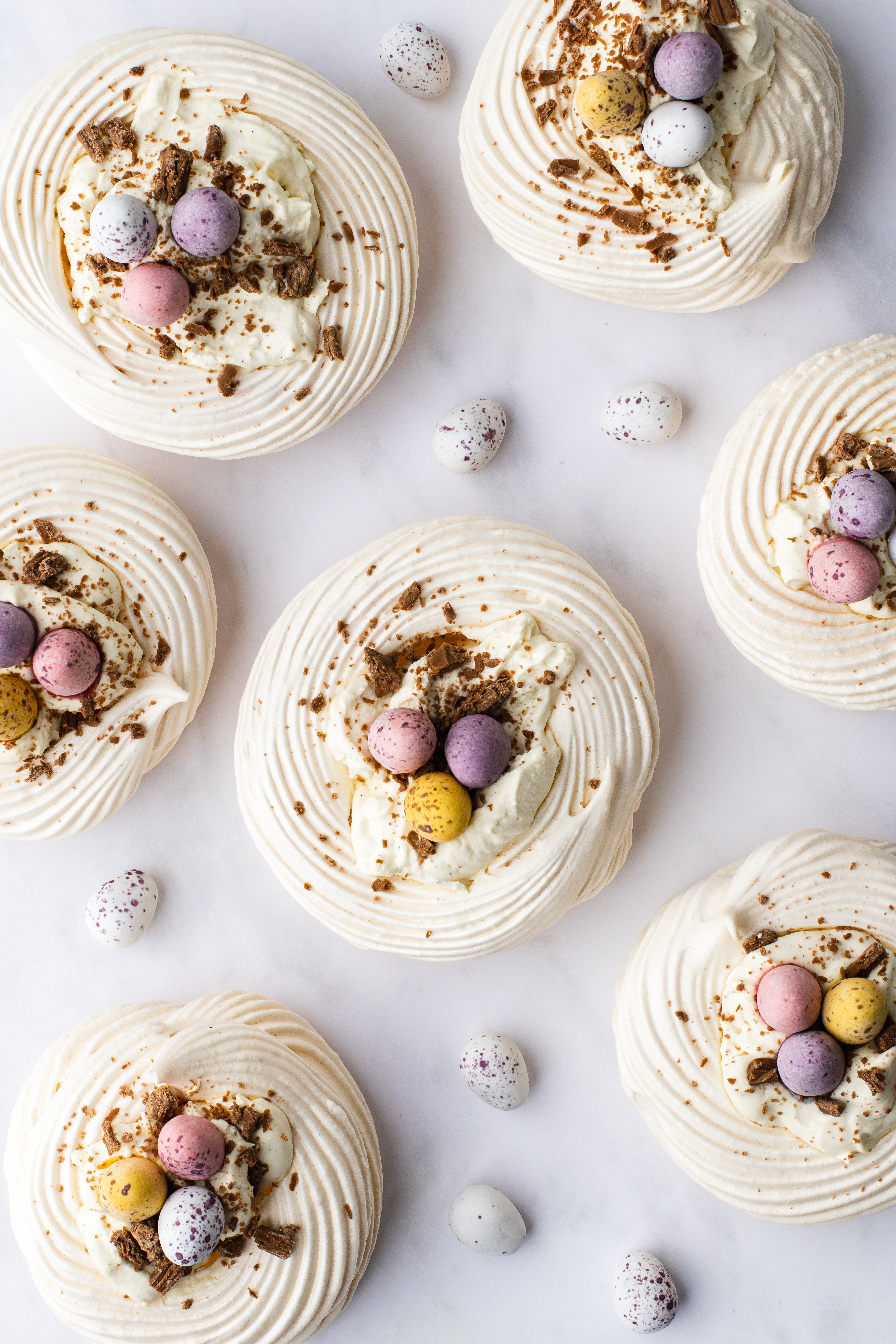 About the bake
There's no such thing as too much chocolate, but when you've eaten one too many eggs this Easter these are the perfect sweet treat to whisk up, with only a handful of ingredients you're bound to have in your cupboards.
We made ours into mini nest shapes and topped with Mini Eggs - but these mini pavlova nests can be topped with anything you fancy; Reece's Peanut Butter Cups? Fresh Berries? There really is one million ways to eat these gooey, chewy nests are sure to put the 'mmmmmm' in meringue.
Storage tips:
The plain undecorated meringue nests will keep for 2 days in an airtight baking tin, at room temperature.

The filled and decorated nests will keep in the fridge for 1 day.
Method
Step 1:

For the nests:
Preheat the oven to 120ºC fan / 140°C conventional and line two baking trays with greaseproof paper.

Step 2:

Wipe the bowl of an electric mixer clean and pour the egg whites into the bowl. Whisk on medium speed for 3-5 minutes until the egg whites are bright white and have reached soft, pillowy peaks.

Step 3:

With the mixer still on, slowly add the caster sugar and continue to whisk on high speed for another 3-4 minutes or until the meringue is thick, glossy and has reached stiff peaks that hold its shape.

Step 4:

Add the cornflour and whisk for another 10 seconds just to mix it through.

Step 5:

Spoon the meringue into a piping bag fitted with a large open star nozzle. Pipe an 8cm circle on the baking tray and fill in the middle. Pipe another ring on top to make a nest shape. Repeat until you have 8 nests in total, with four nests on each baking tray.

Step 6:

Bake for 50 minutes until dry and crisp on the outside and no longer shiny. Turn the oven off, keep the door shut and let the nests cool inside for at least 3 hours or overnight if you're prepping the nests ahead of time.

Step 7:

For the Vanilla Cream Filling:
Use an electric mixer to whisk the double cream and vanilla bean paste until soft and pillowy (about 3 minutes on high speed).

Step 8:

Spoon the cream into the middle of each nest.

Step 9:

To decorate:
Crumble the Flake bars over the nests and finish by placing three Mini Eggs into the middle of each.

Step 10:

Serve immediately and enjoy!
Ingredients
For the nests

6

 

Medium free range egg whites (room temperature)

275g

 Silver Spoon White Caster Sugar

1 tsp

 

Cornflour

For the vanilla cream filling

300ml

 

Double cream

1 tsp

 Nielsen-Massey Vanilla Bean Paste

For the decorative topping

80g

 

Mini eggs

2

 

Cadbury's flake
Utensils
Whisk

Glass bowl

Greaseproof paper
Recipe Reviews
Really good recipe, I made it using 75g of Billingtons light muscovado and 200g of caster sugar which meant they weren't super white meringues but they were super tasty.
Ingredients
For the nests

6

 

Medium free range egg whites (room temperature)

275g

 Silver Spoon White Caster Sugar

1 tsp

 

Cornflour

For the vanilla cream filling

300ml

 

Double cream

1 tsp

 Nielsen-Massey Vanilla Bean Paste

For the decorative topping

80g

 

Mini eggs

2

 

Cadbury's flake
Utensils
Whisk

Glass bowl

Greaseproof paper