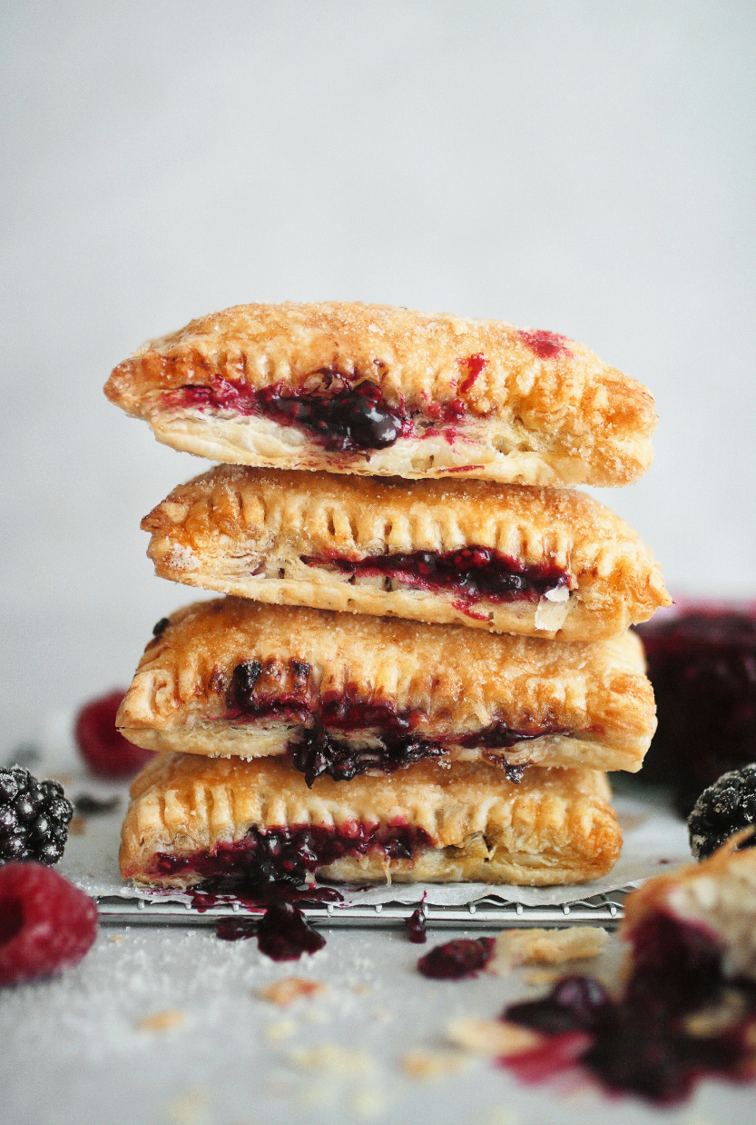 About the Vegan Berry Parcels
They say the best things come in small packages, or in this case, parcels! These mini puff-pastry parcels are packed full of fruitiness and are delicious served fresh and warm, topped with a scoop of dairy-free ice cream. They also taste amazing chilled and drizzled with dairy-free custard. Ready to roll pastry makes this recipe super quick and easy, and it can also be made gluten-free if you use gluten-free ready-to-roll pastry.
The Little Vegan Kitchen has created this delicious recipe, and has more waiting for you to discover and bake. Her Blueberry & Chai Muffins are full of antioxidants, and full of fresh seasonal blueberries, or keep things sweet and simple with her plant-based Victoria Sponge cake - a true classic to enjoy with a cup of tea.
Method
Step 1:

Place the mixed berries in a medium-sized saucepan and sprinkle over the caster sugar, lemon juice and cornflour. Place over a medium–high heat and bring to the boil. Simmer for 10–15 minutes until the mixture thickens, stirring occasionally with a wooden spoon or spatula to prevent it from burning. Once thickened, remove from the heat and allow to cool slightly (it will thicken further as it cools).

Step 2:

Preheat the oven to 180°C fan/200°C/400°F/gas mark 6 and line 2 baking trays with greaseproof paper (see page 17 for how to line a baking tray). Unroll the puff pastry sheets on to a floured surface and cut each sheet into 8 even-sized rectangles.

Step 3:

Take 2 rectangles and spoon about 1 tablespoon of the berry mixture on to one of them. Sandwich the rectangles together. Repeat for the other parcels.

Step 4:

Transfer to the lined baking trays and use a fork to press the edges of the parcels together to seal in the filling. Brush dairy-free milk over each parcel and sprinkle over some caster sugar.

Step 5:

Place the trays in the oven and bake for around 20 minutes, or until the pastry is crisp and golden brown. Allow to cool on a cooling rack.

Serve on the day of making.
Ingredients
For the parcels

300g

 

Mixed berries (fresh or frozen)

100g

 Silver Spoon Caster Sugar

1 tsp

 

Lemon Juice

1 tbsp

 

Cornflour

2 sheets

 

Ready-to-roll Vegan Puff Pastry (gluten-free if preferred)

A dusting

 

Allinson's plain flour

For the glaze

1 tbsp

 

Plant-based milk

1 tbsp

 Silver Spoon Caster Sugar
Utensils
Saucepan

Wooden spoon

Greaseproof paper

2 baking trays

Sharp knife

Fork

Cooling rack
We'd love a slice of advice.
Was it yum? Did the recipe work well? Did you customise the recipe?
Ingredients
For the parcels

300g

 

Mixed berries (fresh or frozen)

100g

 Silver Spoon Caster Sugar

1 tsp

 

Lemon Juice

1 tbsp

 

Cornflour

2 sheets

 

Ready-to-roll Vegan Puff Pastry (gluten-free if preferred)

A dusting

 

Allinson's plain flour

For the glaze

1 tbsp

 

Plant-based milk

1 tbsp

 Silver Spoon Caster Sugar
Utensils
Saucepan

Wooden spoon

Greaseproof paper

2 baking trays

Sharp knife

Fork

Cooling rack