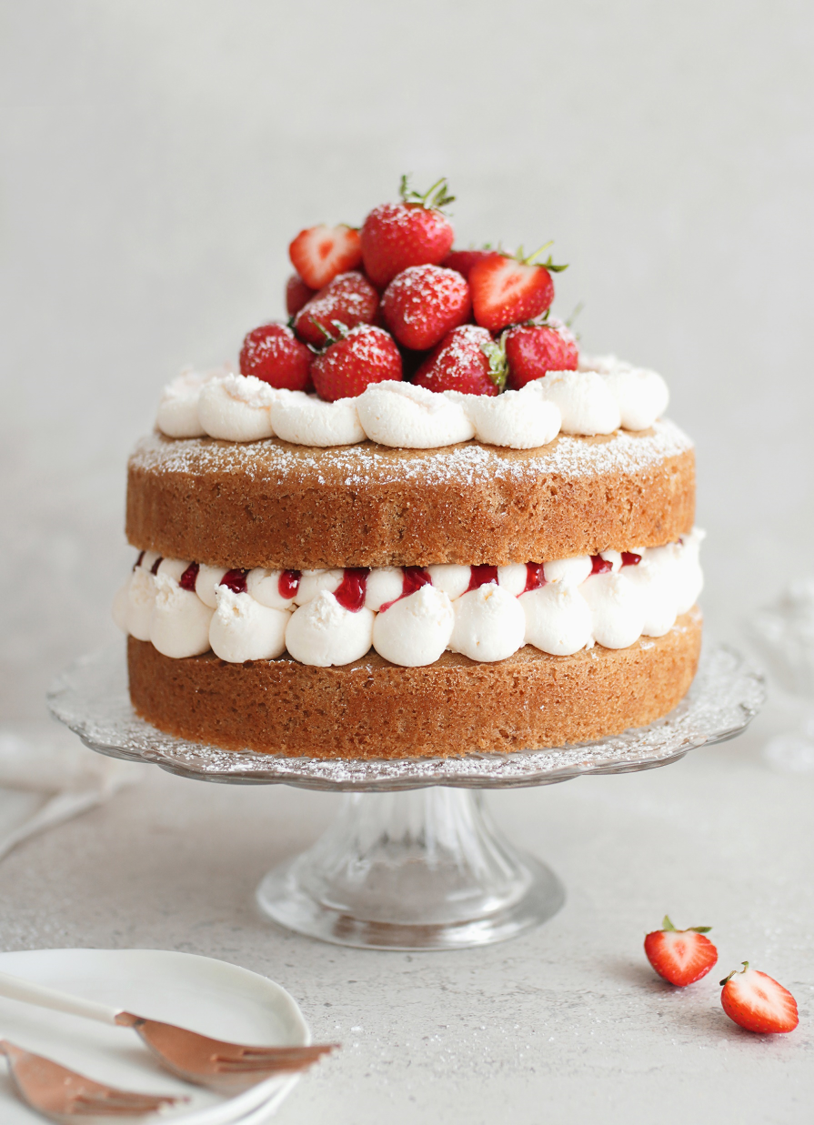 About this Vegan Victoria Sponge
The Little Book of Vegan has lovingly created a classic English Victoria sponge cake and given it a zesty twist, with fruity layers of lemon-flavoured sponge filled with strawberry jam and vanilla cream frosting, and topped with fresh strawberries and a dusting of Silver Spoon icing sugar.
This recipe is perfect vegan alternative cake for a tea party any time of the year.
We can't get enough of The Little Book of Vegan's simple, yet satisfying plant-based bakes, so we have plenty more lined up for you - fresh out of her book. Keep it fresh and fruity with her Mixed Berry Parcels, or whip up a batch a naturally sweet and fluffy vegan Blueberry & Chia Muffins.
*The cakes can be stored in a sealed container and frosted the following day.
*Add the fresh strawberries just before serving to prevent the cake from becoming too moist.
Method
Step 1:

Preheat the oven to 180°C fan/200°C/400°F/gas mark 6 and line 2 x 20cm (8in) round loose-based cake tins with greaseproof paper. If you only have one, you will have to bake the cakes separately. Just remember to cover your batter with a tea towel and give it a quick stir before baking the second cake.

Step 2:

In a bowl, whisk the milk with the apple cider vinegar until fully combined. Set aside for 10 minutes to curdle – this creates a vegan buttermilk

Step 3:

In a large mixing bowl, sift the flour, caster sugar, baking powder and bicarbonate of soda. Mix well to combine. Add the oil to the buttermilk and whisk to combine.

Step 4:

Add the buttermilk mixture, vanilla extract and lemon zest to the dry ingredients and mix with a wooden spoon

Step 5:

Divide the cake batter equally between the lined cake tins. Tap the tins on the worktop a few times to remove any air bubbles. Pop the cakes into the centre of the oven and bake for around 35–40 minutes (checking at 35 minutes). You will know they are baked when they are springy to the touch and a knife or skewer inserted into the centre comes out clean.

Step 6:

Place the cakes on a cooling rack and allow to cool slightly before removing them from the tins. Put the cakes on the rack to cool fully. Once cool, pop them into a sealed container to keep them fresh before frosting.

Step 7:

In a bowl or stand mixer, cream the butter or margarine and cream cheese together on high, then add the icing sugar and vanilla extract. Whip until smooth and well-combined, adding a dash of milk if needed. As this is a naked cake, the frosting needs to be quite thick to keep it stable

Step 8:

Transfer the frosting to a piping bag fitted with a large round-tip nozzle.

Step 9:

Pipe a thin layer of frosting over one of the cakes leaving a 2.5cm (1in) border. Spread the strawberry jam over the top and then sprinkle over some chopped fresh strawberries.

Step 10:

Pipe a decorative border around the edge, then sandwich the other cake on top. To make it more decorative, add some jam to a piping bag and pipe in between the frosting.

Step 11:

Pipe a frosting decoration on top of the cake and decorate with fresh strawberries. Finish with a dusting of icing sugar, if using. Store in the fridge in a sealed container. Best eaten within a few days. Leave at room temperature for 15 minutes before serving.
Ingredients
For the cake

480ml

 

Plant-based milk

2 tsp

 

Apple cider vinegar

470g

 Allinson's Self Raising Flour

350g

 Billington's Unrefined Golden Caster Sugar

1 tsp

 

Baking Powder

1 tsp

 

Bicarbonate of soda

120ml

 

Sunflower Oil

1 tsp

 Nielsen-Massey Vanilla Extract

1 lemon

 

Lemon (zest only)

For the frosting

60g

 

Vegan margarine or butter

2 tbsp

 

Vegan cream cheese

400g

 Silver Spoon Icing Sugar

1/2 tsp

 Nielsen-Massey Vanilla Extract

 

Dash of dairy-free milk, if needed

For the filling & decoration

4 tbsp

 

Strawberry jam

 

Strawberries (a handful)

 Silver spoon icing sugar (for dusting)
Utensils
2 x 20 cm sandwich tins

Stand mixer (not essential)

Whisk or electric whisk

Wooden spoon

Wire cooling rack

Piping bags

Piping nozzles

Bowl
Recipe Reviews
This was so tasty, my first ever vegan bake
Ingredients
For the cake

480ml

 

Plant-based milk

2 tsp

 

Apple cider vinegar

470g

 Allinson's Self Raising Flour

350g

 Billington's Unrefined Golden Caster Sugar

1 tsp

 

Baking Powder

1 tsp

 

Bicarbonate of soda

120ml

 

Sunflower Oil

1 tsp

 Nielsen-Massey Vanilla Extract

1 lemon

 

Lemon (zest only)

For the frosting

60g

 

Vegan margarine or butter

2 tbsp

 

Vegan cream cheese

400g

 Silver Spoon Icing Sugar

1/2 tsp

 Nielsen-Massey Vanilla Extract

 

Dash of dairy-free milk, if needed

For the filling & decoration

4 tbsp

 

Strawberry jam

 

Strawberries (a handful)

 Silver spoon icing sugar (for dusting)
Utensils
2 x 20 cm sandwich tins

Stand mixer (not essential)

Whisk or electric whisk

Wooden spoon

Wire cooling rack

Piping bags

Piping nozzles

Bowl