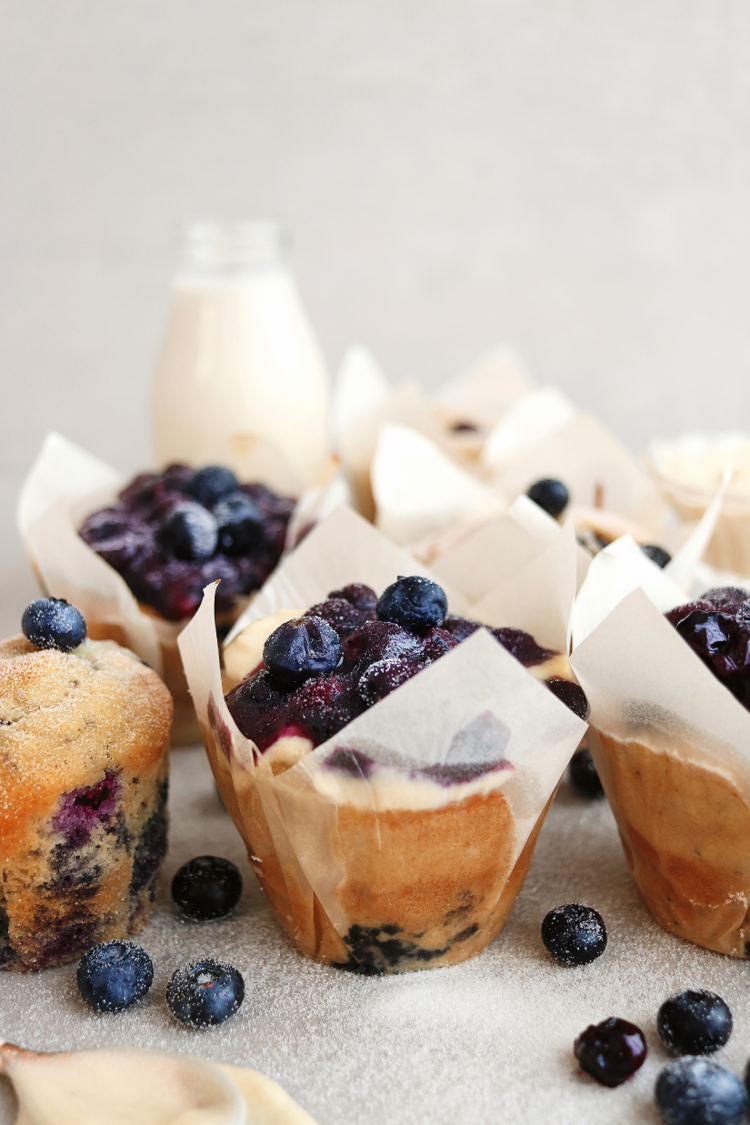 About the Vegan Muffins
If you're on the look out for your next plant-based bake, look no further. These deliciously fruit-filled muffins are top tier accompanyment to your lunch-break coffee or a tea-time treat. The Little Book of Vegan's traditional blueberry muffins are juicy, sweet and bursting with fresh blueberries. She has added a sprinkle of chia seeds in each plant-based muffin for added texture, antioxidants and omega-3 fatty acids for a completely delicious way of getting all that good stuff in.
The Little Book of Vegan has plenty more perfect plant-based recipes waiting for you to discover. Why not use your leftover blueberries to fill up some Vegan Mixed Berry Parcels or take on a total teatime classic with her moist, moreish Plant based Victoria Sponge Cake - a staple bake to master for Jubilee.
*Once cool, store in a sealed container in the fridge. Leave at room temperature for 15 minutes before serving. Serve with extra yogurt, blueberry compote or just as they are. Best enjoyed within a few days of making.
Method
Step 1:

Preheat the oven to 180°C fan/200°C/400°F/gas mark 6 and line 2 muffin tins with muffin cases.

Step 2:

In a bowl, combine the flour, caster sugar, baking powder, bicarbonate of soda and chia seeds.

Step 3:

In a separate bowl, combine the milk, yogurt, oil, lemon juice and vanilla extract.

Step 4:

Pour the wet ingredients into the dry and mix until combined, but don't over-mix! Fold in almost all of the blueberries (about 1 cup).

Step 5:

Fill the muffin cases three-quarters full with the batter. Scatter the remaining blueberries on top of the muffins and gently press down. Place in the centre of the oven and bake for 15–20 minutes, or until a skewer inserted into the centre comes out clean and the muffins are golden brown in colour.

Step 6:

Once baked, place on a cooling rack and leave to cool.
Ingredients
For the muffins

260g

 Allinson's Self Raising Flour

150g

 Silver Spoon Caster Sugar

1 tsp

 

Baking powder

1/4 tsp

 

Bicarbonate of soda

1 tbsp

 

Chia seeds

240ml

 

Plant-based milk

100g

 

Plant based yoghurt

60ml

 

Sunflower Oil

1 tsp

 

Lemon Juice

2 tsp

 Nielsen-Massey Vanilla Extract

150g

 

Fresh blueberries

a dollop

 

Blueberry compote/jam (to serve/optional)
Utensils
Muffin tray

Muffin cases

Bowl

Wooden spoon
We'd love a slice of advice.
Was it yum? Did the recipe work well? Did you customise the recipe?
Ingredients
For the muffins

260g

 Allinson's Self Raising Flour

150g

 Silver Spoon Caster Sugar

1 tsp

 

Baking powder

1/4 tsp

 

Bicarbonate of soda

1 tbsp

 

Chia seeds

240ml

 

Plant-based milk

100g

 

Plant based yoghurt

60ml

 

Sunflower Oil

1 tsp

 

Lemon Juice

2 tsp

 Nielsen-Massey Vanilla Extract

150g

 

Fresh blueberries

a dollop

 

Blueberry compote/jam (to serve/optional)
Utensils
Muffin tray

Muffin cases

Bowl

Wooden spoon