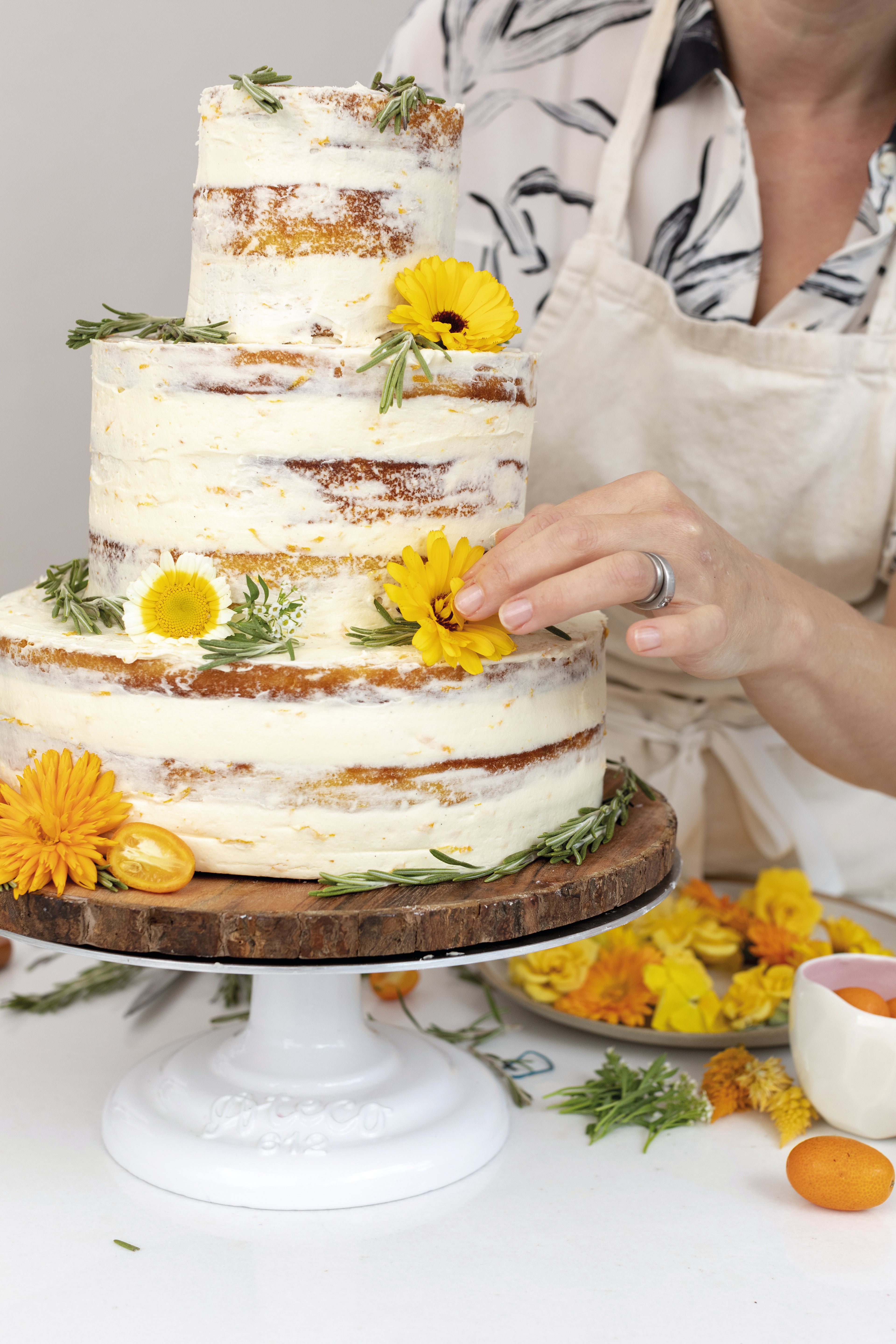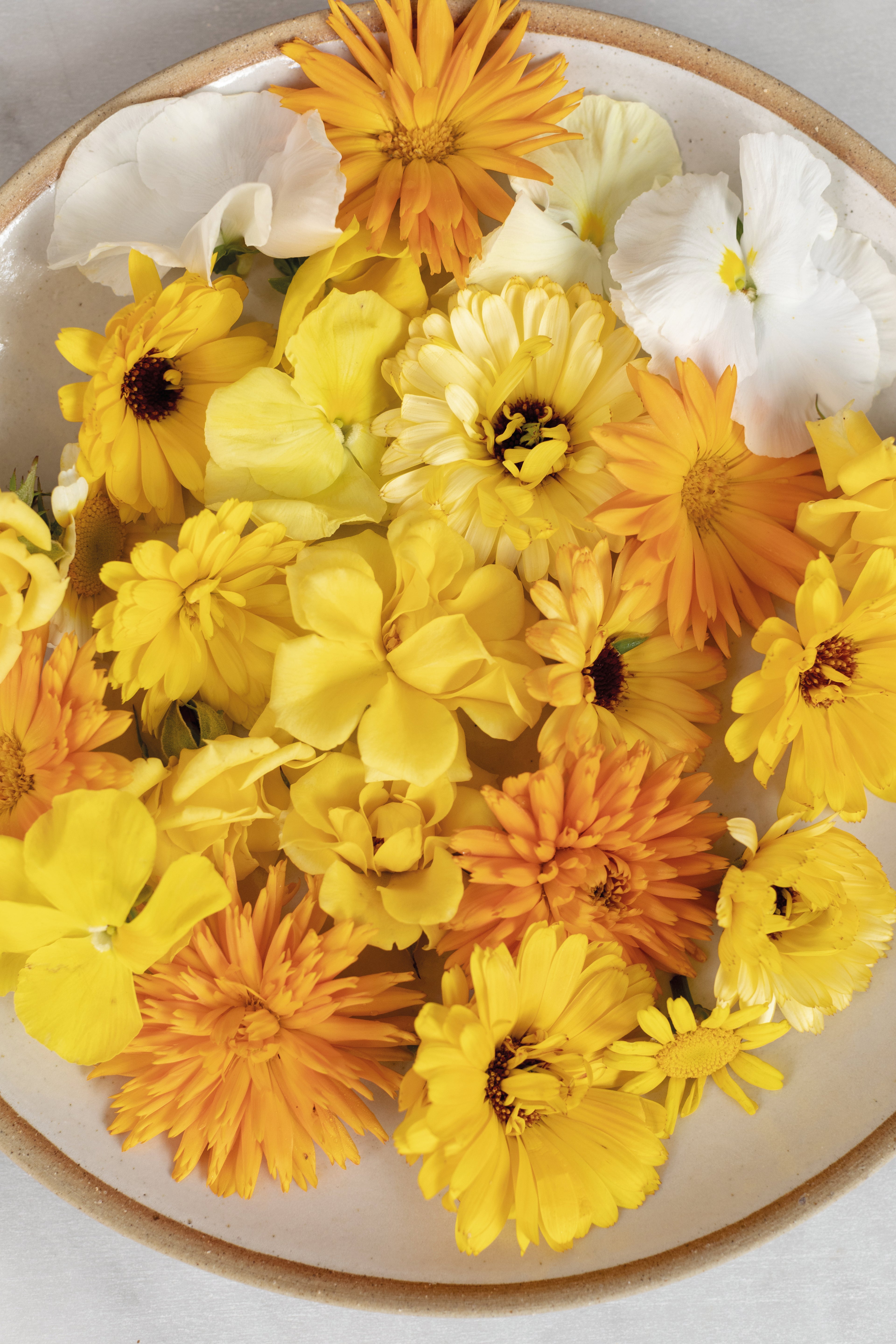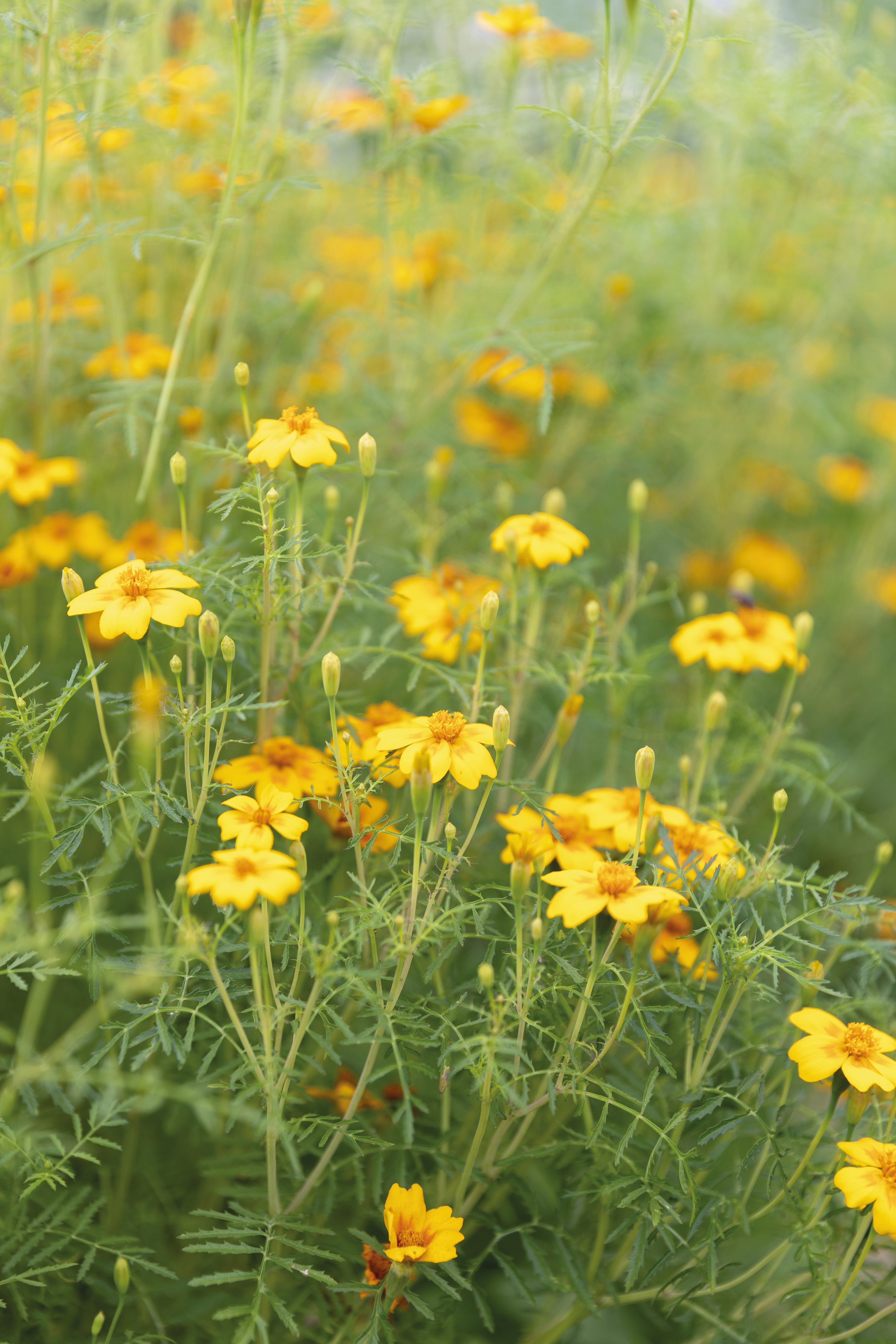 About the bake
The absolute, ultimate, applause worthy centre piece. 3 tiers of orange, almond and rosemary pudding-esque sponge complimented by a fresh, zingy orange drizzle and cream cheese frosting. A slice of this is absolute bliss. Naked and stunning, the decoration on this cake can be as simple as you like, dressing it up with edible flowers for an extra touch of elegance. This recipe is by Juliet Sear from ITV's 'Juliet Bakes'.
Method
Step 1:

Grease and line the bases and sides of the cake tins with baking parchment. Put the whole oranges in a large pan or couple of large pans of water, bring to the boil and simmer for 1 hour, until soft. Remove, cool, then halve and discard any seeds/pips.

It would be lovely to use blood oranges if they are in season as a switch for regular oranges.


Step 2:

Preheat the oven to 170°C (335°F). Whizz the orange halves (with the skin) to a purée in a food processor and place in a large bowl. Beat in the eggs.

The amounts in this recipe are the correct for three tiers, 25cm (10in), 18cm (7in) and 10cm (4in) in diameter, each one constructed with three cake layers per tier. This is a lot of cake batter, so you may wish to deal with it in smaller batches. Cakes can be baked and frozen in advance if you wish and keep well for up to a month.


Step 3:

Mix the polenta, almonds, baking powder, sugar and rosemary in a large bowl to evenly mix and distribute the baking powder. Add this to the wet mix.


Step 4:

Pour the batter into the tins to the weights stated below (if you only have one tin of each size you can do this in batches) and bake for the following timings:

45-50 for the 10", 40-45 for the 7" and approx 30 for the 4"

These vary as the smaller cakes will cook more quickly than the larger ones. The cakes should be risen and golden and a cake tester or skewer should come out clean when testing the centre of the cake for doneness. Get your orange drizzle ready whilst the cakes are baking.

I weighed the batter accurately into the tins in order to keep the cake layers of a similar height. The weight of batter for the tins per layer is as follows:

25cm (10in) round tin, three layers, each weighing 1.2kg (2lb 101/2oz)

18cm (7in) round tin, three layers, each weighing 575g (1lb 41/2oz)

10cm (4in) round tin, three layers, each weighing 200g (7oz)


Step 5:

For the drizzle, dissolve the sugar in 100ml (31/2fl oz) hot water in a pan. Boil for 5 minutes but don't let it colour. Remove from the heat and cool briefly. Add the orange blossom water, rosemary and zest.


Step 6:

Cool the cakes in the tins for 5 minutes, then turn out, pierce with a skewer in several places and brush all over liberally with the drizzle.


Step 7:

Use a thin board under each tier that is 2.5cm (1in) smaller than the sponges. This is so the boards do not show through, as the frosting is only a very thin, partially scraped-off layer. Stick the bottom cake of each tier to its cake board with a dollop of frosting.


Step 8:

Your sponges may need a little trimming to make them all a similar height, although this is a rustic cake so it works well if the heights vary a little. Just layer the sponges together with a generous amount of frosting between each one, and crumb coat each cake tier scraping off the excess frosting and getting the outer surface as neat as possible. Once all the sponges are coated, use cake dowels in the base and middle tier for support, sticking them together with a little more frosting.


Step 9:

If there are any gaps around the joins, add a touch of frosting over these with a small palette knife, or from a piping bag, to fill.


Step 10:

Adorn with flowers, kumquats and rosemary.

Ingredients
For the Cake

8 (approximately 250-275g (83/4-93/4oz) each)

 

Large oranges

26

 

Free range eggs

650g

 

Polenta

650g

 

Ground Almonds

1075g

 Billington's Unrefined Golden Caster Sugar

3 heaped tbsp

 

Finely chopped fresh rosemary leaves

30g

 

Baking powder

For the Orange Drizzle

300g

 Billington's Unrefined Golden Caster Sugar

2 tbsp

 Nielsen-Massey Orange Blossom Water

1 tsp

 

Finely chopped fresh rosemary leaves

3 oranges

 

Finely grated orange zest

For the Cream Cheese Orange Frosting

750g

 

Soft unsalted butter

1.5kg

 Silver Spoon Icing Sugar

200g

 

Cream cheese at room temperature

2 large oranges

 

Zest of orange

For the Decoration

I've used calendulas, dahlias and alyssum

 

Fresh edible flowers of your choice

Handful

 

Kumquats

Handful

 

Large fresh rosemary sprigs
Utensils
Round cake tins, 25cm (10in), 18cm (7in) and 10cm (4in) diameter

Baking parchment

Cake tester or skewer

Palette knives, large and small

Thin cake boards, 2.5cm (1in) (smaller in diameter than the cake tin sizes)
We'd love a slice of advice.
Was it yum? Did the recipe work well? Did you customise the recipe?
Ingredients
For the Cake

8 (approximately 250-275g (83/4-93/4oz) each)

 

Large oranges

26

 

Free range eggs

650g

 

Polenta

650g

 

Ground Almonds

1075g

 Billington's Unrefined Golden Caster Sugar

3 heaped tbsp

 

Finely chopped fresh rosemary leaves

30g

 

Baking powder

For the Orange Drizzle

300g

 Billington's Unrefined Golden Caster Sugar

2 tbsp

 Nielsen-Massey Orange Blossom Water

1 tsp

 

Finely chopped fresh rosemary leaves

3 oranges

 

Finely grated orange zest

For the Cream Cheese Orange Frosting

750g

 

Soft unsalted butter

1.5kg

 Silver Spoon Icing Sugar

200g

 

Cream cheese at room temperature

2 large oranges

 

Zest of orange

For the Decoration

I've used calendulas, dahlias and alyssum

 

Fresh edible flowers of your choice

Handful

 

Kumquats

Handful

 

Large fresh rosemary sprigs
Utensils
Round cake tins, 25cm (10in), 18cm (7in) and 10cm (4in) diameter

Baking parchment

Cake tester or skewer

Palette knives, large and small

Thin cake boards, 2.5cm (1in) (smaller in diameter than the cake tin sizes)