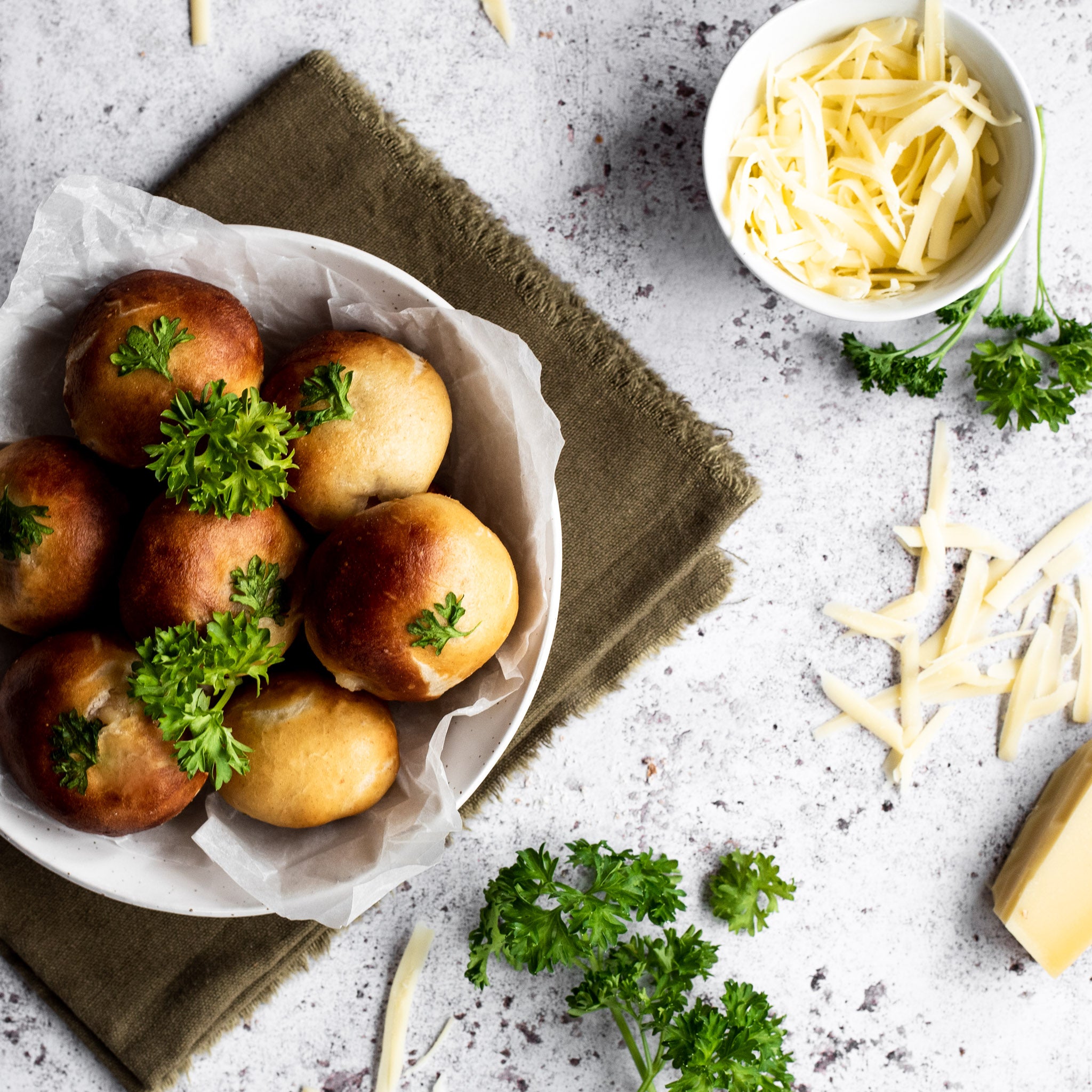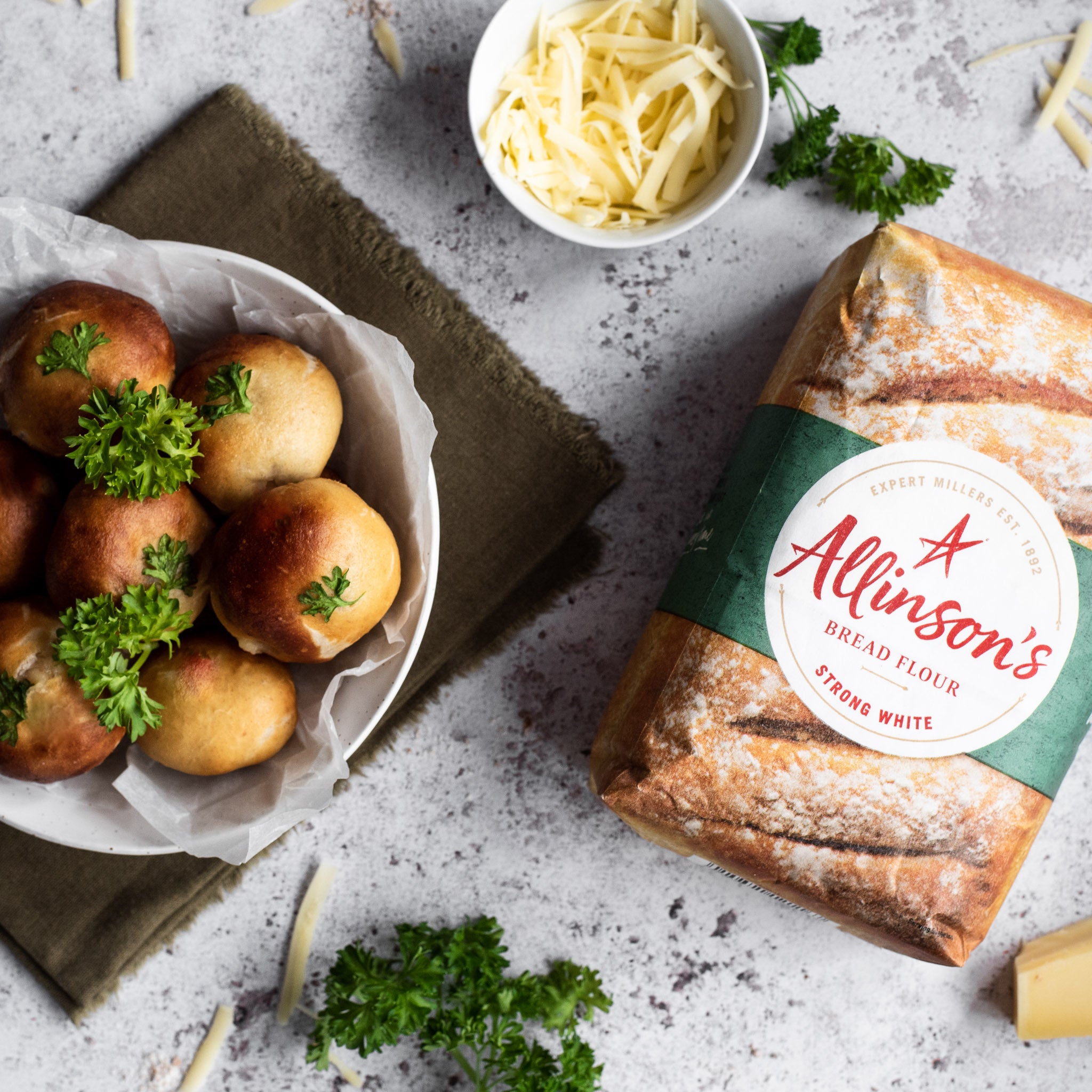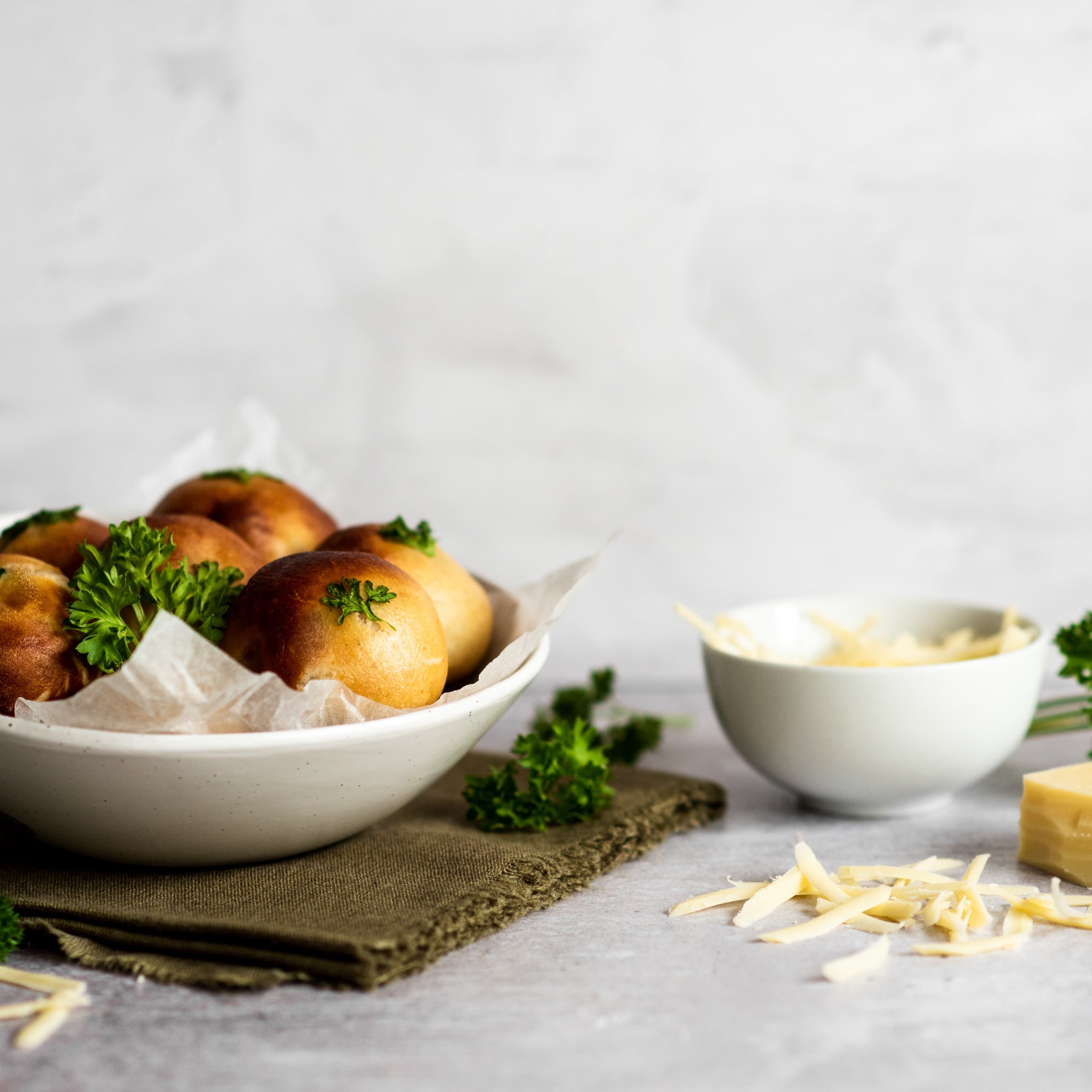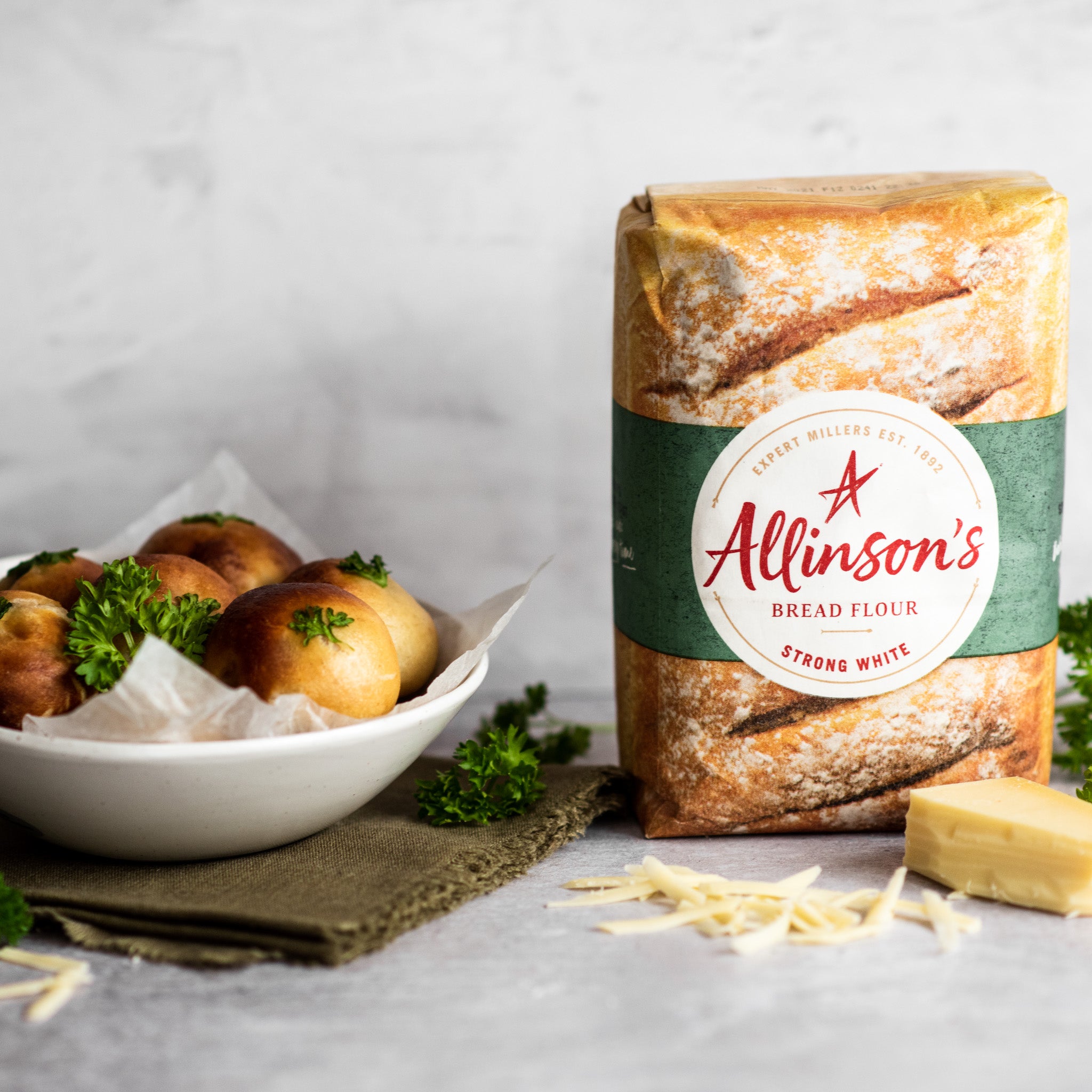 About the bake
This recipe for cheesy meaty pretzel bites is the perfect go-to if when you've got a few people coming over. A gorgeously soft little pretzel bun with a dollop of gruyere and pancetta sauce in the middle, these little bites are dangerously moreish, you won't be able to stop at just one.
Feeling brave? Add some chopped chilli to the sauce too but maybe warn your guests first!

You can store these in an airtight container in the fridge once made, and just reheat thoroughly before serving.
Method
Step 1:

Measure out the flour, sugar, yeast and salt into a bowl, and mix the dry ingredients with a spoon.

Step 2:

Add the 240ml warm water and continue to mix, with a spoon and then your hands, until all the flour has come away from the sides of the bowl.

Step 3:

Tip onto a lightly floured surface and knead for 5-10 minutes until smooth and elastic.


Step 4:

Lightly oil the bowl with a few drops of oil, return the dough to the bowl, cover with cling film and leave to rise for 1-2 hours until at least doubled in size.

Step 5:

Fry off the pancetta in vegetable oil and set aside.

Step 6:

Select 32 handsome-shaped parsley leaves and set aside.

Step 7:

Grate the gruyere into a saucepan, add the corn flour and stir through so that the cheese is covered evenly. Add the 60ml water and melt together over a medium heat, stirring constantly. Once melted, stir through the pancetta and leave to cool.

Step 8:

Tip the dough out onto a floured surface, and knock the air out by gently folding it in on itself three or four times. Divide into 32 equal sized pieces.

Step 9:

Make the bites by rolling each piece of dough out into a round disc. Dollop about a tea spoon of cheese / pancetta mixture into the centre of the disc. Bring the edges of the dough around the cheese and pinch together into a ball shape encasing the cheese.

Step 10:

Repeat this until all 32 dough balls are made.

Step 11:

Fill a large pan with 3.5 litres of boiling water. Add the bicarbonate of soda, and line a baking tray with baking parchment.

Step 12:

Using a fish slice or a slotted spoon, gently dip each pretzel bites, four at a time, into the boiling water for 10 seconds, placing each one on the baking tray as they come out. Put a parsley leaf on the top of each ball while they are still wet. Repeat with the rest of the
pretzel bites.

Step 13:

Preheat the oven to 200°C fan and pour 100ml of water into the oven reservoir of the SteamBake oven or place a baking tin half-filled with water in the base of the oven, five minutes before you are ready to bake. When the oven is at heat, bake the pretzel bites for 13 minutes until a deep brown.

Step 14:

Take out and eat as soon as they're cool enough to touch as they're flipping delicious!
Ingredients
400g

 Allinson's Strong White Bread Flour

40g

 Billington's Unrefined Light Muscovado Sugar

2 tsp

 Allinson's Easy Bake Yeast

1 1/2 tsp

 

Salt

240ml

 

Warm water

3 tbsp

 

Bicarbonate of soda

A bunch

 

Fresh parsley

100g

 

Pancetta (chopped)

1 tsp

 

Vegetable oil

200g

 

Gruyère

2 tsp

 

Cornflour

60ml

 

Water
Utensils
Large mixing bowl

Frying pan

Saucepan

Large saucepan

Baking tray
Recipe Reviews
First attempt at these and it was a success. Very very tasty bits and would be perfect for a lunch nibble or a starter. The only thing I changed was I used normal back bacon and not pancetta but the flavour was great and come through very well. I will do these again very soon.
Ingredients
400g

 Allinson's Strong White Bread Flour

40g

 Billington's Unrefined Light Muscovado Sugar

2 tsp

 Allinson's Easy Bake Yeast

1 1/2 tsp

 

Salt

240ml

 

Warm water

3 tbsp

 

Bicarbonate of soda

A bunch

 

Fresh parsley

100g

 

Pancetta (chopped)

1 tsp

 

Vegetable oil

200g

 

Gruyère

2 tsp

 

Cornflour

60ml

 

Water
Utensils
Large mixing bowl

Frying pan

Saucepan

Large saucepan

Baking tray