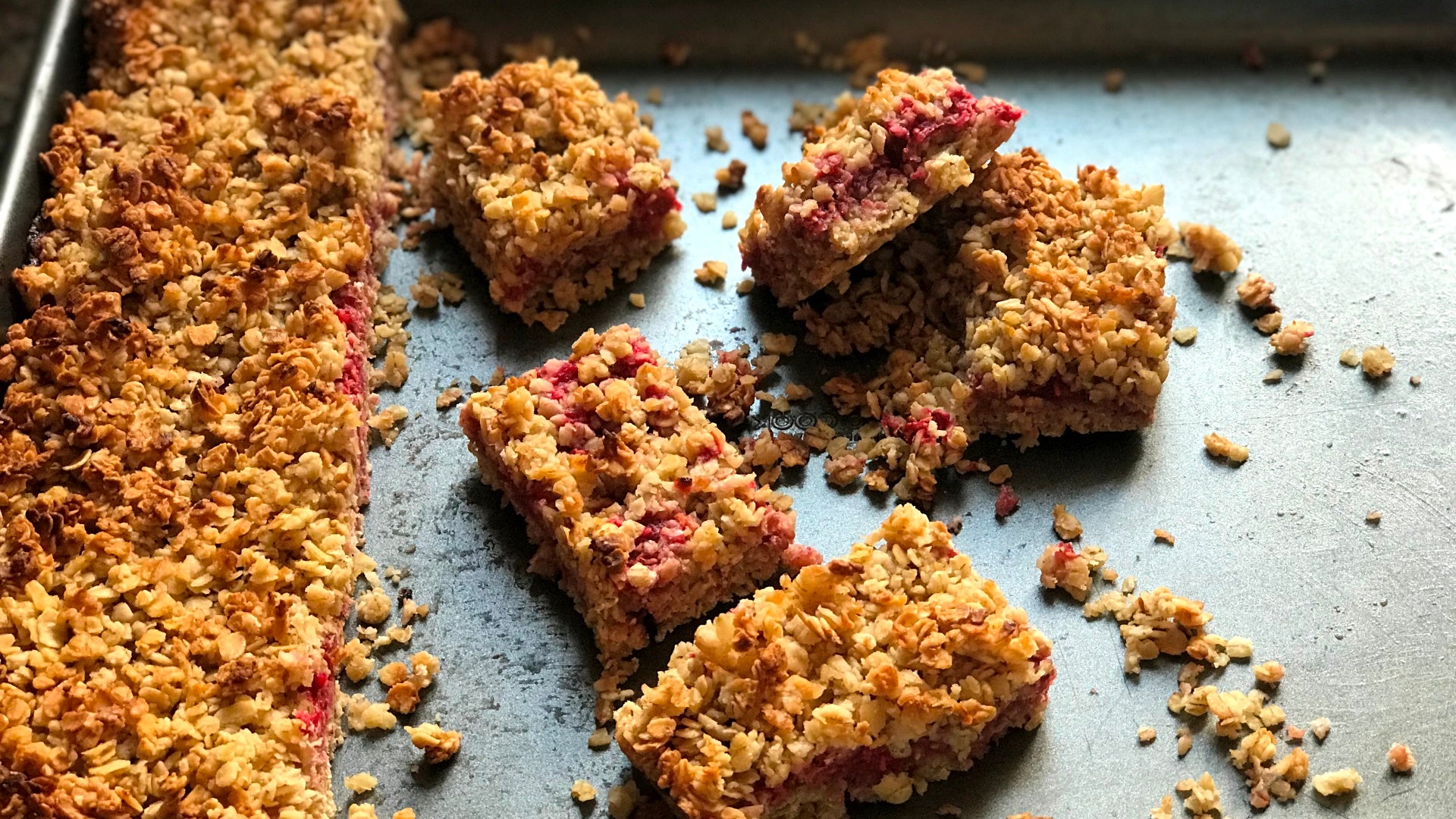 About the bake
These flapjacks are a delicious way to incorporate fresh raspberries to a bake. They are really simple to make that all the family can get involved, even little bakers too.
Method
Step 1:

Grease a square 20cm baking tin and preheat your oven to 220°c (220°c fan / gas mark 7)


Step 2:

In a bowl mash the raspberries with a potato masher or a fork until there are no more large chunks of raspberries.


Step 3:

In a large saucepan, heat the golden syrup, butter and vanilla extract gently until the butter has fully melted. Remove from the heat and then add the porridge oats. Mix until the oats are fully coated with the butter mixture.


Step 4:

Pour half of the oat mixture into the tin and press down to fill all of the corners.


Step 5:

Pour the raspberry mixture over the oats spreadly out evenly then finish with the remaining oat mixture on top.


Step 6:

Bake in the oven for 10-15 minutes, then leave to cool before slicing.

Ingredients
200g

 

Raspberries (fresh)

400g

 

Porridge oats

1 tsp

 Nielsen-Massey Vanilla Extract

8 tbsp

 

Golden syrup

100g

 

Butter (unsalted)
Utensils
20cm square tin

Large saucepan
Recipe Reviews
I make these with 4 tablespoons of agave nectar to make it a but healthier for packed lunches. A little crumbly but storing in the fridge helps it firm up. I'd like to know if they can be frozen.
Yes these can be frozen. We recommend cutting into portions before freezing and using sheets of baking paper between each flapjack to prevent them sticking to one another. Freeze in sealed freezer bags or cling film. To defrost pop in the fridge to thaw, or if using for packed lunches, pop straight into the lunchbox to keep your lunch cool at the same time!
Haven't seen this before! Haven't made it yet, but looks delicious
Very nice topped with drizzled white chocolate too
I used this recipe for my 17 month old and she absolutely loves it. Shared it with her friends who enjoyed it. Made it baby friendly by reducing the golden syrup and adding some honey.
Thank you for the really quick and easy recipe.
I love this recipe, I recommend this recipe for everyone to try!
Ingredients
200g

 

Raspberries (fresh)

400g

 

Porridge oats

1 tsp

 Nielsen-Massey Vanilla Extract

8 tbsp

 

Golden syrup

100g

 

Butter (unsalted)
Utensils
20cm square tin

Large saucepan