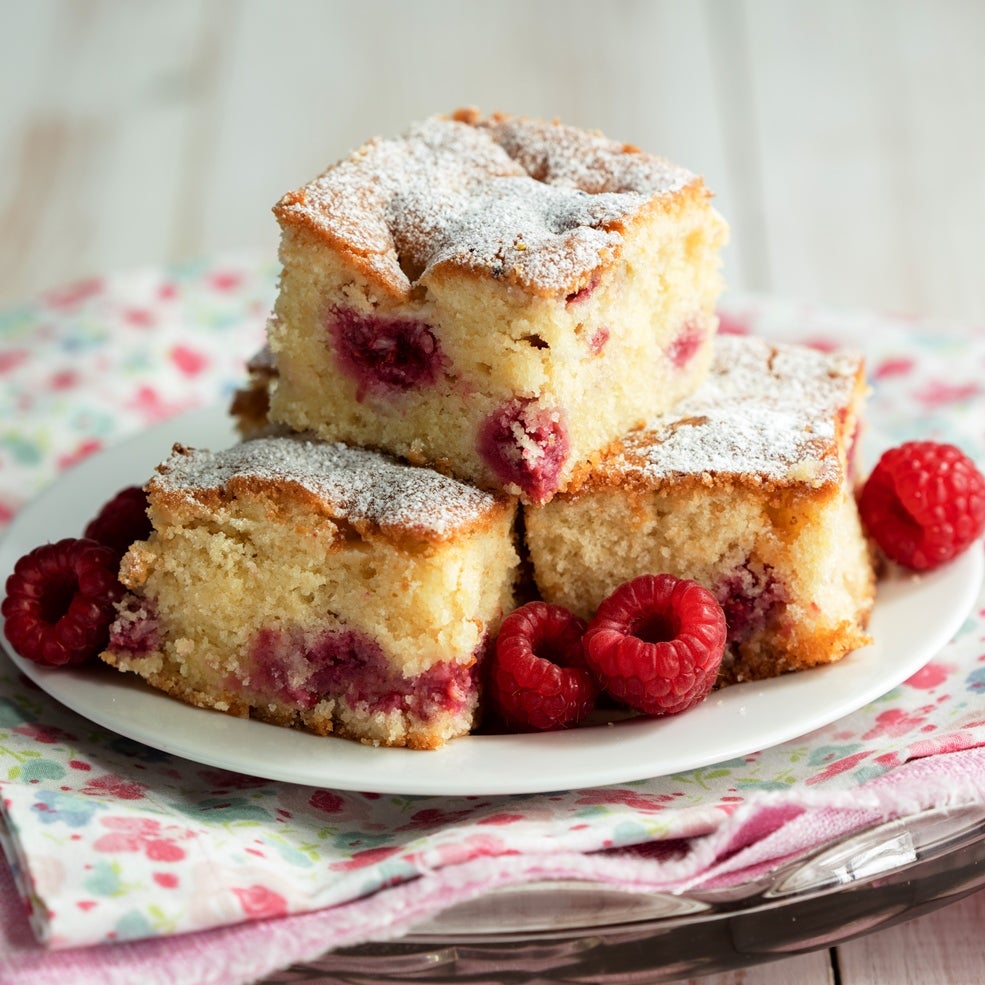 About the bake
This raspberry and white chocolate tray bake is made using Stevia Blend Caster Sugar. This blend is a great alternative and reduces sugar intake by 1/3 saving you calories which come from sugar. Try our raspberry and white chocolate tray bake, you'll see that taste and texture is not compromised. This recipe contains almonds which keeps the bake delicious and moist.
Method
Step 1:

For a fan oven, preheat to 160'c.

Step 2:

Grease and line the base of a rectangular tin 28cm x 18cm x 3cm with baking parchment.

Step 3:

Sift the flour and salt into a small bowl and set aside.

Step 4:

Using an electric whisk, cream sugar and butter together until light and fluffy.

Step 5:

Gradually add the beaten eggs with a little of the flour, after each addition. Gently whisk in the remainder of the flour until all the ingredients are combined.

Step 6:

Stir in the milk and then fold in almonds and white chocolate chunks. Put some raspberries in after to prevent them from getting too damaged.

Step 7:

Spoon the mixture into the tin and roughly level the surface, the mixture will be fairly stiff.

Step 8:

Bake for 50 minutes or until golden. Cool on a wire rack. When cool, remove from tin, remove the parchment and slice. Dust with icing sugar if you want to.
Ingredients
For the sponge

200g

 Self-raising white flour

1pinch

 

Sea salt

133g

 

Stevia blend caster sugar

200g

 

Butter (unsalted) (softened)

3

 

Egg(s) (free range)

2 tbsp

 

Milk (semi-skimmed)

50g

 

Almonds (ground)

150g

 

White chocolate (chunks)

200g

 

Raspberries
Recipe Reviews
My son loves this in his lunchbox
Ingredients
For the sponge

200g

 Self-raising white flour

1pinch

 

Sea salt

133g

 

Stevia blend caster sugar

200g

 

Butter (unsalted) (softened)

3

 

Egg(s) (free range)

2 tbsp

 

Milk (semi-skimmed)

50g

 

Almonds (ground)

150g

 

White chocolate (chunks)

200g

 

Raspberries