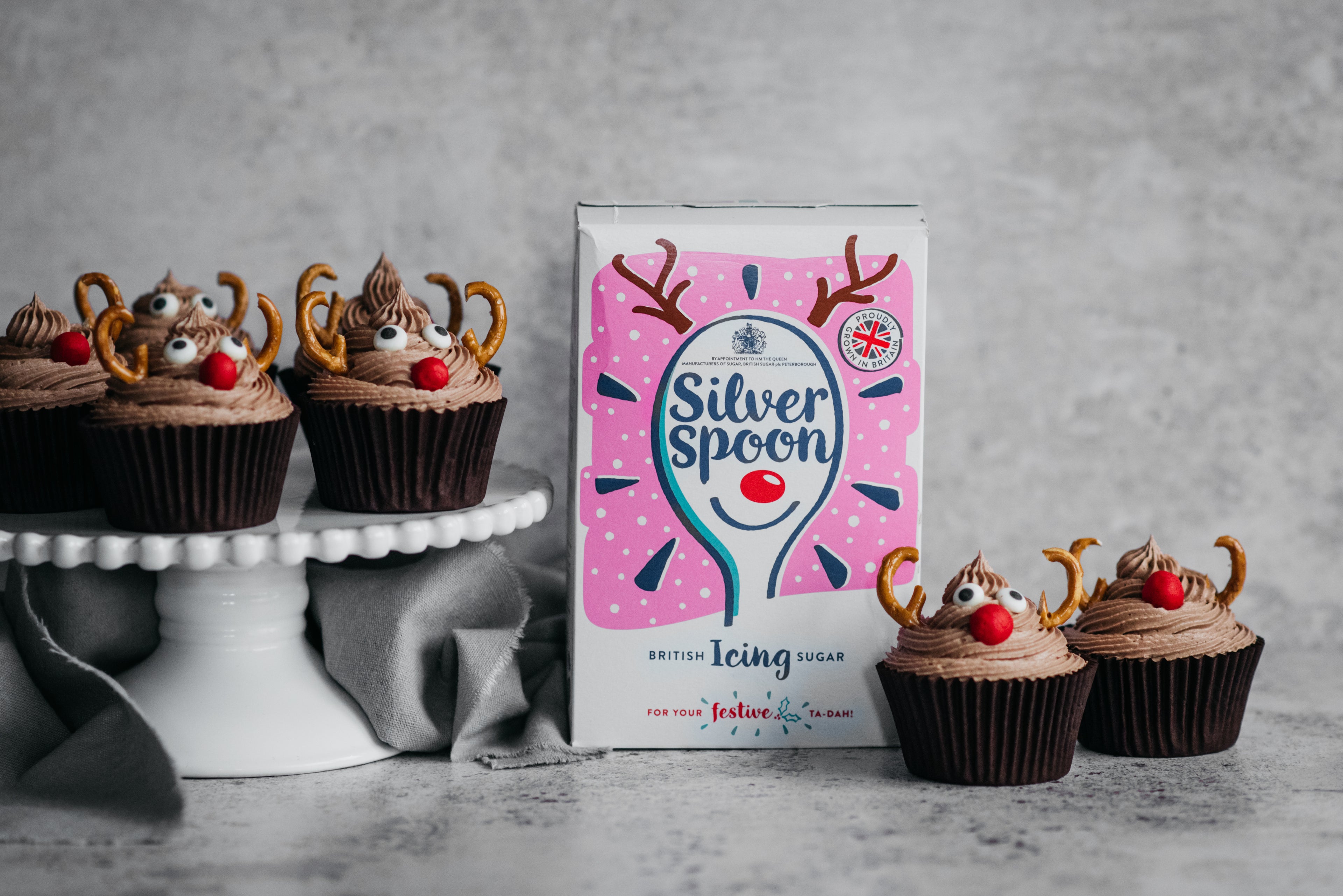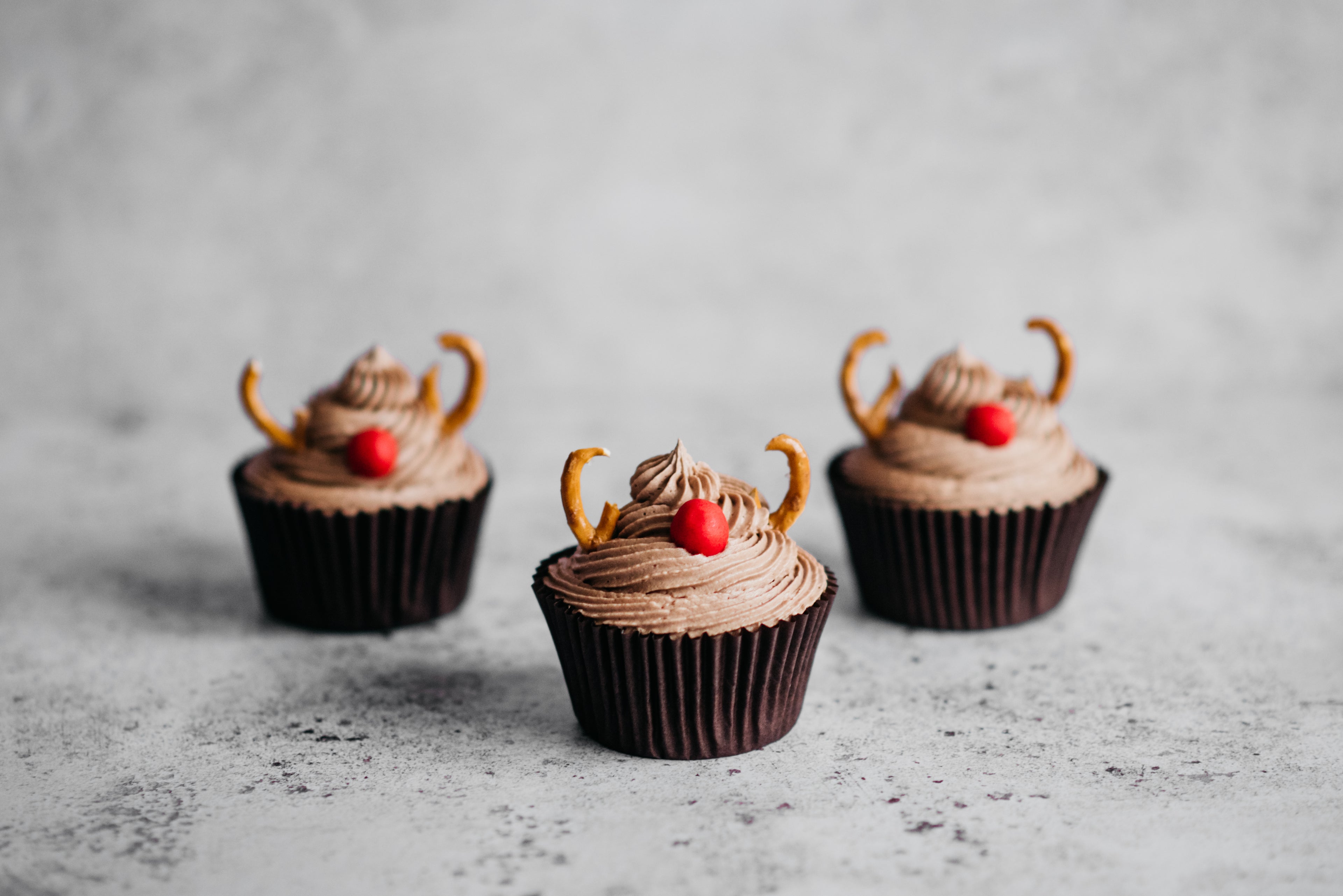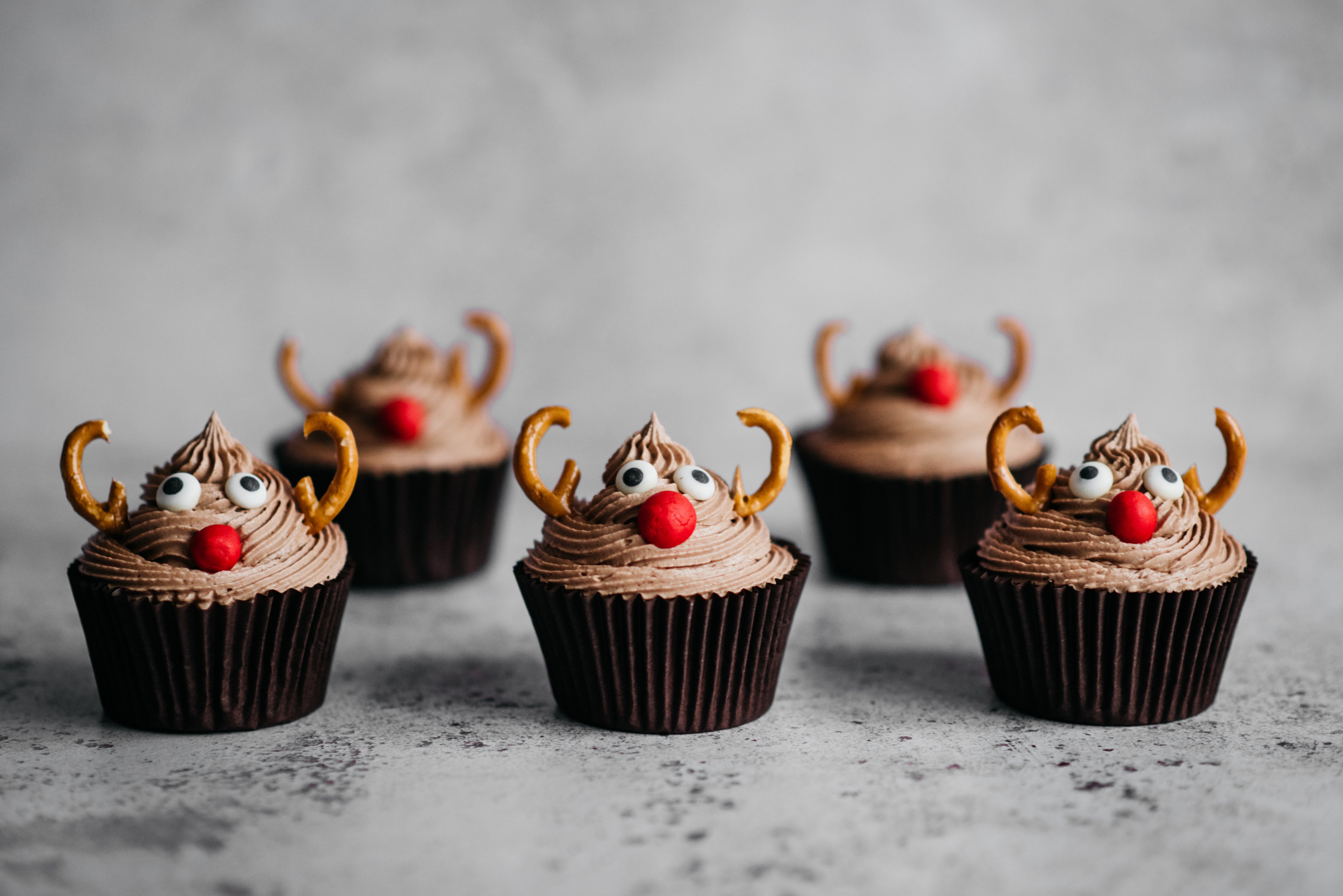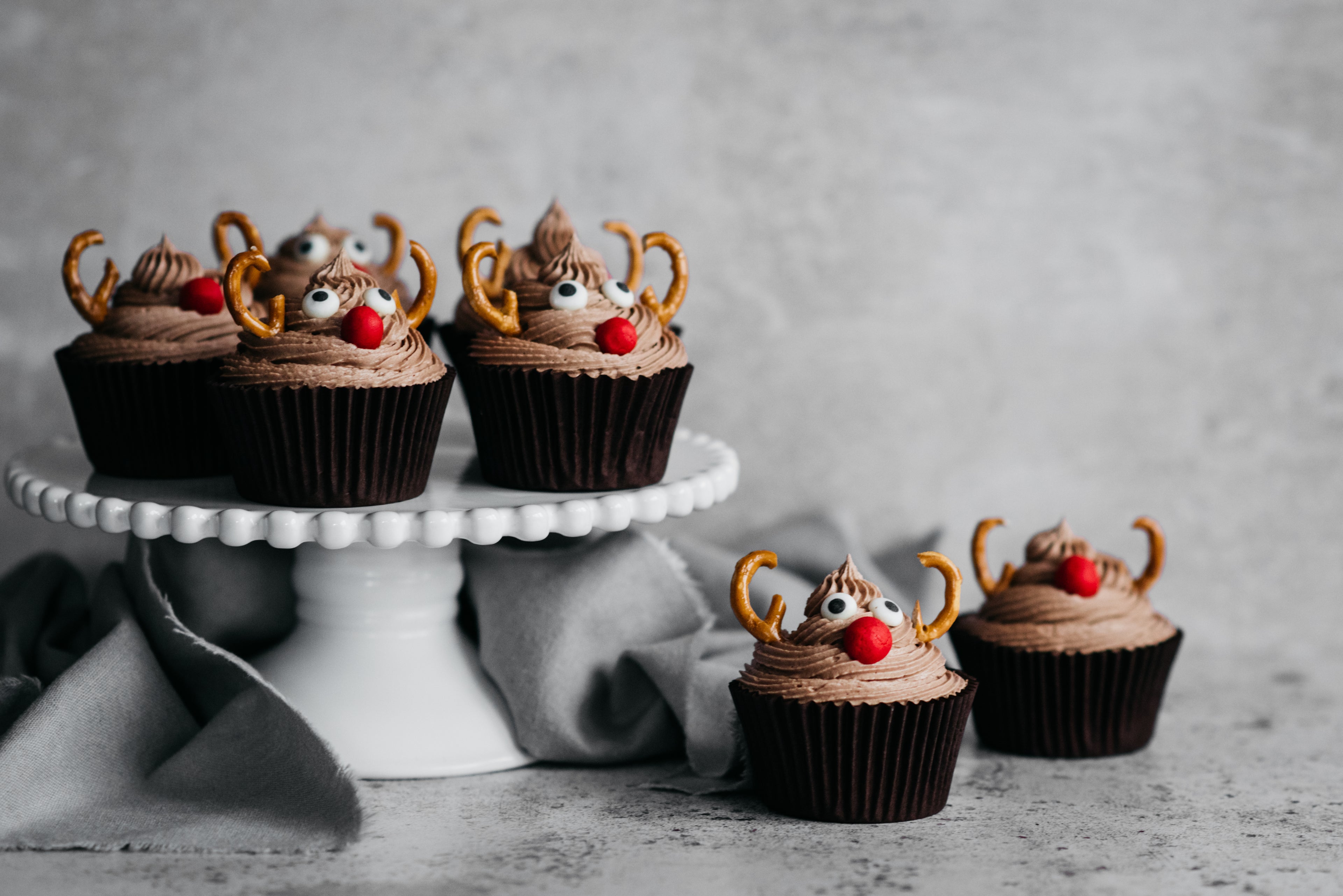 About the Reindeer Cupcakes
Give your everyday cupcakes the Christmas glow up they deserve! Juliet Sears has created the cutest Reindeer Cupcakes to ever have been served at a Christmas party. Using broken pretzel pieces, red Smarties and black icing you can recreate these adorable Reindeer cupcakes in your kitchen this festive season.
Method
Step 1:

Step 2:

For the sponge, melt the chocolate, sugar and butter together in a medium sized microwave safe bowl in a microwave (on a medium heat) for 1 minute at a time. Stirring at each interval until all melted together. Cool slightly.

Step 3:

Whisk the eggs, sour cream and vanilla extract together in a small bowl.

Step 4:

In another small bowl, mix together the flour and cocoa powder with a spoon.

Step 5:

Add the egg mixture to the chocolate mixture and stir well.

Step 6:

Fold in the flour mixture until just incorporated.

Step 7:

Spoon the batter into the cake cases so they are about 2/3 full.

Step 8:

Bake for 14-18 mins until just firm. The knife should come out a little fudgy but not wet when it's cooked, nor dry, as you'd expect from a vanilla sponge. Leave to cool in the tin for 5 mins then turn out onto a cooling rack.

Step 9:

To make the frosting, boil the cream and pour over the chocolate and leave to stand for 5 mins with a plate on top to keep in the heat. Stir together to make a ganache and set aside to cool, but not set hard while making the frosting.

Step 10:

Beat the butter and icing sugar until really pale, soft and creamy, add the vanilla and beat again, lastly adding the cooled ganache and beating on slow until all combined and you have a smooth chocolate frosting.

Step 11:

To decorate, pipe tall swirls of frosting onto the cooled cupcakes and add on your reindeer elements to the frosting in any styles you like to bring them to life.
Ingredients
For the cake

85g

 

Plain chocolate (70% cocoa)

85g

 

Butter (salted) (softened)

100g

 Billington's Light Muscovado Sugar

2

 

Medium free range eggs

75g

 

Soured cream

1 tsp

 Nielsen-Massey Vanilla Extract

100g

 Allinson's Self Raising Flour

15g

 

Cocoa powder

For the frosting

250g

 

Softened butter

500g

 Silver Spoon Icing Sugar

150g

 

Dark chocolate

75g

 

Double cream

2 tsp

 Nielsen-massey vanilla extract or bean paste

To decorate

 

Smarties

 

Pretzels

 

Edible sugar eyes

 

Black writing icing
Utensils
12 hole cupcake tray

Large star piping nozzle
We'd love a slice of advice.
Was it yum? Did the recipe work well? Did you customise the recipe?
Ingredients
For the cake

85g

 

Plain chocolate (70% cocoa)

85g

 

Butter (salted) (softened)

100g

 Billington's Light Muscovado Sugar

2

 

Medium free range eggs

75g

 

Soured cream

1 tsp

 Nielsen-Massey Vanilla Extract

100g

 Allinson's Self Raising Flour

15g

 

Cocoa powder

For the frosting

250g

 

Softened butter

500g

 Silver Spoon Icing Sugar

150g

 

Dark chocolate

75g

 

Double cream

2 tsp

 Nielsen-massey vanilla extract or bean paste

To decorate

 

Smarties

 

Pretzels

 

Edible sugar eyes

 

Black writing icing
Utensils
12 hole cupcake tray

Large star piping nozzle