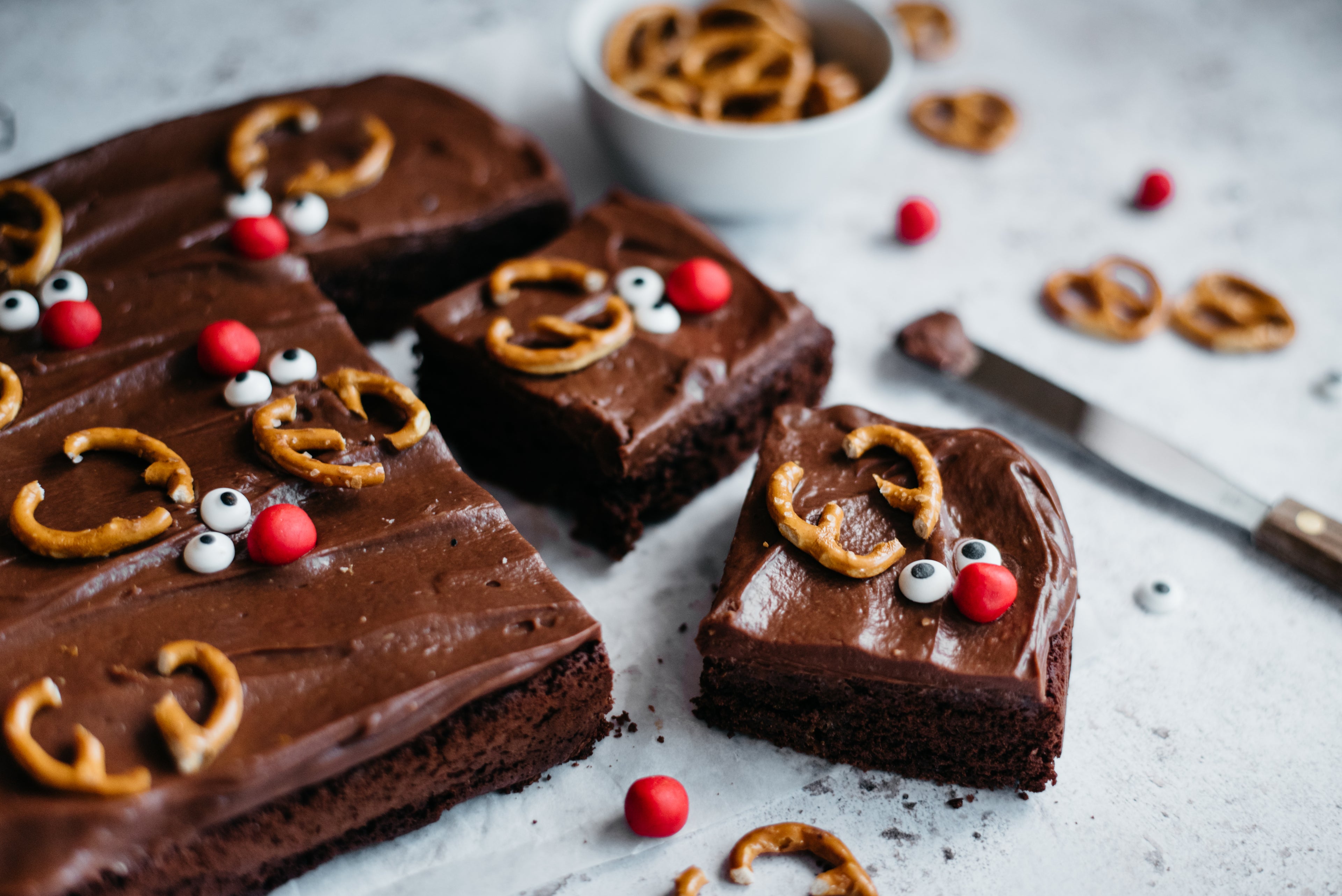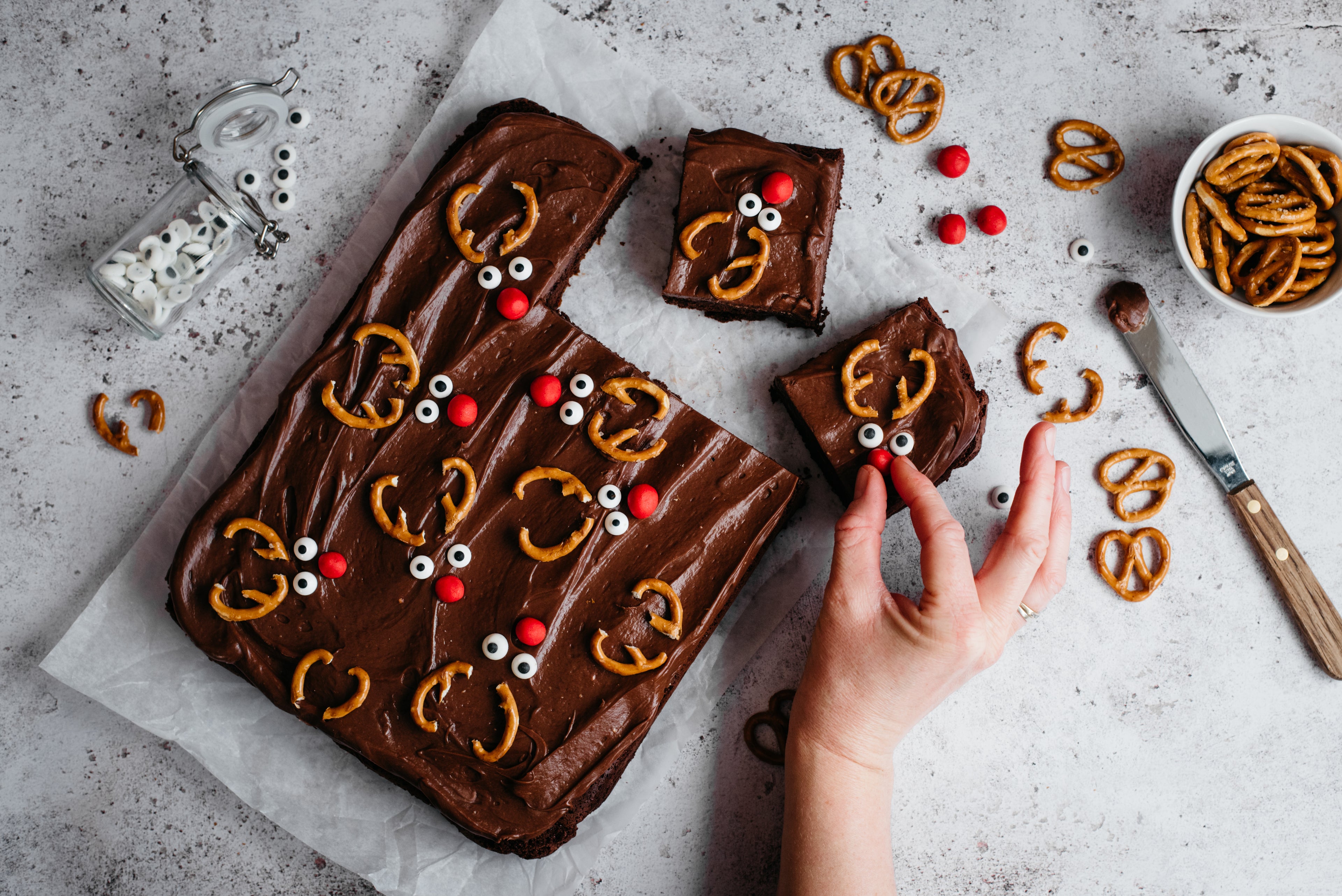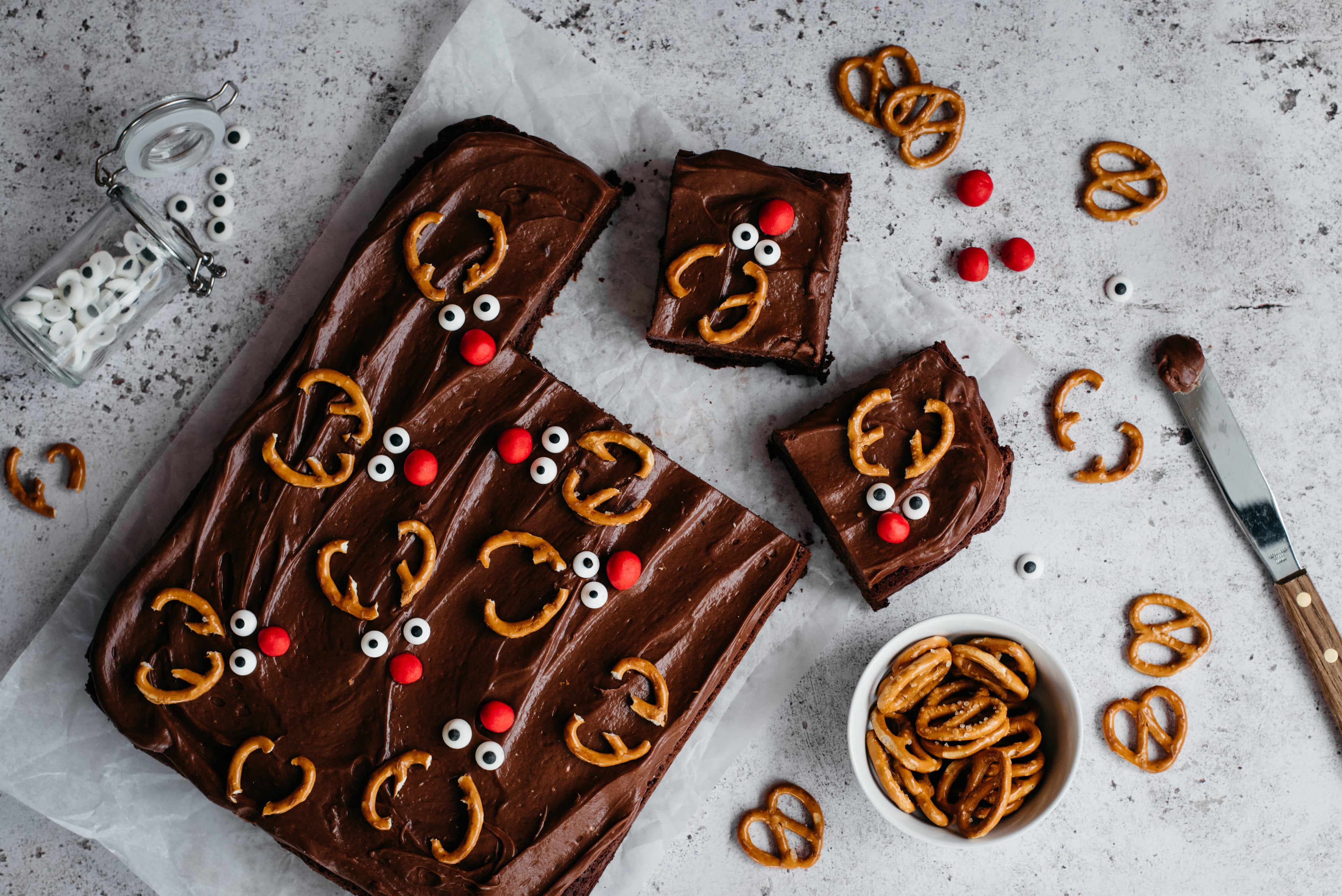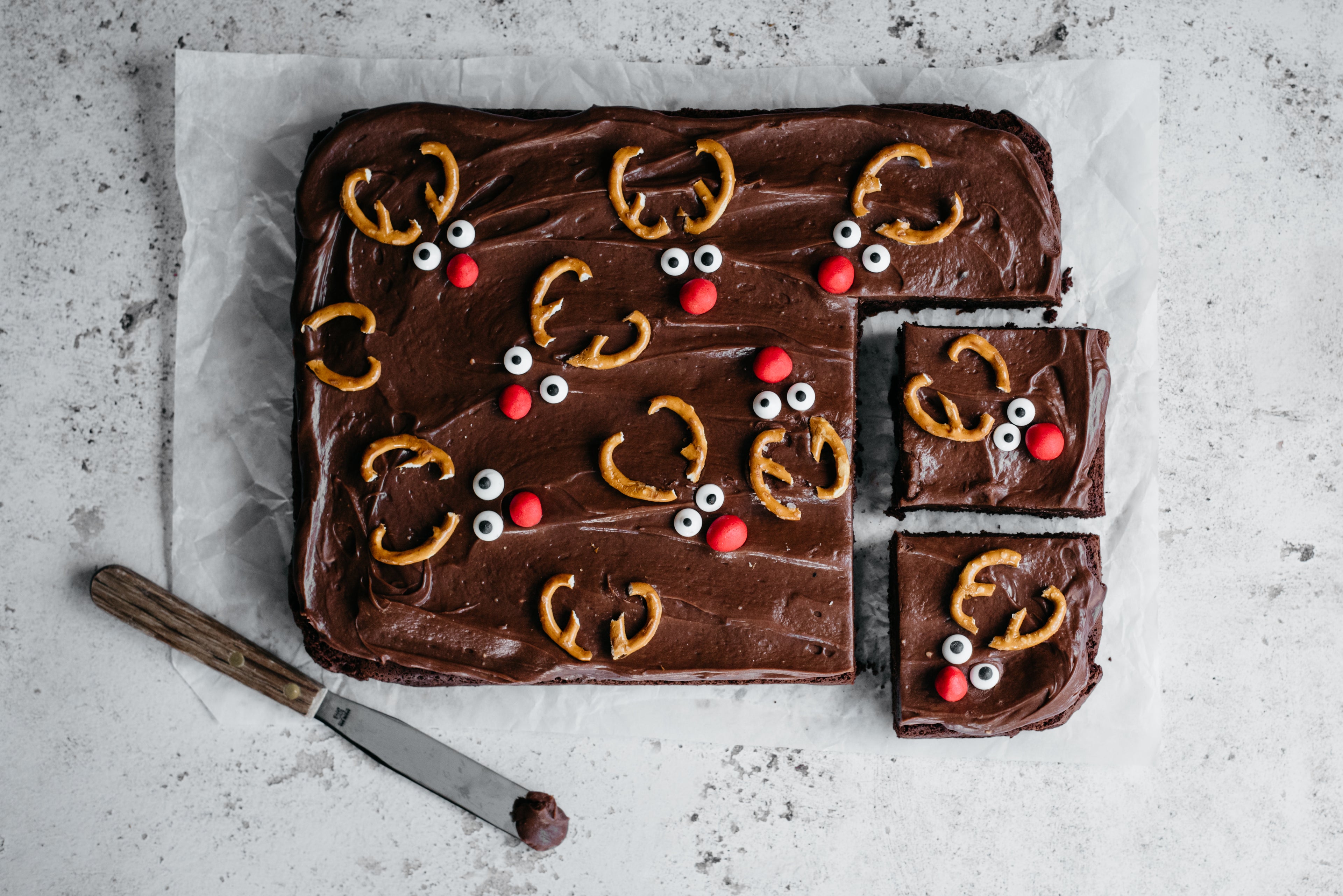 About the Reindeer Traybake
Our Silver Spoon Chocolate & Caramel Reindeer traybake has been magically created by Juliet Sear to bring smiles, laughter and lots of gooey caramel to your kitchen this Christmas. Whether its the fluffy chocolate sponge, the rich glossy topping, or the crunch of the salted pretzel reindeer antlers, this traybake is sure to be a family favourite.
Slice this traybake into bite size pieces, or leave as a party centre piece for everyone to cut into. We love how easy yet yummy traybakes are, and if you do too you'll love our Rainbow traybake, or for extra indulgence this festive period, our Brownie Based Millionaire's shortbread is a winner.
Method
Step 1:

To make the caramel, heat the golden syrup in a saucepan over a medium-low heat. Slowly add the sugar bit by bit waiting for it to dissolve in between each addition. It will take about 10-15 mins, for all of the sugar to dissolve for the caramel to turn an amber colour

Step 2:

Meanwhile heat the cream until it just boils and remove from the heat. Add the hot cream into the hot caramel mixing consistently, be careful as the caramel will bubble up and be very hot. Finally stir in the salt and butter and then leave to cool for 10-15 minutes.

Step 3:

Preheat the oven to gas 4, 180°C, fan 160°C and line the tin with non-stick baking paper.

Step 4:

Melt the butter and chocolate in a heatproof bowl. Set over a pan of barely simmering water, making sure the water doesn't touch the bowl, and heat until melted. Or microwave for 30 second blasts stirring in between until all melted. Remove from the heat, mix well and set aside to cool for 5 mins.

Step 5:

Beat the eggs and caster sugar in a bowl with an electric whisk for 2-3 mins until fluffy and light in colour. Fold into the chocolate mix. Add the flour, baking and cocoa powders and a small pinch of salt; fold together

Step 6:

Pour into the tin. Spoon the caramel on top and then drag a skewer back and forth to create a marble like effect. Bake for 25-30 mins until just set on top.

Leave to cool in the tin, make the frosting as follows

Step 7:

To make the ganache frosting, place the chocolate chips in a large heatproof bowl. Boil the cream and pour over the chocolate chips, then place a large plate over the bowl, to trap the heat. After a few minutes, use a wooden spoon to stir in one direction to bring the cream and chocolate together.

Step 8:

Beat the icing sugar into the chocolate mixture and then add the melted butter and whisk in, pour over the top of the brownie, allow to begin setting and decorate with pretzels, smarties and eyes to look like reindeer.
Ingredients
For the cake

100g

 

Unsalted butter (softened)

200g

 

Dark chocolate (chopped)

4

 

Medium eggs (beaten)

125g

 Billington's Unrefined Golden Caster Sugar

125g

 Billington's Light Muscovado Sugar

125g

 

Allinson's plain flour

1 tsp

 

Baking Powder

30g

 

Cocoa Powder

For the caramel

1 tbsp

 

Golden syrup

100g

 Silver Spoon White Granulated Sugar

50g

 

Unsalted butter (softened)

70ml

 

Double cream

1 tsp

 

Sea Salt

For the ganache frosting

180g

 

Dark chocolate chips

140ml

 

Double cream

50g

 

Salted butter

75g

 Silver Spoon Icing Sugar

For the decoration

Handful

 

Mixed sized pretzels

Handful

 

Mini smarties (treat size packets)

Approx. 30g

 

White & Black sugar paste for eyes
Utensils
20 x 30cm tin

Baking parchment

Whisk or electric whisk

Piping bag

Piping nozzles
We'd love a slice of advice.
Was it yum? Did the recipe work well? Did you customise the recipe?
Ingredients
For the cake

100g

 

Unsalted butter (softened)

200g

 

Dark chocolate (chopped)

4

 

Medium eggs (beaten)

125g

 Billington's Unrefined Golden Caster Sugar

125g

 Billington's Light Muscovado Sugar

125g

 

Allinson's plain flour

1 tsp

 

Baking Powder

30g

 

Cocoa Powder

For the caramel

1 tbsp

 

Golden syrup

100g

 Silver Spoon White Granulated Sugar

50g

 

Unsalted butter (softened)

70ml

 

Double cream

1 tsp

 

Sea Salt

For the ganache frosting

180g

 

Dark chocolate chips

140ml

 

Double cream

50g

 

Salted butter

75g

 Silver Spoon Icing Sugar

For the decoration

Handful

 

Mixed sized pretzels

Handful

 

Mini smarties (treat size packets)

Approx. 30g

 

White & Black sugar paste for eyes
Utensils
20 x 30cm tin

Baking parchment

Whisk or electric whisk

Piping bag

Piping nozzles