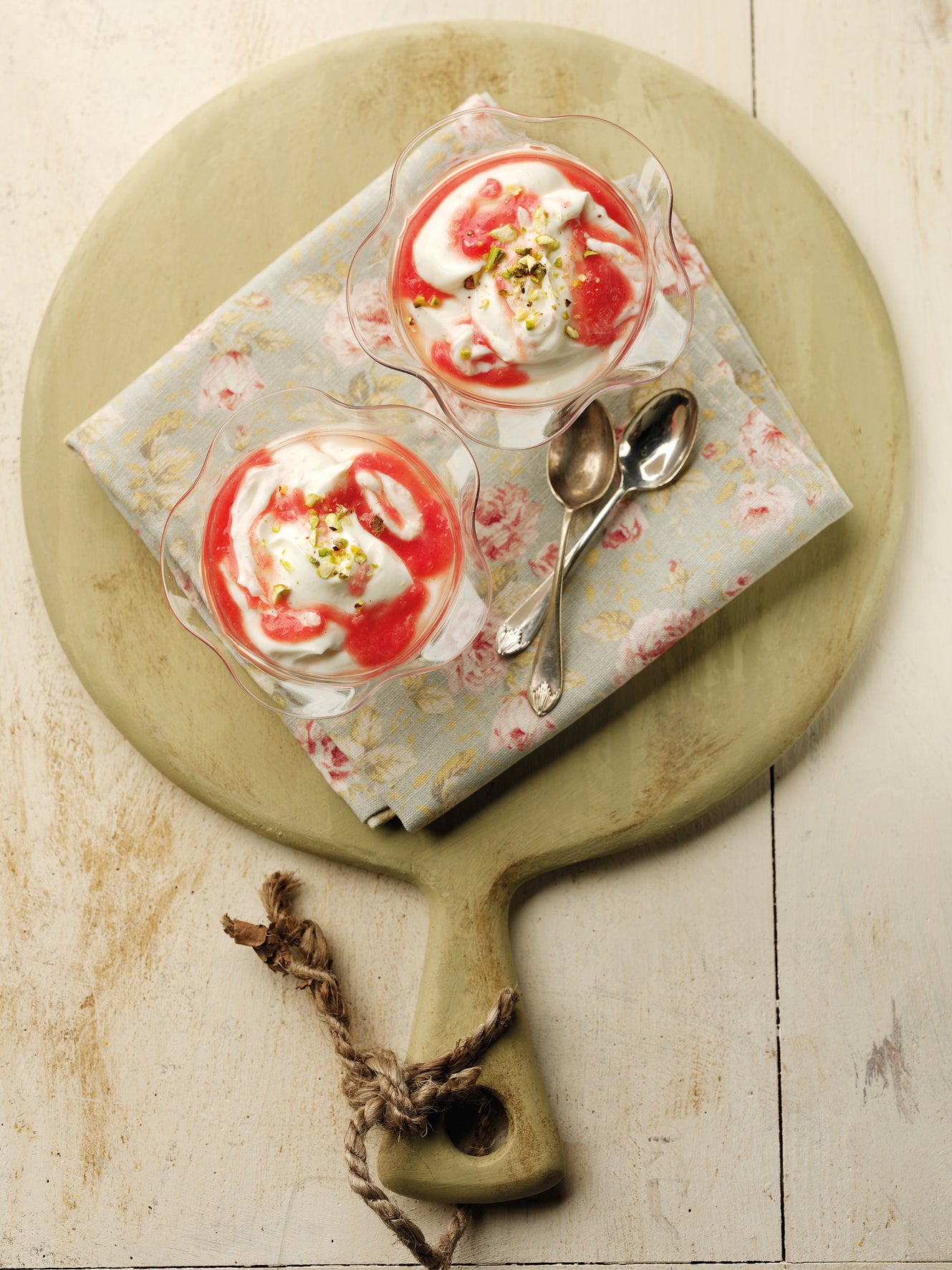 About the bake
Our Rhubarb Fool recipe is super simple and tastes great with a shortbread biscuit. We recommend our Chocolate Chunk Shortbread recipe as it is quick to make. You could even crumble some of the biscuits up and use them as a base for the Rhubarb Fool.
Method
Step 1:

Heat the rhubarb and sugar together in a pan with a splash of water and bring to a gentle simmer. Occasionally give the pan a shake to stop any rhubarb sticking to the pan and cook until the fruit softens.

Step 2:

Stir in the vanilla bean paste and allow to cool. Puree the mixture in a food processor.

Step 3:

Put the yoghurt in a bowl and mix in the icing sugar until smooth. Gently whisk in the cream (it will thicken as you whisk so do not over-do it).

Step 4:

Ripple through the rhubarb pulp and spoon into pretty glasses or bowls to serve. Finish with a few chopped pistachios on top.
Ingredients
400g

 

Rhubarb (roughly chopped into short lengths)

2 1/2 tbsp

 Billington's Unrefined Golden Caster Sugar

1 1/2 tsp

 Nielsen-Massey Vanilla Bean Paste

250g

 

Greek yoghurt

1 1/2 tbsp

 Silver spoon icing sugar (sifted)

250ml

 

Double cream

2 tbsp

 

Pistachio nuts (roughly chopped)
Utensils
Saucepan

Food processor

Whisk

4x Serving glasses
We'd love a slice of advice.
Was it yum? Did the recipe work well? Did you customise the recipe?
Ingredients
400g

 

Rhubarb (roughly chopped into short lengths)

2 1/2 tbsp

 Billington's Unrefined Golden Caster Sugar

1 1/2 tsp

 Nielsen-Massey Vanilla Bean Paste

250g

 

Greek yoghurt

1 1/2 tbsp

 Silver spoon icing sugar (sifted)

250ml

 

Double cream

2 tbsp

 

Pistachio nuts (roughly chopped)
Utensils
Saucepan

Food processor

Whisk

4x Serving glasses