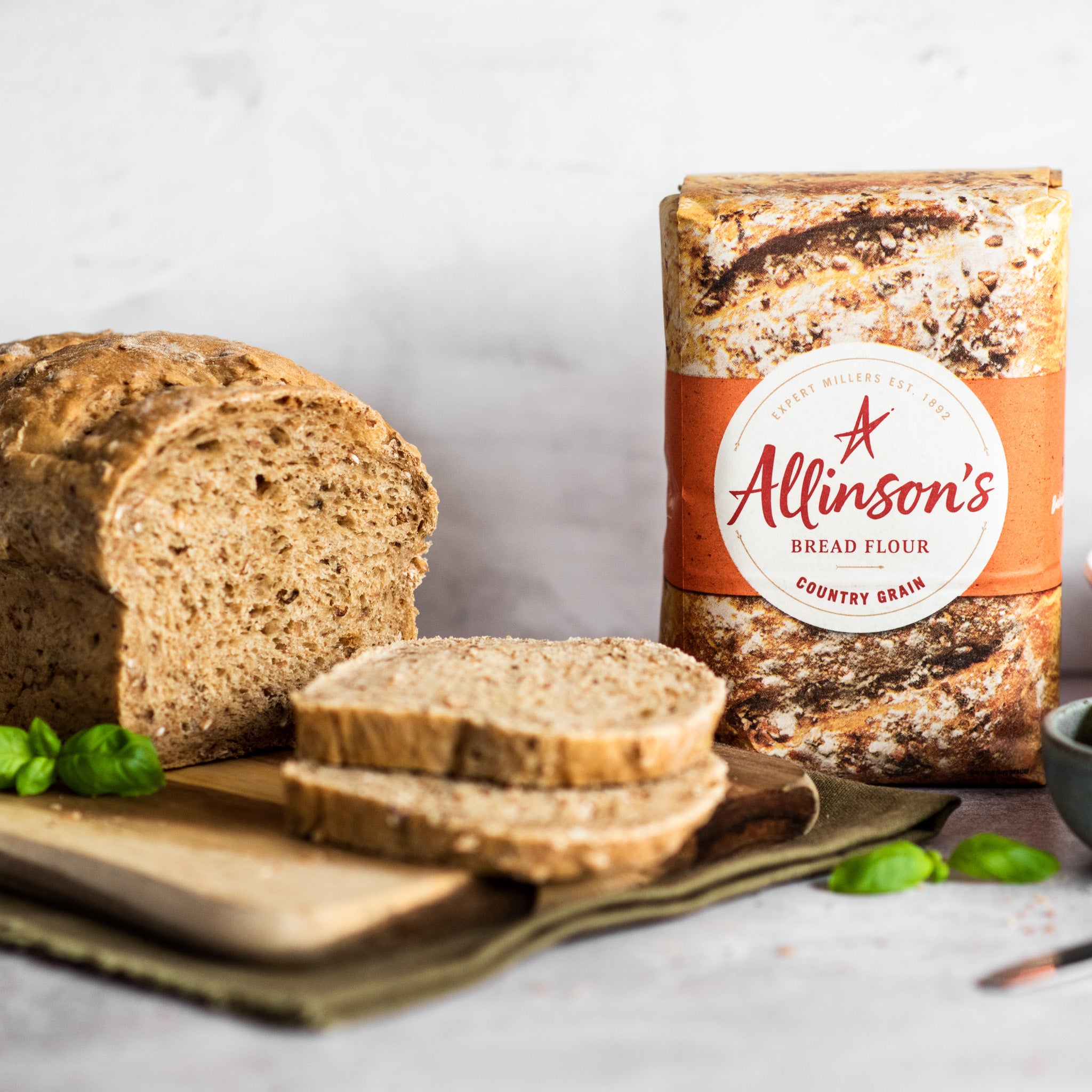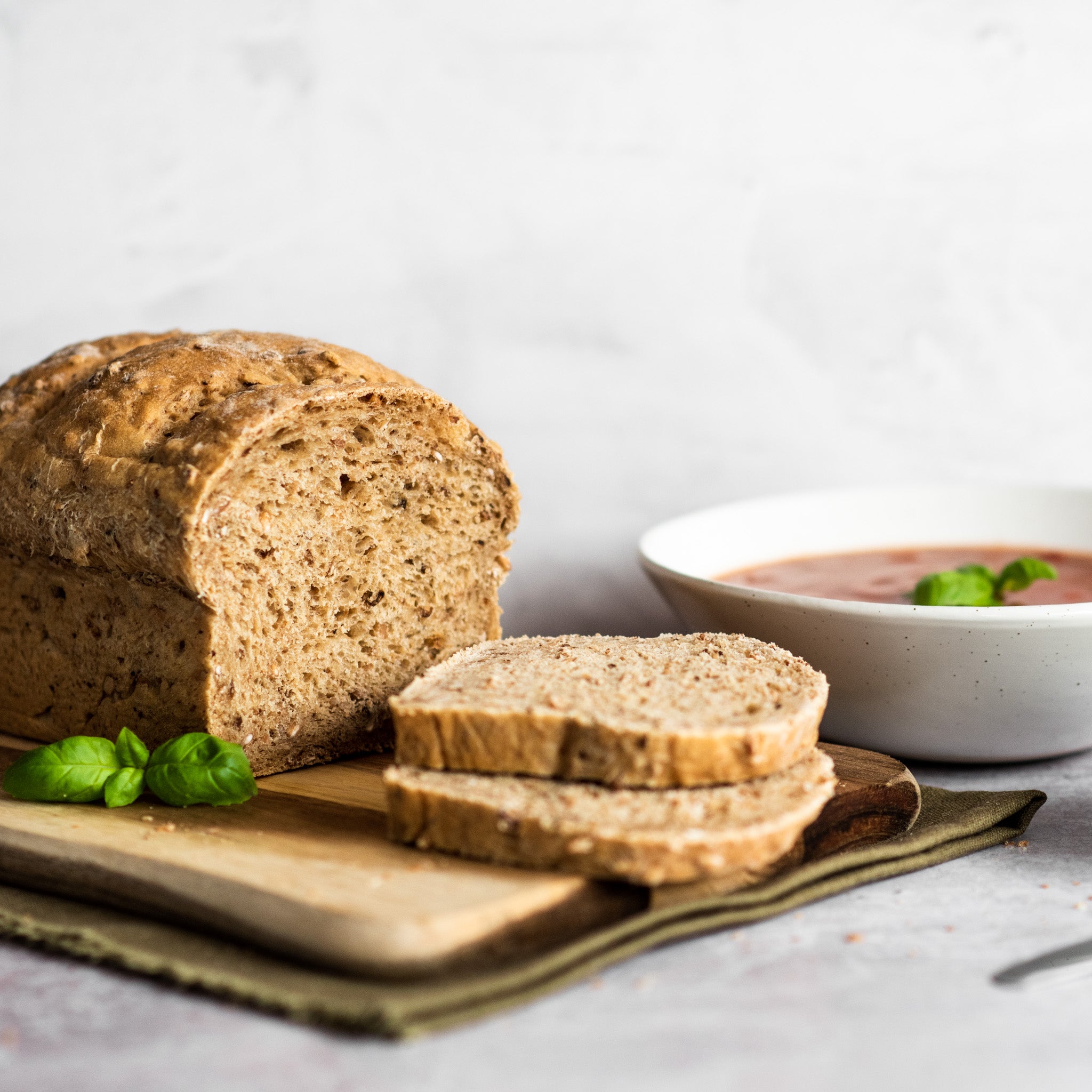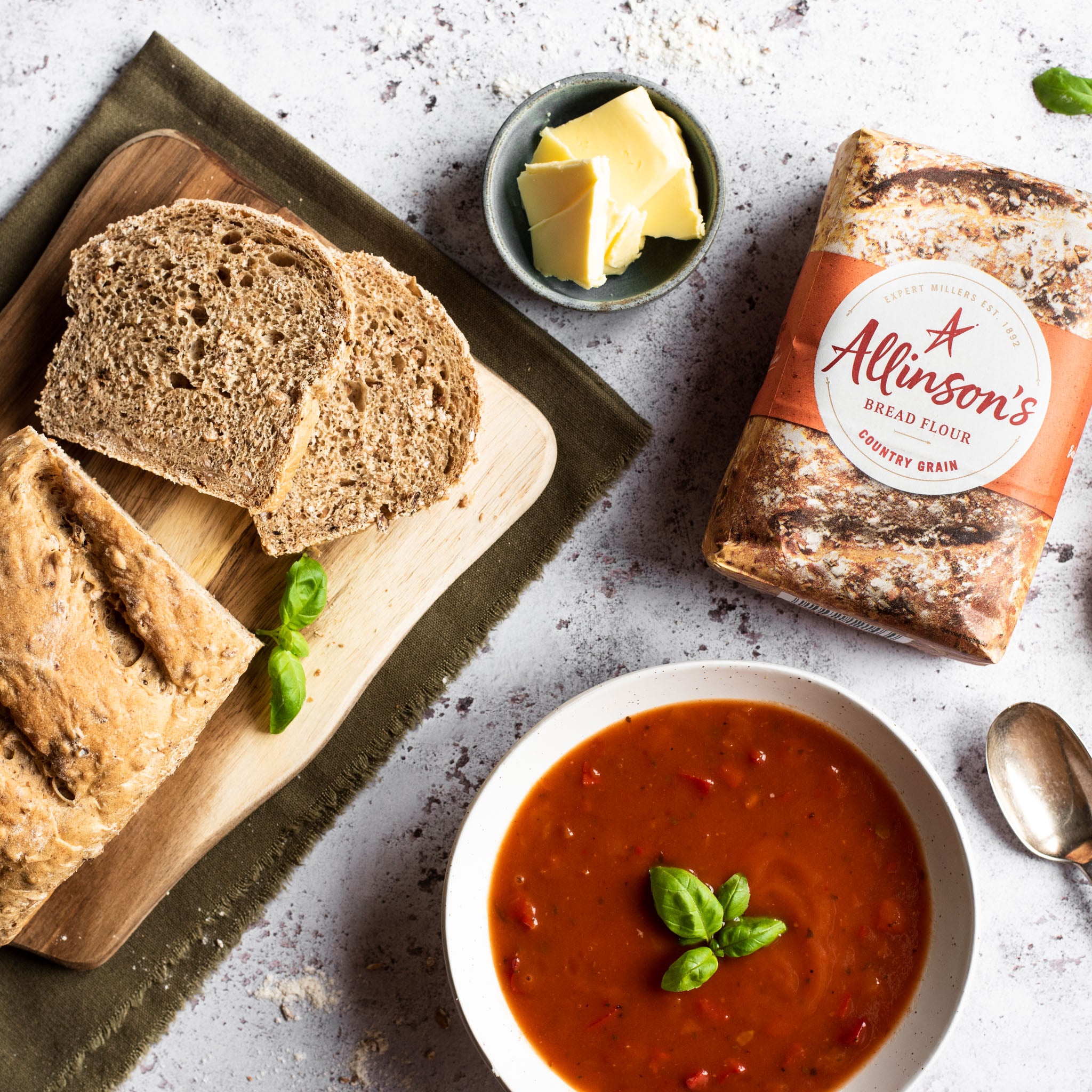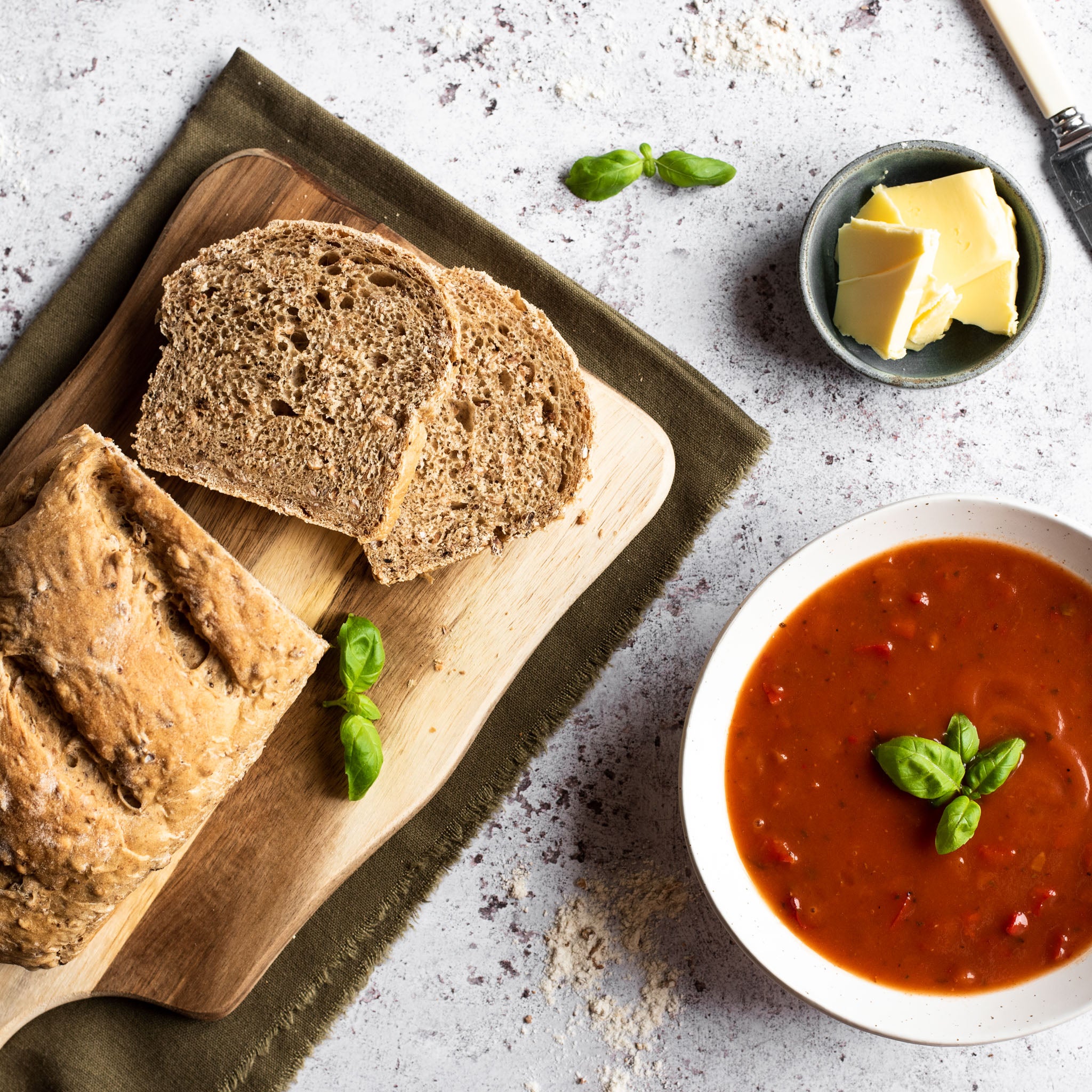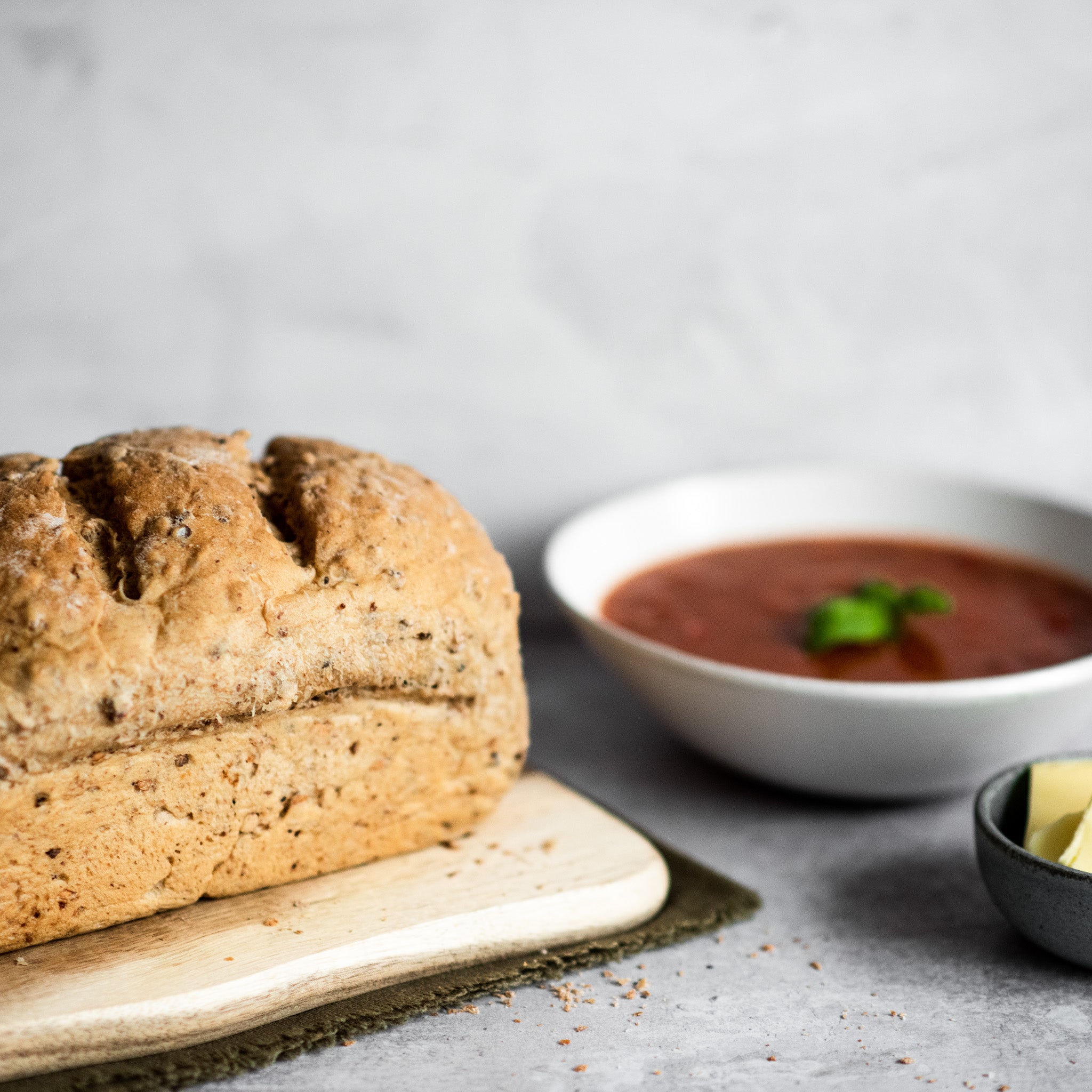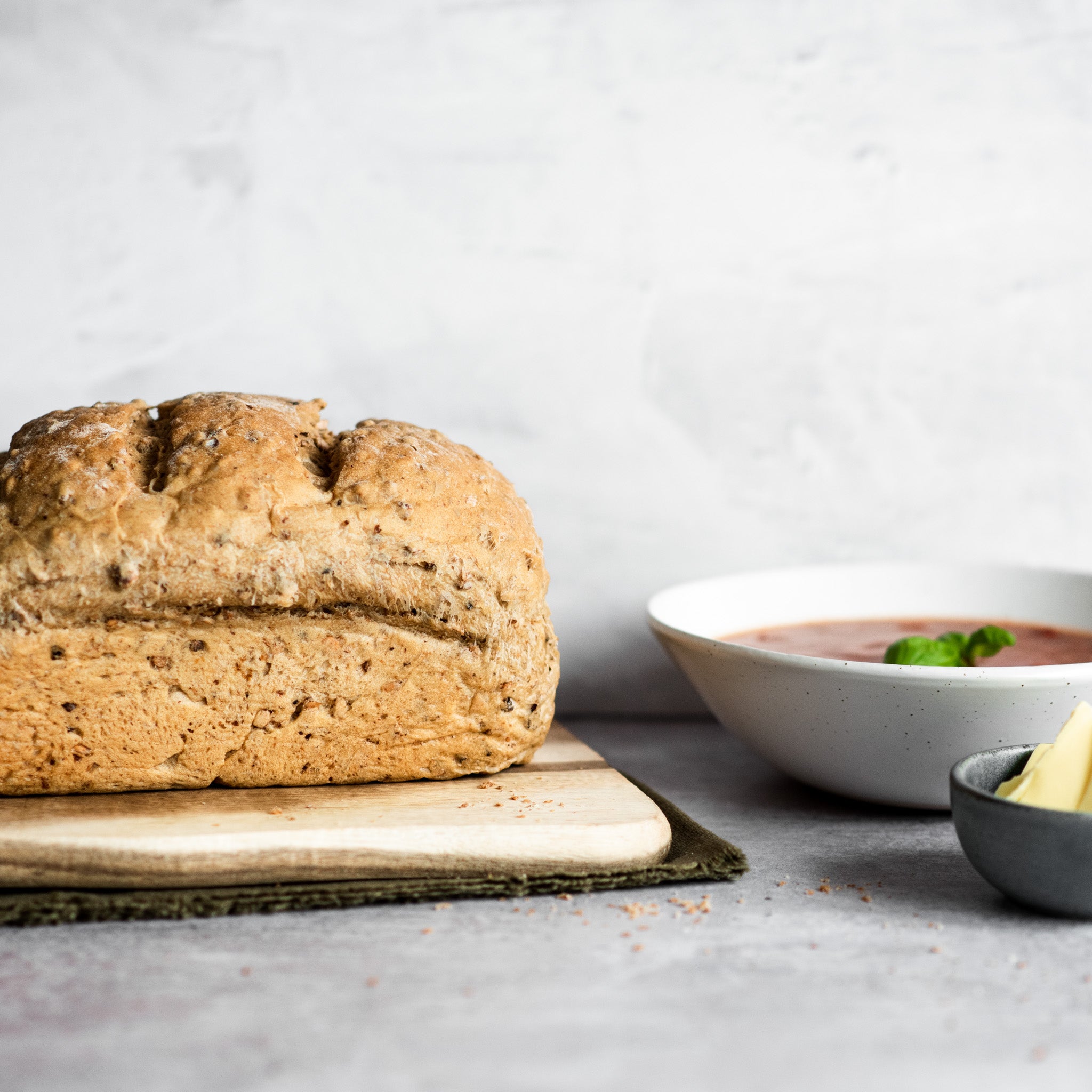 About the bake
Our seed and grain bread is nourishing and wholesome. With a bake time of just 30 minutes, you'll be enjoying a tasty slice of seeded bread paired with a bowl of soup in no time.
If you're new to baking bread, make sure to follow our 5 secrets to baking brilliant bread.
Method
Step 1:

Place the flour into a large bowl and add the salt and sugar. Add the yeast and stir gently until well combined. Mix the oil and water together.


Proving

To speed the proving process use 11g Allinson's Easy Bake Yeast and you prove for abut 30 minutes until the dough doubles in size.

Step 2:

Make a well in the centre of the flour mixture and add the warm water and oil mix. Mix together until a soft dough starts to form. This will take a couple of minutes. Turn the dough onto a lightly floured surface. Knead until smooth and elastic, this can take up to 10 minutes. This could also be done using a dough hook of your free-standing mixer.


Step 3:

Lightly grease a clean mixing bowl with little oil. Place the dough into the bowl, cover the bowl with oiled cling film or a clean tea towel and leave to rise for about 1 hour or until doubled in size.


Step 4:

Knock back the dough by gently kneading just 5 times to get the air out. Mould into a smooth oval and lift into a lightly oiled 900g (23 x 13cm) loaf tin.


Step 5:

Cover the dough with oiled cling film or a damp tea cloth and leave to rise in a warm place for about 45 minutes - 1 hour or until the dough has doubled in size.


Step 6:

Preheat your oven to 200°C, fan 180°C, gas mark 6.


Step 7:

Slit the dough with a sharp knife and sprinkle the dough with a little flour to create a crisp, rustic coating on top of the bread. Bake for 30 - 35 minutes or until the bread is risen and golden brown and sounds hollow when tapped underneath.


Step 8:

Turn the bread out onto a wire rack as soon as possible to avoid a soggy crust on the bottom.

Ingredients
For the Loaf

500g

 

Seed & grain bread flour

1 tsp

 

Salt

1 tsp

 Silver Spoon Caster Sugar

7g

 Allinson's Easy Bake Yeast

2 tbsp

 

Extra virgin olive oil

300ml

 

Tepid water
Recipe Reviews
Update on my review from 15 Aug 2021. On my next back I reduced water to 280ml and swapped in 150g of strong white flour, gave to top an egg wash then sprinkled some of the grains sieved out of the main flour. Wow, what a great loaf. Had some buttered and still slightly warm with a Greek salad got lunch fit lunch. Highly recommended.
This is a great recipe. Will definitely make again but will reduce water to 280ml next time, was just a bit too wet and difficult to handle. Mine needed 40 mins baking but maybe down to slightly temperamental oven thermostat.
Lovely aroma throughout my house now and looking forward to a taste with just some butter on the crisp end crust
Great if time is not an issue but it works well in the Panasonic bread maker too using the Panasonic 400g basic white settings. I usually modify this with a mix of 250g Country Grain and 150g Allinson Strong White for a lighter sandwich loaf. In the bread maker I use no sugar and use 300ml water and 30g rape seed oil.
Good recipe. I used agar (can use honey) instead of caster sugar. Adding agar and olive oil to tepid water to total 300mls liquid was fine. Brush of olive oil and sprinkle of flour on top gave a nice crust. Definitely had to bake 35mins.
Made two very nice loaves. Very easy recipe to follow will add less water next time.
I've used the mix twice before, so this time I will try a little less water as the mixture often feels too wet.
The process right through to the end product is easy to follow and results in a lovely loaf.
We find that it is only good as toast on the second day as it seems to go stale quite quickly, however it is still scrummy with butter.
Ingredients
For the Loaf

500g

 

Seed & grain bread flour

1 tsp

 

Salt

1 tsp

 Silver Spoon Caster Sugar

7g

 Allinson's Easy Bake Yeast

2 tbsp

 

Extra virgin olive oil

300ml

 

Tepid water