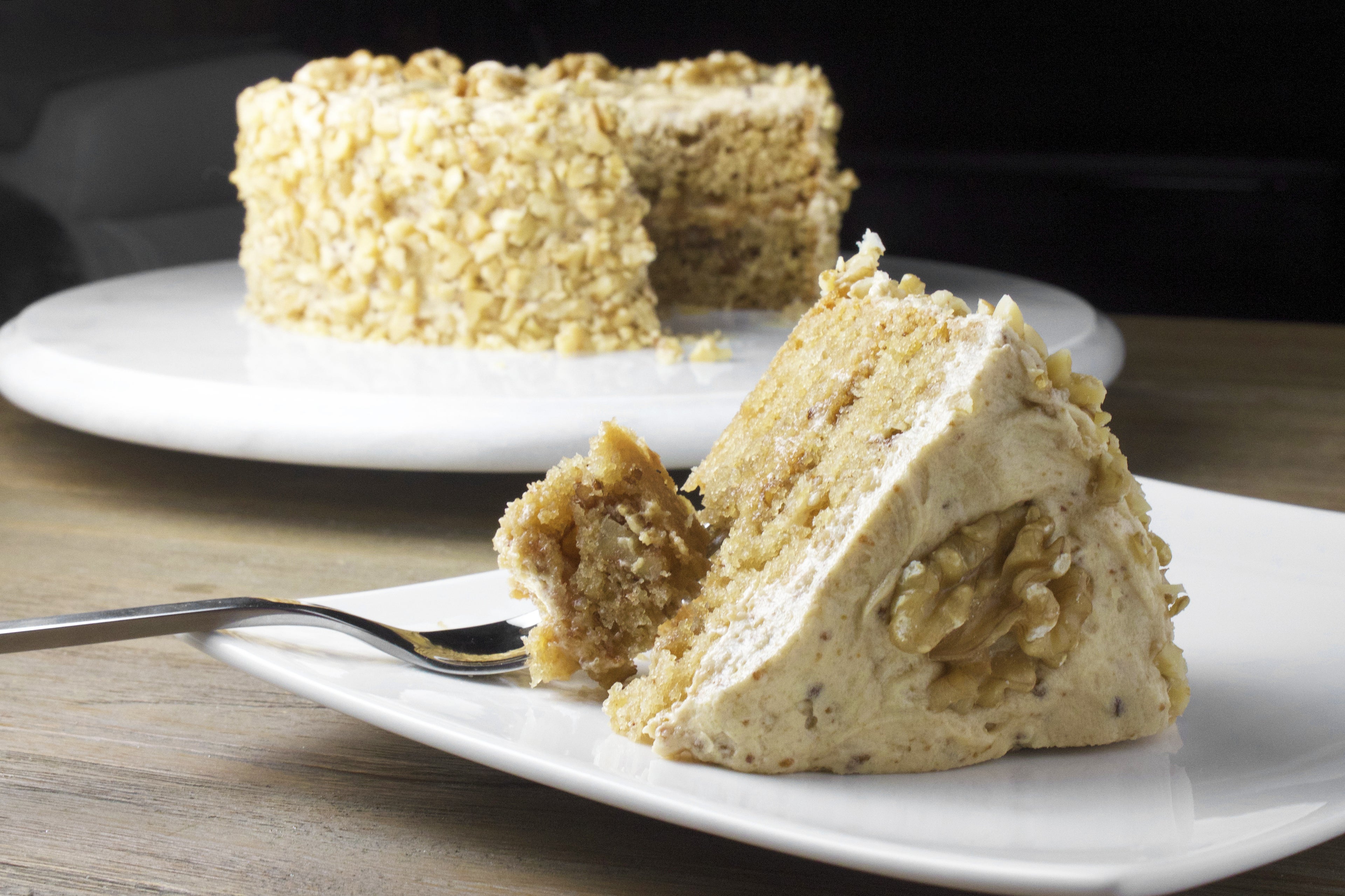 About the bake
Apple sauce works suprisingly well in a cake and acts as an egg substitute. This cake can easily be vegan if you swap the margarine for a vegan spread. The sweetness of the apples compliments a sponge really well and adds an almost pudding texture to the sponge. This is an impressive cake which is ideal for sharing. The walnuts in the cake work like the perfect marriage with the apples. Treat yourselves to this cake for a wonderfully indulgent afternoon tea.
Method
Step 1:

Peel, core and slice the apples and put in a non-stick saucepan. Add the lemon juice and water. Cover and cook over a low heat until broken down into a puree. Uncover, increase the heat slightly and cook for 5 minutes or so, stirring, to cook off the excess moisture. Set aside to cool.

Step 2:

Preheat the oven to 160°C (fan 140°C, gas mark 3). Grease a non-stick 20cm springform tin and line the base with baking paper.

Step 3:

Sift the flours, bicarbonate of soda, spices and sugar into a bowl.

Step 4:

Stir in the raisins and walnuts. Weigh out 550g apple purée and stir into the dry ingredients with the oil.

Step 5:

Spoon the mixture into the tin, level the top and bake on the middle shelf for 55 - 60 minutes, until a skewer pushed into the centre comes out clean.

Step 6:

Meanwhile, put the frosting ingredients - except the walnuts - in a bowl and beat until smooth. Cover and chill.

Step 7:

Take out the cake and cool in the tin for 10 minutes, then turn our onto a wire rack to cool. Spread over the frosting, sprinkle with more cinnamon and decorate with walnuts.



If you're looking for egg substitutes, take a look at our video. This shows you alternative ingredients you could use and the difference between them.

Ingredients
For The Cake

1kg

 

Cooking apples

1 tbsp

 

Juice of one whole lemon

2 tbsp

 

Water

50ml

 

Sunflower oil

100g

 Allinson's plain white flour

100g

 Allinson's plain wholemeal flour

1 tbsp

 

Cornflour

2 tsp

 

Bicarbonate of soda

0.5 tsp

 

Cinnamon

0.5 tsp

 

Cloves

0.5 tsp

 

Ginger

0.5 tsp

 

Nutmeg

225g

 Billington's Unrefined Golden Caster Sugar

100g

 

Raisins

50g

 

Walnuts

For the Frosting

250g

 

Margarine

25g

 Billington's Unrefined Golden Caster Sugar

2 tsp

 Nielsen-Massey Vanilla Extract

0.5 tsp

 

Cinnamon

12

 

Walnuts (chopped)
Utensils
20cm

8in spring form cake tin

Mixing bowl

Wooden spoon
We'd love a slice of advice.
Was it yum? Did the recipe work well? Did you customise the recipe?
Ingredients
For The Cake

1kg

 

Cooking apples

1 tbsp

 

Juice of one whole lemon

2 tbsp

 

Water

50ml

 

Sunflower oil

100g

 Allinson's plain white flour

100g

 Allinson's plain wholemeal flour

1 tbsp

 

Cornflour

2 tsp

 

Bicarbonate of soda

0.5 tsp

 

Cinnamon

0.5 tsp

 

Cloves

0.5 tsp

 

Ginger

0.5 tsp

 

Nutmeg

225g

 Billington's Unrefined Golden Caster Sugar

100g

 

Raisins

50g

 

Walnuts

For the Frosting

250g

 

Margarine

25g

 Billington's Unrefined Golden Caster Sugar

2 tsp

 Nielsen-Massey Vanilla Extract

0.5 tsp

 

Cinnamon

12

 

Walnuts (chopped)
Utensils
20cm

8in spring form cake tin

Mixing bowl

Wooden spoon