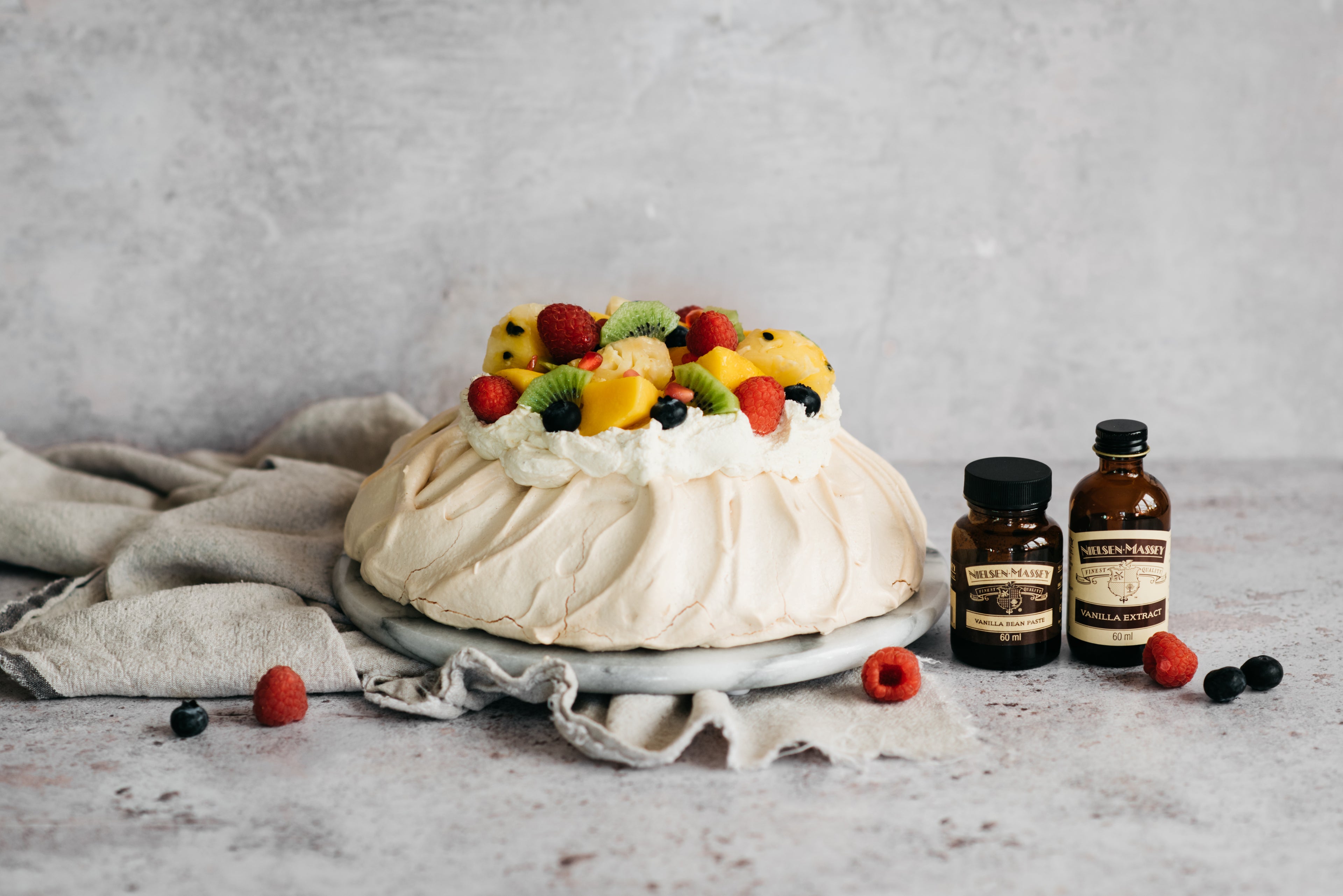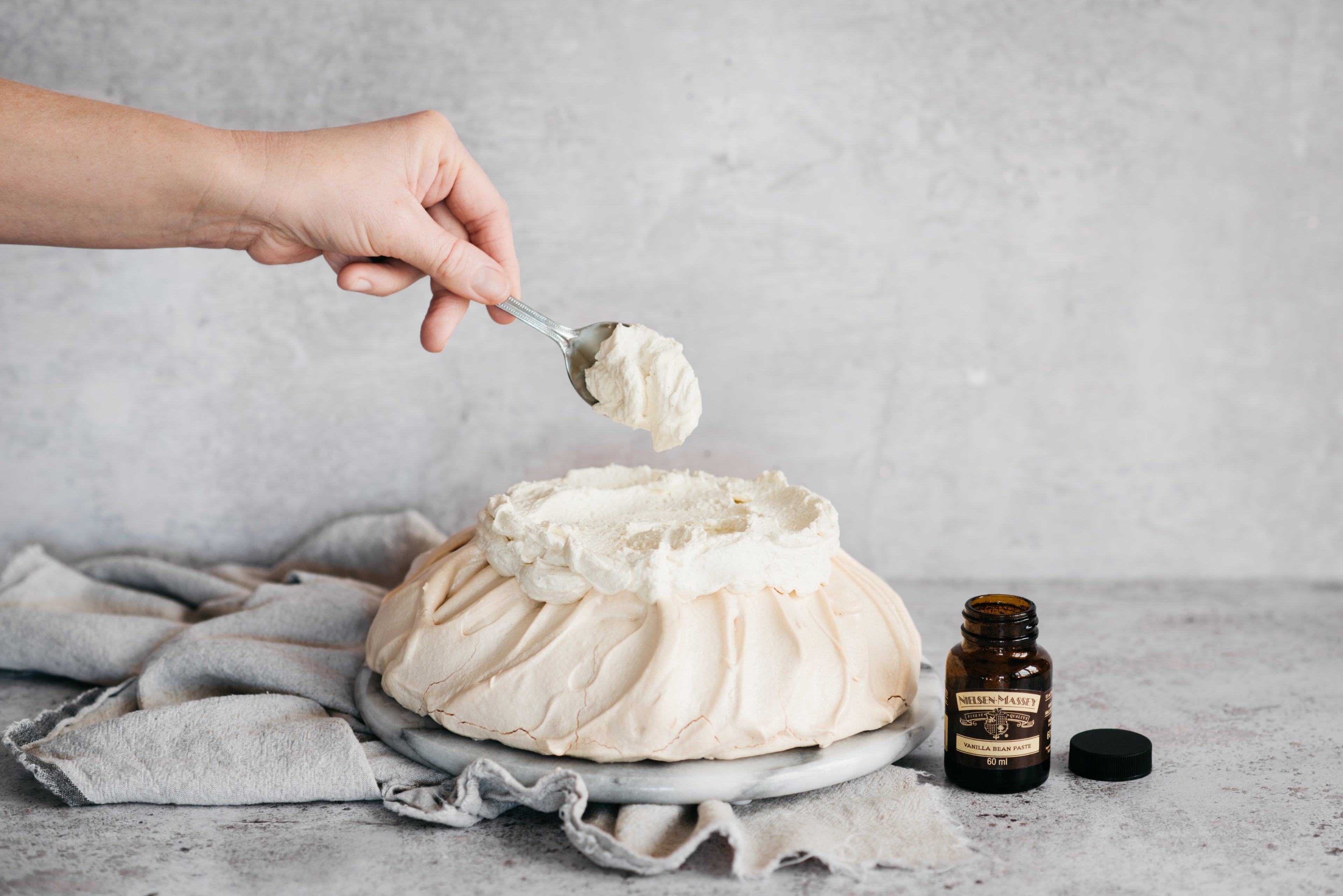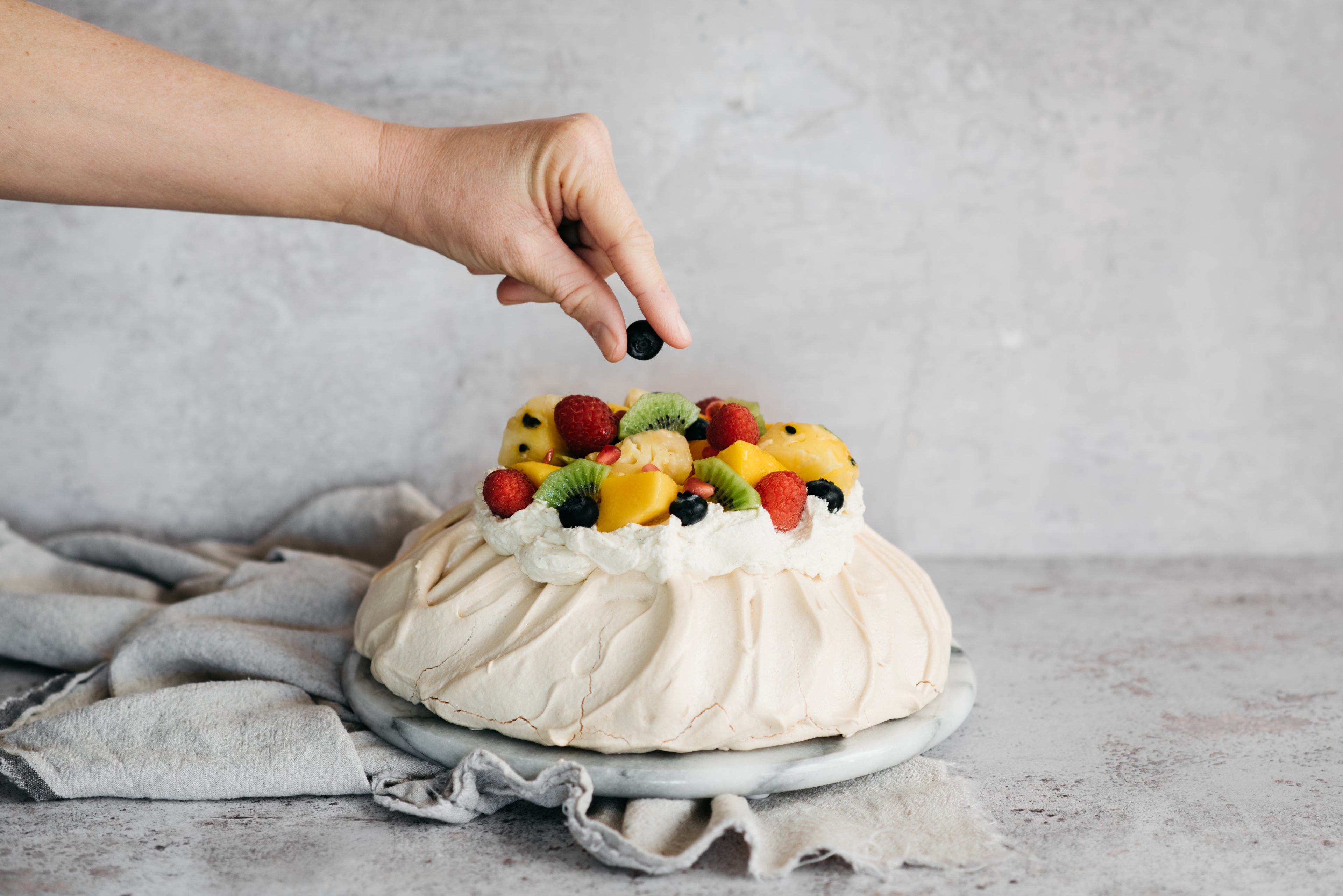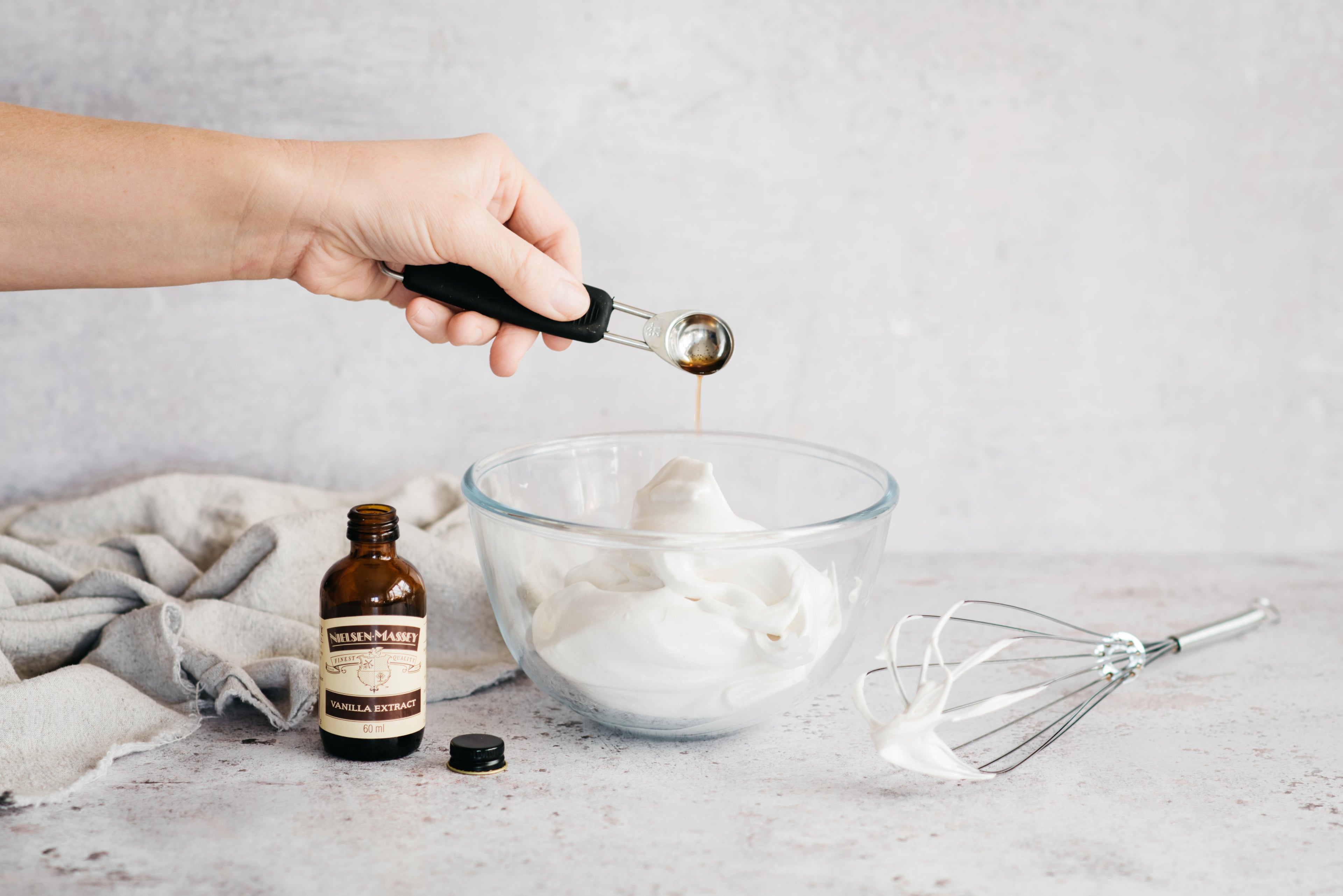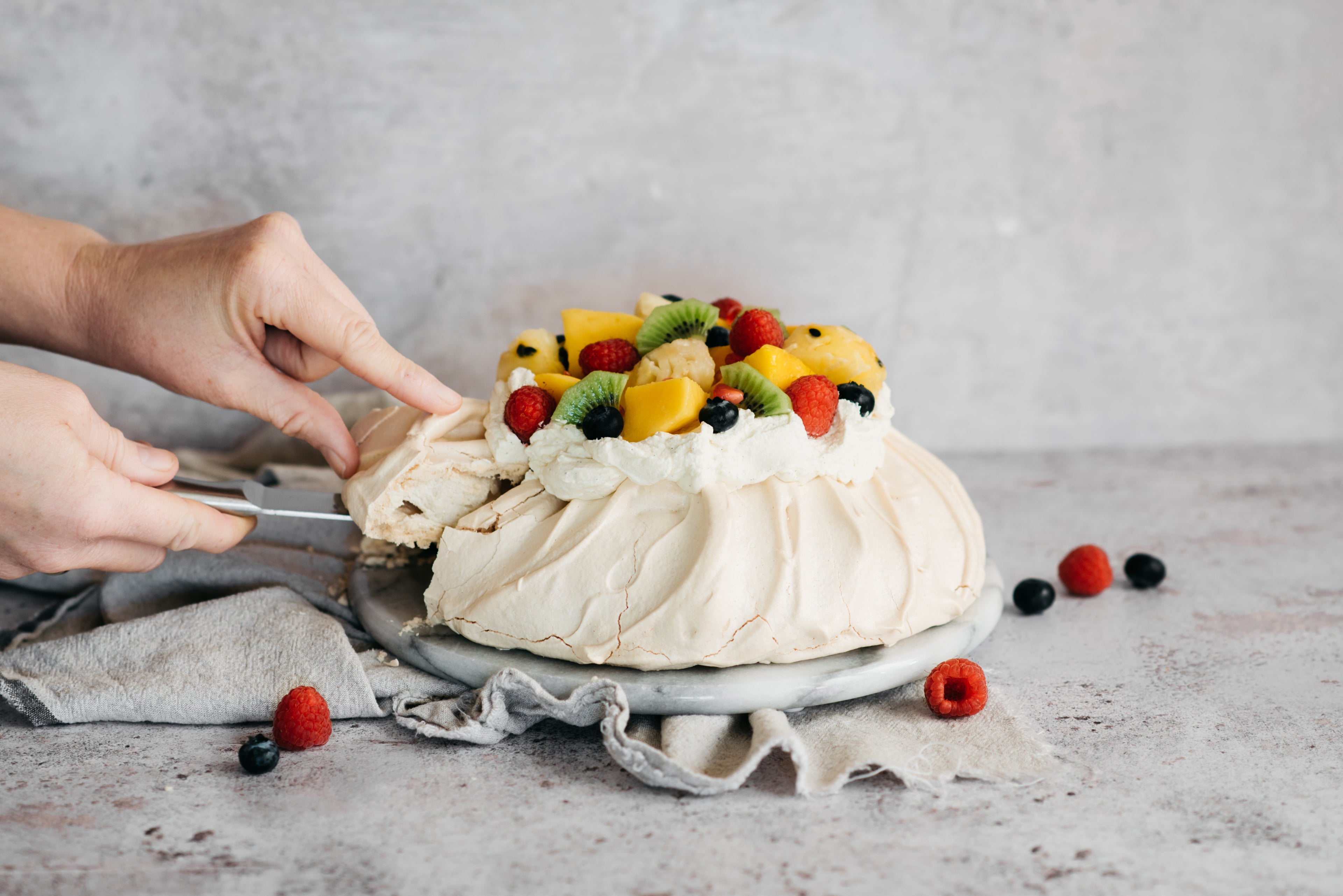 About the bake
Top this beautiful pavlova with your favourite fruit, from summer berries, to spring pears and strawberries - this Summer Pavlova is a perfect table centre piece for any occasion, just wait to see your guests face's when you scoop into this Pavlova a reveal the white chocolate cream centre!
Method
Step 1:

Preheat the oven to 160°C (140°C fan/gas mark 3)

Step 2:

Line a baking sheet with parchment paper and draw a large 23cm circle around a plate onto the paper. Turn the parchment over and stick the paper to the tray with a little meringue mix (once it's ready) at each corner.

Step 3:

In a clean dry metal mixing bowl, or in a stand mixer, whisk the egg whites with a pinch of salt until it reaches a stiff peak consistency.


Step 4:

Once the egg is stiff, add the golden caster sugar, thoroughly whisking on high speed each time. Continue adding all of the sugar until you have a lovely stiff glossy meringue mixture. Finally at the end whisk in the vanilla extract.


Step 5:

Turn the meringue mix onto the tray and with a spoon, push the meringue out to fill the circle. Make a small well in the middle so that you can fill it with cream and fruit once it's baked.



Step 6:

Pop into the oven and bake for 1 hour 30 minutes then turn off the heat and leave the meringue to sit in the oven until it is completely cool.

Step 7:

If you want to fill your pavlova a few hours in advance of eating it, melt approx 75 grams of white chocolate and paint it over the meringue to create a thin chocolaty barrier between the cream and meringue. This will prevent the meringue getting soggy and wet from the cream and fruit and keep it crisper for longer.

Step 8:

To create the topping, whisk together the cream, vanilla bean paste and golden icing sugar until the double cream can hold its shape. Careful not to over whip or it will become grainy.

Step 9:

Finally top your pavlova with your chosen fruit and serve.
Ingredients
For the Meringue

4

 

Medium free range egg whites (room temperature)

200g

 Billington's Unrefined Golden Caster Sugar

1 pinch

 

Salt

2 tsp

 Nielsen-Massey Vanilla Extract

For the topping

75g

 

White chocolate

400g

 

Double cream

2 tsp

 Nielsen-Massey Vanilla Bean Paste

2 tbsp

 Silver Spoon Icing Sugar

1

 

Large Mango (cut into cubes)

1

 

Pomegranate

1

 

Passion fruit(s)
Utensils
Baking sheet

Parchment paper

Metal mixing bowl

Whisk
We'd love a slice of advice.
Was it yum? Did the recipe work well? Did you customise the recipe?
Ingredients
For the Meringue

4

 

Medium free range egg whites (room temperature)

200g

 Billington's Unrefined Golden Caster Sugar

1 pinch

 

Salt

2 tsp

 Nielsen-Massey Vanilla Extract

For the topping

75g

 

White chocolate

400g

 

Double cream

2 tsp

 Nielsen-Massey Vanilla Bean Paste

2 tbsp

 Silver Spoon Icing Sugar

1

 

Large Mango (cut into cubes)

1

 

Pomegranate

1

 

Passion fruit(s)
Utensils
Baking sheet

Parchment paper

Metal mixing bowl

Whisk