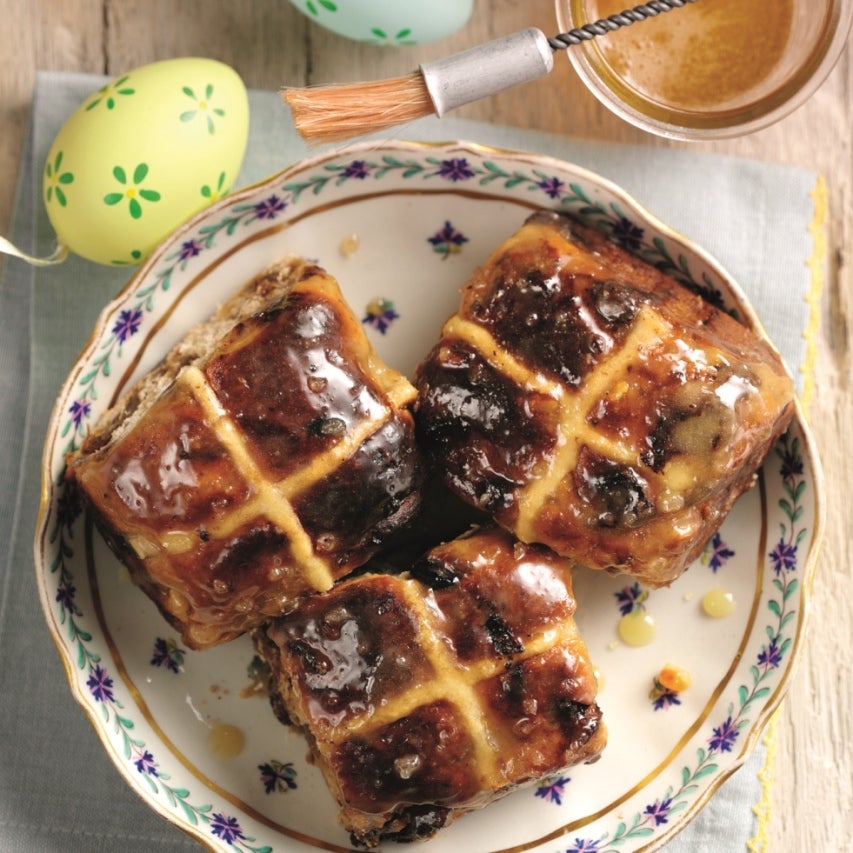 About the bake
Make your hot cross buns stand out this Easter with the addition of chocolate and vanilla. These can be made in advance and frozen until you need to use them.
Method
Step 1:

Put the strong white flour, salt, yeast and 1 tsp of golden caster sugar into a bowl. Add the butter and rub together with your fingers until the mixture resembles fine breadcrumbs. Stir in the light brown sugar, spices, mixed peel and dried fruit.

Step 2:

Make a deep well in the centre, then pour in the beaten egg, milk and vanilla bean paste. Add the chocolate and start by using a wooden spoon to mix, then follow with your hands until a dough consistency is formed.

Step 3:

Knead the dough for about 10 minutes on a lightly floured surface, adding a little more flour if it becomes too sticky.


Step 4:

Cut the dough into 12 equal parts and place in a 20cm x 20cm greased tin lined with baking paper.

Step 5:

Cover with a damp cloth and set aside in a warm place for at least two hours, or until springy to the touch and doubled in size.

Step 6:

Preheat the oven to 220°C (fan 200°C, gas mark 7). To make the crosses, form a paste with the flour and 3 tablespoons of water, then transfer to a piping bag and pipe a cross on top of each bun. Bake the buns for 25-30 minutes.


Step 7:

To make the glaze, gently warm the sugar and orange juice together in a small pan until all the sugar has dissolved. Transfer the buns on to a wire rack and brush over the glaze whilst they are still warm. Leave to cool.
Ingredients
For the Dough

500g

 Allinson's Strong White Bread Flour

7g

 Allinson's Easy Bake Yeast Sachet

1 tsp

 

Salt

1 tsp

 Billington's Unrefined Golden Caster Sugar

50g

 

Unsalted butter (softened & cut into pieces)

100g

 Billington's Unrefined Light Muscovado Sugar

1 tsp

 

Cinnamon

2 tsp

 

Mixed spice

50g

 

Sultanas

50g

 

Mixed peel (chopped)

250g

 

Dates (chopped)

1

 

Large free range eggs (lightly whisked)

250ml

 

Whole milk (warmed to hand hot)

1 tsp

 Nielsen-Massey Vanilla Bean Paste

100g

 

Dark chocolate (roughly chopped)

For dusting

 Allinson's Plain White Flour

For the Topping

3 tbsp

 Allinson's Plain White Flour

3 tbsp

 

Water

75g

 Billington's Unrefined Golden Caster Sugar

2 tbsp

 

Orange juice
Utensils
Mixing bowl

Wooden spoon

20cm square tin

Baking paper

Piping bag

Small knife
We'd love a slice of advice.
Was it yum? Did the recipe work well? Did you customise the recipe?
Ingredients
For the Dough

500g

 Allinson's Strong White Bread Flour

7g

 Allinson's Easy Bake Yeast Sachet

1 tsp

 

Salt

1 tsp

 Billington's Unrefined Golden Caster Sugar

50g

 

Unsalted butter (softened & cut into pieces)

100g

 Billington's Unrefined Light Muscovado Sugar

1 tsp

 

Cinnamon

2 tsp

 

Mixed spice

50g

 

Sultanas

50g

 

Mixed peel (chopped)

250g

 

Dates (chopped)

1

 

Large free range eggs (lightly whisked)

250ml

 

Whole milk (warmed to hand hot)

1 tsp

 Nielsen-Massey Vanilla Bean Paste

100g

 

Dark chocolate (roughly chopped)

For dusting

 Allinson's Plain White Flour

For the Topping

3 tbsp

 Allinson's Plain White Flour

3 tbsp

 

Water

75g

 Billington's Unrefined Golden Caster Sugar

2 tbsp

 

Orange juice
Utensils
Mixing bowl

Wooden spoon

20cm square tin

Baking paper

Piping bag

Small knife