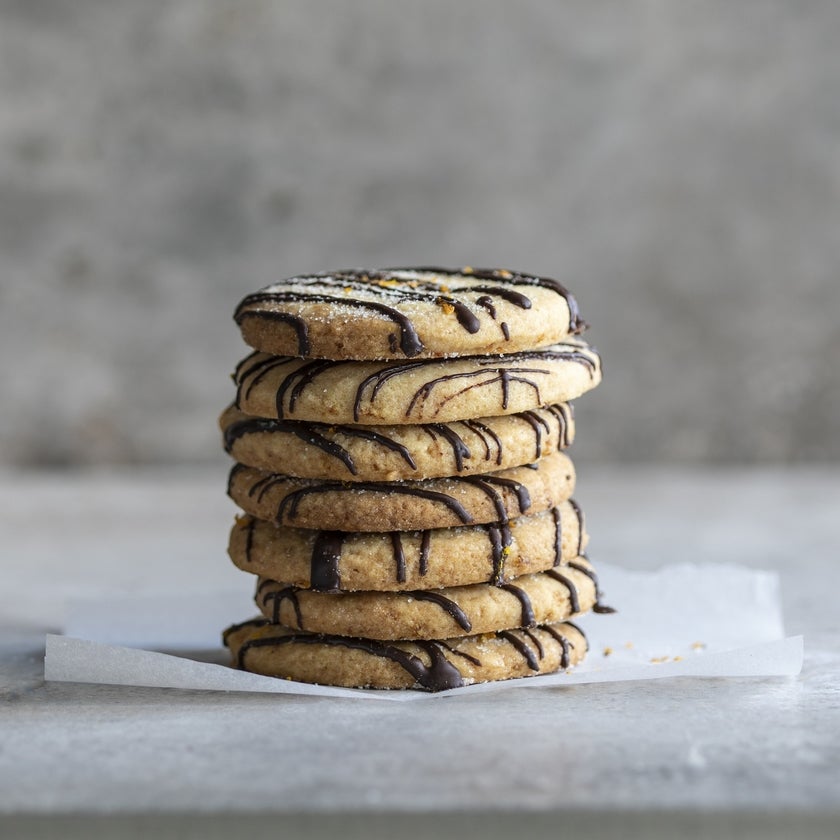 About the bake
This vegan shortbread recipe is delicately flavoured with orange and dark chocolate, a combo that really works and which really brings the shortbread to life. This timeless British classic biscuit is perfect for friends and family, or even just to make up a batch for yourself. Taste and texture is not compromised even though it's vegan so why not batch bake these and have a supply in your cupboard ready and waiting to dunk straight into your next cuppa? We'd love to hear your thoughts, why not leave a recipe review once you've given them a go?
Method
Step 1:

Heat the oven to 190ºC/375ºF/Gas 5.


Step 2:

Using a wooden spoon, mix the butter and sugar together.


Step 3:

Using a wooden spoon and a mixing bowl, mix the butter and sugar together. Add 1/2 the zest of an orange to the dough.


Step 4:

Stir in the flour. Once you've just mixed the flour, use your hands to mix it all together until ingredients are combined.


Step 5:

Halve the dough and roll each piece into a log, about 5cm thick. Wrap in cling film and chill for at least an hour.


Step 6:

Slice the logs into rounds, about 1 cm thick. Transfer them to a baking tray lined up with baking parchment, and bake for about 10- 12 minutes until lightly golden. Allow to cool on the tray.


Step 7:

Melt the dark chocolate in a glass bowl over a pan of boiling water making sure the bottom of the bowl does not come into contact with the water.


Step 8:

Once the biscuits have completely cooled, use the back of a metal table spoon to drizzle the melted dark chocolate across each biscuit. If you like, you can add some orange peel and more demerara sugar to the top of the shortbread for additional decoration.

If you like this recipe, why not bake some cupcakes next? We have a short video which shows you some egg replacements.

Ingredients
For the Biscuits

175g

 

Softened vegan butter or spread

85g

 Billington's unrefined demerara sugar

200g

 

Plain flour

1/2 an orange

 

Orange (zest of)

50g

 

Vegan dark chocolate (melted)
Utensils
Mixing bowl

Wooden spoon

Baking tray
Nutritional Information
per 38g
197cal

 

Energy

11g

 

Fat

3.3g

 

of which Saturates

21g

 

Carbohydrates

8.7g

 

of which Sugars

2.2g

 

Protein

0.23g

 

Salt
We'd love a slice of advice.
Was it yum? Did the recipe work well? Did you customise the recipe?
Ingredients
For the Biscuits

175g

 

Softened vegan butter or spread

85g

 Billington's unrefined demerara sugar

200g

 

Plain flour

1/2 an orange

 

Orange (zest of)

50g

 

Vegan dark chocolate (melted)
Utensils
Mixing bowl

Wooden spoon

Baking tray
Nutritional Information
per 38g
197cal

 

Energy

11g

 

Fat

3.3g

 

of which Saturates

21g

 

Carbohydrates

8.7g

 

of which Sugars

2.2g

 

Protein

0.23g

 

Salt