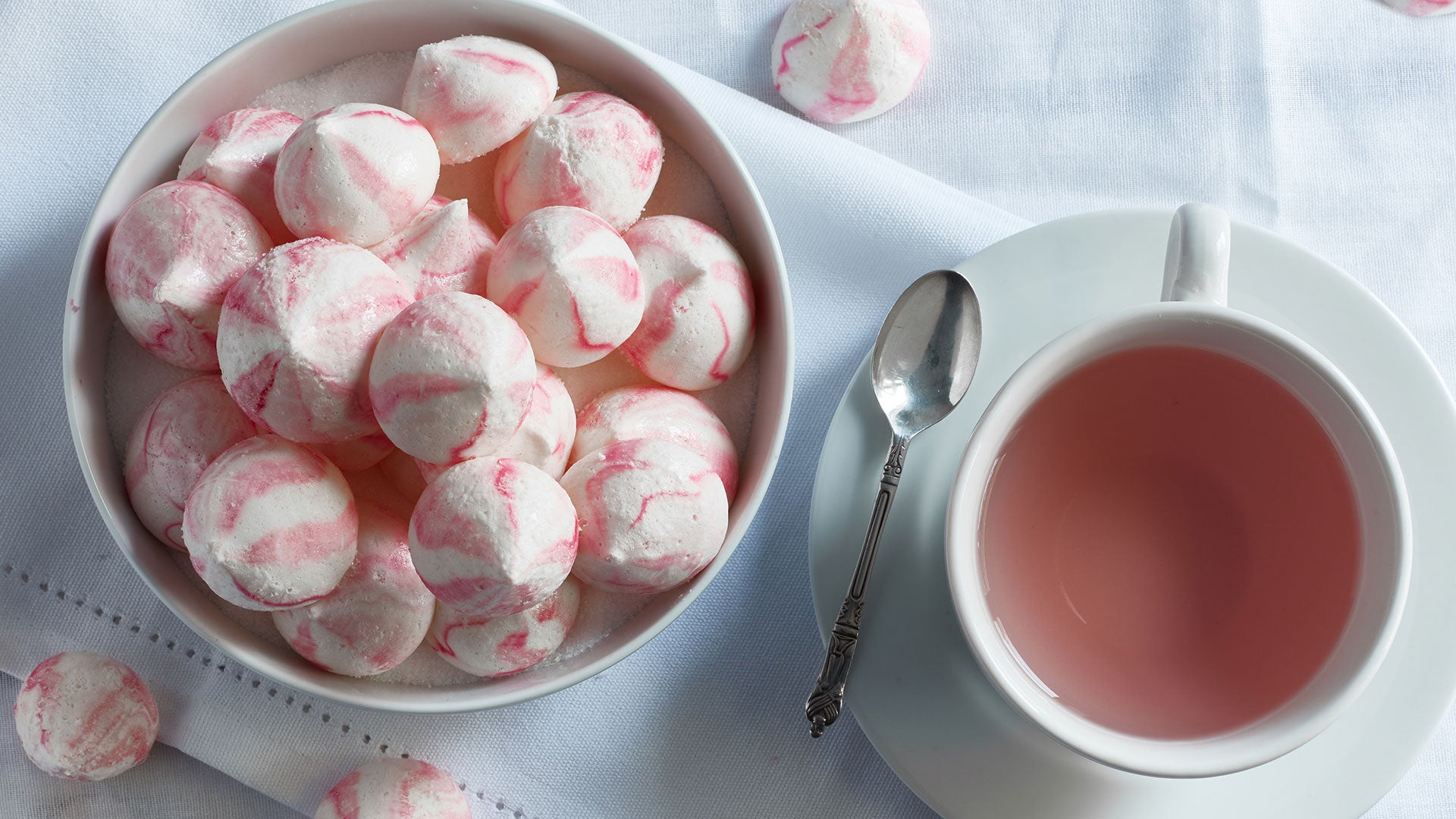 About the bake
These meringues are made using chick pea water rather than egg, which makes them Aquafaba meringues. This is a really easy recipe and the end result is amazing - Taste and texture is not compromised and they only take 20 minutes to prepare!
Method
Step 1:

Preheat the oven to 110ºc/90ºfan/gas 1/4 and line up to 4 baking sheets with baking parchment.


Step 2:

Prepare your piping bags by painting 5 thin stripes of colour inside 4 bags.


colourings

Supermarket food colours are too watery for this recipe; it is worth investing in professional food colouring gels.

Step 3:

Drain the chickpeas over a bowl and catch the water. Put the chickpeas to one side and put the water in your mixing bowl.


Step 4:

With your mixer on full, whip the chickpea water until it forms soft peaks, like egg whites. This will take longer than egg whites, but you cannot overbeat chickpea water as you can egg, so keep going. It will happen.


Eliminate grease

Wipe your bowl and beaters with lemon juice or vinegar before you start to eliminate any invisible grease.

Step 5:

When you have soft peaks, add the sugar a teaspoon at a time with the mixer still on full. Whisk the mixture hard until you have a stiff, glossy, meringue.


Step 6:

Spoon the mixture a quarter at a time into your prepared bags and snip the bottom, to about the size of a pound coin.


Step 7:

Quickly pipe pointy blobs of mixture onto your prepared baking sheets.


How much to pipe

Pipe the mixture a quarter at a time. It becomes thin in the bag with the warmth of your hand so do it in stages.

Step 8:

Repeat with all your mixture. If your mixture slackens in the bowl while you are working, you can beat it to re-stiffen it.


Step 9:

Bake the meringues for 2 hours. When the time is up, they should be dry and crisp. If not give them another 30 minutes.


Step 10:

When cooked, turn off the oven. Leave the meringues to cool in the turned off oven with the door shut. DO NOT LEAVE THEM OUT IN THE AIR! This will cause them to turn into big sticky blobs. If you need to store them, put them in an airtight container.


How to recrisp meringues

If the meringues do go sticky in the air you can recrisp them in a 100c/90fan/1/4gas oven for 15 minutes and they will be fine.
Ingredients
For The Meringues

400g

 

Chick peas (in water)

100g

 Billington's Unrefined Golden Caster Sugar

1 drop

 

Food colouring (industrial grade vegan friendly)
Recipe Reviews
"Bake Time
1h 0m "

"Bake the meringues for 2 hours"
I really hope this was just a mistake and not an attempt to make the recipe seem quicker.
________________________________________________
Hello,

Yes, well spotted we will update the recipe to reflect the 2 hour bake time, thanks very much.

Happy Baking!
I have given this recipe 5* rating in anticipation that it will work once I do try it. I am a bit worried that the meringues made from Aquafaba become soft and sticky if left out in the open air. How long can they be left out without detriment? and can they be made up in advance for wedding favours? I have some concerns whether a pavalova made of this substance will withstand the moisture from fillings and fresh fruit. Please could someone from Baking Mad team enlighten! Many thanks in advance, for further information.

---

Hi Rose,

The meringues can become sticky when left out for a while - we suggest leaving them in the oven (turned off) once baked to help keep them drier for longer. If you are making them as wedding favours we recommend you do a test batch first to see how you get on.
For the pavlova, we recommend you add the topping just before serving to prevent it from becoming too soft.

We hope this helps.

Happy Baking

The Baking Mad Team
Ingredients
For The Meringues

400g

 

Chick peas (in water)

100g

 Billington's Unrefined Golden Caster Sugar

1 drop

 

Food colouring (industrial grade vegan friendly)