5 Minutes with Luis Troyano
Chef Tips
With the latest series of Great British Bake Off about to start and the nation will once again go bonkers for baguettes, biscuits and all things baking we caught up with 2014 finalist Luis Troyano to find out about life after GBBO…

What inspired you to apply for The Great British Bake Off?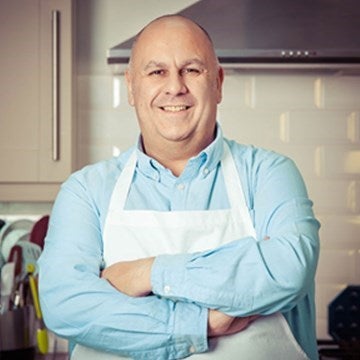 I thought it would be fun and a change from my everyday life. To be honest, I never ever expected to walk into the tent and actually take part. The first day there was really surreal, almost dream like. I learnt so much from the experience, it was simply amazing and I would wholeheartedly recommend it to anyone who is considering taking part.

What were Paul and Mary like to work with?

Their knowledge in all things baking is simply mind-blowing. I often thought there were hidden cameras as I couldn't get my head around how they knew what we had done without actually seeing us do it. They were a real pleasure to get to know and work with. The key was listening to their feedback and taking it on-board.

What was your most embarrassing moment during GBBO?

Definitely self-saucing puddings. I knew I had a dodgy recipe and I'll never forget Paul just staring at me whilst dribbling the horrible thin sauce off a spoon in front of me. I just wanted the ground to open up and swallow me.

Were there any bloopers that happened in the bake off tent that didn't make the final cut?

Lots! I remember the semi-final in particular. Nancy had made a really thin chocolate ganache and was pouring it over some cakes. It was also pouring all over her bench, down the sides, all over the floor. We were absolutely wetting ourselves. I actually went over to help catch it some of it.

What was your favourite moment of the bake off experience?

I have so many fond memories. But if had to choose just one, bread week. Paul Hollywood said he had never tasted anything like my rye rolls and shook my hand. I was blown away.

If you could summarise your bake off journey in 3 words what would they be?

Terrifying. Fun. Friendships.

What do you love most about baking?

I love baking. It ticks so many boxes for me. I love the chemistry and experimentation, the creativity and the opportunity to be artistic. Most of all though it's the perfect thing to give family and friends, it always makes them smile.

What is your all-time favourite type of cake/pastry?

Definitely a Bakewell tart! It's my absolute favourite and the recipe is firmly memorised. Crisp thin short crust pastry, almond and lemon frangipane topped off with a thick layer of fondant icing. Magic. There's so many disciplines covered in making one that I think it taught me how to bake.

What is your favourite ingredient to work with and why?

I suppose it would have to be flour. The possibilities of what you can make are endless, in-fact it's mind boggling when you think about it. It's such a core staple of baking that changed the world. There's nothing better than handling perfect bread dough, so so satisfying.

We love your book 'Bake it Great'. What is your favourite recipe from it?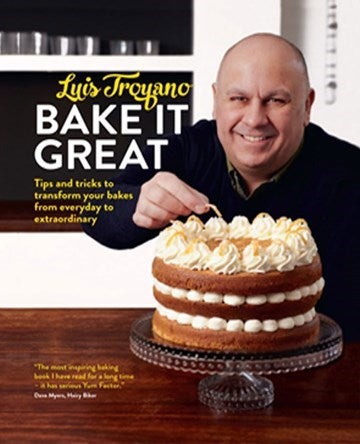 Wow that's a really difficult question. If I was looking at it sentimentally, I would choose my mum's Spanish Roscos de Anis. They are a deep fried doughnut, nothing like our traditional version. They are heavily flavoured with aniseed and extra virgin olive oil and are my earliest memory of baking as a child. If I was to choose one of my own recipes it would have to be a tart, probably the raspberry, pistachio and white chocolate one.

What is your fail-safe recipe that you turn to when you need a last minute bake?

Definitely my Cherry Bakewell Cupcakes. I have probably made thousands of these by now. Quick and easy to make, incredibly moist and taste delicious. They are topped off with a layer of Amaretto icing and look great too.

We love baking hacks, what are your top 3 baking tips?

Firstly I always leave a little tab sticking out on the non-stick paper disc under a tart; you can then just grab it and slide the tart off. Secondly, test your oven temperature with an oven thermometer; you will be surprised how out it can be. Thirdly, when making bread, always make the dough the day before and prove it in the fridge for up to 24 hours, it really does make for a better end result.

Tell us a bit about your bee keeping? Do you use the honey a lot in your baking?

I'm very lucky to have a constant supply of honey on hand so yes I use it lots. In fact there's a whole chapter of recipes dedicated to it in my book. Beekeeping is the most amazing hobby; they really are fascinating creatures and a complete joy to keep. I find it really relaxing when I go out to inspect the hives and you just forget everything else going on around you.

What have you been up to since Great British Bake Off?

Wow, where do I start? My life has been turned upside down in the most amazing way. I gave up my old day job and now focus on baking activities. I was very privileged to get the opportunity to write my own recipe book so that took quite a lot of time to do. The book is called Bake It Great and is published by Pavilion. I also hold afternoon teas at the Farmers Arms in my home village of Poynton on a regular basis, I make all the cakes. I have a really full diary teaching people how to bake at Seasoned Cookery School and Cheshire Cookery School as well as working at many of the food festivals around the country this summer and autumn. You can view my schedule of where I'll be on my website, www.luistroyano.com

Long term, I would love to have my own bakery, something I'm currently investigating.

Thanks so much to Luis for the great answers, we can't wait to try more recipes from 'Bake It Great', out now and available from all good book shops.

Why not try one of Luis' recipes for yourself...

If you enjoyed this interview, we think you'll enjoy 5 minutes with Sarah Hardy.