Behind The Scenes at Juliet Sear's House
Chef Tips
Have you ever wondered what happens behind the scenes on a video shoot at Baking Mad? How to get to the final video? I'm going to be sharing with you exactly what we get up to. We're not perfect, and that's ok. From: accidentally setting off the fire alarm and the whole company having to file out and stand in the car park, to forgetting to turn the oven on…It's happened to us all, right?

This particular set of videos were filmed down in London. Our friend Juliet Sear who I like to call the 'Cake Wizard' let both Sam (Our expert in-house baker) and I into her home for a day of filming. We were shooting a series of Wedding videos to help you get the most out of decorating your own cake.

Luckily for us it was a gorgeous spring day. Both Sam and I got to Juliet's house as they were setting up. Working with Juliet is always fun. She is down to earth with a wicked sense of humour. Her crew- Dan the videographer and Lola- her assistant were super organised and all ready to go.

We started off with this video 'How to Hand Paint a Cake'

I'll let you into a little secret, although Juliet is wearing different tops and aprons in each of the videos we actually shot them all back to back, but this way it gives a bit of variety from each clip so you don't feel you're watching one big long one (Sneaky!) Here's Juliet in a blue top for a different clip 'How to Create a Lace Effect'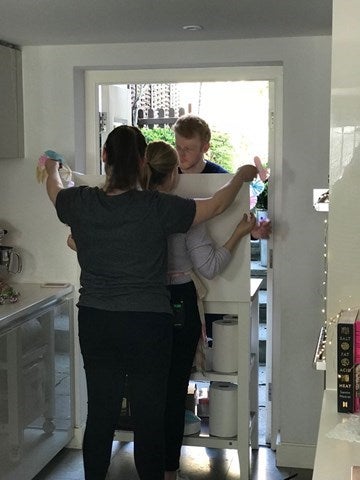 I love this picture. Can you guess what's going on? After each clip, we asked Dan to photograph the cake so we could then upload it to our site; this is Juliet and Lola holding onto the backdrop so that it looks like we've shot it in a fancy-pants studio.

You're probably wondering why we've chosen a lemon and elderflower cake as the hero flavour for this series? It's because it's the same flavour as the Royal couple chose for their big day. Apparently Meghan loves an elderflower and lemon cake (I'll send her a Whasapp to double check...)

Head over to our Elderflower and Lemon Cake recipe to make this at home. Or why not try our Gluten Free version?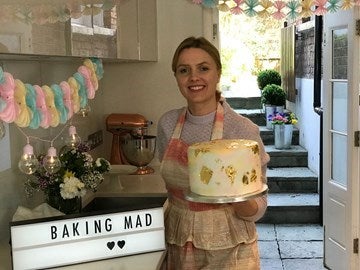 In this picture, Juliet is holding the watercolour cake after filming 'How to Create a Watercolour Effect on a Cake and Add Gold Leaf'. You can see the background of the kitchen has changed too. Lola made sure to change the bunting and light box message for each clip. We were a bit worried about the breeze coming in through the back door whilst Juliet was handling the gold leaf. It nearly blew away!

After the shoot, we took back a couple of the cakes which were made. These were lemon and elderflower and weighed a tonne! Unfortunately for Sam, she carried back the one with the most buttercream which by the time we got to the train station, had displaced down her front as it had leant against the cardboard carry box and seeped through the edges. The price you pay for cake!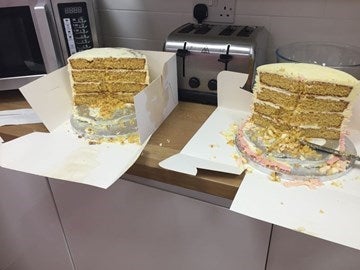 You can always tell how good a bake is by the speed it takes to disappear. These two cakes were beasts in size and took around 20 minutes to disappear. I'd like to work out a formula- the 'Enjoyment Scale' which would go something along the lines of: Enjoyment= speed of disappearing/number of people in the office. Let's just say, these cakes were a 10/10!

I hope you've enjoyed reading about this shoot. Follow us on Instagram @BakingMadUK and like our page on Facebook BakingMadUK to see our latest stories.