5 Minutes with John Whaite
Chef Tips
We caught up with celebrity baker John Whaite to talk Comfort, Cooking Schools & what he think's you'll all be baking in 2018!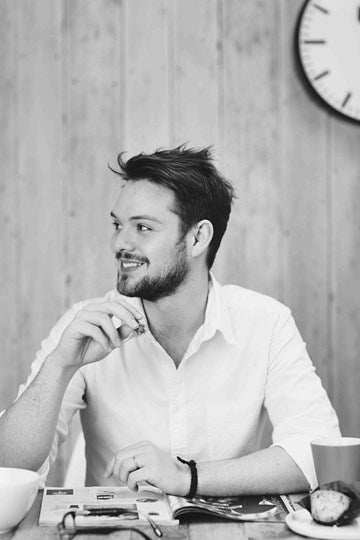 Your new book Comfort: Food to soothe the soul makes us want to snuggle under a duvet in our pj's filling our faces with yummy food. What inspired you to create this book?

I was so fed up of the emphasis on beach bodies and clean eating. It's as though we are constantly body shamed if we even look at a slice of cake. Well, I'm done with that, and so I wanted to celebrate comfort food, which certainly soothes the soul.

If you could pick just one recipe from your book which is an absolute must-bake?

It would have to be the brown butter, salted caramel and hazelnut brownies. They are incredible.

We love that your book is split into fun chapters; in particular something cheesy. Tell us something cheesy about you...

I sing to Beyoncé in my car…

What have you been up to since your last book?

I've been so busy designing and opening my cookery school, which we opened in January 2016. I can't believe how quickly these past 2 years have flown by, but I've enjoyed every minute. We hold about 35 classes a year, so spaces are quite limited. I love meeting new people each week who have a shared passion for cooking and baking.



Which has been your favourite class to teach?

The afternoon tea class is really popular, and so to see people that excited about cake really makes me smile. But equally the Italian cookery class is wonderful, because people are always surprised at just how easy it is to make your own pasta.

Congratulations on your engagement this year. Will you be baking your own wedding cake?

Thank you. Absolutely not! I will be enjoying some time out of the kitchen to focus on my darling one.

What has been your favourite baking trend this year?

Mirror glazes have been so popular still, and my students have loved making them. Entremets (layered mousse cakes) are also really fun to make because there are so many elements of texture and flavour.

What do you think will be big in the world of baking in 2018?

Oh I've no idea. I think more exotic and foreign flavour combinations in cakes will be popular. I also think black cakes and black baking started to take off in 2017, and I think that will only get even more popular as people realise how fun it can be to do an all-black bake.

Your book would make a great Christmas present what have you asked Santa for this year?

I haven't asked for anything yet. I would really like a new kitchen in my new house, but that's down to me, I'm afraid. The big man won't provide that for me.

What big plans do you have for 2018?

I want to open a little area within the cookery school to offer supper clubs. A gorgeous panelled, low-lit dining room where strangers and friends can meet for unique dinners. Watch this space…