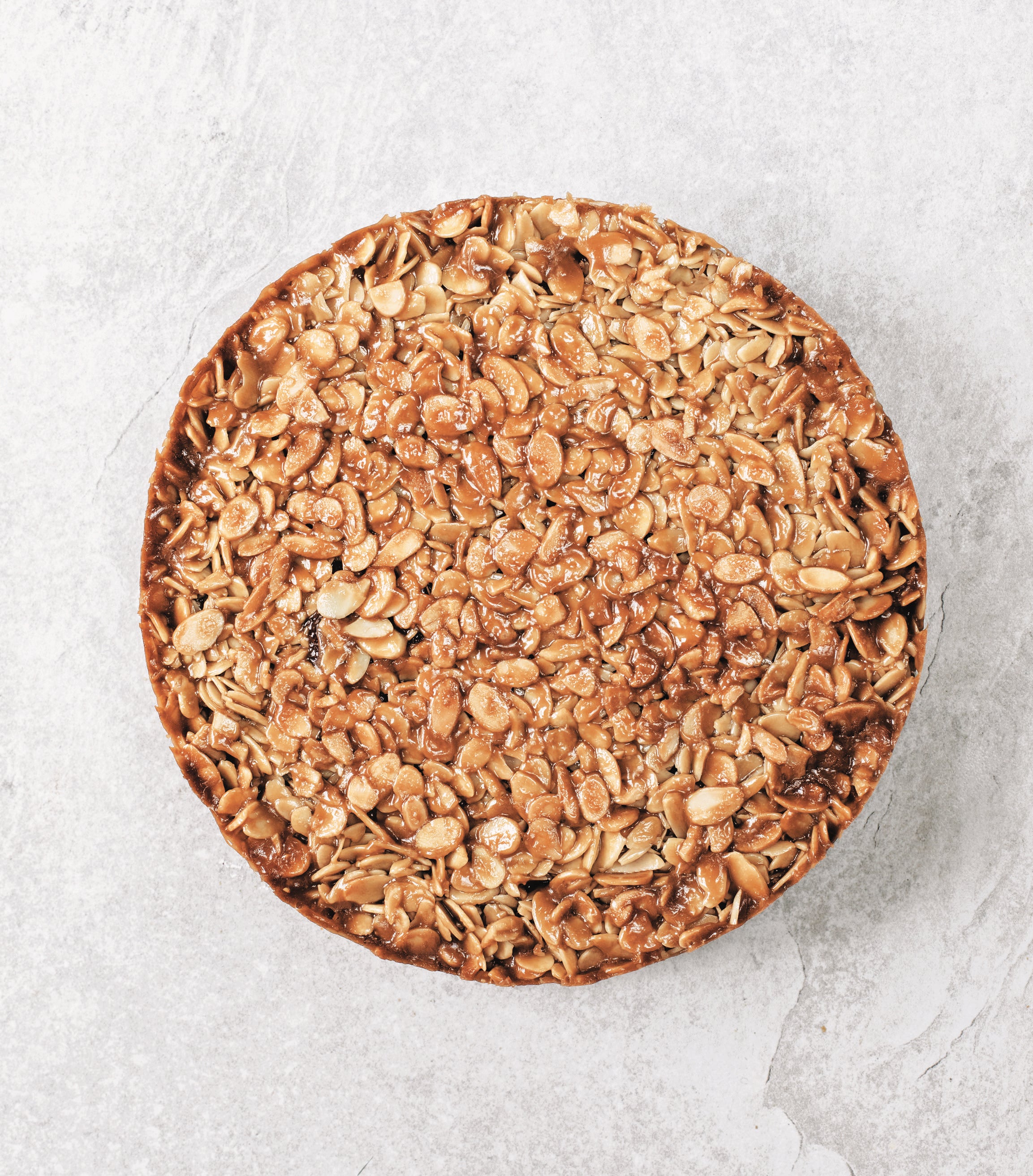 About the bake
We all know of Almond Brittle as a popular tooth crunching sweet, but not many of would think up the genius combination of a brittle topped cake. GBBO's Benjamina Ebuehi dreamt up this incredible fusion as part of her 'The new way to cake' book.
The audible and satisfying crack when you slice the cake and the "soft cushion like sponge laying beneath an armour of flaked almonds bound together with a buttery caramel" is your mouth watering yet? Reprinted with permission from 'The New Way to Cale' Benjamina Ebuehi. Page Street Publishing Co. 2019. Photo credit: Holly Wulff Petersen
Method
Step 1:

Preheat the oven to 350°F (180°C).

Grease a springform or loose-bottomed 9-inch (23-cm) cake pan and line the bottom with parchment paper.


Step 2:

To make the cake, sift together the flour, baking powder and cardamom in a small bowl and set aside. Using a stand mixer or electric whisk, whisk the eggs and sugar together for 5 minutes, or until the eggs are thick and pale.


Step 3:

The eggs need to reach ribbon stage: when you lift up the whisk attachment, the batter should leave a trail on the surface that holds its shape for a few seconds before dissolving back into itself.


Step 4:

Gently fold in half of the flour with a rubber spatula, being careful not to knock out too much air. Pour in the buttermilk and continue to fold the batter until the buttermilk is fully incorporated. Fold in the rest of the flour, ensuring there aren't any pockets of flour hiding at the bottom of the bowl.


Step 5:

Carefully pour the melted butter down the side of the bowl and fold until incorporated. Pour the batter into the prepared pan and bake for 30 minutes, or until the cake is just set. There shouldn't be any wobble in the middle, as it needs to be firm enough to hold the weight of the almonds.


Step 6:

To make the topping, lightly toast the flaked almonds in a dry frying pan over medium heat for 1 to 2 minutes. Remove from the heat and allow
to cool until needed. In a small saucepan, melt the butter with the sugar, cream and vanilla and bring to a boil. Cook for 2 to 3 minutes, or until it thickens slightly. Remove the saucepan from the heat and stir in the almonds, ensuring they're evenly coated.


Alternative nut toppings

Try mixing up the praline by using a mix of almonds and hazelnuts.

Step 7:

Pour the mixture on top of the cooled cake and use an offset spatula to very gently spread it evenly over the surface. Put the cake back into the oven and bake for 15 minutes. Remove from the oven and leave to cool for a few minutes before running a palette knife around the edge of the cake to stop it from sticking to the sides of the pan. Let it cool completely before removing it from the pan and slicing.

Ingredients
For the Cake

150g

 Allinson's plain white flour

1 tsp

 

Baking powder

1/2 tsp

 

Ground cardamom

3

 

Eggs

150g

 Billington's Unrefined Golden Caster Sugar

75ml

 

Buttermilk

70g

 

Unsalted butter (melted)

For the Topping

150g

 

Flaked almonds

120g

 

Salted butter

120g

 Billington's Light Brown Soft Sugar

45ml

 

Heavy cream

0.5 tsp

 Nielsen-Massey Vanilla Extract
Utensils
9in round spring form cake tin

Frying pan

Baking parchment

Sieve

Small bowl

Electric whisk
Recipe Reviews
Great, I added one more egg white
This recipe was quite quick and easy although I hate nuts this was amazing. I'm not sure if it was worth a whole hour but I would buy it in a store. The almonds really just tasted delicious and so nice but there was so many it made the cake quite crunchy and that's not what I like in a cake . I do have experience with baking for I have judged on the great British bake off and this cake was extremely dry so I wouldn't recommend for people who like moist cakes like myself
Ingredients
For the Cake

150g

 Allinson's plain white flour

1 tsp

 

Baking powder

1/2 tsp

 

Ground cardamom

3

 

Eggs

150g

 Billington's Unrefined Golden Caster Sugar

75ml

 

Buttermilk

70g

 

Unsalted butter (melted)

For the Topping

150g

 

Flaked almonds

120g

 

Salted butter

120g

 Billington's Light Brown Soft Sugar

45ml

 

Heavy cream

0.5 tsp

 Nielsen-Massey Vanilla Extract
Utensils
9in round spring form cake tin

Frying pan

Baking parchment

Sieve

Small bowl

Electric whisk