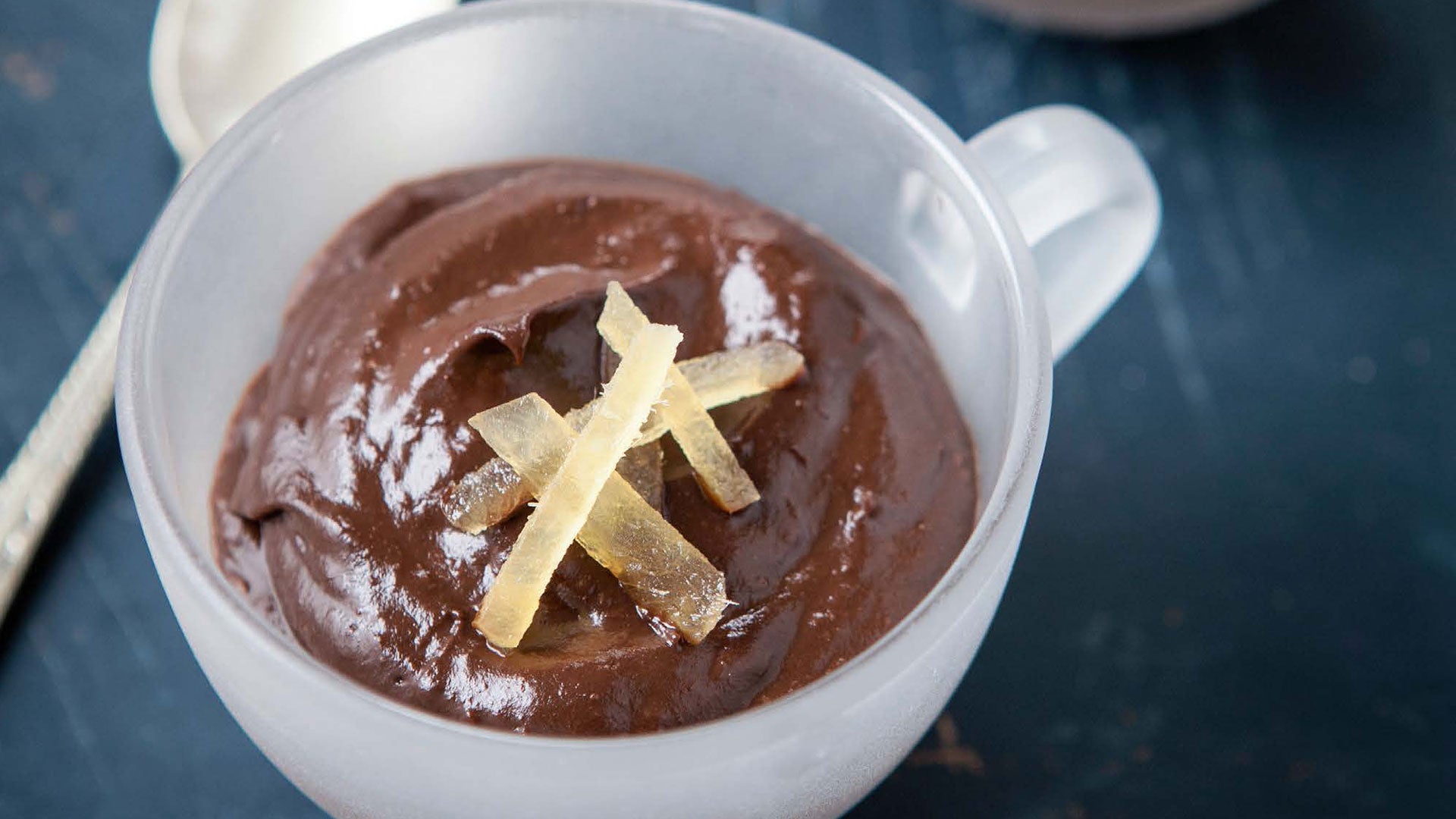 About the bake
The Aztec Chocolate Avocado Mousse is simple and quick vegetarian pudding to make but success depends on using very ripe, creamy, non-fibrous avocados. Good Hass avocados are probably best. You need a jar of stem ginger in syrup and you could use some of the syrup in the mousse instead of honey. This delicious recipe was created by the Hairy Bikers and features in The Hairy Dieters Go Veggie.
Method
Step 1:

Put the avocado, lime zest and juice and the piece of stem ginger in a food processor and blitz until fairly smooth – there might be a little texture from the stem ginger or lime zest.


Step 2:

Put the chocolate, honey or syrup, coconut milk, cocoa and spices in a small saucepan. Place the pan over a very gentle heat and whisk constantly until the chocolate has melted and you have a rich, dark mixture.


Step 3:

Scrape the chocolate mixture into the food processor with the avocado, lime and ginger and continue to blitz until everything is well combined and smooth. Divide the mousse between 6 or 8 small glasses, espresso cups or bowls and chill until needed.


Step 4:

Serve topped with some thin strips of stem ginger if you like.

Ingredients
For the Mousse

2

 

Avocados (peeled, mashed & roughly chopped)

1/2

 

Lime (zest & juice)

1

 

Stem ginger (ball, roughly chopped)

100g

 

Dark chocolate (70% cocoa solids)

50g

 

Honey (or syrup from the stem ginger for a vegan alternative)

100ml

 

Coconut milk (reduced fat)

30g

 

Cocoa

1 tsp

 

Cinnamon (ground)

1 tsp

 

Ginger (ground)

1/4 tsp

 

Allspice (ground)

1/4 tsp

 

Cayenne (ground)

For the Topping

1

 

Stem ginger (ball, finely sliced)
Recipe Reviews
Tastes very good but I don't see the reason for all the extra spices. Still great
Ingredients
For the Mousse

2

 

Avocados (peeled, mashed & roughly chopped)

1/2

 

Lime (zest & juice)

1

 

Stem ginger (ball, roughly chopped)

100g

 

Dark chocolate (70% cocoa solids)

50g

 

Honey (or syrup from the stem ginger for a vegan alternative)

100ml

 

Coconut milk (reduced fat)

30g

 

Cocoa

1 tsp

 

Cinnamon (ground)

1 tsp

 

Ginger (ground)

1/4 tsp

 

Allspice (ground)

1/4 tsp

 

Cayenne (ground)

For the Topping

1

 

Stem ginger (ball, finely sliced)