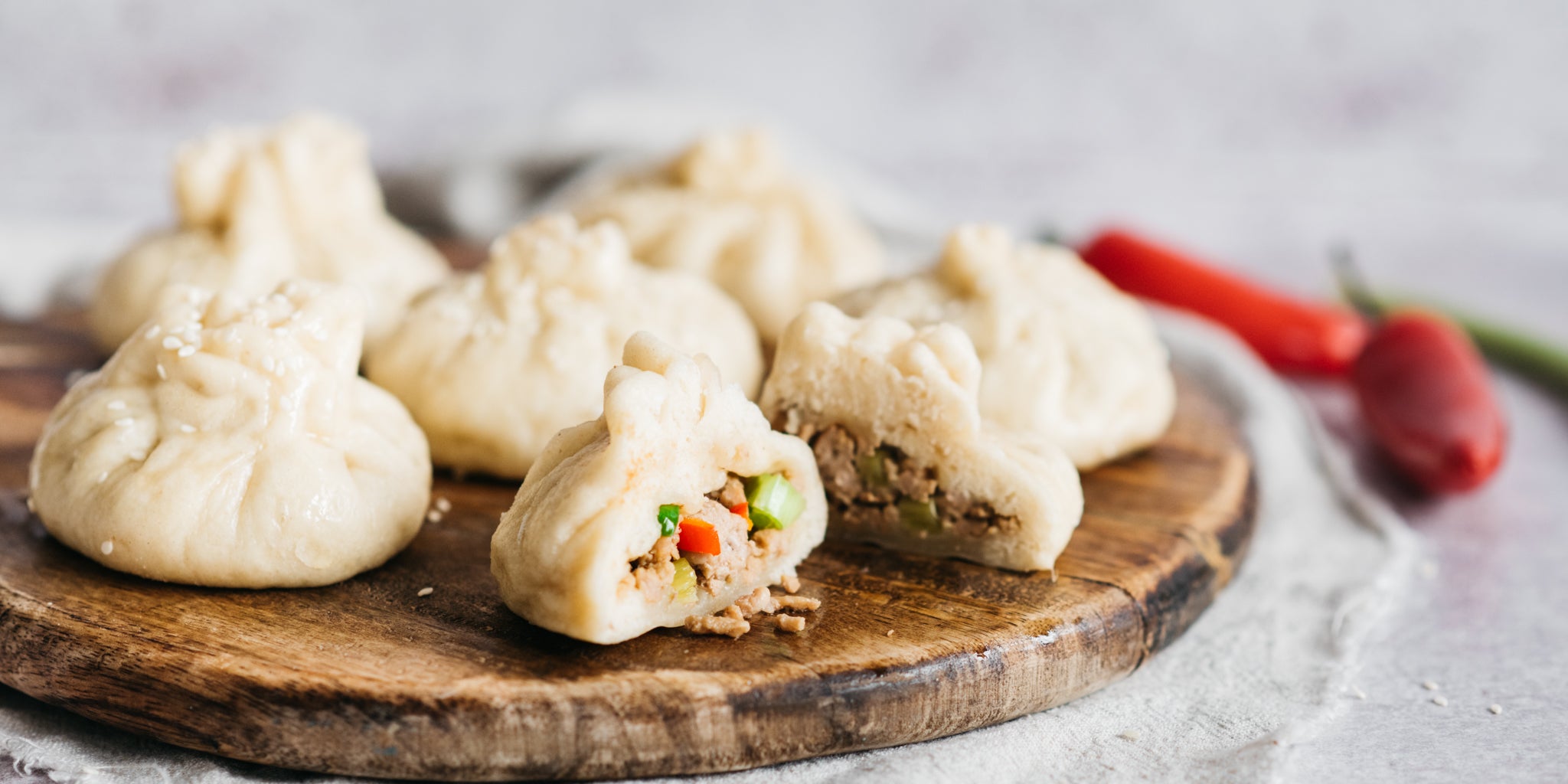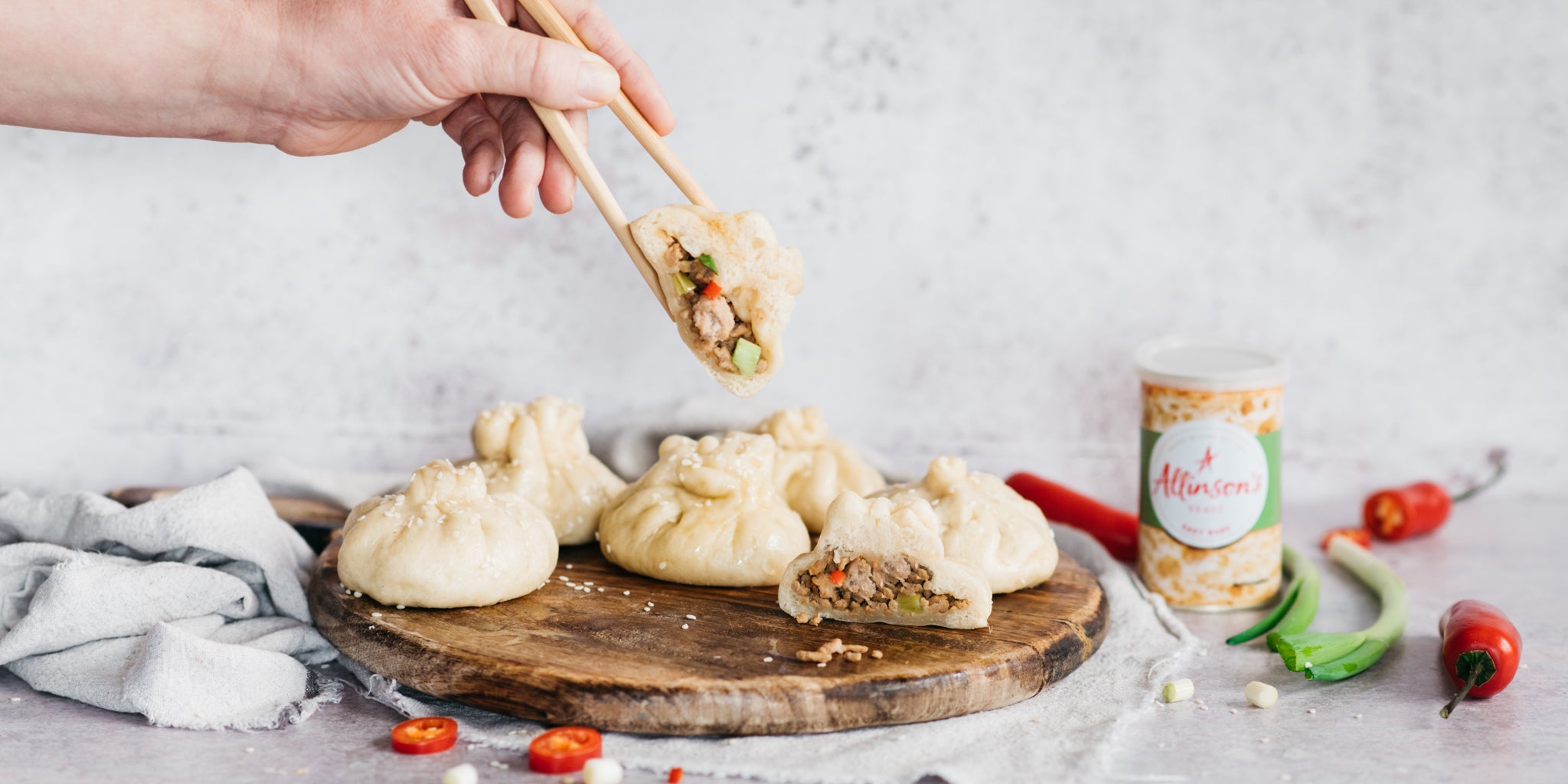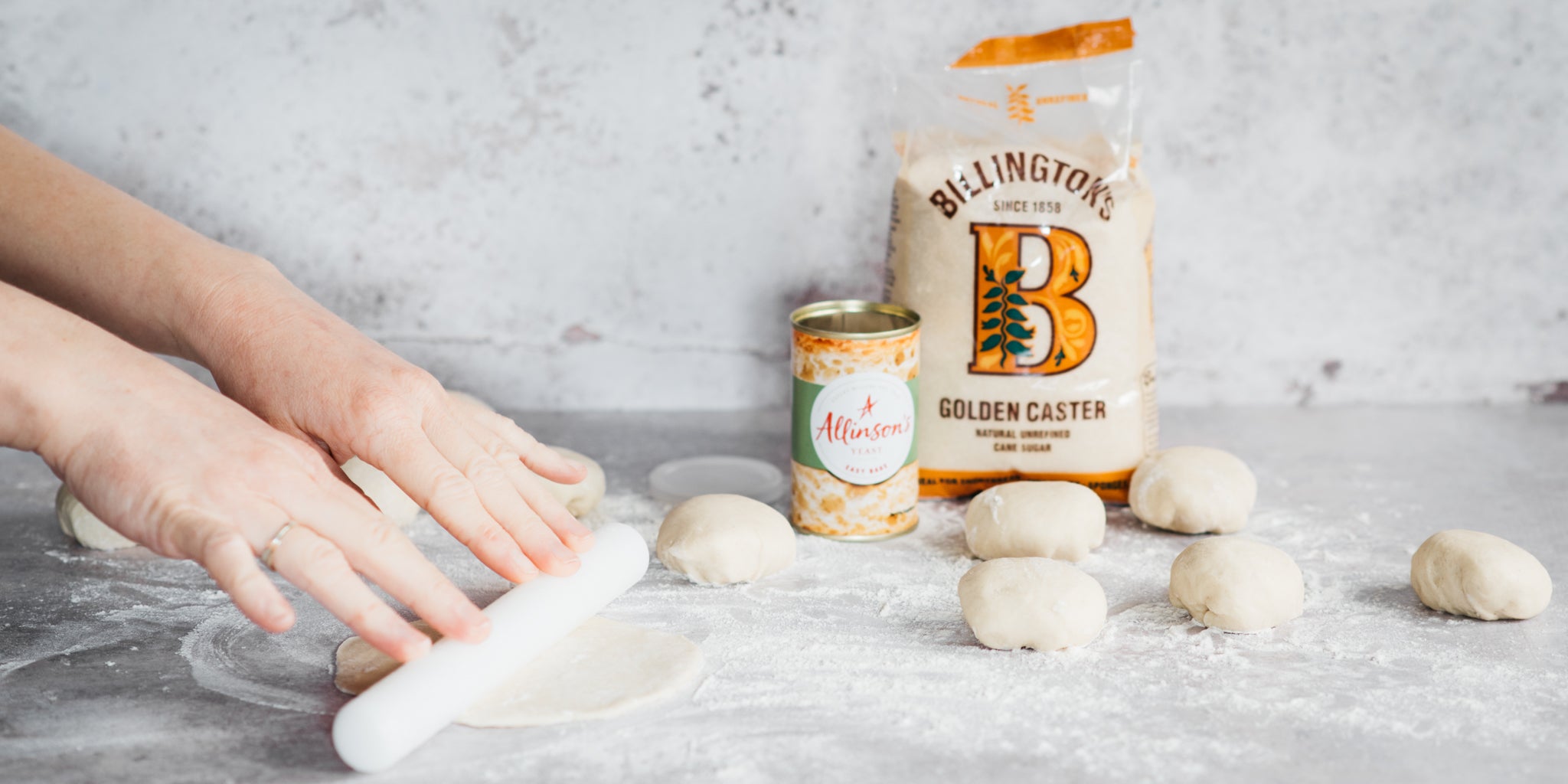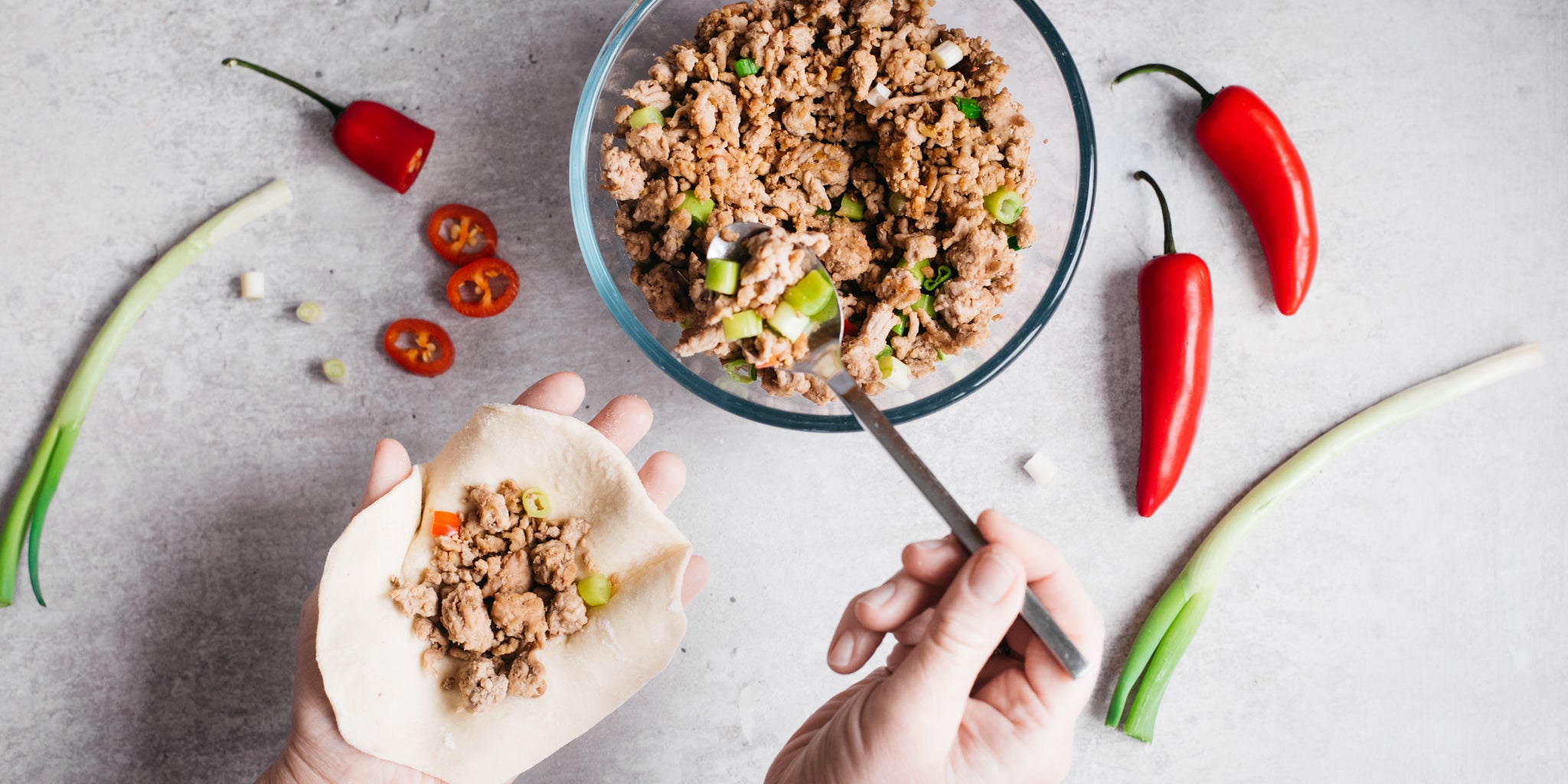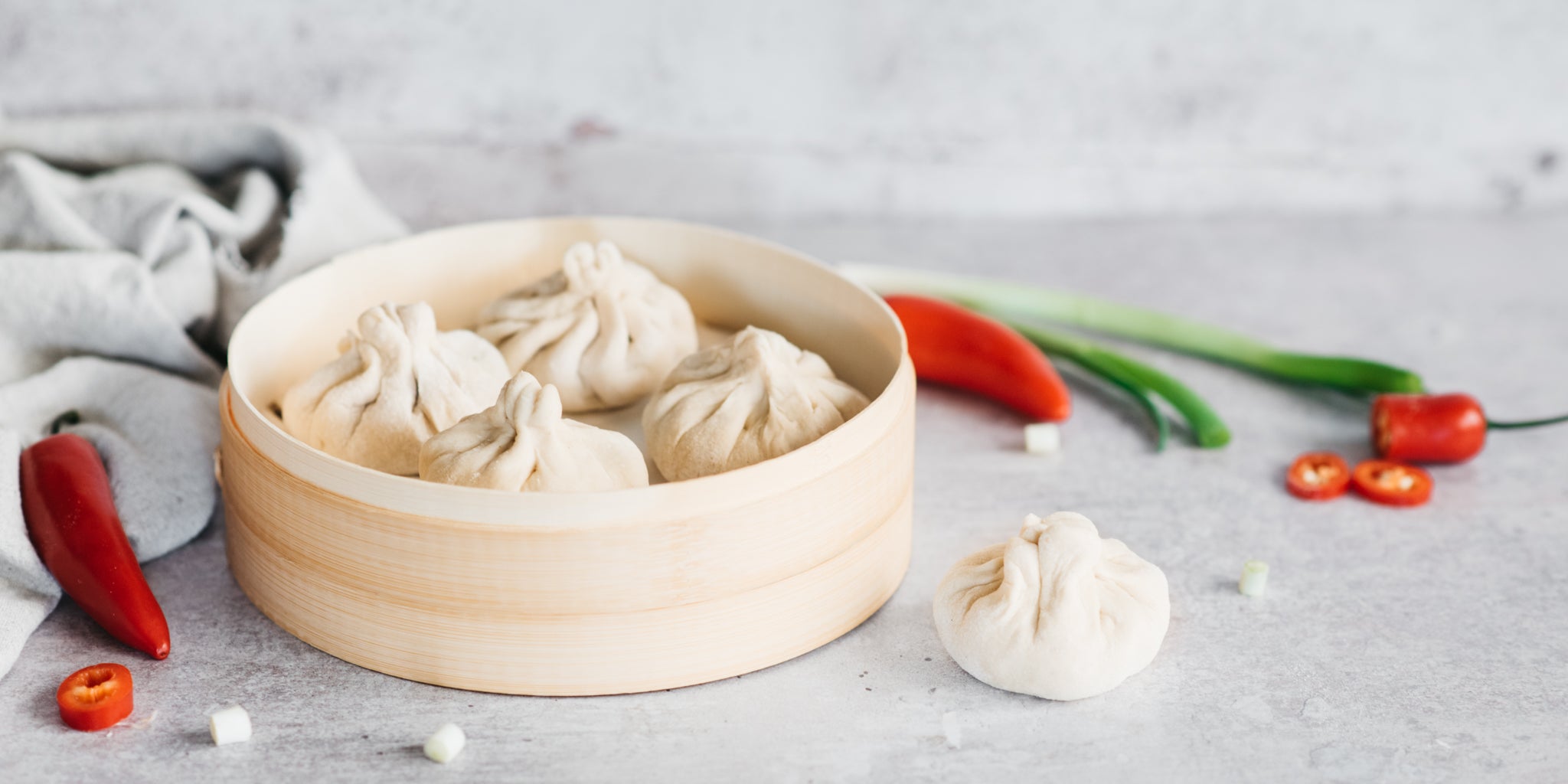 About the bake
There is something satisfying about a light and fluffy, steaming Bao Bun its so hard not to eat a whole plate.
Our surprisingly simple bao buns recipe will not only show you how to make bao buns, but it will make your tummy happy too. You will be recreating your favourite Chinese inspired dish at home in no time.
Method
Step 1:

Place the plain flour, yeast, sugar, milk and water into a large bowl and knead for 10 minutes. Alternatively use a stand mixer with the dough hook attachment and knead for 5 minutes.

Step 2:

Place the kneaded dough into an oiled bowl, cover with a clean tea towel and allow to prove in a warm place for around 1 hour or until doubled in size.

Step 3:

Just before the dough has proved, begin making the filling by adding the sesame oil to the frying pan and browning off the pork mince over a low heat. Add the remaining ingredients and cook, stirring throughout, until no pink meat remains, the pork is fully cooked through and the liquid has reduced.

Step 4:

Step 5:

Once the dough has proved, knock it back then weigh out and shape 12 evenly sized balls.

Step 6:

Roll each ball into a 4-5inch diameter circle, leaving the middle fuller than the edges to hold the filling.

Step 7:

Hold the circle in your hand and add a large spoonful of filling into the centre. Fold, pleat and pinch the dough over the filling to seal. Lay each filled bun on parchment paper in a bamboo steamer.

Step 8:

Add 2.5-3cm of water to a large wok and place on the hob.

Step 9:

Turn on the heat to a medium level and place the steamer in the wok. The buns will prove again for 10 minutes, whilst the water heats up.

Step 10:

Steam the buns for 15 minutes.

Step 11:

Turn off the heat after this time and allow the buns to rest with the steamer lid on for 5-10 minutes.

Step 12:

Remove the buns from the steamer and scatter sesame seeds over the top. Serve immediately with some sweet chilli dipping sauce.
Ingredients
For the buns

400g

 Allinson's Plain White Flour

190ml

 

Water (at room temperature)

50ml

 

Milk

10g

 Billington's Unrefined Golden Caster Sugar

1 tsp

 Allinson's Easy Bake Yeast

For the filling

500g

 

Pork mince

1 tbsp

 

Sesame oil

1 tbsp

 

Ginger Paste

2

 

Garlic clove(s) (finely chopped)

4

 

Spring onions (sliced)

1 tbsp

 

Honey

2 tbsp

 

Soy sauce

Half

 

Red chilli (finely chopped, jarred or fresh)

1 pinch

 

Salt

1 Pinch

 

Pepper

To finish

 

Sesame seeds

150ml

 

Sweet chilli dipping sauce
Utensils
Frying pan

Wok

Bamboo Steamer 8"

Spatula

Wooden spoon

Stand mixer with dough hook

Large bowl

Weighing scales

Parchment paper
We'd love a slice of advice.
Was it yum? Did the recipe work well? Did you customise the recipe?
Ingredients
For the buns

400g

 Allinson's Plain White Flour

190ml

 

Water (at room temperature)

50ml

 

Milk

10g

 Billington's Unrefined Golden Caster Sugar

1 tsp

 Allinson's Easy Bake Yeast

For the filling

500g

 

Pork mince

1 tbsp

 

Sesame oil

1 tbsp

 

Ginger Paste

2

 

Garlic clove(s) (finely chopped)

4

 

Spring onions (sliced)

1 tbsp

 

Honey

2 tbsp

 

Soy sauce

Half

 

Red chilli (finely chopped, jarred or fresh)

1 pinch

 

Salt

1 Pinch

 

Pepper

To finish

 

Sesame seeds

150ml

 

Sweet chilli dipping sauce
Utensils
Frying pan

Wok

Bamboo Steamer 8"

Spatula

Wooden spoon

Stand mixer with dough hook

Large bowl

Weighing scales

Parchment paper