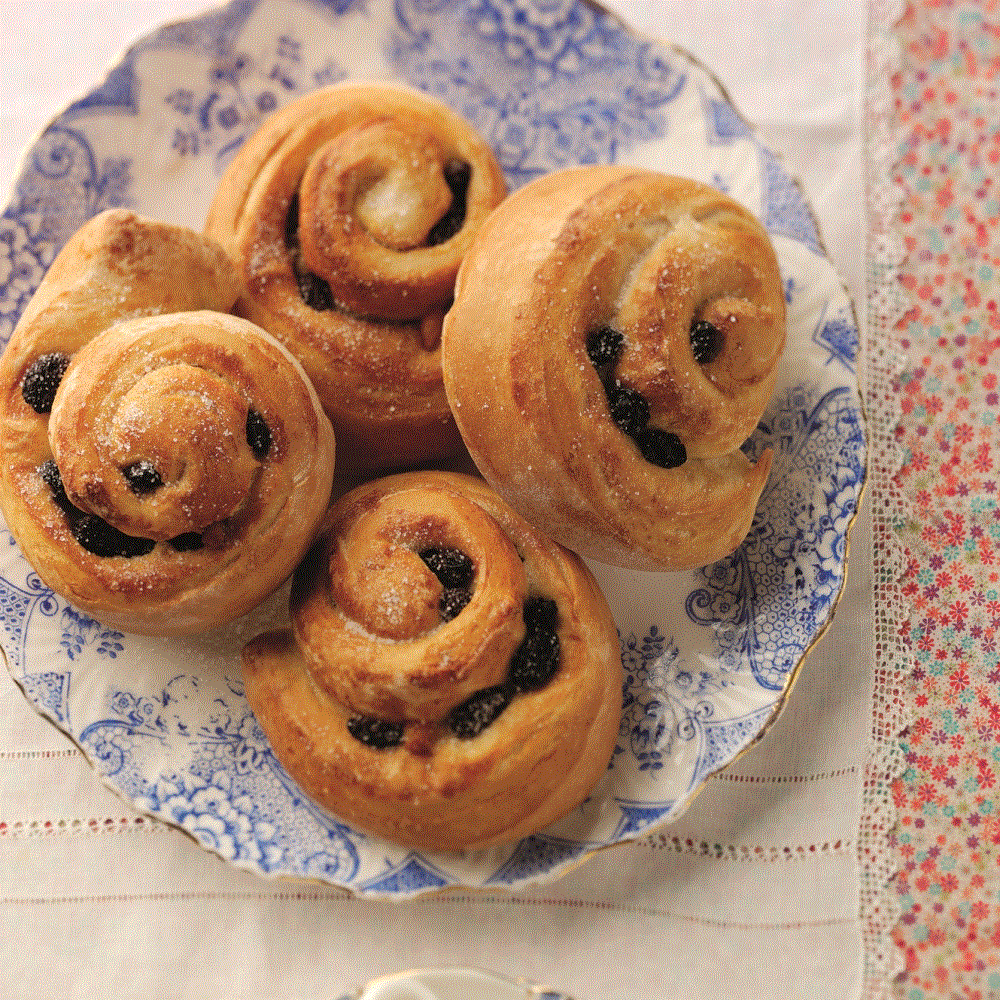 About the bake
This Chelsea bun recipe has a soft golden dough and all the classic flavours of mixed fruits. Topped with a sweet glaze, they're as tasty as they look. We've used Silver Spoon's Half Sugar which means we've used half the volume of sugar than a traditional recipe. Great news if you were looking for an excuse to bake these. They freeze really well in an airtight container, just defrost at room temperature before serving.
Method
Step 1:

Sift the flour and salt into a large bowl make a well in the middle and stir in the yeast.

Step 2:

Warm the milk and butter in a small pan until the butter melts and the mixture is lukewarm. Do not overheat the milk.

Step 3:

Add the milk mixture to the flour, add the egg and stir until the mixture becomes a dough.

Step 4:

Tip onto a lightly floured work surface. Knead for five minutes or until the dough is smooth and elastic and does not feel sticky.


Step 5:

Lightly oil a large bowl. Place the dough into the bowl and turn until it is covered in the oil. Cover the bowl with cling film and prove in a warm place for one hour, or until the dough has doubled in size.

Step 6:

Lightly grease a baking tray. Knock the dough back and turn out onto a lightly floured work surface. Roll the dough out into a rectangle ½cm thick. Brush all over with the melted butter, then sprinkle over the sugar, mixed spice and dried fruit.


Step 7:

Preheat the oven to 190°C (fan 170°C, gas mark 5). Roll the dough up into a tight cylinder, and cut ten 4cm slices and place on the baking sheet, leaving a little space between each slice. Cover with a tea towel and set aside to rise for 30 minutes.


Step 8:

Bake the buns in the oven for 20-25 minutes, or until risen and golden-brown. Meanwhile, heat the milk and sugar in a saucepan until boiling. Reduce the heat and simmer for 2-3 minutes.

Step 9:

Remove the buns from the oven and brush with the glaze, then set aside to cool on a wire rack. Eat warm or within a day of baking.
Ingredients
For the Buns

500g

 Allinson's Strong White Bread Flour

1 tsp

 

Salt

1

 Allinson's Easy Bake Yeast Sachet

300ml

 

Milk

40g

 

Butter (unsalted) (softened)

1

 

Egg(s) (free range)

For the Filling

25g

 

Butter (unsalted) (melted)

2 tbsp

 Half spoon granulated sugar

2 tsp

 

Mixed spice

100g

 

Dried mixed fruits

For the Glaze

2 tbsp

 

Milk

1 tsp

 Half spoon granulated sugar
Utensils
Sieve

Large bowl

Saucepan

Clingfilm

Baking tray

Rolling pin

Pastry brush

Baking sheet

Tea towel

Cooling rack
We'd love a slice of advice.
Was it yum? Did the recipe work well? Did you customise the recipe?
Ingredients
For the Buns

500g

 Allinson's Strong White Bread Flour

1 tsp

 

Salt

1

 Allinson's Easy Bake Yeast Sachet

300ml

 

Milk

40g

 

Butter (unsalted) (softened)

1

 

Egg(s) (free range)

For the Filling

25g

 

Butter (unsalted) (melted)

2 tbsp

 Half spoon granulated sugar

2 tsp

 

Mixed spice

100g

 

Dried mixed fruits

For the Glaze

2 tbsp

 

Milk

1 tsp

 Half spoon granulated sugar
Utensils
Sieve

Large bowl

Saucepan

Clingfilm

Baking tray

Rolling pin

Pastry brush

Baking sheet

Tea towel

Cooling rack