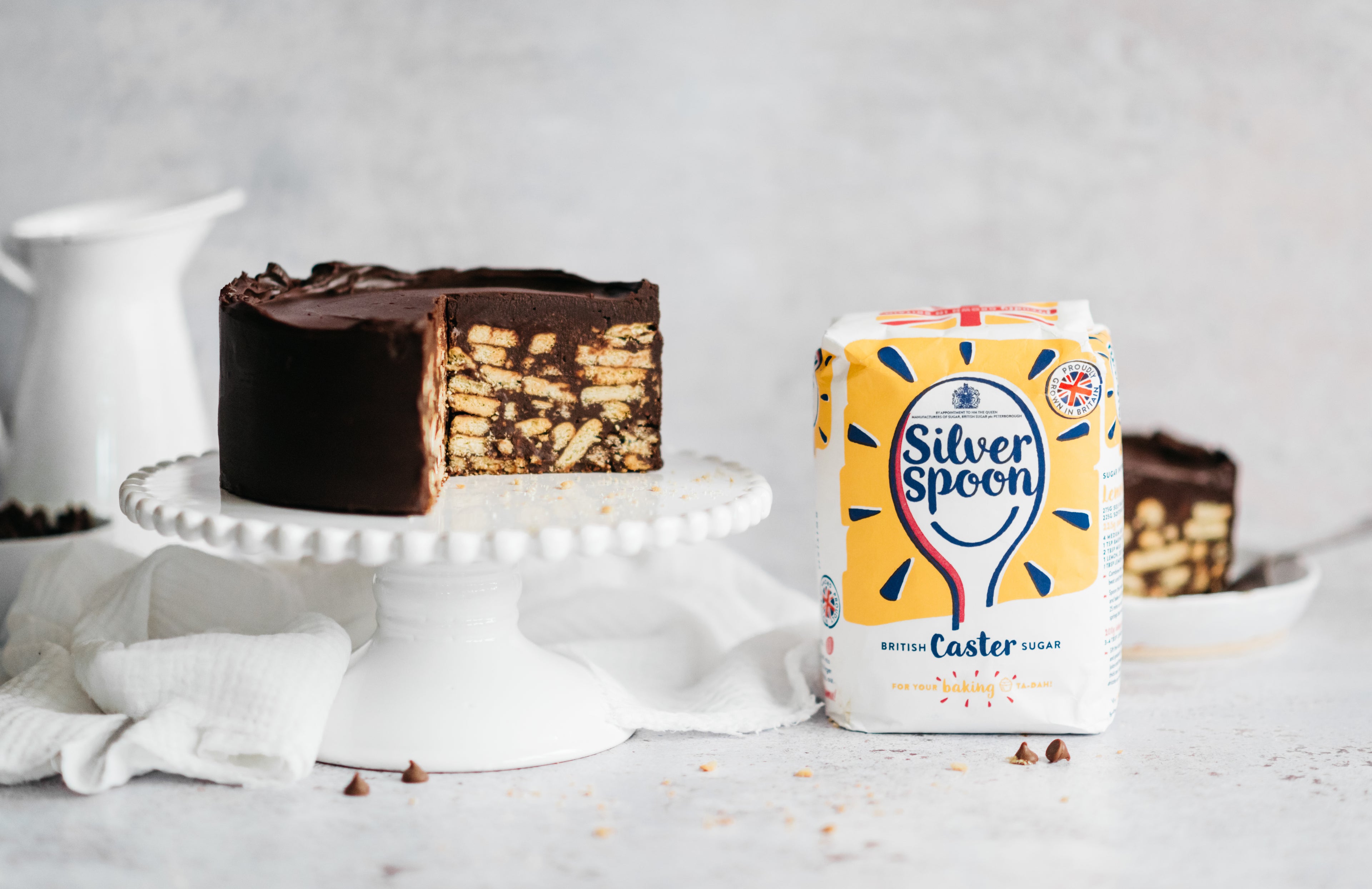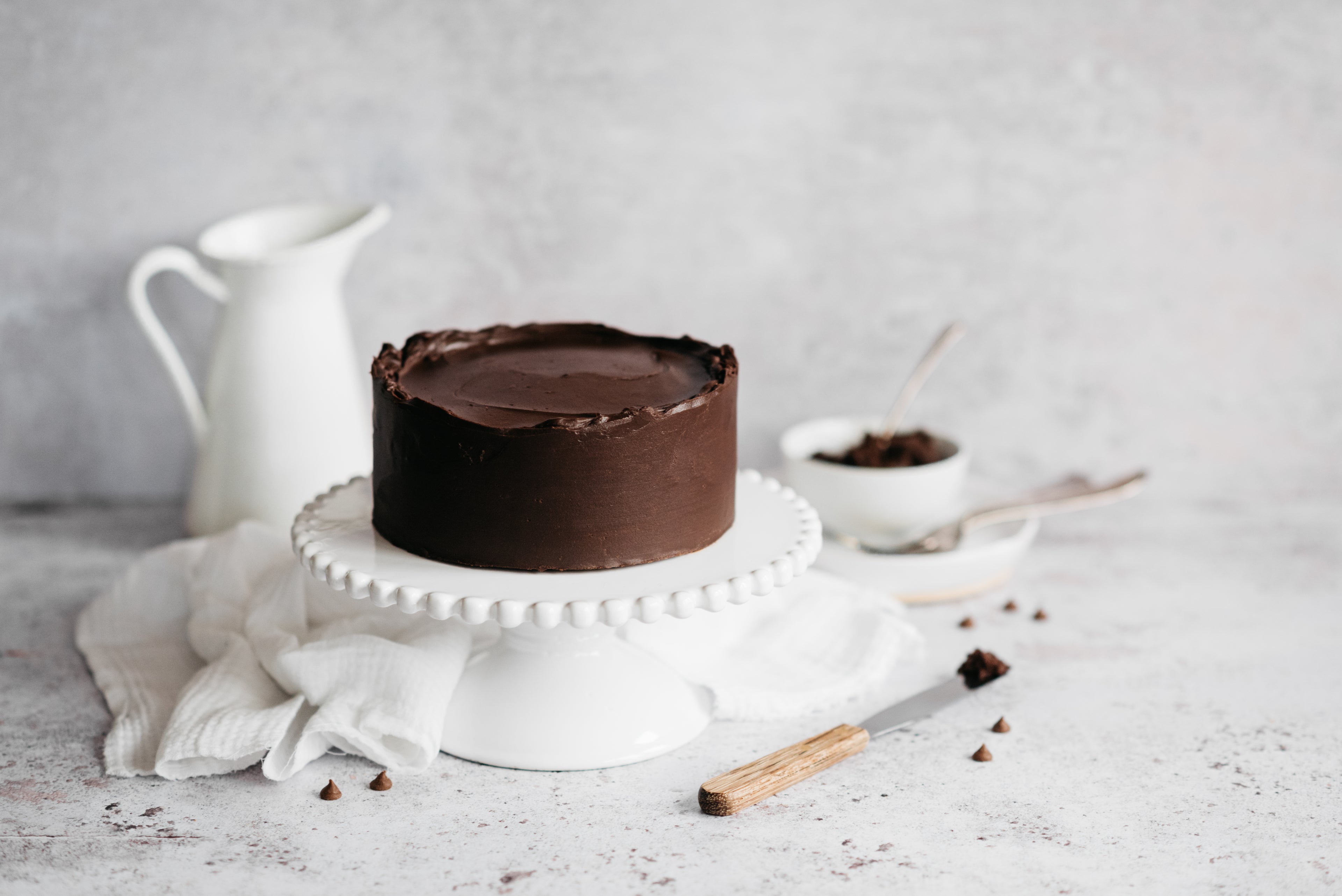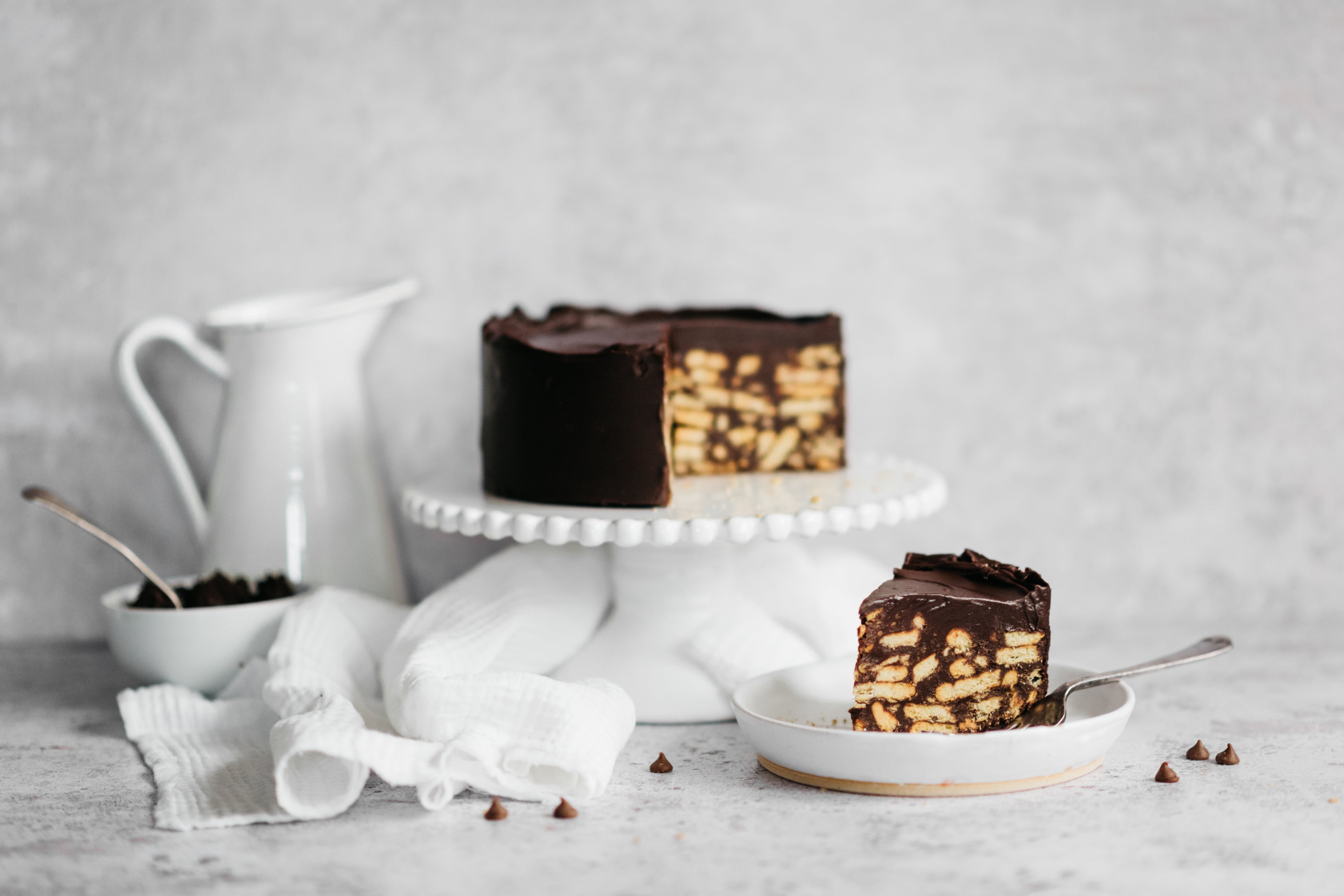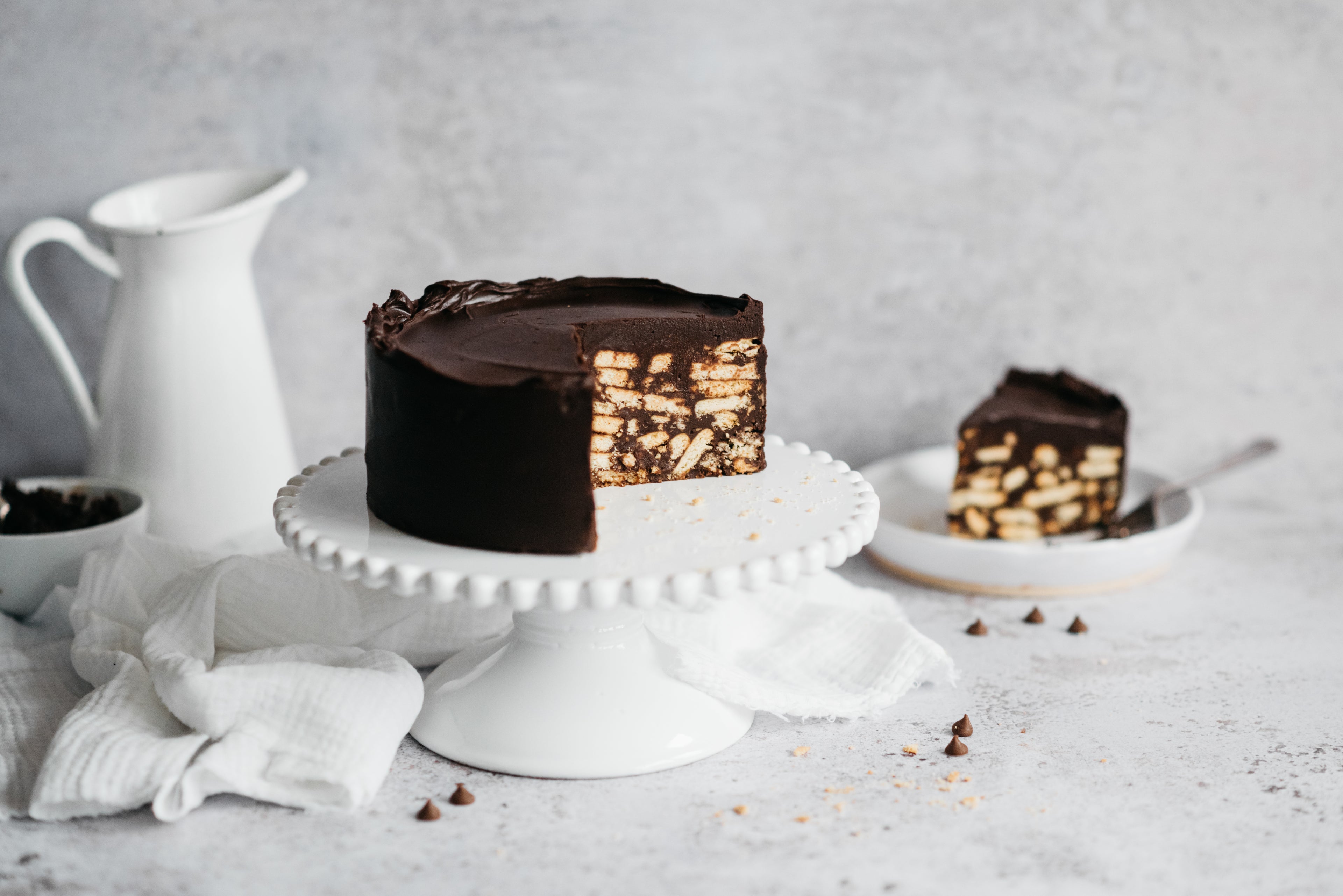 Chocolate Biscuit Cake
Maybe this is the first time you've heard of a Chocolate Biscuit Cake, or maybe you're here because you're looking to recreate what is said to be the Queens favourite bake - well, it is the Jubilee after all and Juliet Sear has got the perfect recipe for you to bring this bake to life.
In this royal recipe, expect no less than an indulgent cake made up of crumbled rich tea biscuits mixed with luxury dark chocolate and coated with a silky chocolate ganache, now that is a crunch at first bite. This cake is set by refrigerating, which means no hot oven (phew) and it's super easy to slice into servings ready for your summer street party fit for Her Majesty herself.
Whether you're celebrating in the streets, or with a small garden party - we've got all the Jubilee inspo you need to rustle up a royal banquet this summer. Whip up our Quick & Simple Victoria Sponge, or get creative with some Union Jack Cupcakes with the kids.
Method
Step 1:

Generously grease your cake tin and place a cross of baking paper which goes right up the sides leaving a little excess to enable you to lift the cake out. Simply add this cross of 2" strips in the base, then line the sides with a wide 3 strip and a circle on the base.

Step 2:

Break the rich tea biscuits by hand into small pieces. Avoid using a food processor or rolling pin, a pin as you're looking for good chunks of biscuit!

Step 3:

Melt the dark chocolate and butter in a microwave or bain marie, leave to cool slightly.

Step 4:

With a balloon whisk or electric whisk, beat the eggs, sugar and vanilla for a minute or so until a little foamy and the sugar grains are beginning to dissolve, then pour into the melted chocolate, continuously beating until you have a gloriously glossy chocolate mixture.

Step 5:

Fold through the broken biscuits and pour half into tin, press down firmly to pack the biscuits into the base with a rubber spatula or damp palms so you get a neat edge to the cake. This will become the top once turned out.

Step 6:

Cover with the rest of the mixture and using damp palms again, push down really firmly to pack it all in, then use a palette knife to level and smooth over the top

Step 7:

Chill until completely set for at least 3 hours, ideally overnight.

Step 8:

For the chocolate coating, boil the cream and pour over the chocolate, then pour on the butter.

Step 9:

Leave to sit for 5 minutes with a plate covering the bowl, then bring the ganache together by using a wooden spoon in the centre of the mix, stirring in one direction until the ganache comes together.

Step 10:

Set aside to cool and thicken slightly so it is soft peak and spreadable.

Step 11:

Pour onto the top of the cake and use a palette knife to spread over the top and sides, as neat as possible. Leave to set in the fridge, ideally overnight.

Step 12:

When set and ready to serve, release the cake from the tin by plunging the tin into hot water for 10 seconds or so, the butter will slightly melt and enable you to lift the set cake out of the tin.
Ingredients
For the cake

250g

 

Rich Tea biscuits

200g

 

Dark chocolate (70% cocoa solids)

150g

 

Butter (salted) (softened)

150g

 Silver Spoon Caster Sugar

2

 

Medium free range eggs

1 tsp

 Nielsen-Massey Vanilla Extract

For the chocolate coating

200g

 

Dark chocolate (grated or finely chopped)

100g

 

Double cream

50g

 

Butter (salted) (melted and slightly cooled)
Utensils
6" round x 3" deep cake tin

Large bowl

Spoon

Palette knife

Electric whisk (optional)

Balloon whisk

Cake stand

Turntable
Recipe Reviews
Why did you add eggs to it? Absolutely no need for raw eggs.
We appreciate your concern however, the eggs will be added to the heated chocolate mixture so will cook out, they will not be raw in the mixture. I hope that this helps.
Super indulgent but the chocolate is so smooth and creamy you keep going back for more! I bet if you added marshmallows and cherries you could easily make the best rocky road cake youv'e ever tasted!
I made this yesterday and it was delicious
Absolutely delicious! The simplest most luxurious cake
Ingredients
For the cake

250g

 

Rich Tea biscuits

200g

 

Dark chocolate (70% cocoa solids)

150g

 

Butter (salted) (softened)

150g

 Silver Spoon Caster Sugar

2

 

Medium free range eggs

1 tsp

 Nielsen-Massey Vanilla Extract

For the chocolate coating

200g

 

Dark chocolate (grated or finely chopped)

100g

 

Double cream

50g

 

Butter (salted) (melted and slightly cooled)
Utensils
6" round x 3" deep cake tin

Large bowl

Spoon

Palette knife

Electric whisk (optional)

Balloon whisk

Cake stand

Turntable