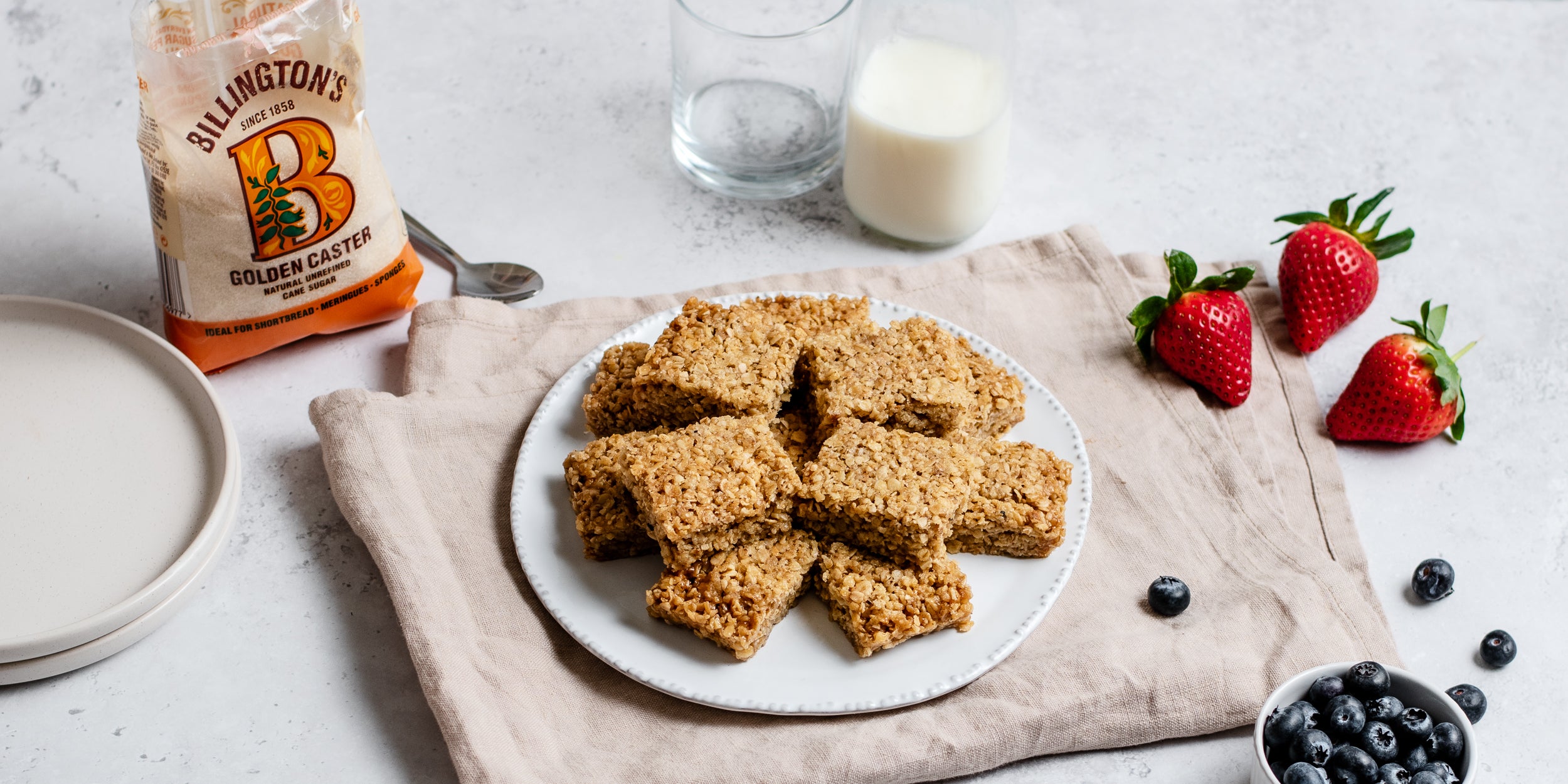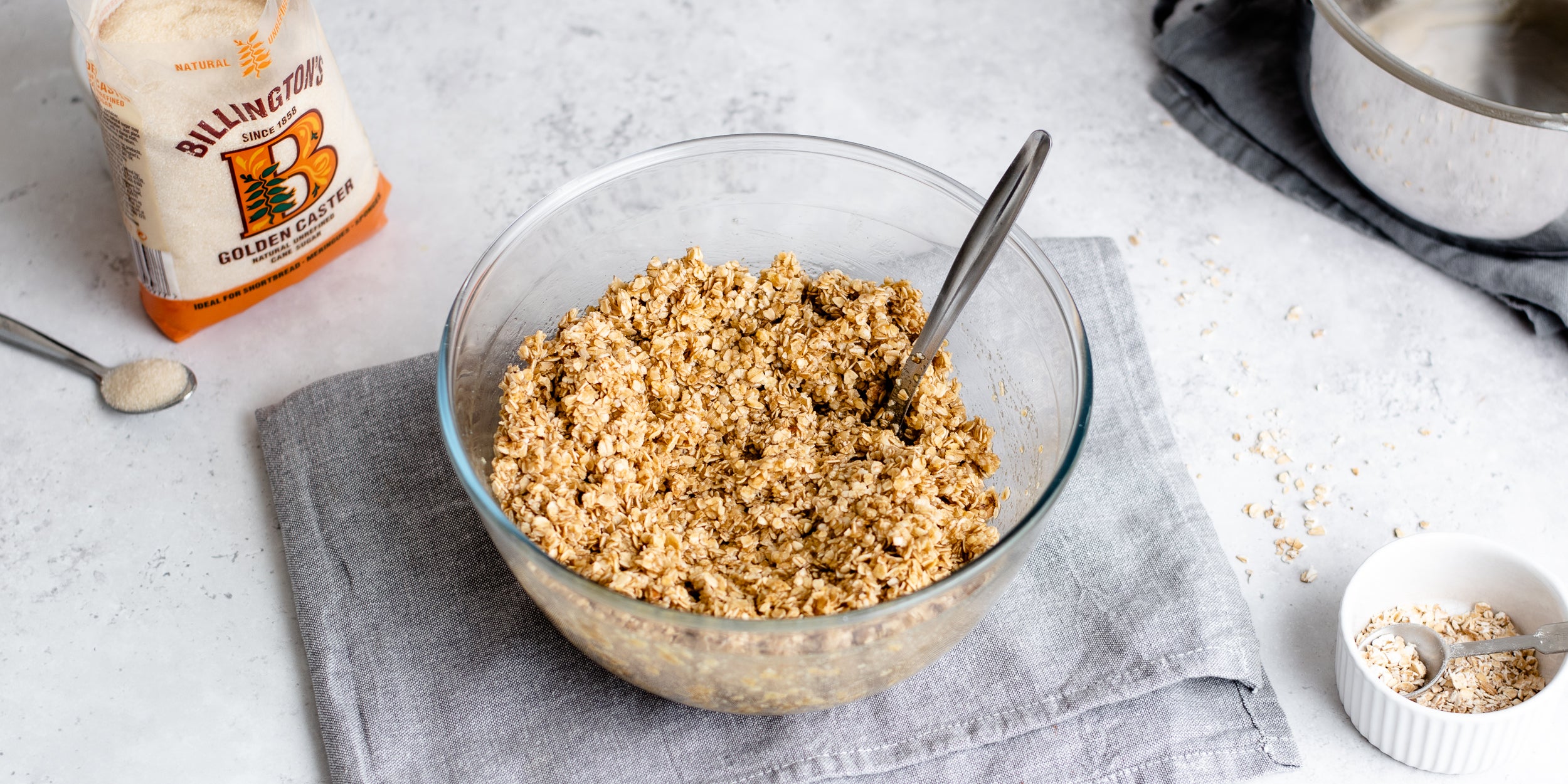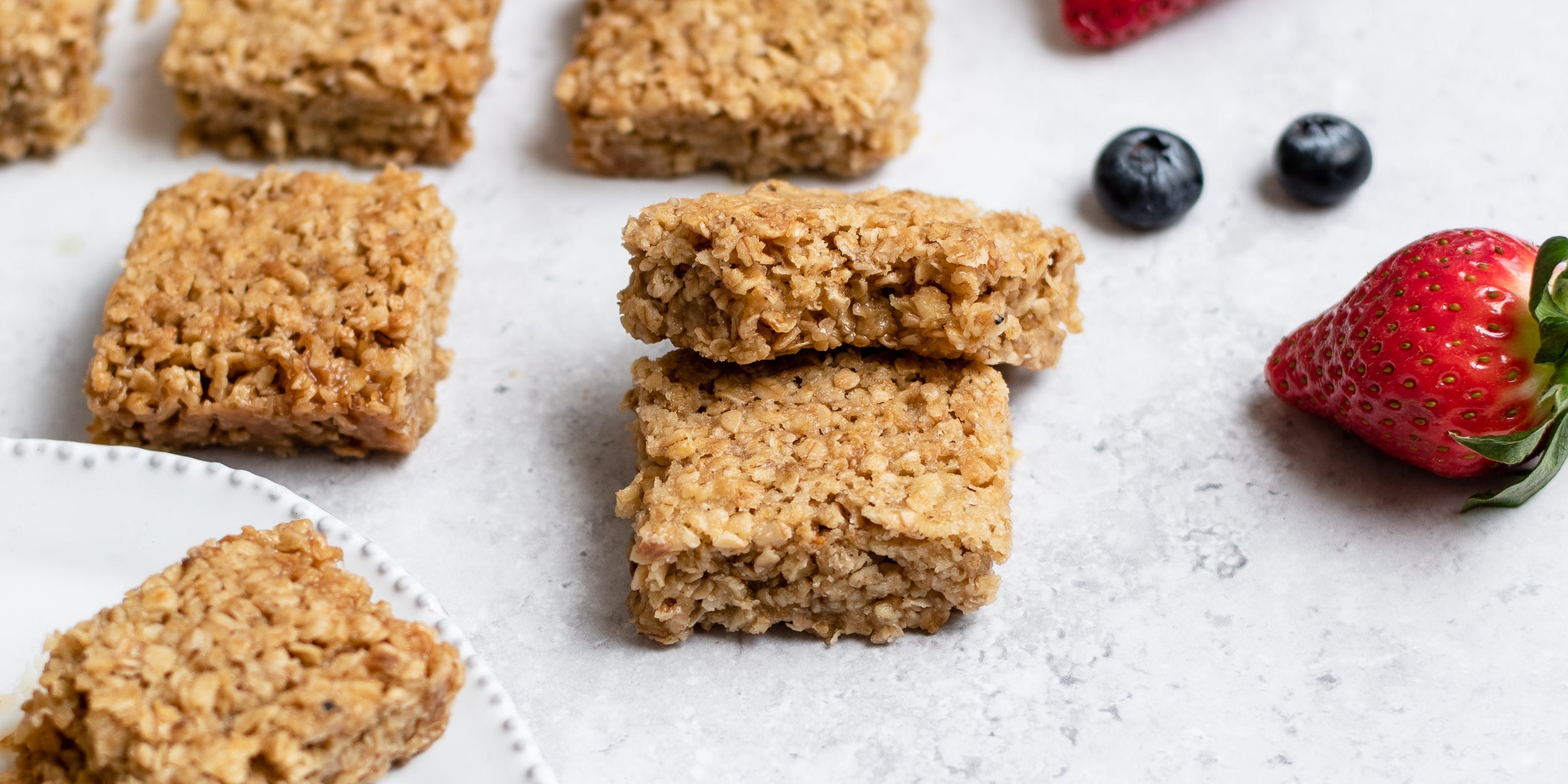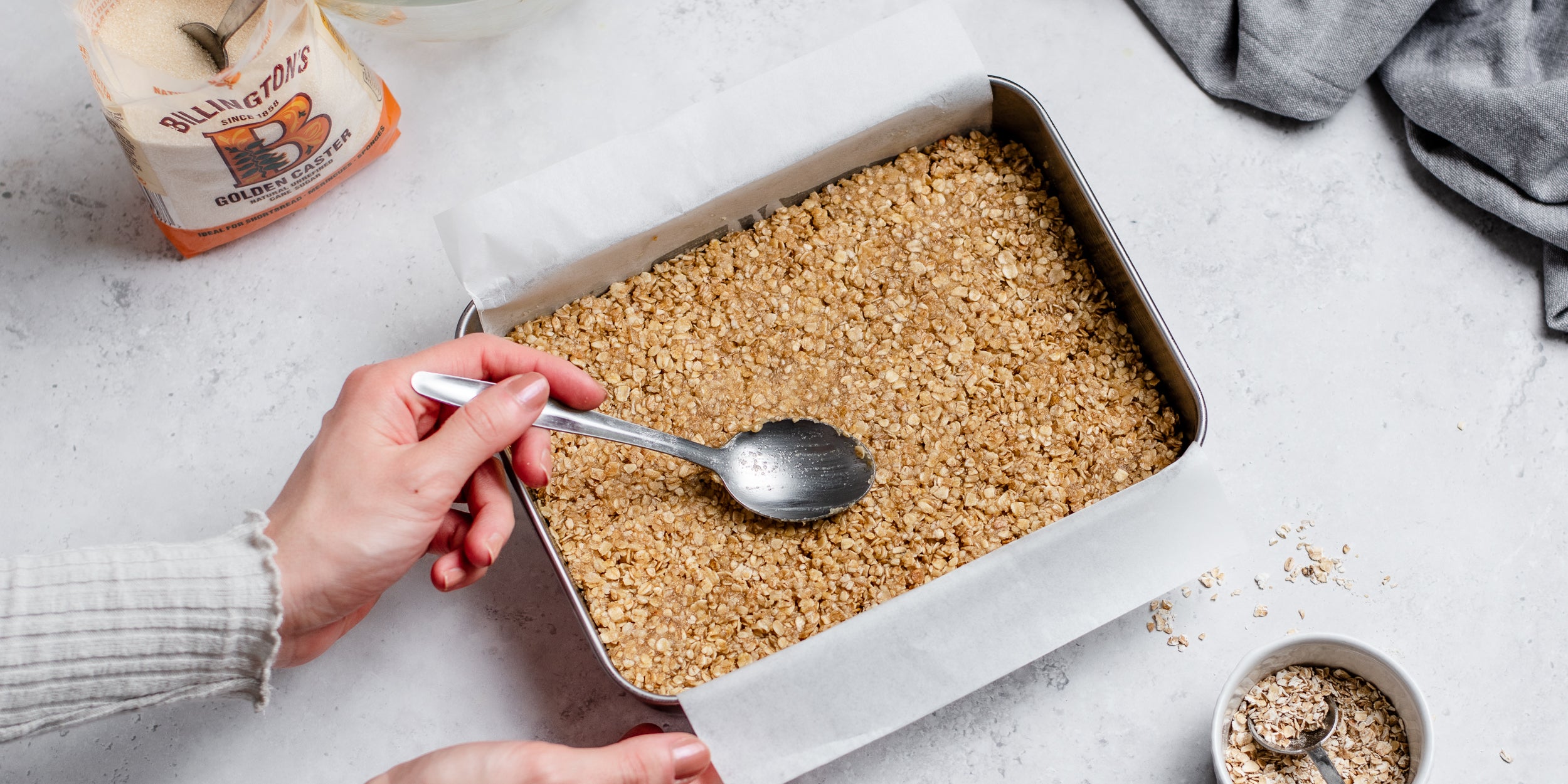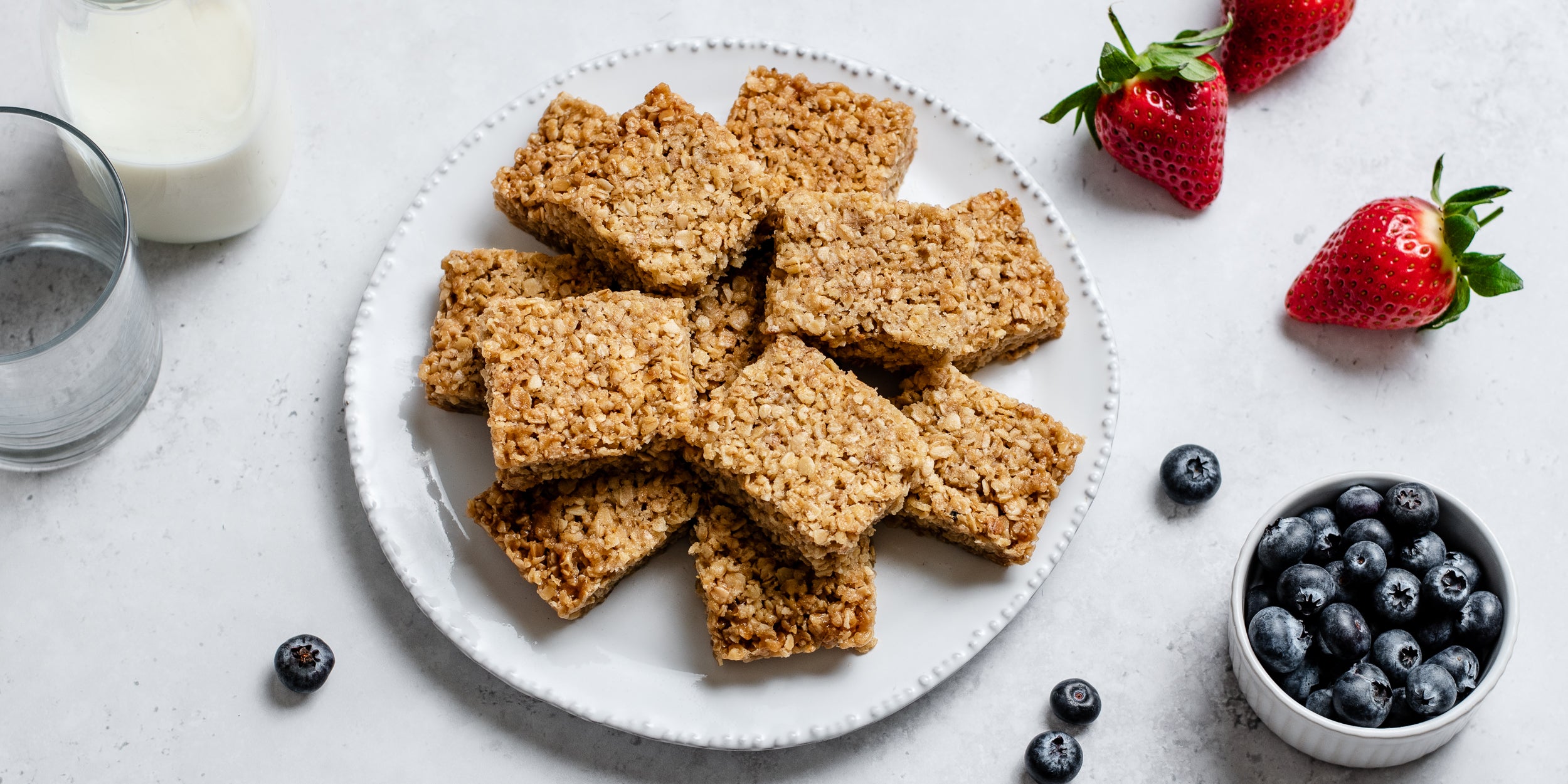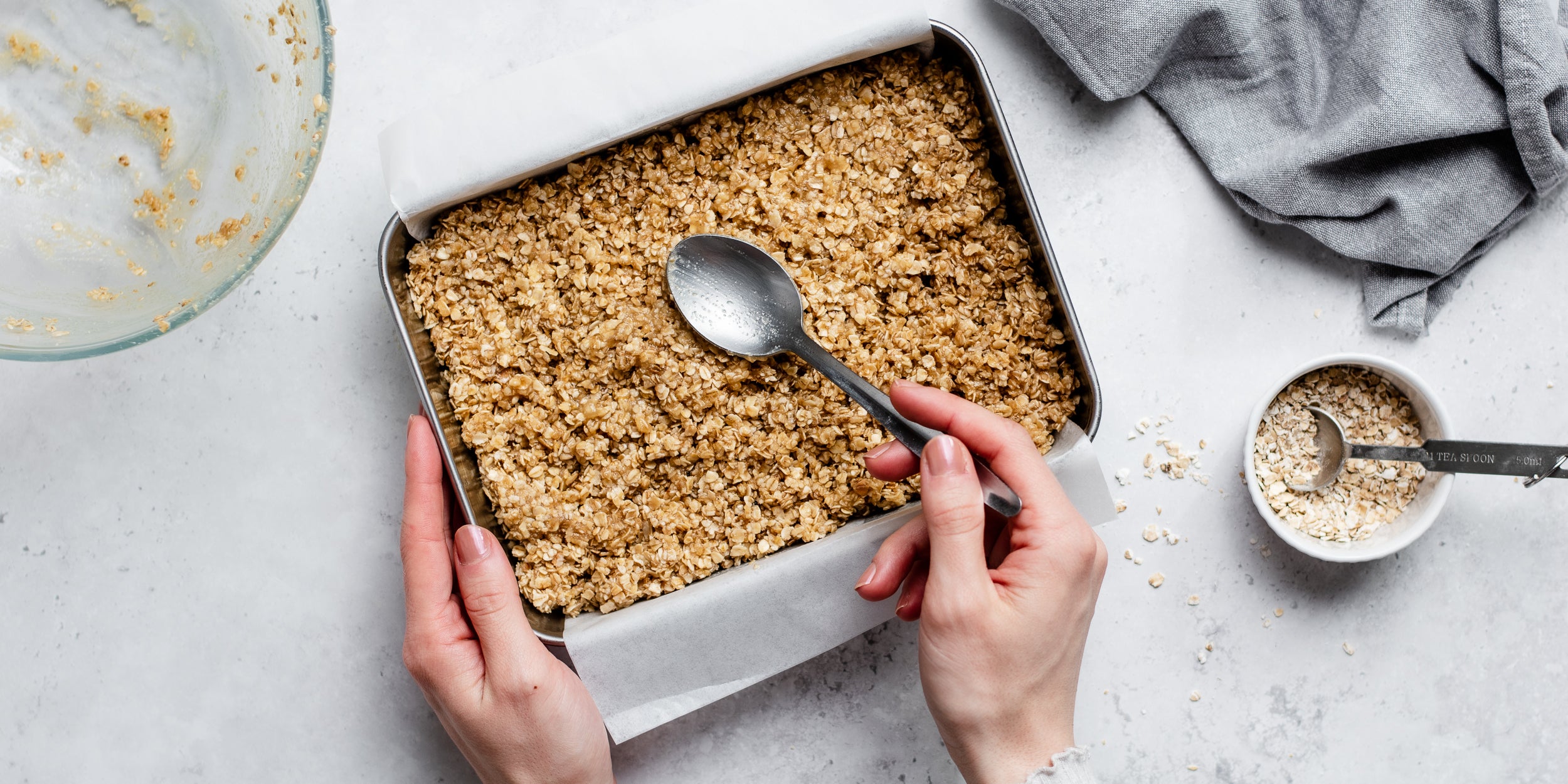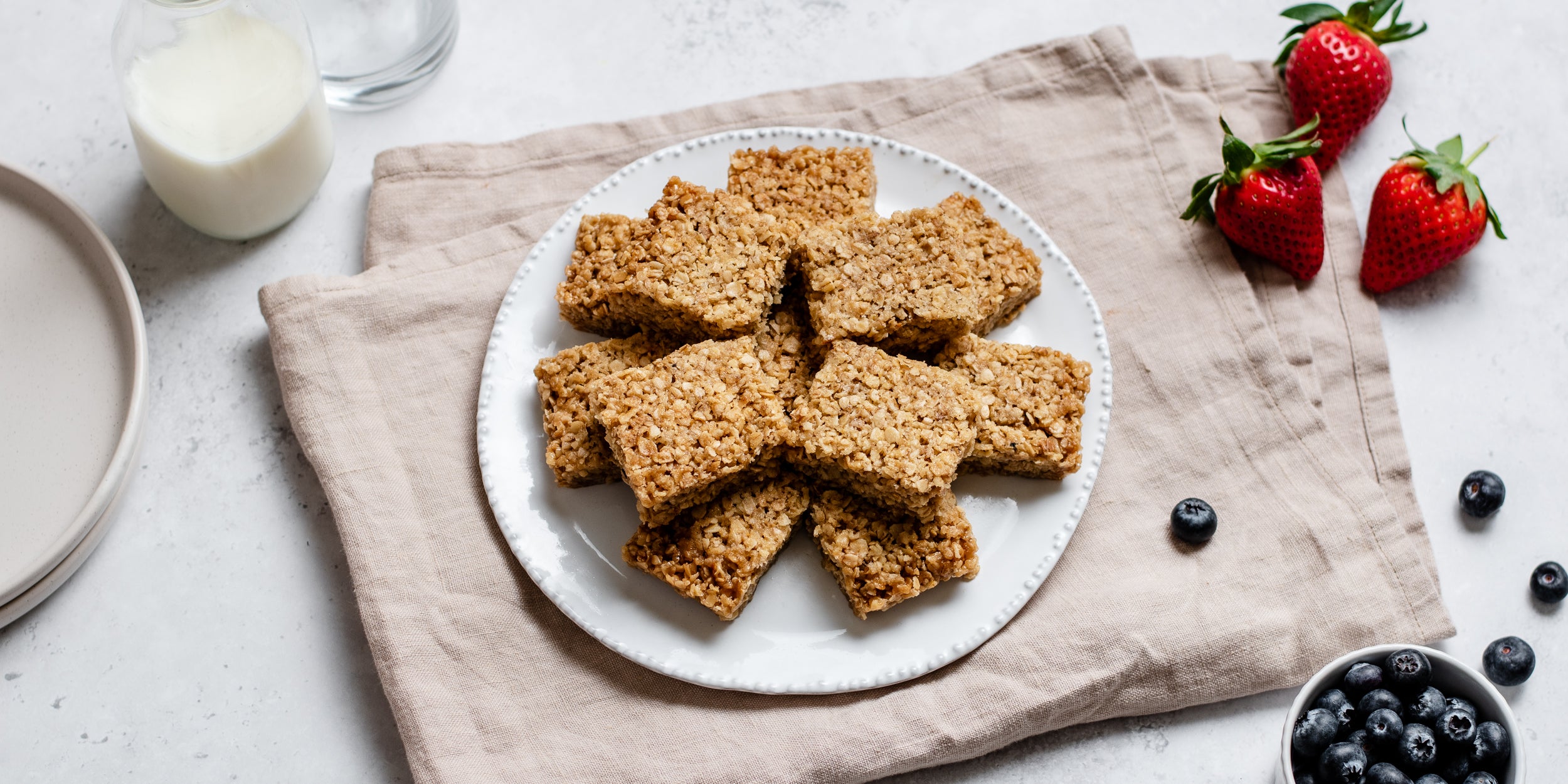 About our easy flapjacks recipe
Method
Step 1:

Preheat the oven to 180°C (350°F or gas mark 4). Line a tin with baking paper, the tin should approx measure 28cm x 18cm x 3cm or 11in x 7in x 1.2in

Step 2:

In a large pan gently heat the butter or margarine, golden syrup and maple sauce. Heat until the butter is all melted, do not boil. (Using a wooden spoon is advised)

Step 3:

Remove pan from the heat and add in the oats, sugar and salt. Mix very well until all the oats are covered.

Step 4:

Put the mixture into the prepared tin and smooth evenly into the corners.

Step 5:

Bake in the oven for approximately 15 minutes, then turn the tin around and bake for a further 5 minutes. Bake until golden brown.

Step 6:

Remove the tin from the oven and allow to cool for a short while. With a palette knife lightly mark out into 18 pieces before it sets. Cut up when cold.
Ingredients
For the Flapjack

225g

 

Unsalted butter (softened)

170g

 Billington's Unrefined Golden Caster Sugar

340g

 

Porridge oats

1/4 tsp

 

Salt

3 tbsp

 

Golden syrup

1 tbsp

 

Maple syrup
Utensils
28 x 18 x 3cm or 11 x 7 x 1.2in tin

Saucepan

Baking paper
Nutritional Information
per 47g
249cal

 

Energy

13g

 

Fat

7.7g

 

of which Saturates

29g

 

Carbohydrates

15g

 

of which Sugars

2.7g

 

Protein

0.1g

 

Salt
Recipe Reviews
This is such a lovely recipe.... At last i've found a good one :) x
Very tasty and the flapjacks are amazing!!
Really nice taste and worked well
Good recipe I added nuts and fruit and it was really good! The mixture was a bit dry though… had to add extra syrup
I'd like to think of myself a a good home baker but successful flapjacks have always eluded me. This recipe was so easy to follow and resulted in delicious chewy flapjacks. A real hit with all of the family.
I've always tried to make flapjack as it's a family favourite (especially with some chocolate spread on top) however I can't quite get the recipe right as it's either too hard or undercooked. I thought I would give this a try …. amazing!! Best flapjack I've ever made!
Ingredients
For the Flapjack

225g

 

Unsalted butter (softened)

170g

 Billington's Unrefined Golden Caster Sugar

340g

 

Porridge oats

1/4 tsp

 

Salt

3 tbsp

 

Golden syrup

1 tbsp

 

Maple syrup
Utensils
28 x 18 x 3cm or 11 x 7 x 1.2in tin

Saucepan

Baking paper
Nutritional Information
per 47g
249cal

 

Energy

13g

 

Fat

7.7g

 

of which Saturates

29g

 

Carbohydrates

15g

 

of which Sugars

2.7g

 

Protein

0.1g

 

Salt