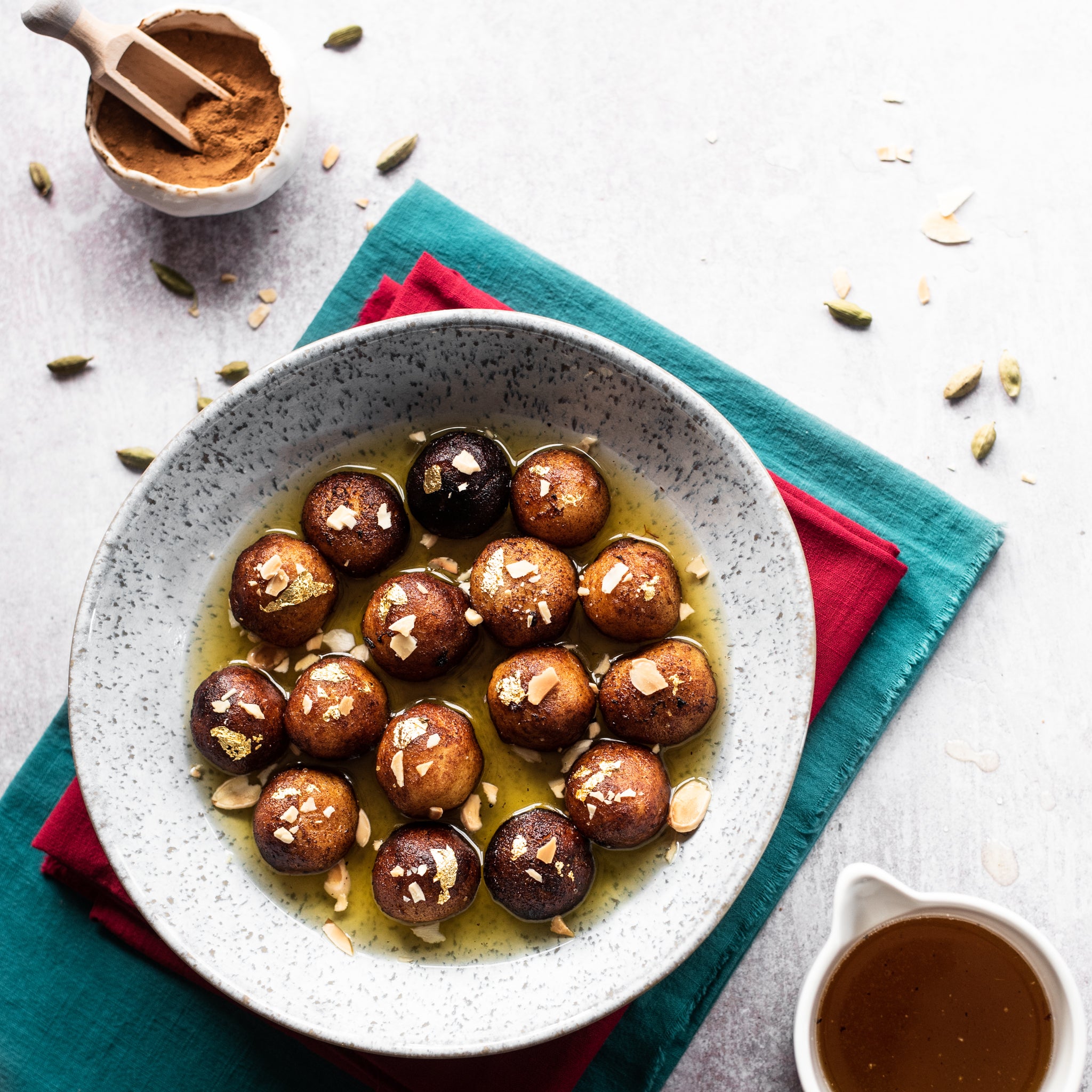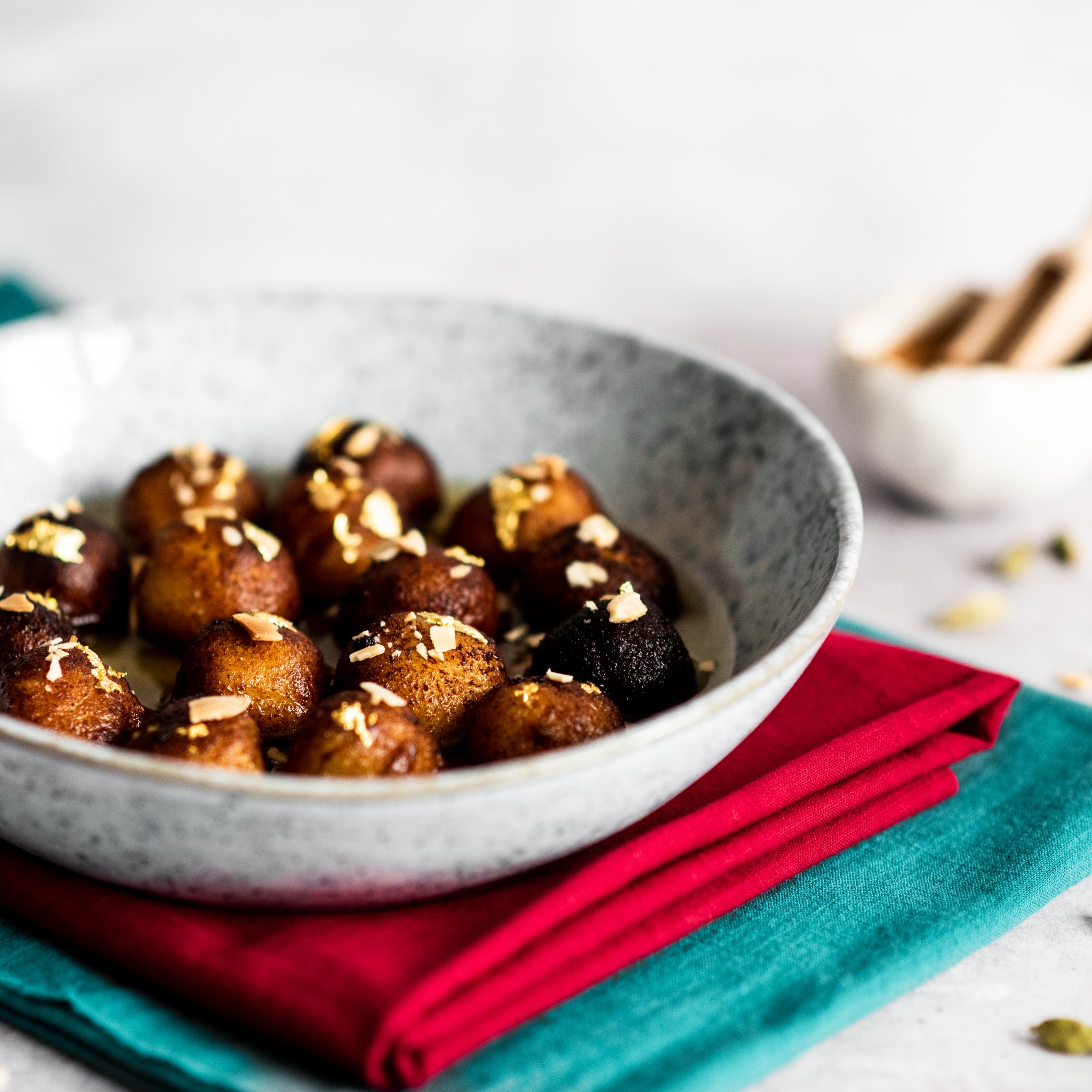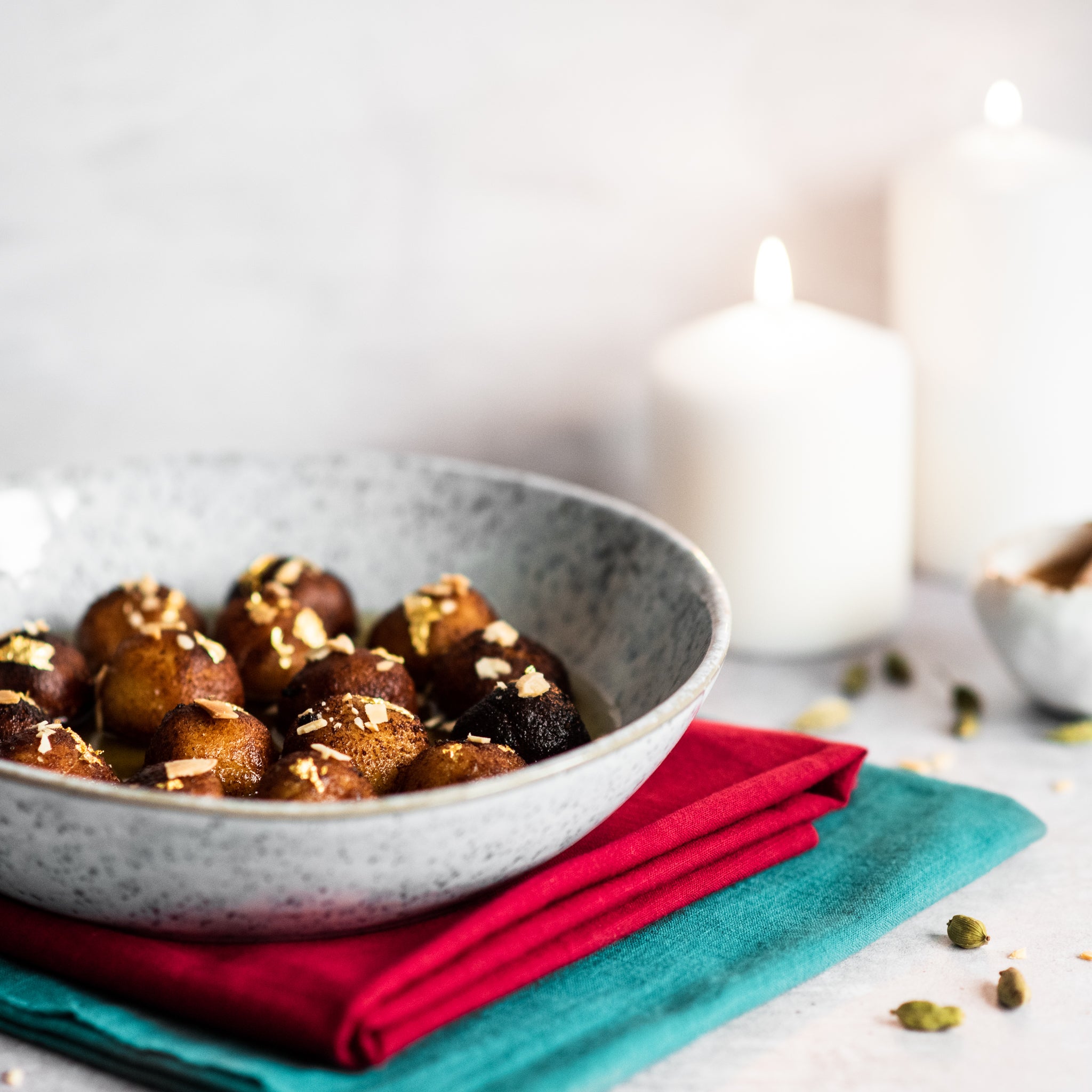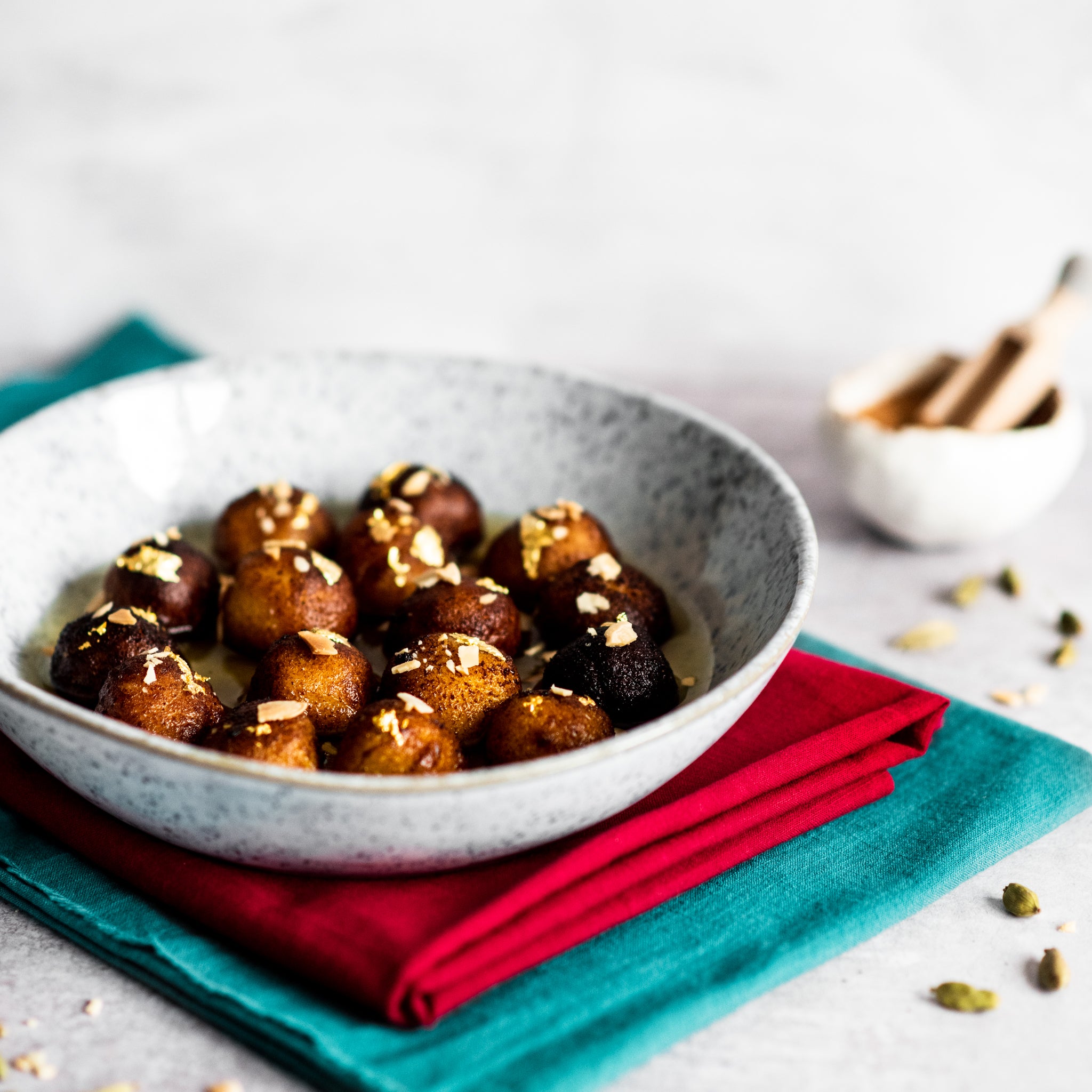 About the bake
Antony Amourdoux has created this recipe for us as it's one of his favourite traditional recipes with a twist. Oozing with sticky sugary syrup, no Diwali is complete without Gulab Jamun. This recipe tastes delicious served hot or cold which makes it really versatile. If you love this recipe, why not try Antony's Victoria Ras Malai.
Method
Step 1:

In a large bowl mix together the milk powder, flour, almond flour, cardamom powder and baking powder. Mix until well combined.


Step 2:

Add the clotted cream to the bowl. Use your fingers to mix and bring the dough together. If the dough is too tight add a dash of milk. Do not knead the dough too much. Just bring it all together to a smooth dough. Cover and let it rest for 20 minutes.


Step 3:

Meanwhile to a pan add sugar, water, cardamom powder, rose water and saffron. Bring it to a boil. Add lemon juice. Then lower the heat and let the syrup simmer for 5-6 mins. Once it's a little sticky, remove pan from heat and set aside. Keep it warm.


Step 4:

Knead the rested dough and make ~14 small balls of 15-16gms each. Work the dough with buttered soft hands and squeeze the ball between your palm to shape it into smooth round ball with no cracks.


Step 5:

Heat oil in wide pan on medium heat. Heat oil for ~5mins on medium heat and then lower the heat to low-medium. Add the jamuns to the warm oil. Fry until golden-brown. Keep moving the jamuns regularly with a spatula so that they get cooked evenly. Once they are dark brown in colour, remove them from the oil.


Step 6:

Drop the Gulab jamuns in warm sugar syrup. Let it soak the syrup for at least 30mins.

Garnish with chopped almonds and silver leaf. Serve warm or cold.

Ingredients
For the Dough

100g

 

Milk powder

35g

 

Almond flour

35g

 Allinson's plain white flour

0.5 tsp

 

Cardamom powder

0.5 tsp

 

Baking powder

50g

 

Clotted cream

For the Sugar Syrup

300g

 Billington's Unrefined Golden Caster Sugar

2 tsp

 Nielsen-massey rose water

0.5 tsp

 

Cardamom powder

Pinch

 

Saffron

1/2 a lemon

 

Juice of one whole lemon
Recipe Reviews
I've tried to make gulab before and it's always failed.... until now! The instructions are clear and the results are delicious, so excited to be able to make this now.
Very easy to follow, made these for Diwali...not that I celebrate but why not! Reminded me of a few Indian treats at weddings, I didn't put the chopped almonds on top for serving or silver foil (didn't have any) but post lock down will try again for a dinner party with the fancy finishes. My kids also demolished these- winner in my house
I hadn't really made anything like this before, but having enjoyed Antony's other recipes, I wanted to try it out. They didn't look quite as perfect as in the picture (more practice needed!) but they tasted delicious
Ingredients
For the Dough

100g

 

Milk powder

35g

 

Almond flour

35g

 Allinson's plain white flour

0.5 tsp

 

Cardamom powder

0.5 tsp

 

Baking powder

50g

 

Clotted cream

For the Sugar Syrup

300g

 Billington's Unrefined Golden Caster Sugar

2 tsp

 Nielsen-massey rose water

0.5 tsp

 

Cardamom powder

Pinch

 

Saffron

1/2 a lemon

 

Juice of one whole lemon