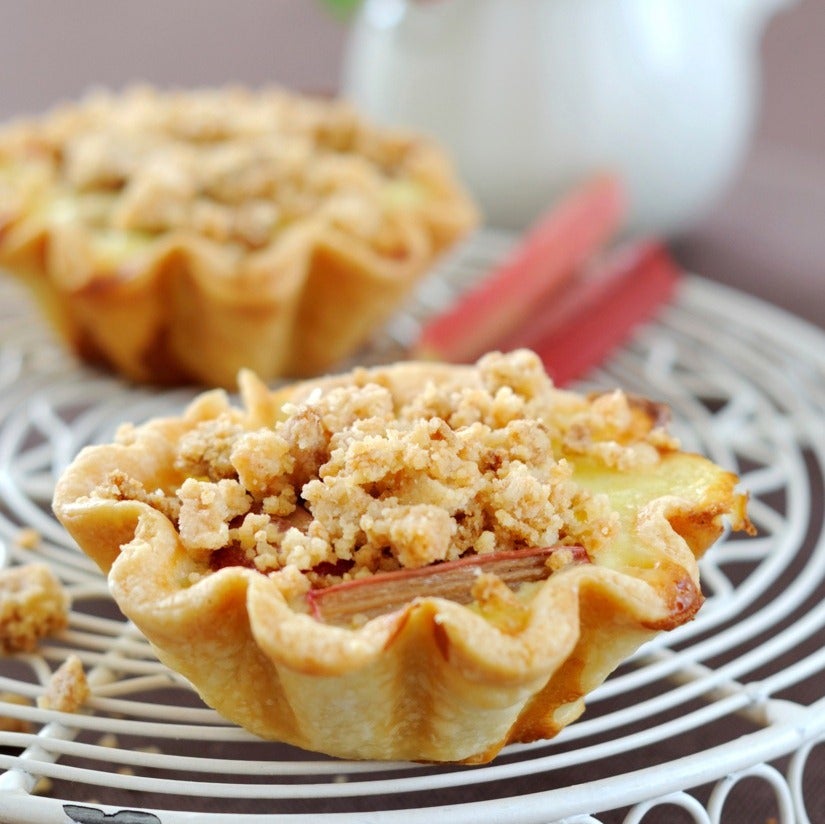 About the bake
These tarts egg custard and rhubarb tarts are the perfect marriage of two British classics, egg custard and rhubarb crumble served in sweet little shortcrust tartlets.
Did you know that Rhubarb Crumble tartlets were served as desserts at the Royal Wedding? Another reason why these should be served at your next social gathering.
Looking for more British bakes? Try our union jack cupcakes or have a go at making our great British celebration cake.
Method
Step 1:

Preheat the oven to 180°C (160°C fan, gas mark 4).

Step 2:

Line an ovenproof pie dish with the shortcrust pastry. To do this, gently lay the pastry over the top of the dish and ease it down into the corners with your finger tips. Fix any holes that might appear with scraps of pastry. Trim the edges with a sharp knife. Then add the rhubarb all over with a little bit of sugar. Alternatively, make your own pastry following our BakingMad.com simple shortcrust pastry recipe.

Step 3:

Pour the milk into a fairly large saucepan. Add the vanilla extract to the pan.


Step 4:

Heat the milk over a medium heat until small bubbles begin to appear. At this point, remove from the heat, cover with a lid and set aside for about 15 minutes. After this time, remove the actual vanilla pod and discard.

Step 5:

In a medium sized mixing bowl, beat together the egg yolks and the sugar (70g) to a light and creamy mixture.

Step 6:

Fill a saucepan with hot water and leave on the stove over a low heat.

Step 7:

Meanwhile, gradually pour the hot milk into the egg yolk and sugar mixture, stirring continuously.

Step 8:

Once all of the milk has been added, place the bowl over the pan of hot water ensuring the bottom of the bowl is not touching the water and the water does not boil.

Step 9:

Preheat the oven to 180°C (160°C fan, gas mark 4). Cook the custard mix over the water for about 10-15 minutes, stirring constantly until the custard thickens to the desired consistency. Add a small amount of grated nutmeg to taste and pass through a sieve if it begins to look a little lumpy.

Step 10:

Pour the mix into the tart shell and bake on the middle shelf of the oven for 30-40 minutes until the rhubarb is cooked and the custard has set slightly.

Step 11:
Ingredients
425g

 

Shortcrust pastry (1 sheet)

480ml

 

Milk (whole)

6

 

Egg yolk

80g

 Billington's Unrefined Golden Caster Sugar

1 tbsp

 Nielsen-Massey Vanilla Bean Paste

1 pinch

 

Nutmeg (grated)

350g

 

Rhubarb (red, washed, sliced 1cm thick)
We'd love a slice of advice.
Was it yum? Did the recipe work well? Did you customise the recipe?
Ingredients
425g

 

Shortcrust pastry (1 sheet)

480ml

 

Milk (whole)

6

 

Egg yolk

80g

 Billington's Unrefined Golden Caster Sugar

1 tbsp

 Nielsen-Massey Vanilla Bean Paste

1 pinch

 

Nutmeg (grated)

350g

 

Rhubarb (red, washed, sliced 1cm thick)