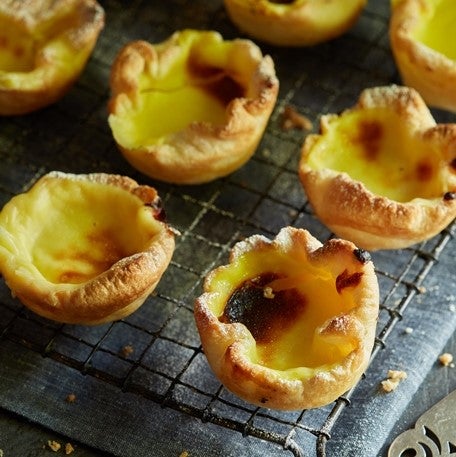 About the bake
These adorable bitesize Portuguese Custard Tarts are a real delight and what makes them even better is that they are reduced calorie too. Sweetened with Truvia Calorie Free Sweetener, you can enjoy all the taste and less guilt.
Method
Step 1:

Combine all custard ingredients in a saucepan and whisk until smooth and combined.


Step 2:

Bring to boil over a medium heat, stirring/whisking constantly. Boil for 2 minutes still stirring until thickened. Turn off the heat and set aside.


Step 3:

Set oven to 230ºC and grease a 12 hole muffin tin.


Step 4:

Roll out the shortcrust pastry into a square. Roll up the pastry into a sausage shape. Cut the 'sausage' into 12 even pieces. Roll each piece out flat into a round shape, press into the muffin holes.


Step 5:

Whisk the custard again, take out the cinnamon stick. Fill the pastry holes until 2/3rds full, do not overfill.


Step 6:

Bake for 10-12 minutes until the pastry is nicely brown at the edges and the custard has firmed up and has the brown marks on the custard traditional on custard tarts.


Step 7:

Let the tarts cool in the tin before taking them out.

Ingredients
130g

 

Plain yoghurt

350ml

 

Milk

50g

 

Caster sugar

15g

 Truvia calorie free sweetener

1 tsp

 Nielsen-Massey Vanilla Extract

1

 

Cinnamon stick

30g

 

Cornflour

1/4 tsp

 

Tumeric

200g

 

Shortcrust pastry
Utensils
Saucepan

Whisk

12 hole muffin tin

Rolling pin
Recipe Reviews
After holidaying in Madeira over the years we got used to having a custard tart with our afternoon cuppa. I have tried several recipes to match the local produce but her indoors says this is the best yet! Can't get a better recommendation than that! Could not believe you can get this result without eggs and as a diabetic I am very pleased to find a Trivia recipe. Thank you Baking Mad.
Ingredients
130g

 

Plain yoghurt

350ml

 

Milk

50g

 

Caster sugar

15g

 Truvia calorie free sweetener

1 tsp

 Nielsen-Massey Vanilla Extract

1

 

Cinnamon stick

30g

 

Cornflour

1/4 tsp

 

Tumeric

200g

 

Shortcrust pastry
Utensils
Saucepan

Whisk

12 hole muffin tin

Rolling pin