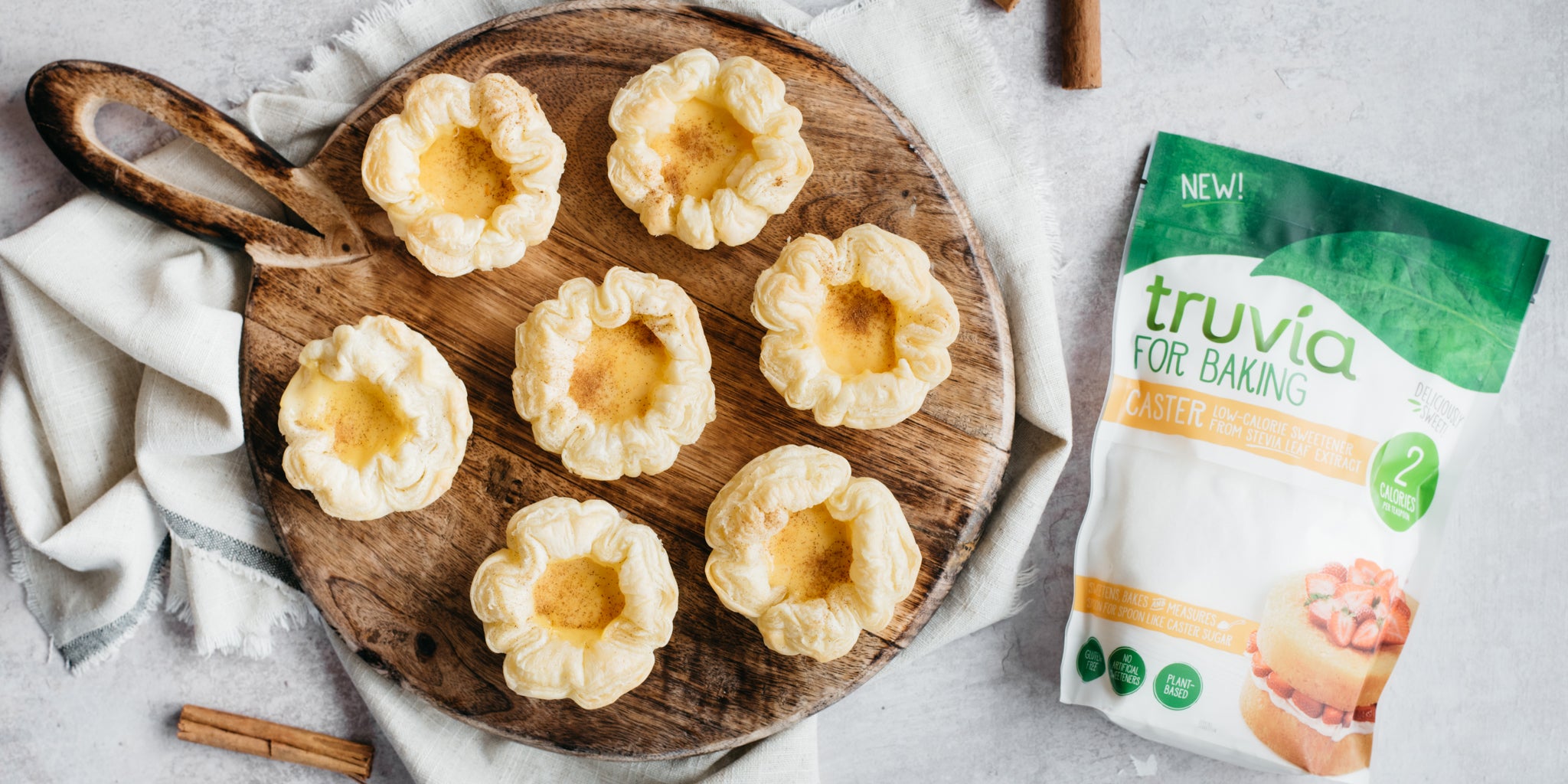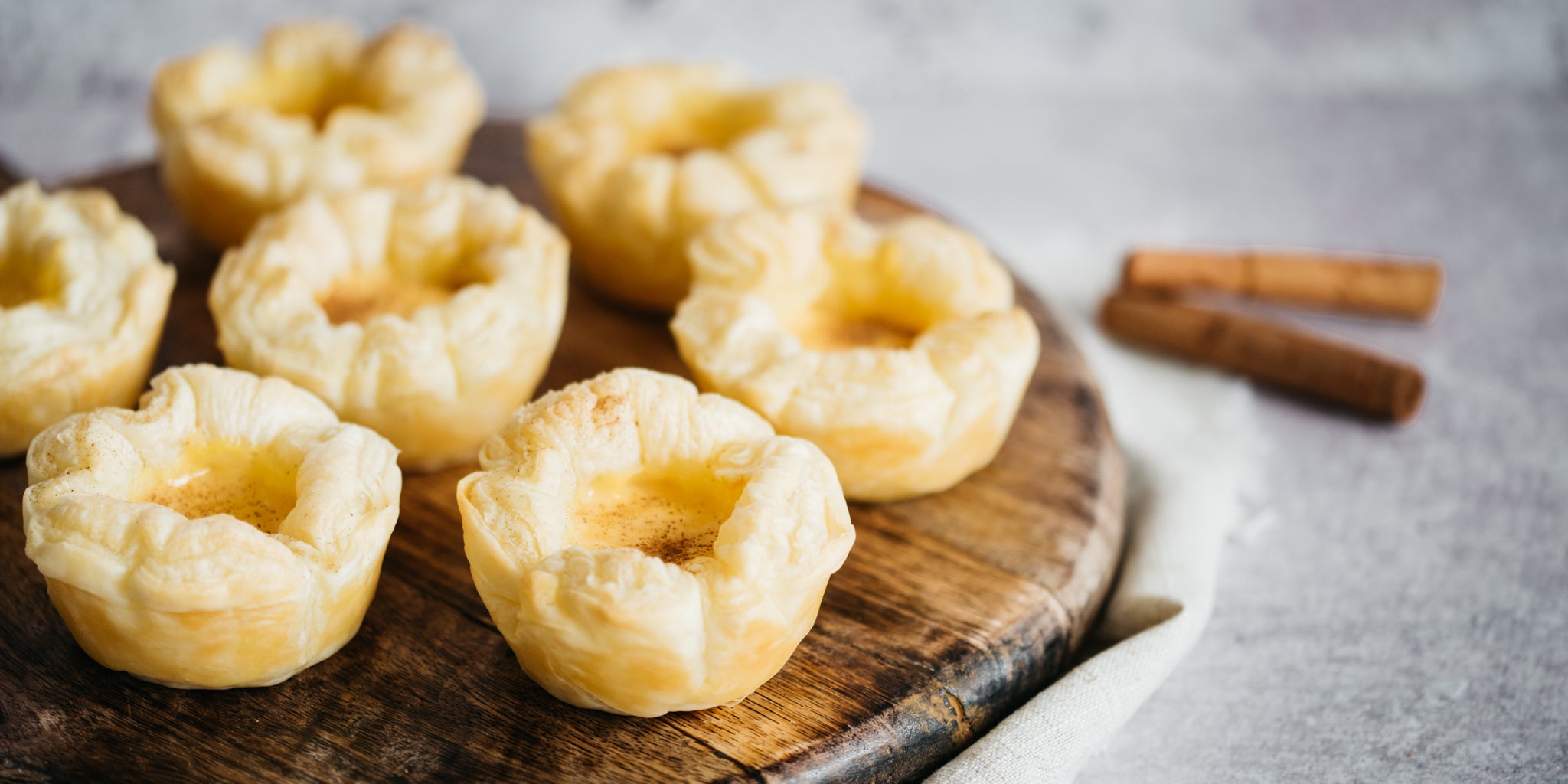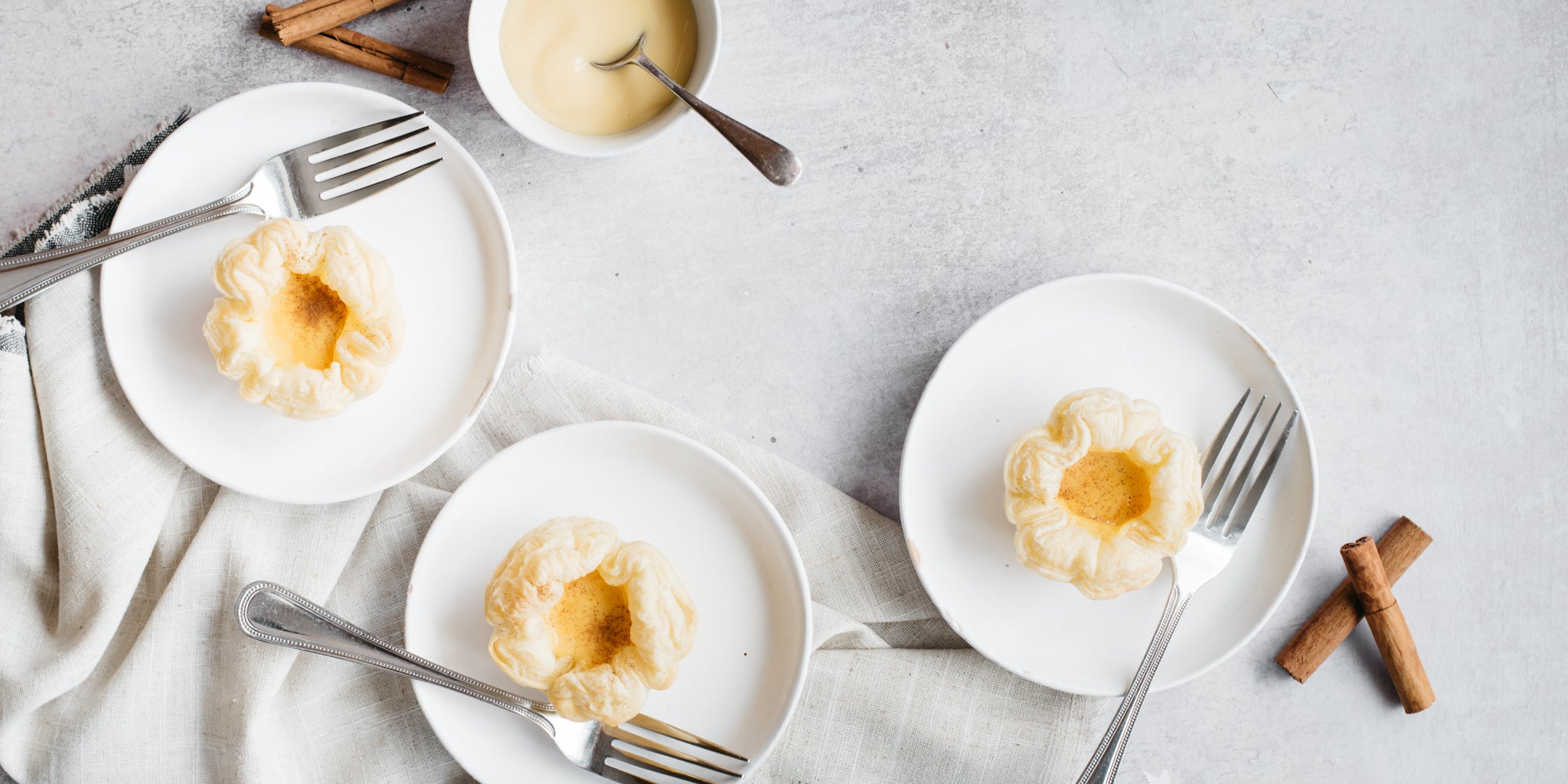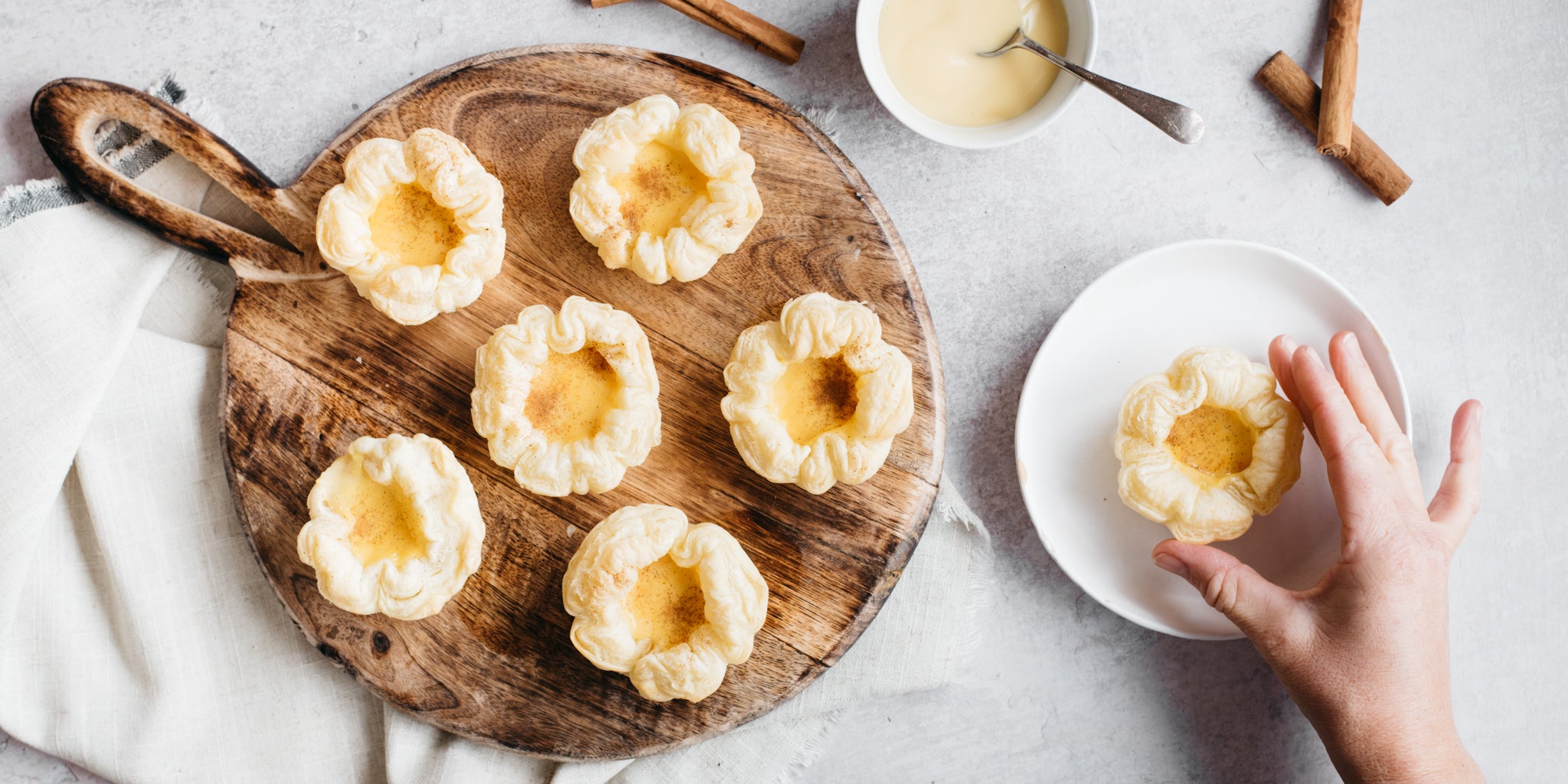 About the bake
These glorious bitesize Portuguese Custard Tarts are a real delight and what makes them even better is that they are a lighter bake too. Sweetened with Truvia for Baking caster these tarts will be a recipe that you will want to bake time and time again.
Method
Step 1:

Put the yogurt, milk, Truvia for Baking Caster, vanilla extract, cinnamon stick, cornflour, and turmeric in a saucepan, stir until smooth.


Step 2:

Bring the custard gently to boil over a medium heat, stirring constantly with a wooden spoon. Simmer the mixture for 2 minutes still stirring until thickened. Transfer the custard to a jug and cover with cling film to prevent a skin from forming. Leave to cool.


Step 3:

Meanwhile, preheat the oven 200C/180C fan/gas mark 6 and lightly grease 3 x 6-hole muffin tins.


Step 4:

Unroll the pastry sheet and cut into two pieces then place on top of each other. Roll the pastry tightly, from the long side, into a log and cut the log into 18 even sized rounds.


Step 5:

On a lightly floured board, roll each round into a 10cm disc and press the pastry discs into the muffin tin. The edges will look frilled and folded. Chill in the fridge for 10 minutes.


Step 6:

Remove the cinnamon stick from the custard and stir gently. Fill the pastry cases with the cooled custard approximately two thirds full but do not overfill.


Step 7:

Bake the tarts for 15 minutes until the pastry is golden, well risen and the filling has set. Leave to cool in the tin for 5 minutes then move to a cooling rack to cool completely

Step 8:

The tarts are also delicious eaten warm.
Ingredients
115g

 

Plain yoghurt

325ml

 

Milk

75g

 

Truvia for Baking - Caster

1 tsp

 Nielsen-Massey Vanilla Extract

1

 

Cinnamon stick

30g

 

Cornflour

1/4 tsp

 

Tumeric

375gg

 

Reduced fat puff pastry
Utensils
Saucepan

Whisk

12 hole muffin tin

Rolling pin
Recipe Reviews
After holidaying in Madeira over the years we got used to having a custard tart with our afternoon cuppa. I have tried several recipes to match the local produce but her indoors says this is the best yet! Can't get a better recommendation than that! Could not believe you can get this result without eggs and as a diabetic I am very pleased to find a Trivia recipe. Thank you Baking Mad.
Ingredients
115g

 

Plain yoghurt

325ml

 

Milk

75g

 

Truvia for Baking - Caster

1 tsp

 Nielsen-Massey Vanilla Extract

1

 

Cinnamon stick

30g

 

Cornflour

1/4 tsp

 

Tumeric

375gg

 

Reduced fat puff pastry
Utensils
Saucepan

Whisk

12 hole muffin tin

Rolling pin