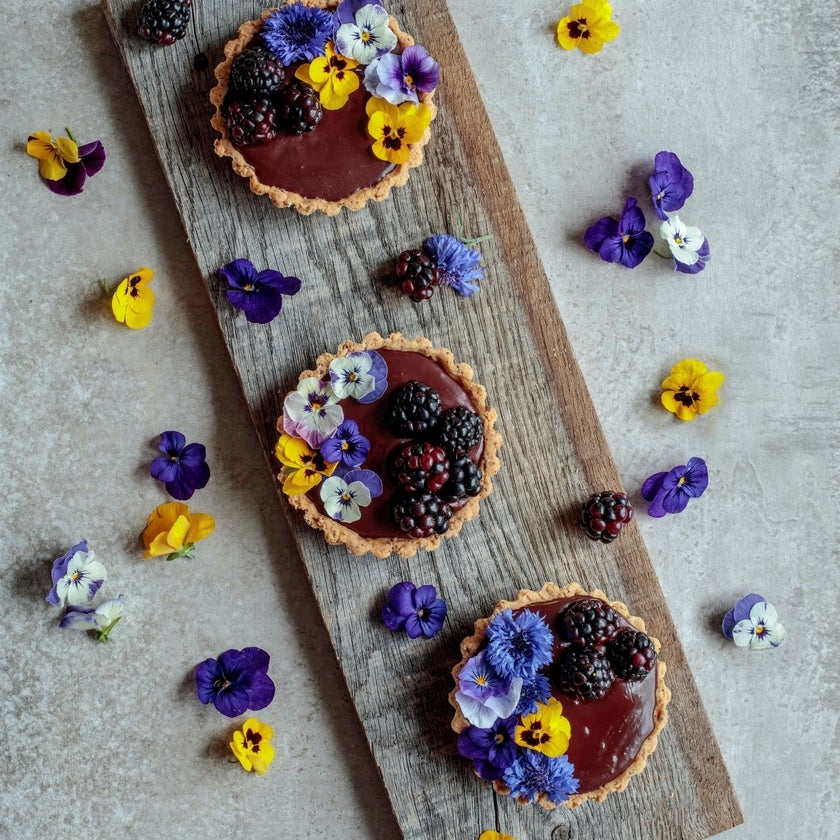 About the bake
These vegan chocolate ganache tarts have been specially developed by our wonderful friend Juliet Sear. Juliet wanted to share this recipe with us as these tarts are easy to make and look really lovely if you're looking for a dessert to wow friends or family. Juliet has used edible flowers on hers to decorate, but if you can't find any, just top with fresh berries.
Method
Step 1:

In a food processor blitz together the Trex and flour until they resemble breadcrumbs. (You can also do this in a bowl and rub the flour and Trex with the tips of your fingers.)


Step 2:

Add the hazelnuts and mix, and then slowly add the water until the dough forms


Step 3:

Sprinkle the surface with flour and roll out the pastry to approx. 2mm -3mm thick. Cut into 6 pieces and gently press the pastry into the tart cases.


Step 4:

Line the cases parchment and fill with baking beans.


Step 5:

Bake for 10-15 mins at 190ºc then remove from the oven and take out the baking beans and then continue to bake for a further 10-15 mins until golden brown


Step 6:

For the ganache:

Roughly chop the chocolate and place in a bowl.


Step 7:

Heat the cream until just boiling and then pour over the chocolate. Mix until the chocolate has fully melted and then stir in the honey.


Step 8:

Pour the ganache into the tart cases and chill for 20 – 30 mins until ganache is set.


Step 9:

Decorate with fresh berries and edible flowers.

Ingredients
For the Hazelnut Pastry

100g

 

Trex

250g

 Allinson's

80g

 

Halzelnuts (chopped)

3 tbsp

 

Warm water

For the Chocolate Ganache

100g

 

Dark chocolate

190ml

 

Oat cream

40ml

 

Agave syrup

For the Decoration

50g

 

Edible flowers

100g

 

Fresh berries
Utensils
Food processor

Pastry tart tray

Sauce pan
Ingredients
For the Hazelnut Pastry

100g

 

Trex

250g

 Allinson's

80g

 

Halzelnuts (chopped)

3 tbsp

 

Warm water

For the Chocolate Ganache

100g

 

Dark chocolate

190ml

 

Oat cream

40ml

 

Agave syrup

For the Decoration

50g

 

Edible flowers

100g

 

Fresh berries
Utensils
Food processor

Pastry tart tray

Sauce pan