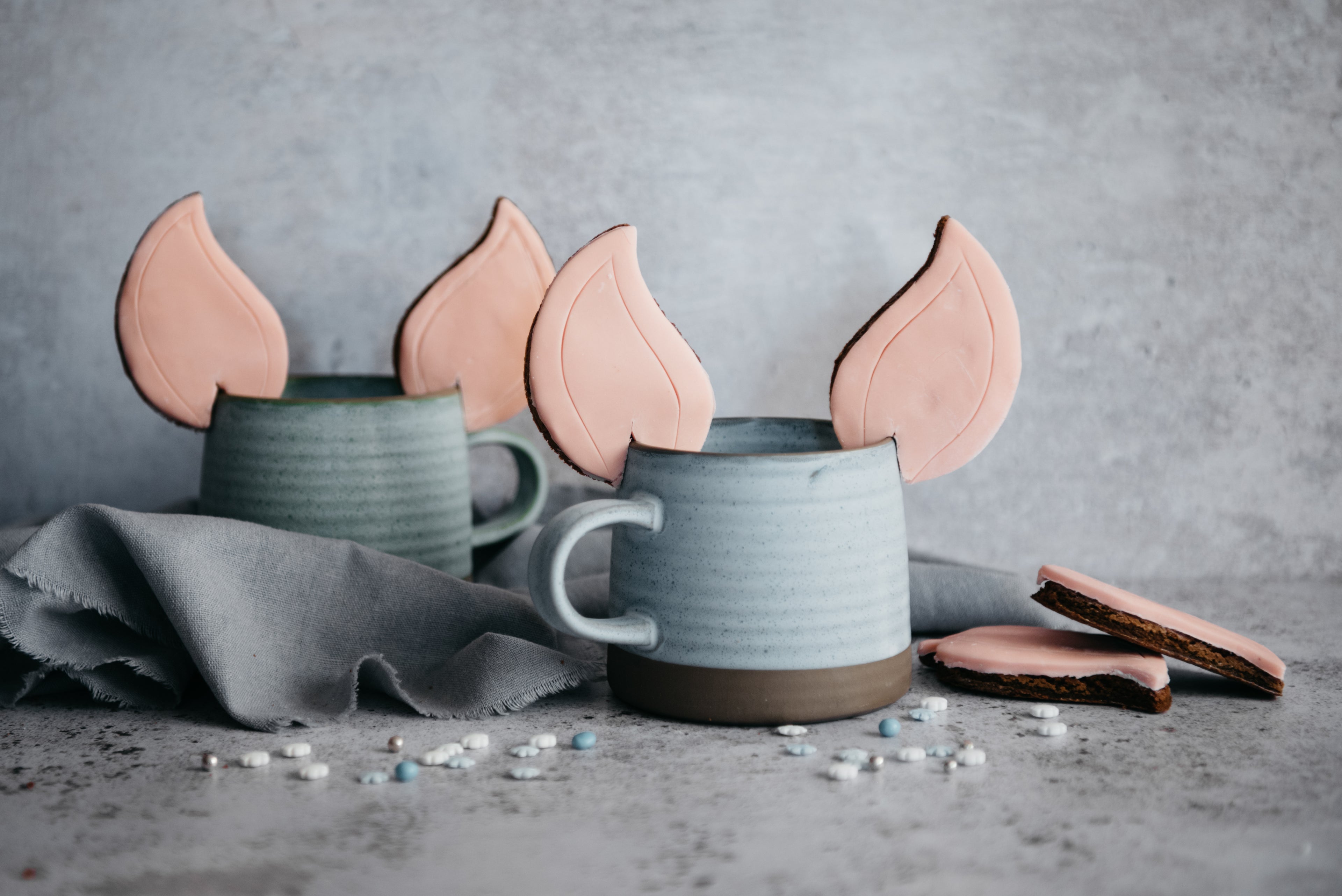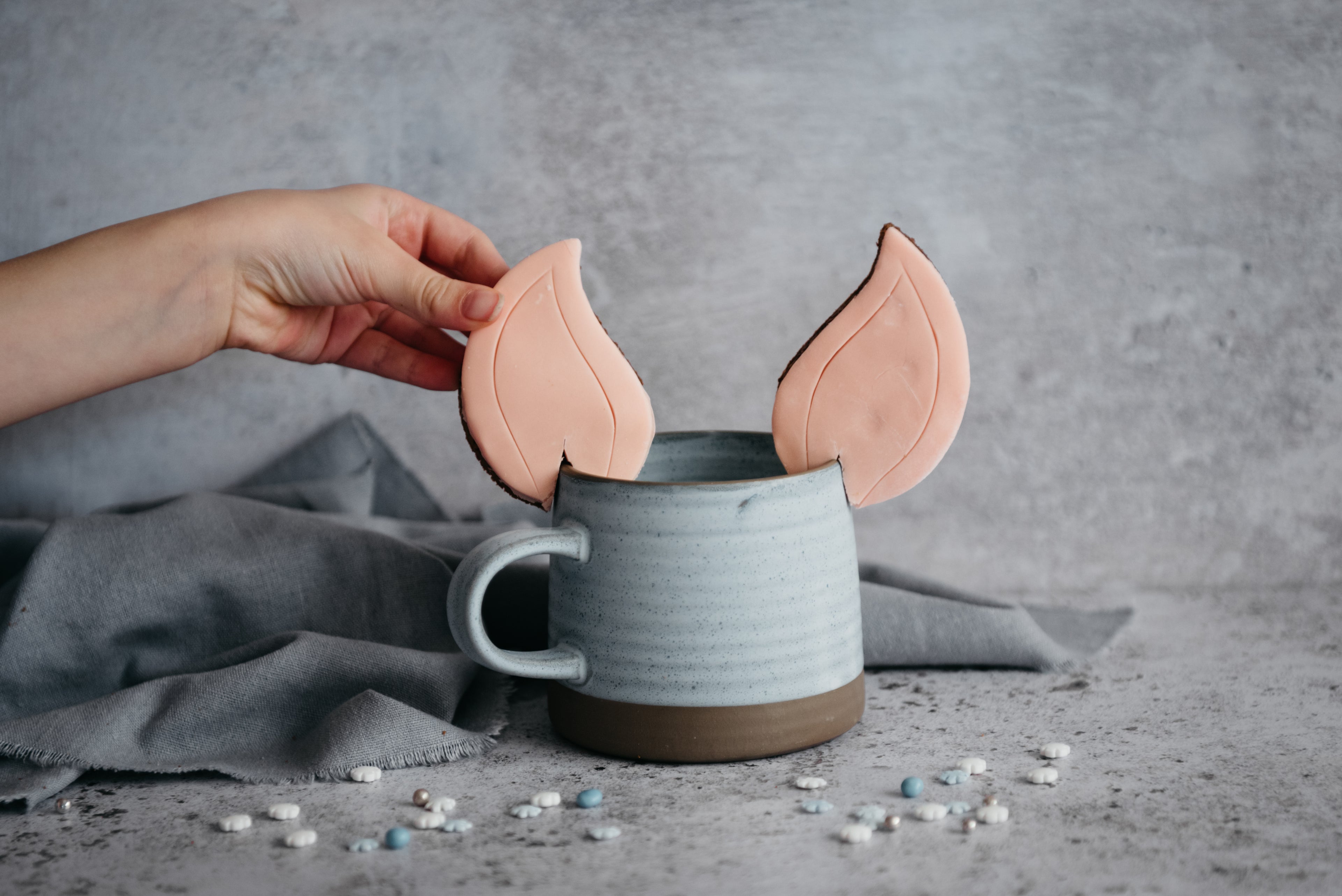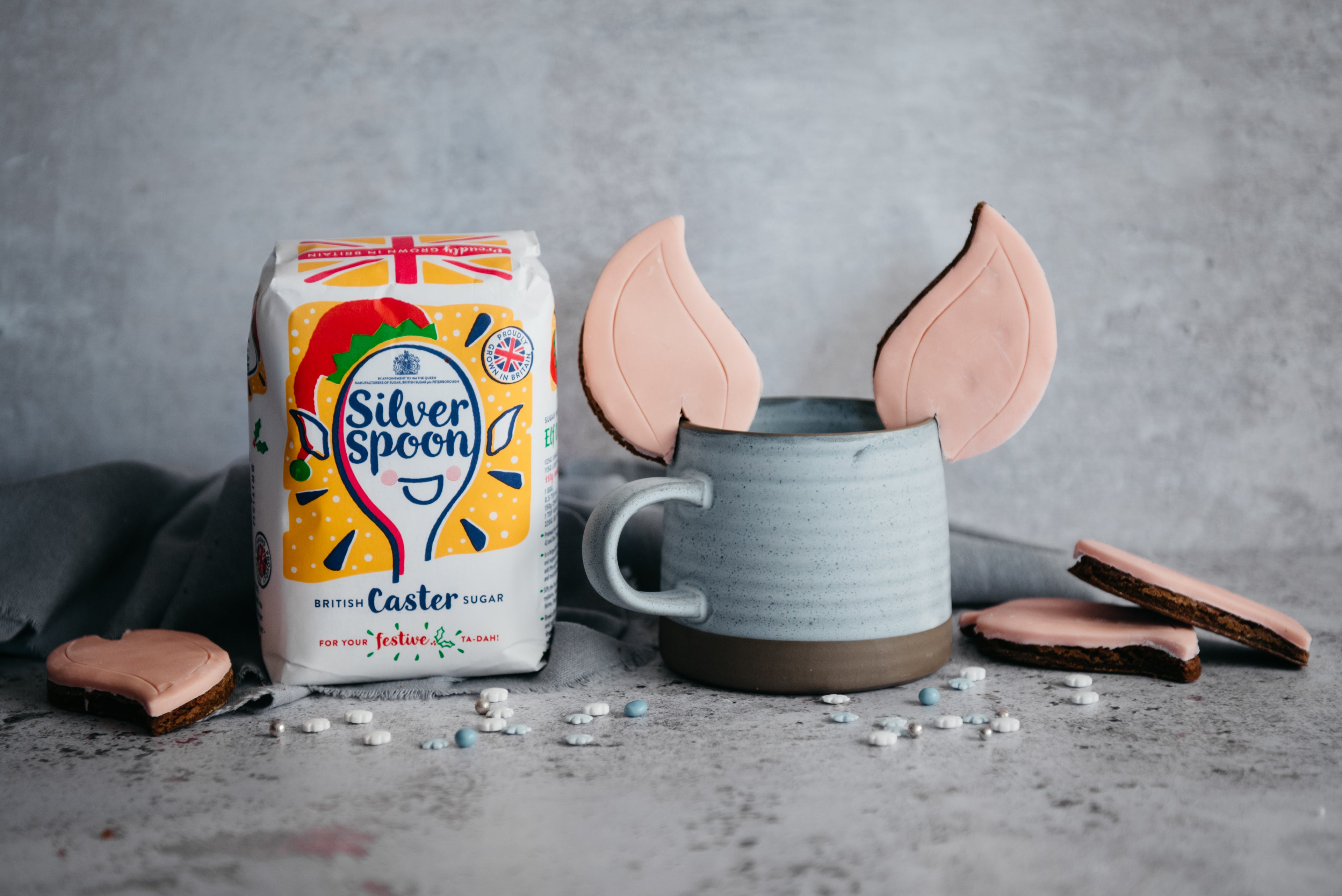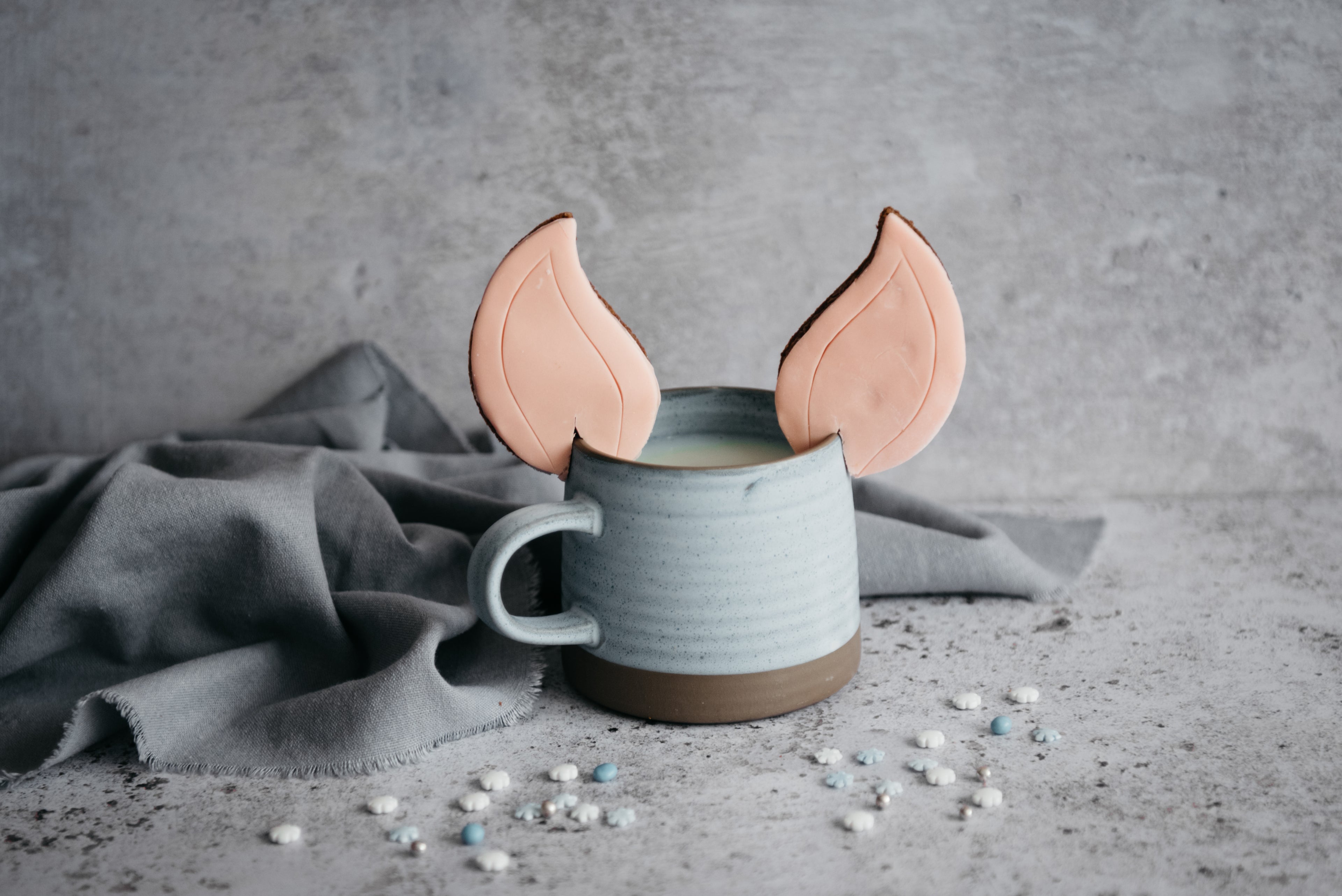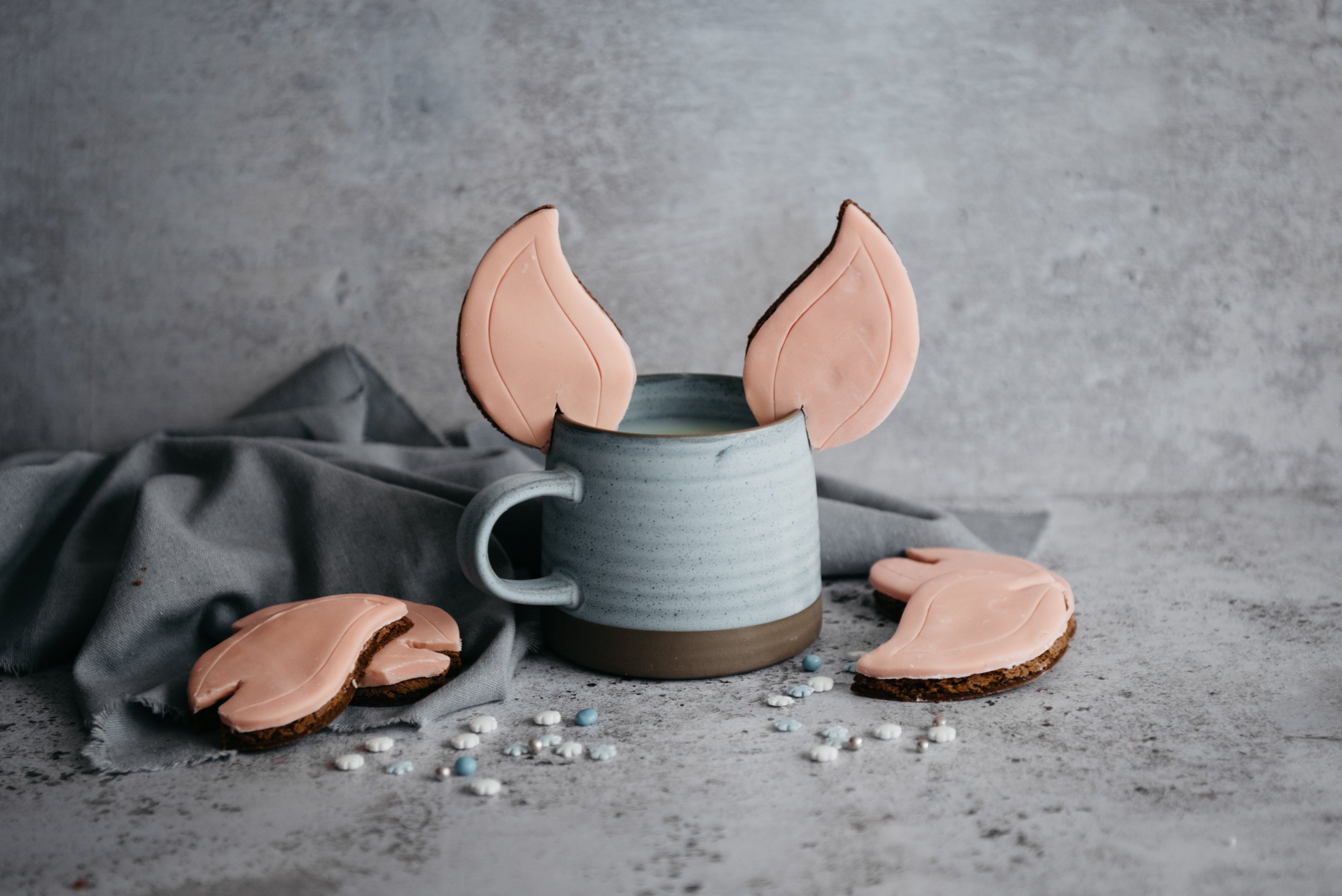 For the Elf Ear's Cookies
Juliet Sear has magically created Elf Ears with a yummy cheat gingerbread recipe, so you can enjoy chewy, spicy cookies in half the time. Decorated with royal icing, and hung on the edge of your mug, you can turn you hot chocolate into the ultimate wintery escape, cosied up in front of your favourite Christmas film with family and friends.
We love creating baking moments in mugs, they're so easy to enjoy and create a yummy treat when you're ingredient cupboard is looking bare. Try out our other Silver Spoon Christmas bakes by Juliet Sear, such as our Reindeer Cupcakes or Reindeer Orange Creams.
Method
Step 1:

Beat the sugar and butter until combines (do not cream)

Step 2:

Step 3:

Dry whisk the spices into the flour and add this to the wet ingredients until a dough is formed.

Step 4:

Roll out to about 5mm or use guidesticks, cut around the ears template, making sure to turn it over each time so you end up with pairs to crate the elf ears.

Step 5:

Bake for around 9 mins, then remove from the oven and use a small sharp knife to cut into each one, the thickness of your mug or glass so they will sit on the edge easily.

Step 6:

Bake for a further 5 mins until firm, leave to cool for 5 mins then transfer to a wire rack.

Step 7:

To add the ear effect, roll the icing out to approx. 2/3mm thickness, cut out ear shapes using the template

Step 8:

Add a little boiled water to the golden syrup and brush the biscuits to make sticky.

Step 9:

Place the ear shape icing on each one, you'll need to trim it a little once on the cookie so you can have an outline of cookie on the edge. Use the modelling too or knife to make a mark around. The edge foe the detail and cut into the icing where the cookie has the slit for where it will sit onto your cup/mug/glass.

Step 10:

Leave to dry overnight until ready to use or package for a fun edible elf themed gift. Perfect for adding on to your hot chocolate or flavoured milk,
Ingredients
For the cookies

200g

 

Billington's unrefined dark brown sugar

200g

 

Softened butter

1

 

Eggs

375g

 

Allinson's plain flour

1 tsp

 

Cinnamon

2 tsp

 

Ground ginger

For the decoration

500g

 Silver spoon royal icing

2 tsp

 

Silver spoon golden syrup
Utensils
Stand mixer, hand whisk or bowl and wooden spoon

Marzipan spacers

Rolling pin

Parchment paper

Pastry brush

Modelling tool

Baking trays
Nutritional Information
per 36g
193cal

 

Energy

7g

 

Fat

4.2g

 

of which Saturates

31g

 

Carbohydrates

21g

 

of which Sugars

1.5g

 

Protein

0.03g

 

Salt
We'd love a slice of advice.
Was it yum? Did the recipe work well? Did you customise the recipe?
Ingredients
For the cookies

200g

 

Billington's unrefined dark brown sugar

200g

 

Softened butter

1

 

Eggs

375g

 

Allinson's plain flour

1 tsp

 

Cinnamon

2 tsp

 

Ground ginger

For the decoration

500g

 Silver spoon royal icing

2 tsp

 

Silver spoon golden syrup
Utensils
Stand mixer, hand whisk or bowl and wooden spoon

Marzipan spacers

Rolling pin

Parchment paper

Pastry brush

Modelling tool

Baking trays
Nutritional Information
per 36g
193cal

 

Energy

7g

 

Fat

4.2g

 

of which Saturates

31g

 

Carbohydrates

21g

 

of which Sugars

1.5g

 

Protein

0.03g

 

Salt