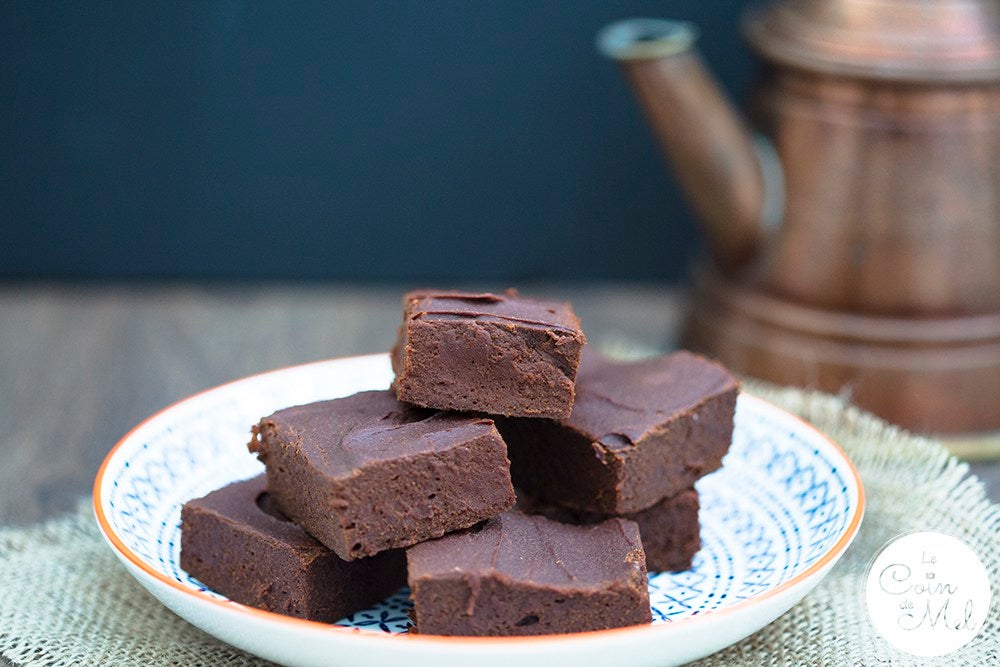 About the bake
Dark, rich and gluten free- these brownies make such tasty treats. The chopped chocolate melts into the fudgy sponge and a double topping of peanut buttercream and chocolate truffle ganache is the icing on the cake. Don't worry, the brownie will probably crack on top as it bakes and then sink down after you take it out of the oven. Slightly under bake it if you're after that fudgy brownie texture; a bit too long in the oven and you will end up with a cake.
Method
Step 1:

Preheat the oven to 180°c/170°c fan/gas mark 4. Line an 18cm square tin with baking paper.


Step 2:

In a small pan, melt the butter with 50g of the chocolate, then set aside to cool. Chop the remaining 100g chocolate into rough chunks.


Step 3:

In a separate bowl, prepare the flour mixture by combining the gluten free rice flour, the potato starch and gluten free tapioca flour. Sift together very thoroughly or put into a food-processor and pulse until mixed. Set this aside.


Step 4:

In a separate large bowl, beat together the sugar with the eggs and vanilla. Sift the flour mix with the baking powder and mix this into the eggs and sugar. Stir in the cooled, melted chocolate mixture, add the chocolate chunks and mix until combined, then pour the mixture into the tin.


Step 5:

Bake for about 30 minutes, until the brownie begins to shrink from the sides of the tin and has a crust on top. It should still be soft and a little wobbly in the centre. Take it out of the oven and leave it to cool in the tin. If you're not adding the toppings, cut into squares and serve. If you are, chill it in the fridge.


Step 6:

To make the peanut buttercream, put the butter and peanut butter into a bowl and beat with an electric mixer. Gradually mix in the icing sugar, and when it starts to thicken, incorporate the coconut milk, 1 tablespoon at a time, until all the sugar is mixed in, and the icing is thick and spreadable. Beat for about 3 minutes until fluffy. Once the brownie is cold, top with a thin layer of the smooth peanut buttercream, return to the fridge to chill.


Step 7:

To make the ganache, melt the chocolate with the knob of butter and cream in a heavy-based pan over a low heat. Stir and make sure the mixture doesn't get too hot – you don't want it to boil. Just before the chocolate has finished melting, take it off the heat and stir until smooth, thick and glossy. Pour into a bowl to cool.


Step 8:

Once the brownie has chilled, pour a thin layer of chocolate truffle ganache over the top. Return to the fridge to set, then cut into squares. Eat at room temperature.

Ingredients
For the Brownie

125g

 

Butter (unsalted)

175g

 

Gluten free dark chocolate

175g

 

Billington's unrefined brown sugar

2

 

Eggs (free range) large

1 tsp

 Nielsen-Massey Vanilla Extract

19g

 

Gluten free rice flour, 1/2 white, 1/2 brown

19g

 

Gluten free potato starch

19g

 

Gluten free tapioca flour/starc

1 tsp

 

Gluten free baking powder

For the Buttercream

55g

 

Butter (unsalted) softened

125g

 

Smooth gluten free dark chocolate chopped

125g

 Silver Spoon Icing Sugar

2 tbsp

 Gluten free coconut milk or any other milk

For the Ganache

125g

 

Gluten free dark chocolate chopped

1

 

Butter (unsalted) small knob

150ml

 

Whipping cream
Utensils
18cm square baking tin

Baking paper

1 small saucepan

Mixing bowls

Food processor

Electric whisk

Heavy-based pan
Recipe Reviews
You have missed off amount of peanut butter for buttercream - chopped chocolate on ingredients twice
------------------------------------------
Hi, many thanks for pointing this out, we have now amended this, :)
Ingredients
For the Brownie

125g

 

Butter (unsalted)

175g

 

Gluten free dark chocolate

175g

 

Billington's unrefined brown sugar

2

 

Eggs (free range) large

1 tsp

 Nielsen-Massey Vanilla Extract

19g

 

Gluten free rice flour, 1/2 white, 1/2 brown

19g

 

Gluten free potato starch

19g

 

Gluten free tapioca flour/starc

1 tsp

 

Gluten free baking powder

For the Buttercream

55g

 

Butter (unsalted) softened

125g

 

Smooth gluten free dark chocolate chopped

125g

 Silver Spoon Icing Sugar

2 tbsp

 Gluten free coconut milk or any other milk

For the Ganache

125g

 

Gluten free dark chocolate chopped

1

 

Butter (unsalted) small knob

150ml

 

Whipping cream
Utensils
18cm square baking tin

Baking paper

1 small saucepan

Mixing bowls

Food processor

Electric whisk

Heavy-based pan