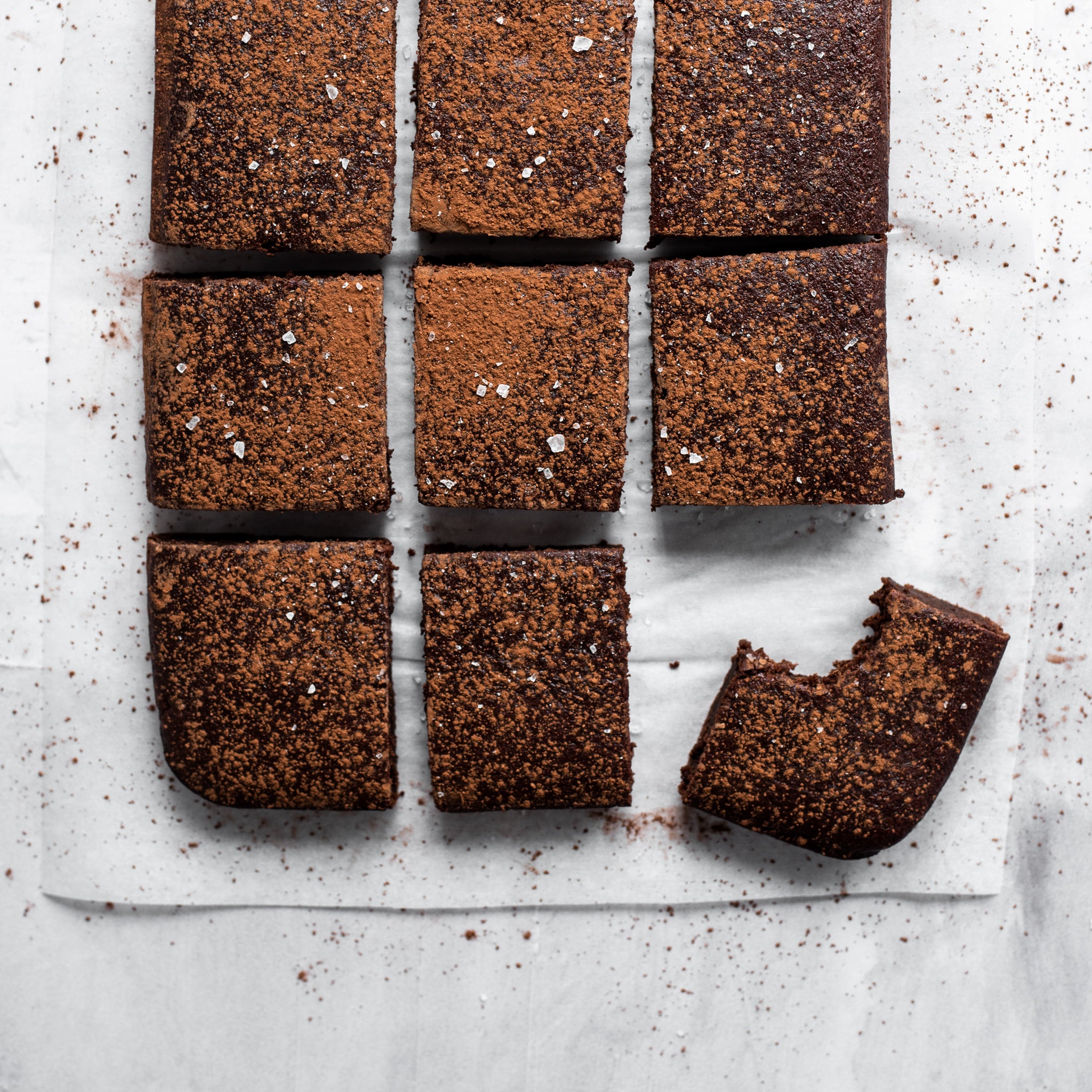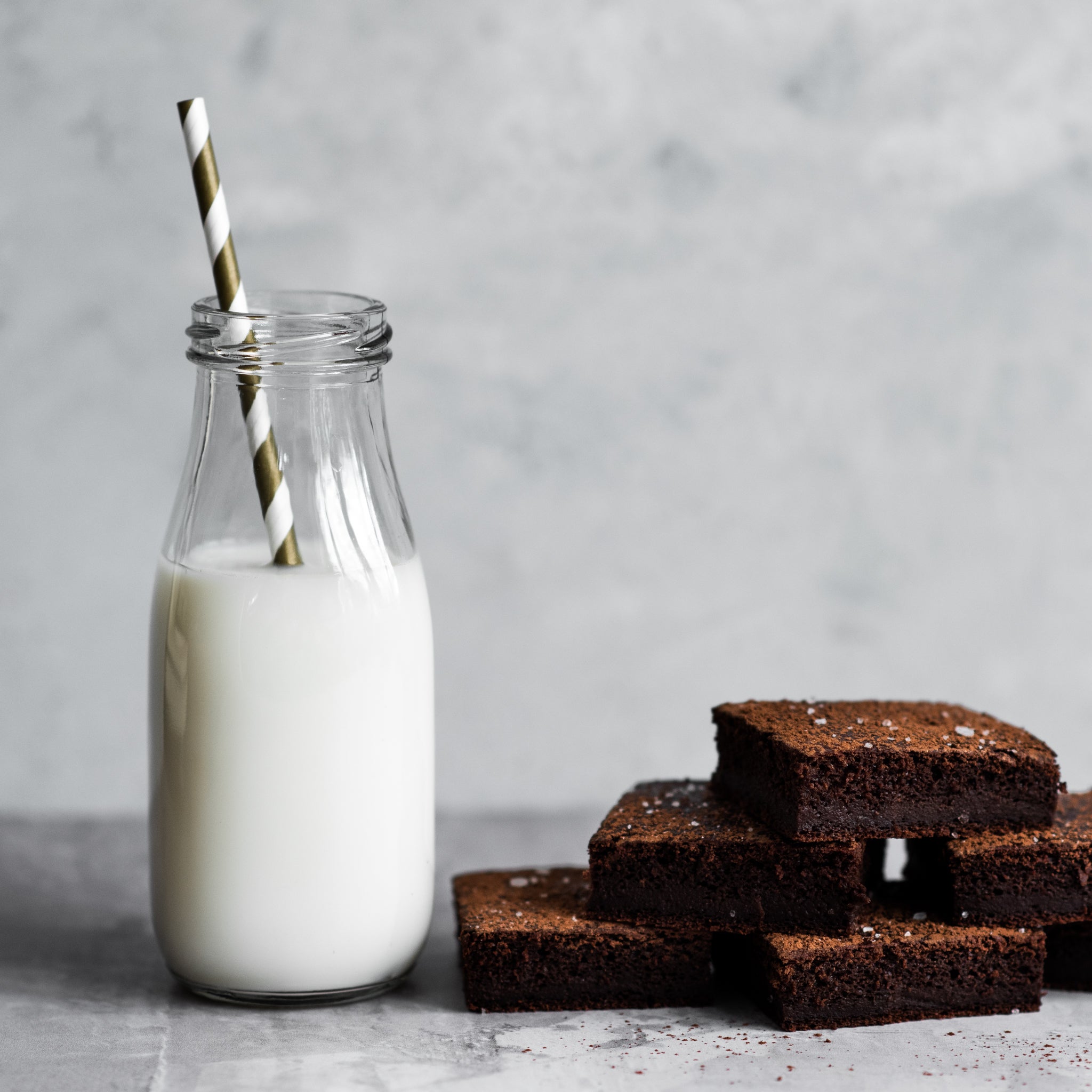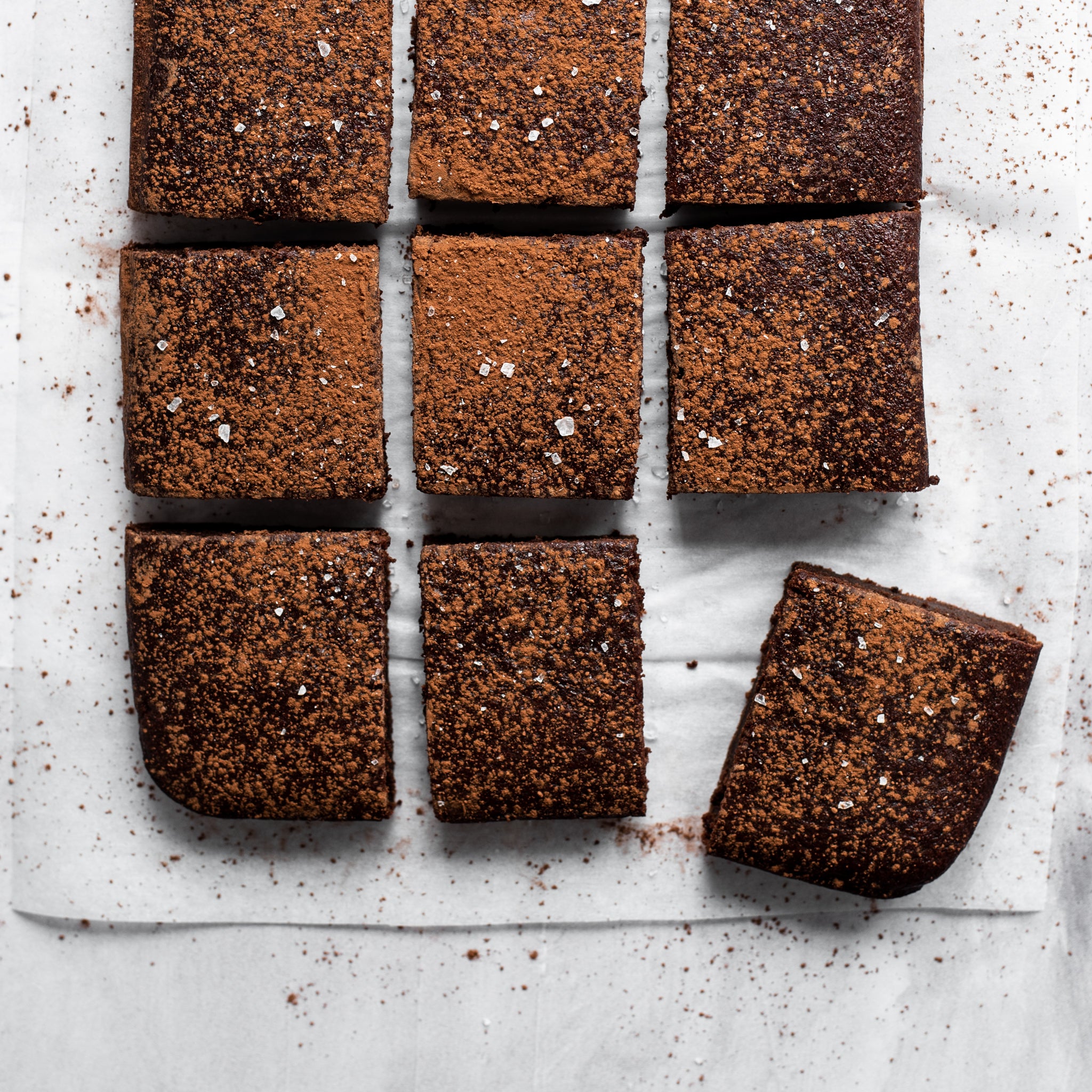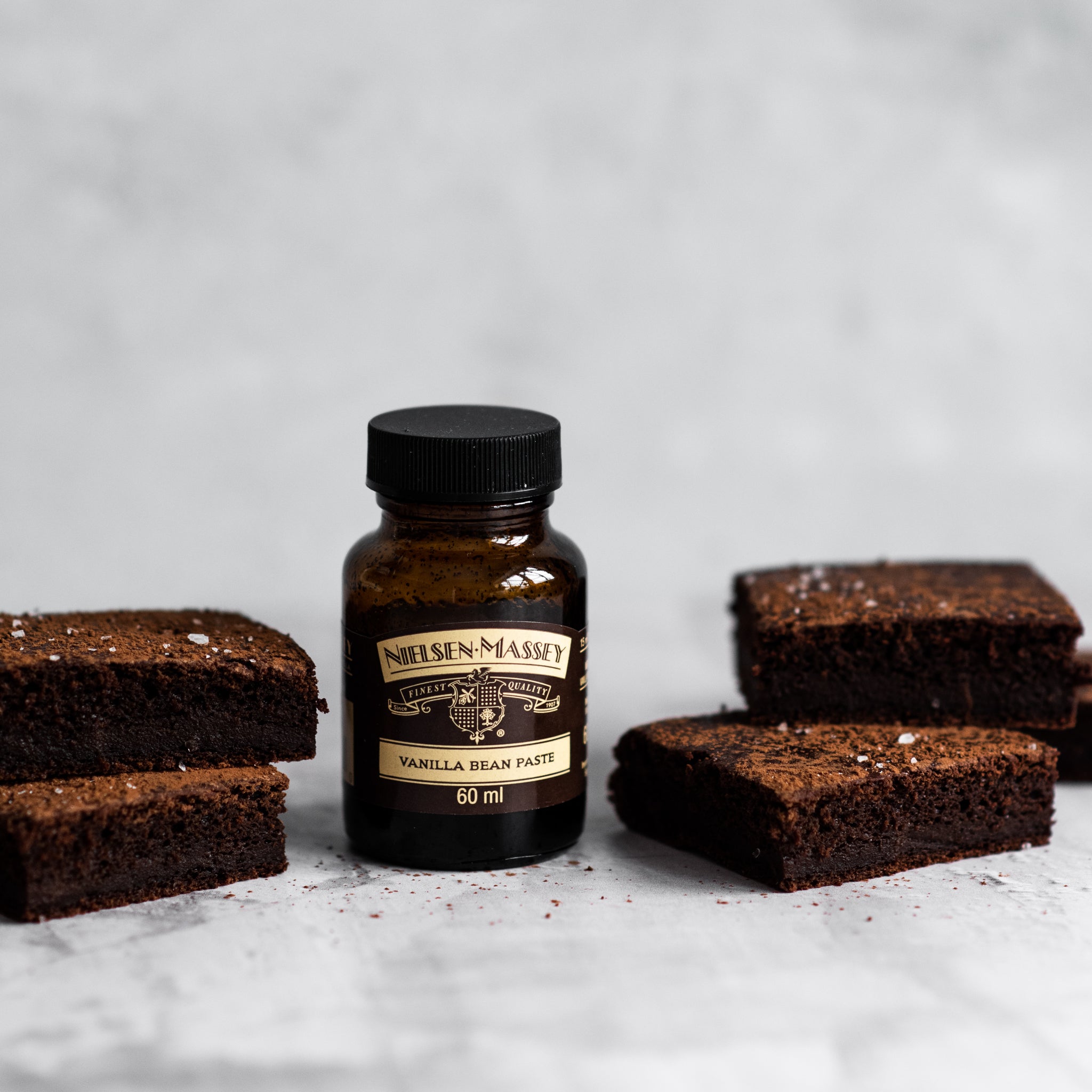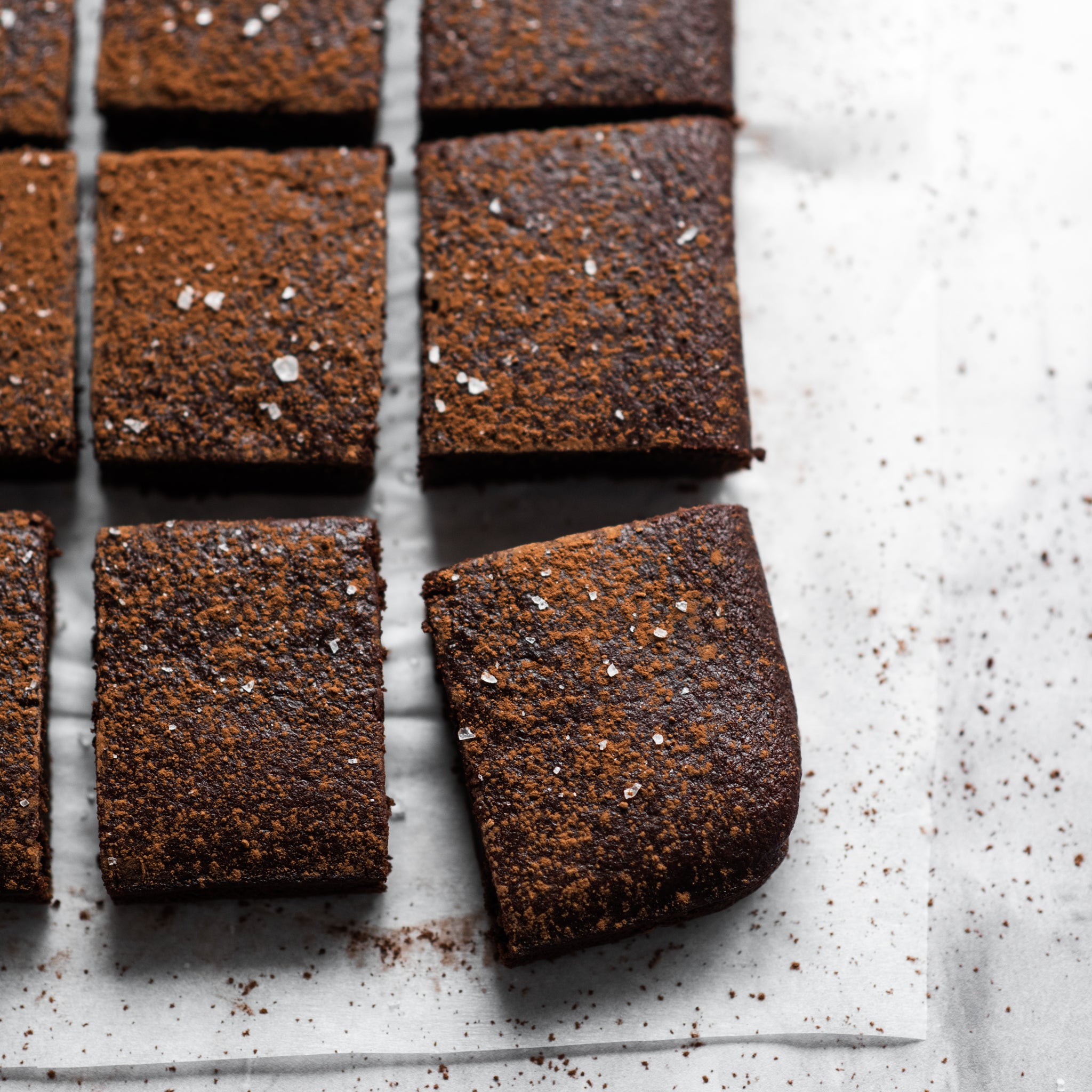 About the bake
Rosemary Shrager has shared her Gluten Free Beetroot Brownie recipe from her new book Rosemary Shrager's Cookery Course. She says: "beetroot goes beautifully with chocolate and creates a lovely moist cake" and we couldn't agree more. This recipe is definitely a must try for your next baking session. You can choose to make these brownies with ordinary flour and baking powder if you prefer.

If you enjoyed this recipe, we think you'll love our gluten free chocolate traybake.
Method
Step 1:

Put the beetroot in a blender and blitz it to form a purée, then pass the purée through a fine sieve into a bowl. Preheat the oven to 180°C/Fan 160°C/Gas 4. Grease a 28 x 18cm baking tin with butter and line it with non-stick baking paper.


Step 2:

Put the flour, cocoa powder, cinnamon, bicarbonate of soda, baking powder and salt in a bowl and mix well with a whisk – whisking will prevent any lumps forming in the flour. Add the beetroot purée, maple syrup, milk and vanilla bean paste and mix well with a spatula until combined.


Step 3:

Pour the mixture into the lined baking tin and bake in the preheated oven for 25–30 minutes. Place the tin on a wire rack and leave the brownies to cool, then cut them into 12 squares.

Ingredients
300g

 

Cooked beetroot (vacuum-packed is fine)

For greasing

 

Unsalted butter (softened)

150g

 

Gluten-free white bread flour

45g

 

Cocoa powder

1 tsp

 

Ground cinnamon

1/2 tsp

 

Bicarbonate of soda

1 tsp

 

Gluten-free baking powder

1/4 tsp

 

Fine sea salt

250ml

 

Maple syrup

100ml

 

Whole milk

1 tsp

 Nielsen-Massey Vanilla Bean Paste
Utensils
Blender

Sieve

28x18cm baking tin

Baking paper

Wire cooling rack
Nutritional Information
per 112g
543cal

 

Energy

26g

 

Fat

13g

 

of which Saturates

70g

 

Carbohydrates

62g

 

of which Sugars

6.7g

 

Protein

0.73g

 

Salt
Recipe Reviews
Amazing this dish looks and tastes spectacular
Yuk,
Tasted like beetroot and had very little rise. Will not be making these again.
Ingredients
300g

 

Cooked beetroot (vacuum-packed is fine)

For greasing

 

Unsalted butter (softened)

150g

 

Gluten-free white bread flour

45g

 

Cocoa powder

1 tsp

 

Ground cinnamon

1/2 tsp

 

Bicarbonate of soda

1 tsp

 

Gluten-free baking powder

1/4 tsp

 

Fine sea salt

250ml

 

Maple syrup

100ml

 

Whole milk

1 tsp

 Nielsen-Massey Vanilla Bean Paste
Utensils
Blender

Sieve

28x18cm baking tin

Baking paper

Wire cooling rack
Nutritional Information
per 112g
543cal

 

Energy

26g

 

Fat

13g

 

of which Saturates

70g

 

Carbohydrates

62g

 

of which Sugars

6.7g

 

Protein

0.73g

 

Salt