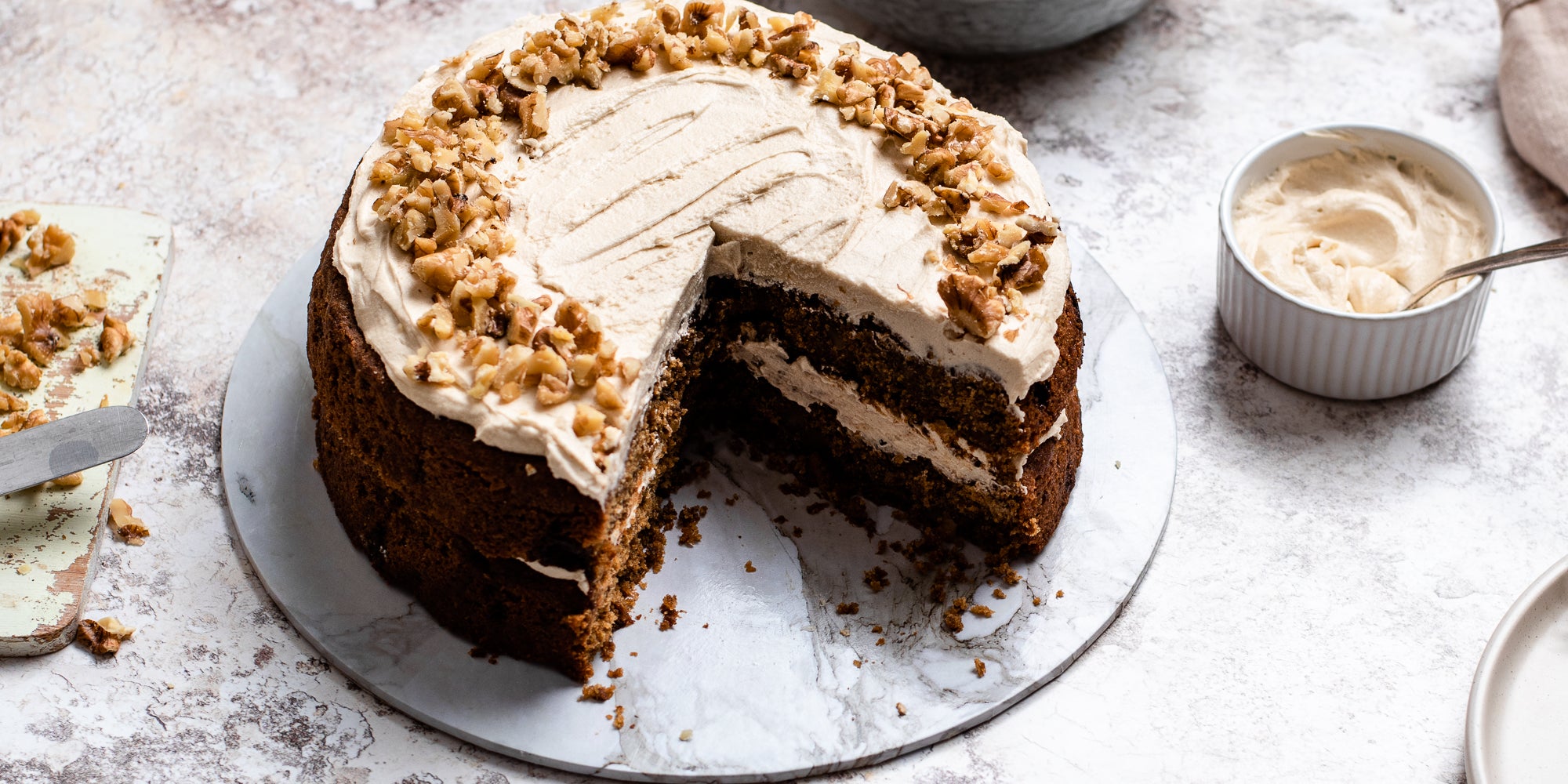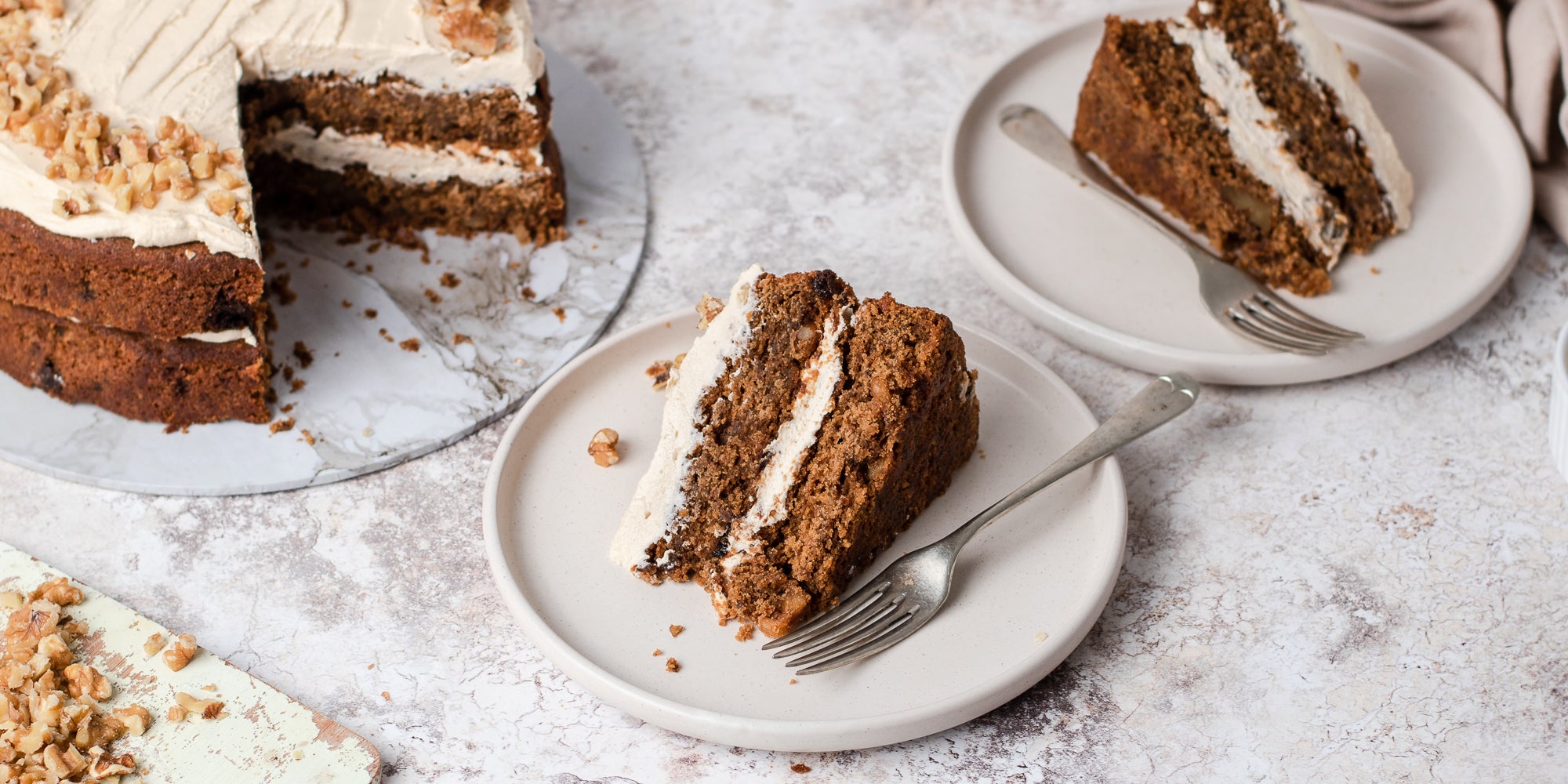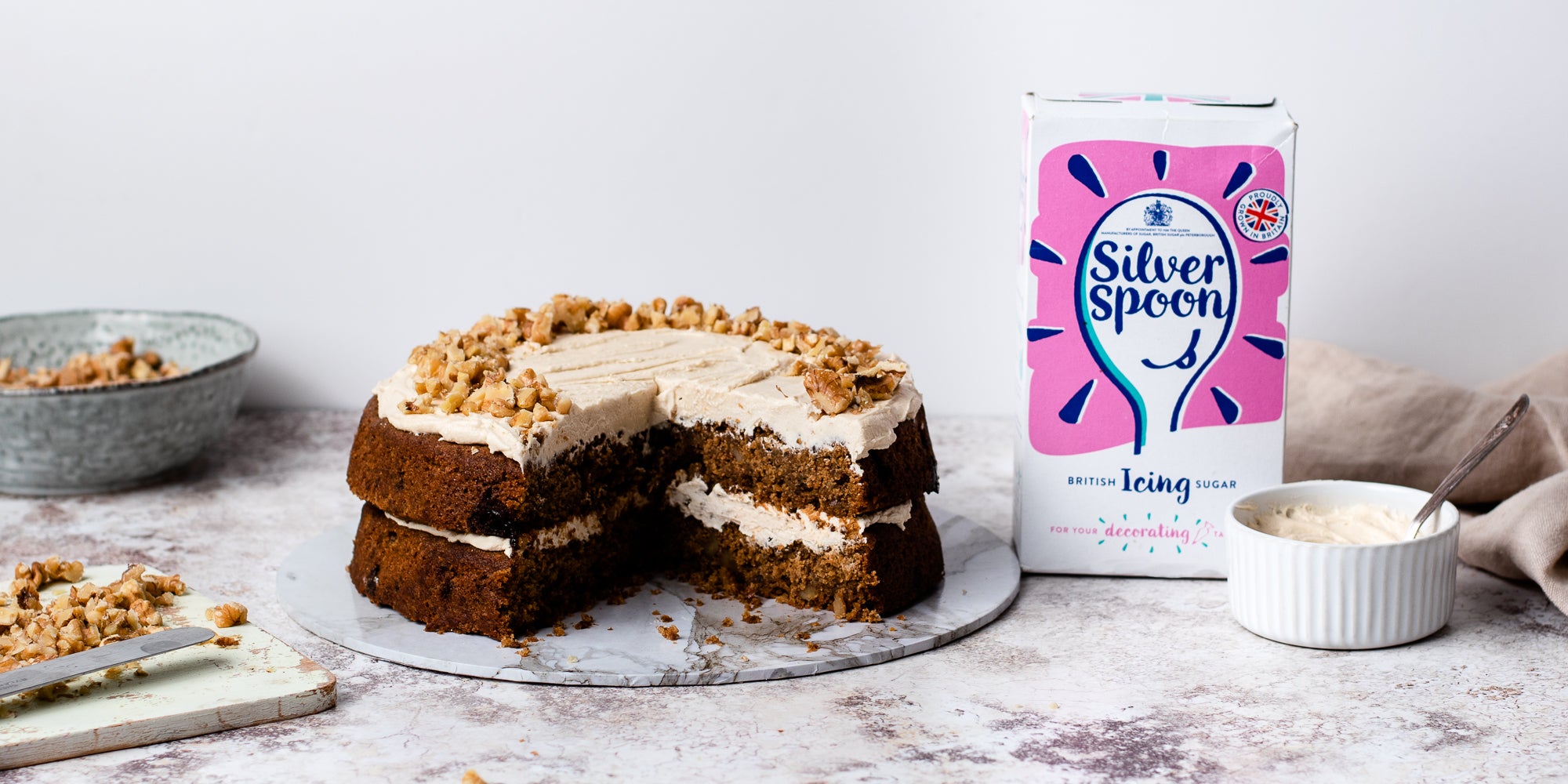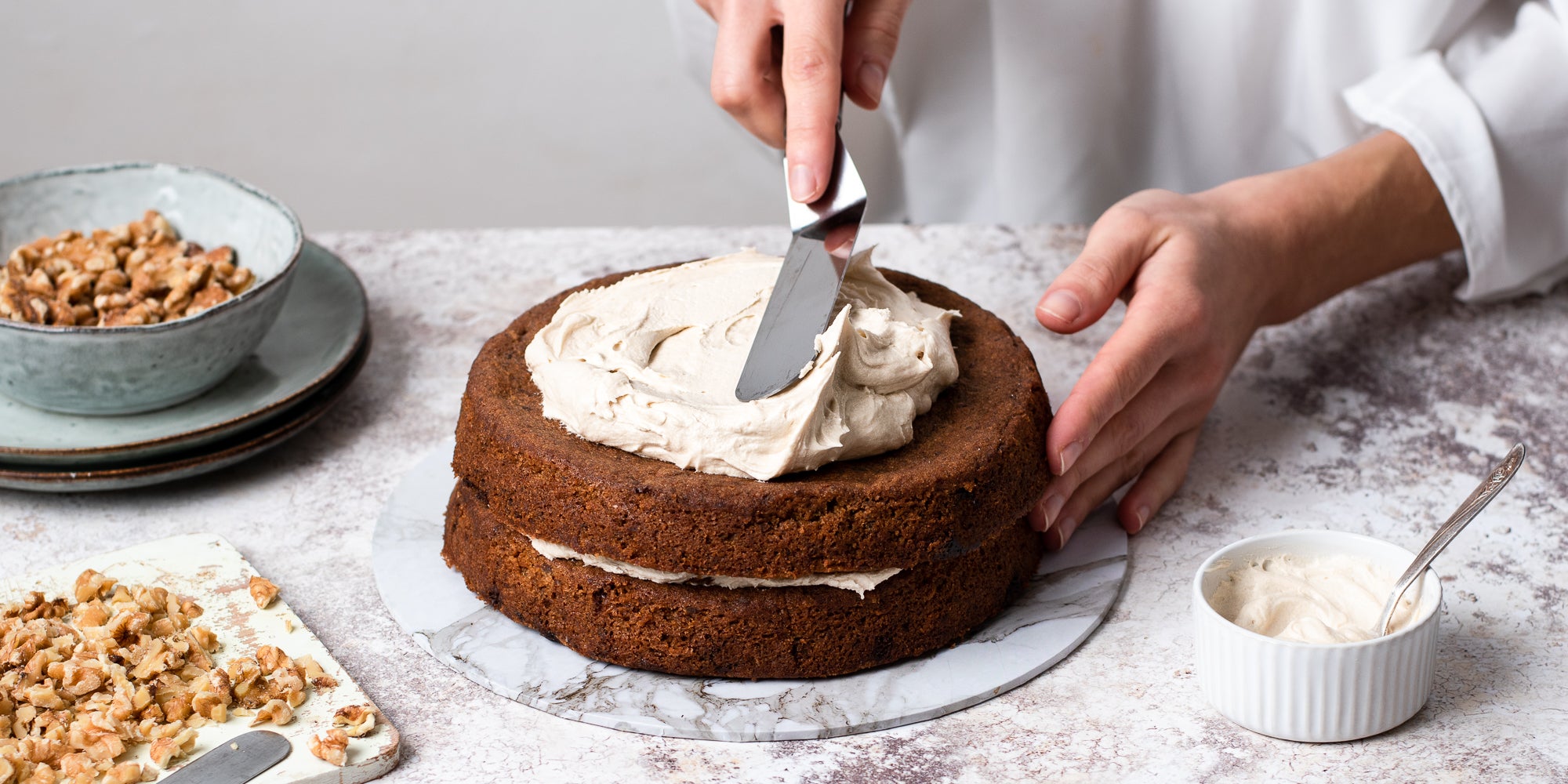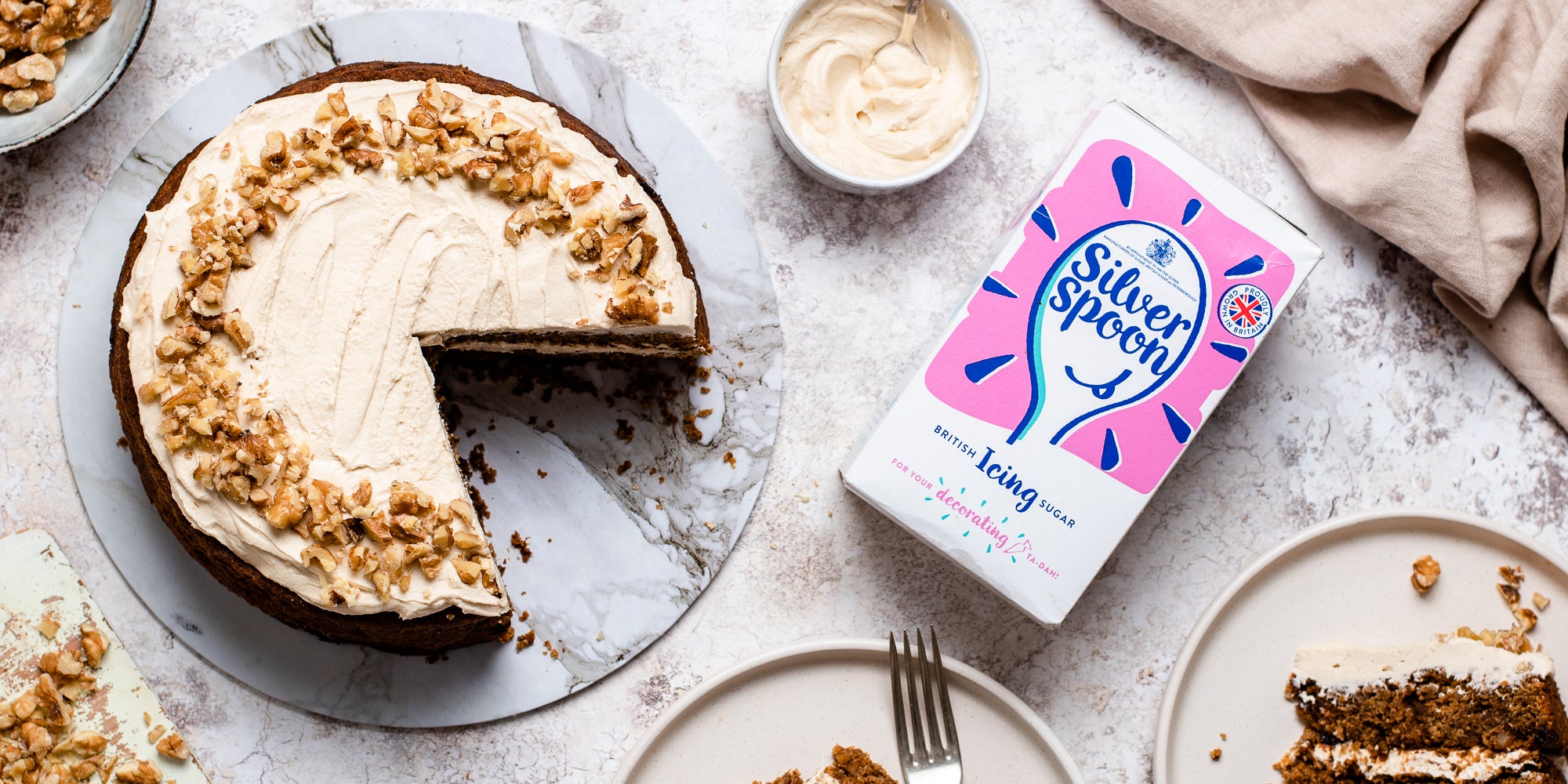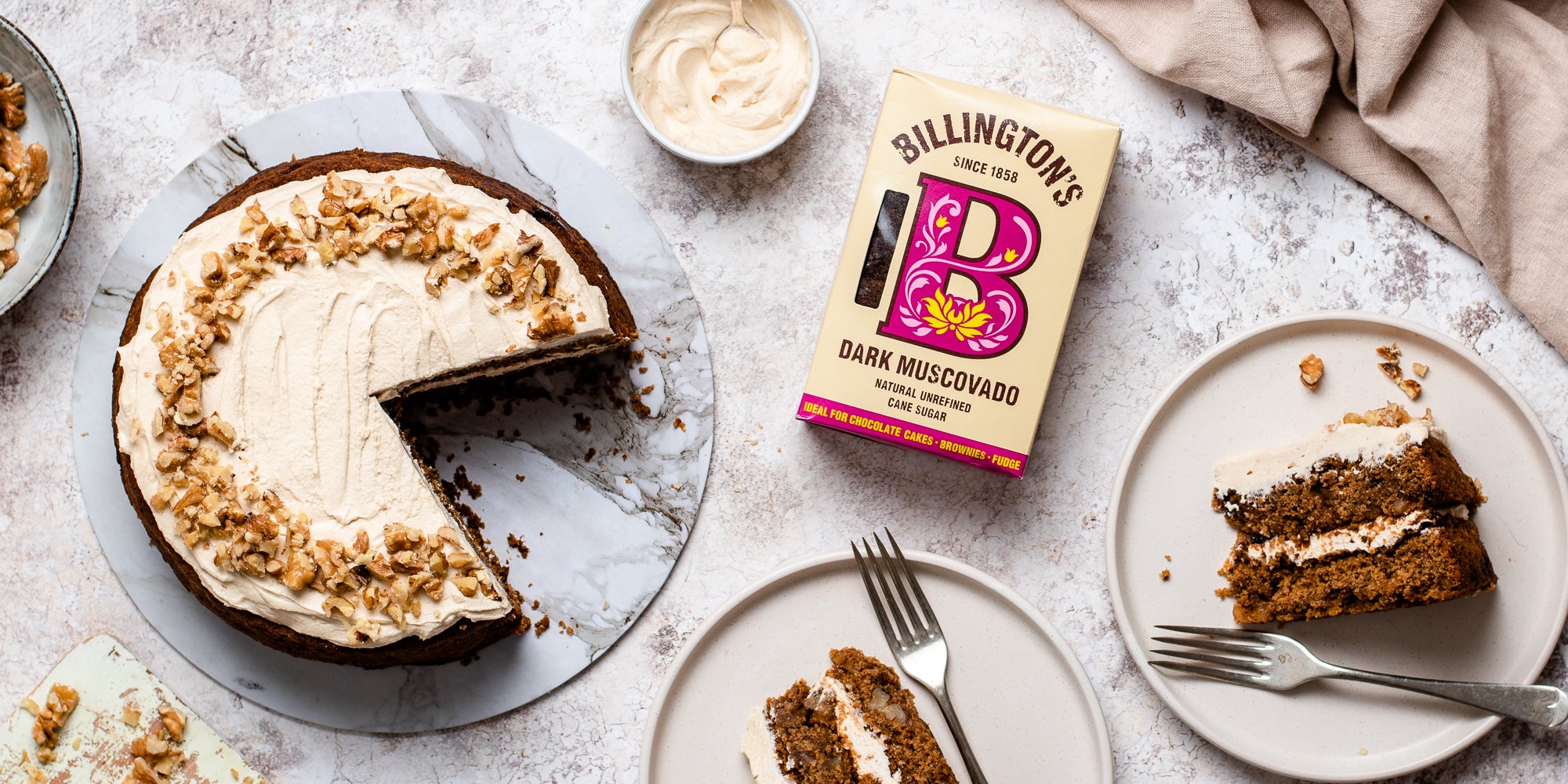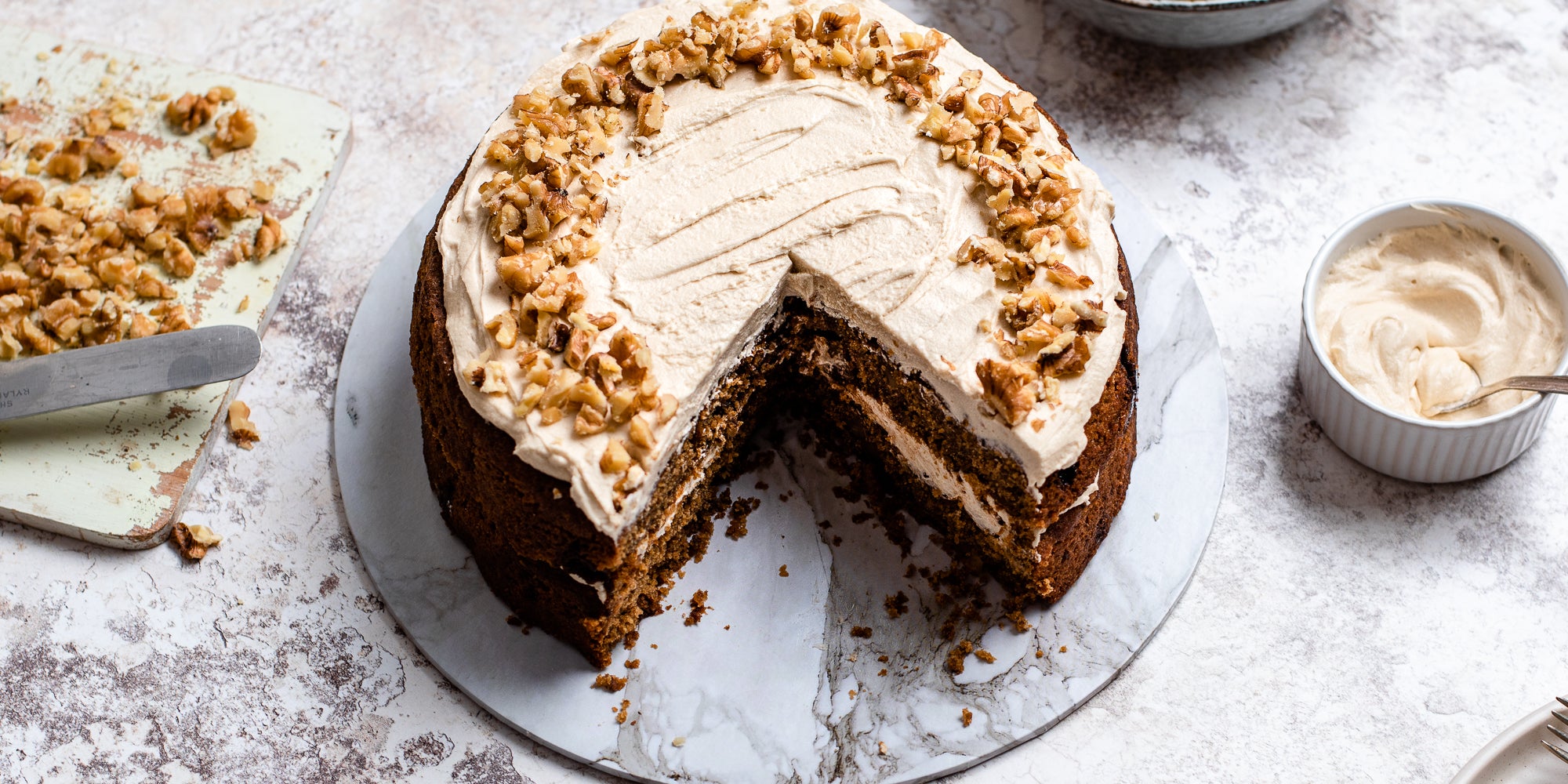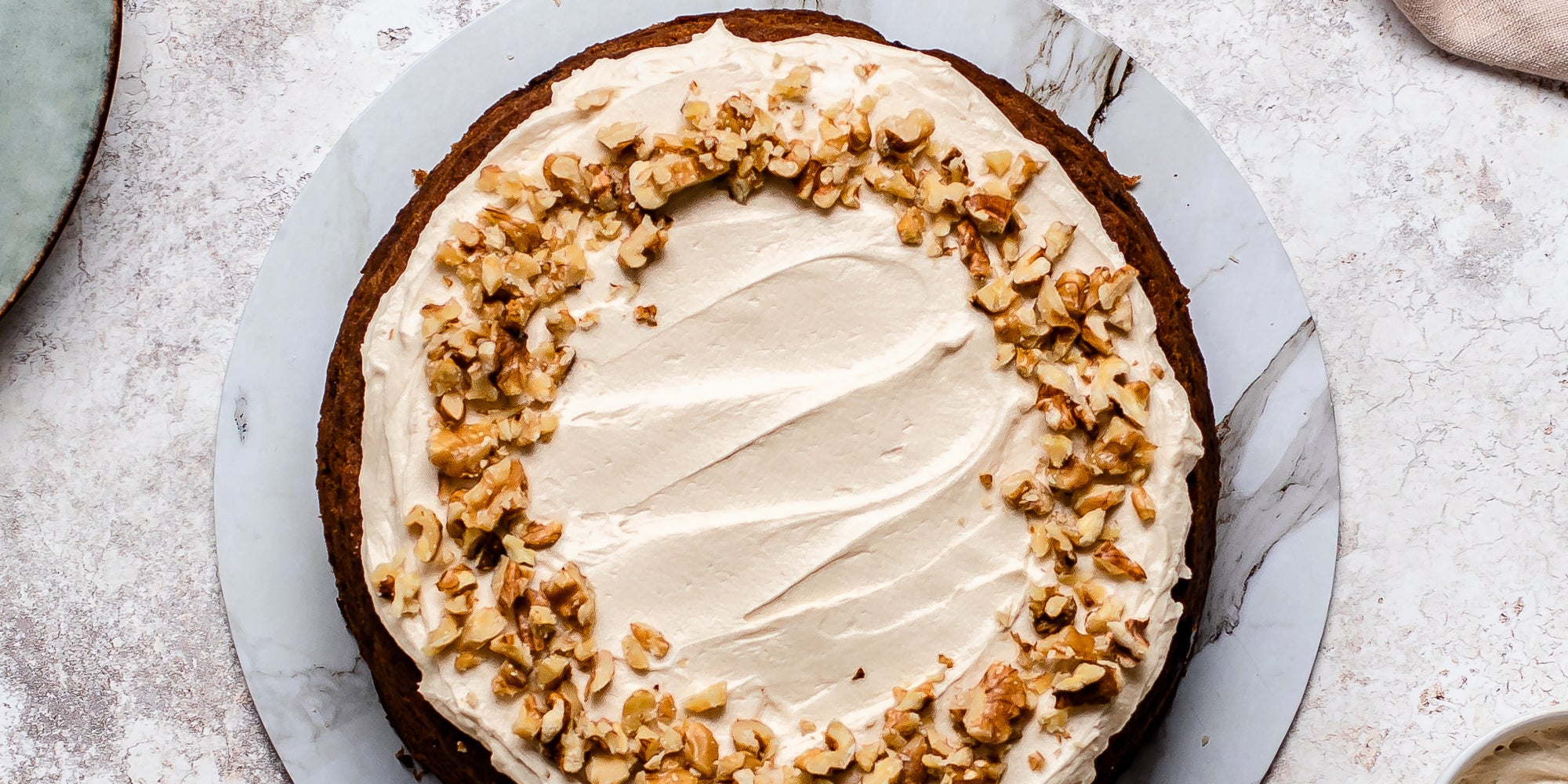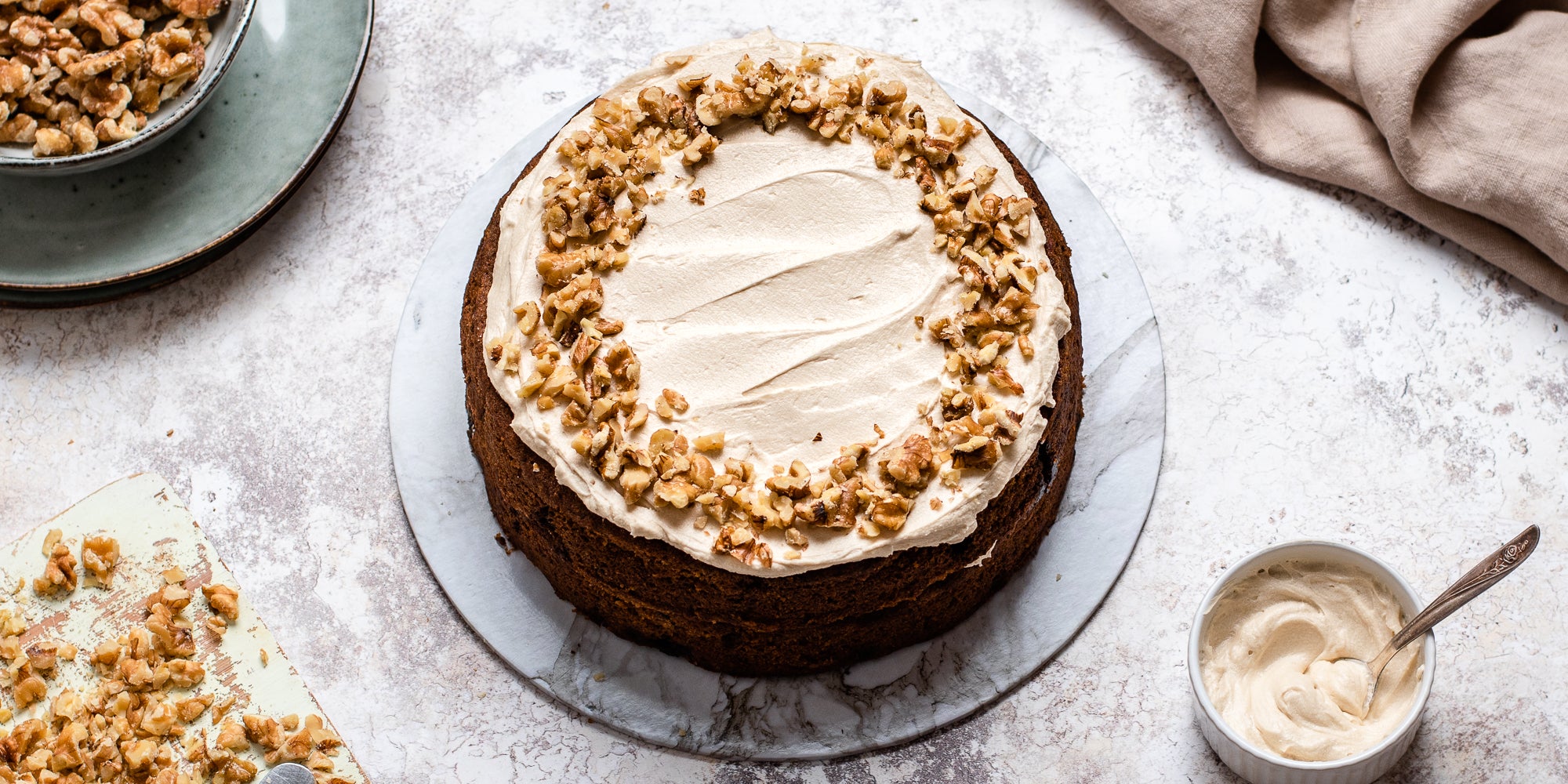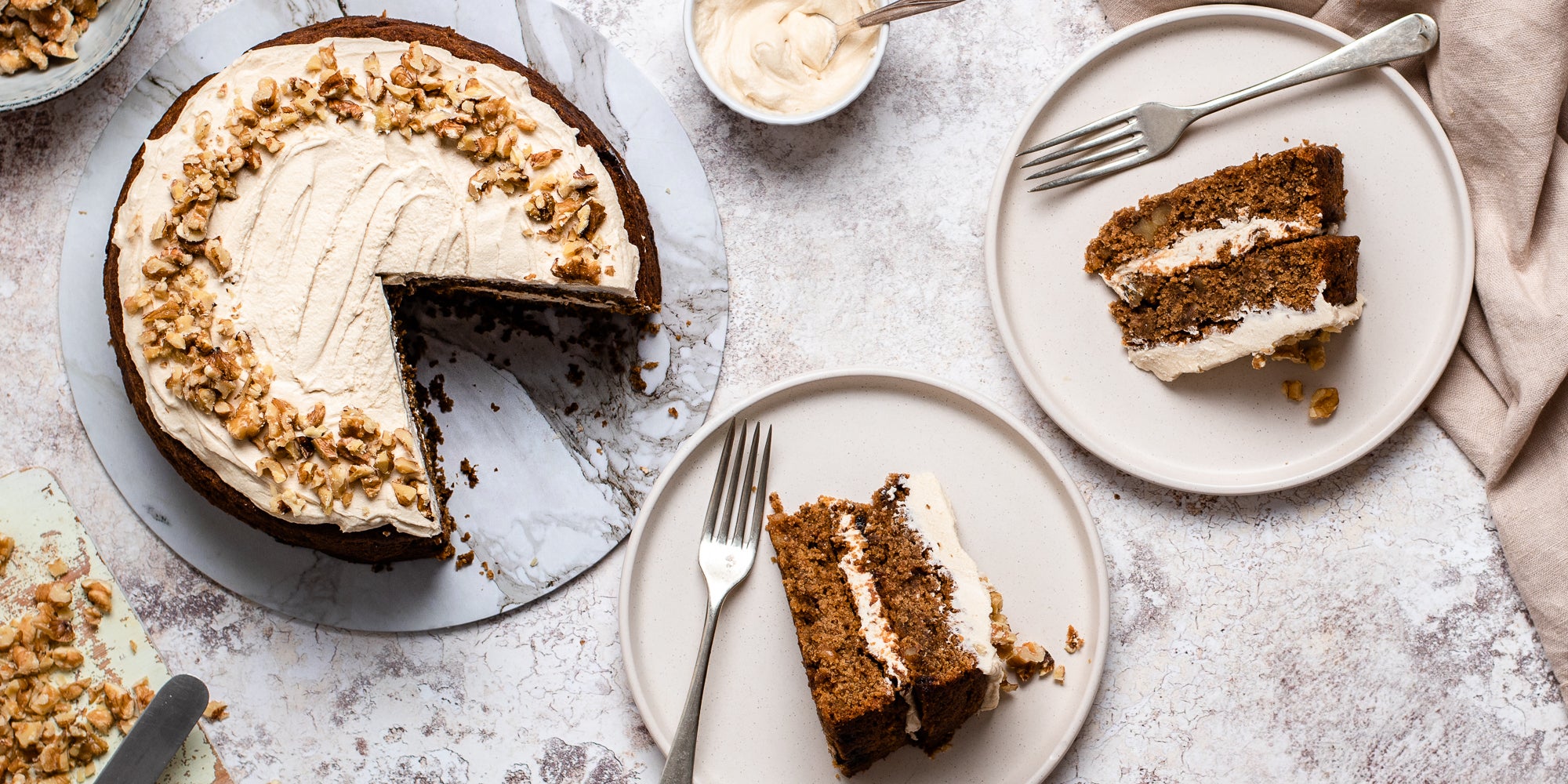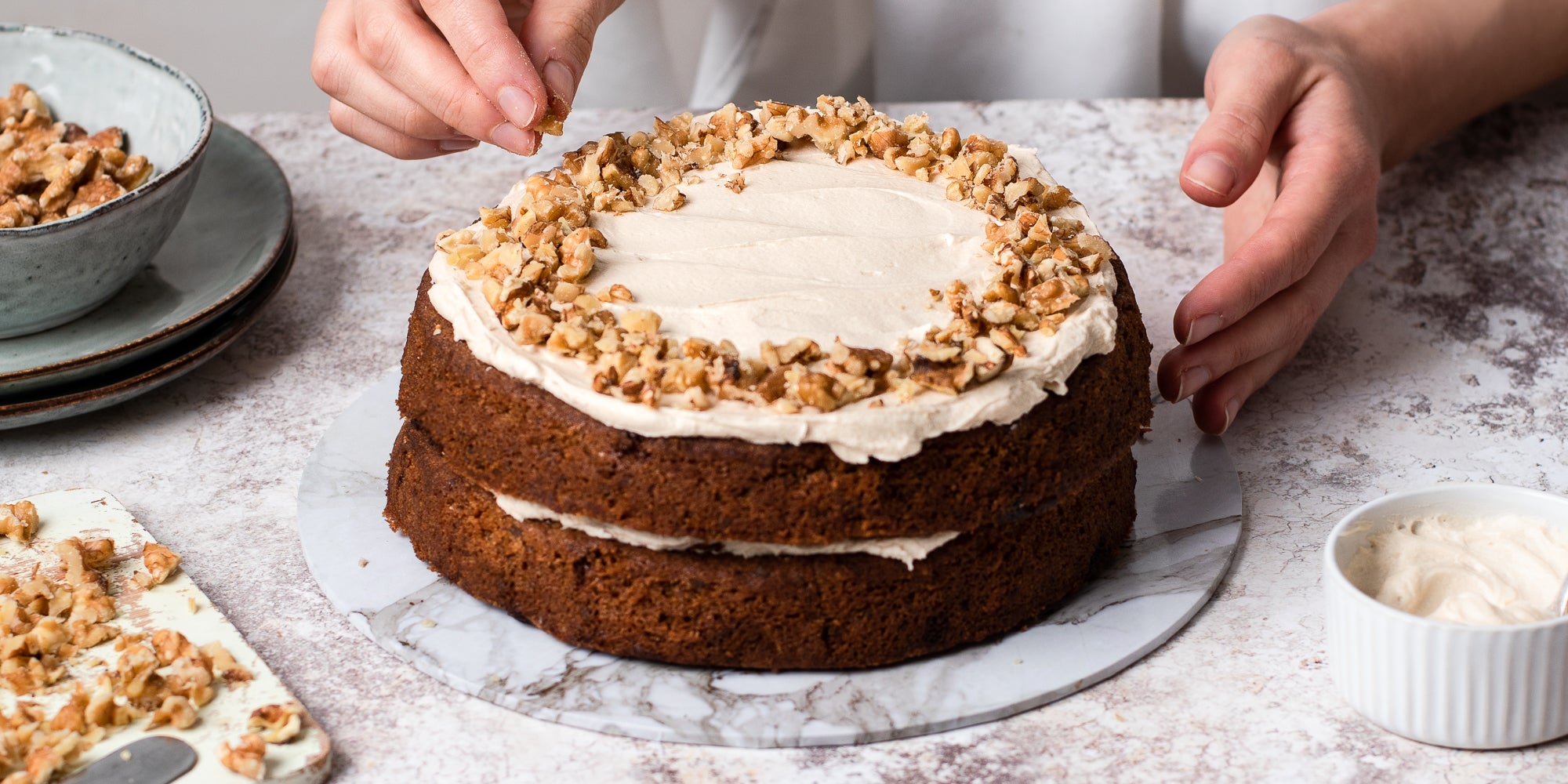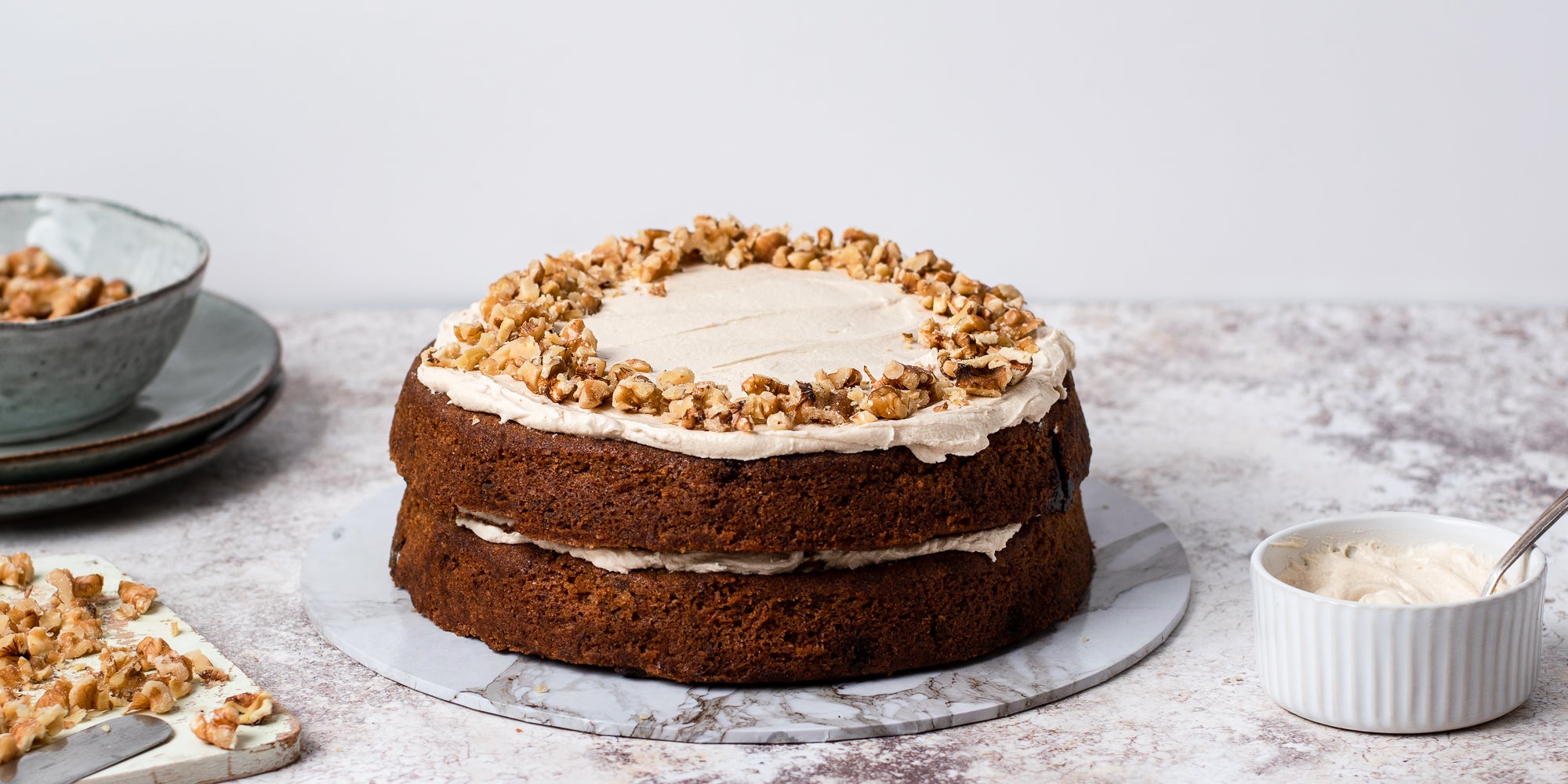 About the bake
Having allergies or intolerances can make it difficult to still enjoy your favourite cakes. Coffee cake is one of my all time favourites and we've developed a new and delicious recipe that is gluten free and vegan! Hope you enjoy it as much as I did!
Method
Step 1:

Preheat the oven to 160°C and prepare two 20cm sandwich tins (greased and lined).


Step 2:

Prepare the flax seed 'eggs' by adding 10 tbsp of warm water to 5 tbsp of ground flax seeds.




Step 3:

Cream the vegan margarine and dark muscovado sugar together. Gently fold in the gluten free self-raising flour, baking powder and camp coffee.


Step 4:

Chop the walnuts into chunky pieces and fold into the cake mixture.


Step 5:

Split the mixture evenly between the two sandwich tins and place into the pre-heated oven.

Bake the cakes until a skewer comes out clean, about 20-25 minutes.


Step 6:

While the cakes are cooling, make the coffee buttercream.

Beat the vegan margarine, stir in the Camp coffee syrup and water. Gradually mix in the icing sugar until you reach a fluffy buttercream consistency.


Step 7:

Once the cakes are cooled, sandwich the cake together with half of the coffee buttercream.

Then top the cake with the remaining coffee buttercream and decorate with walnuts.

Ingredients
For the Coffee Cake

285g

 Billington's Unrefined Dark Muscovado Sugar

285g

 

Doves farm gluten free self-raising flour

5 tbsp

 

Flax seeds (ground)

285g

 

Vegan margarine or butter

2 tbsp

 

Camp coffee syrup

100g

 

Walnuts (halves)

10 tbsp

 

Warm water

1 tsp

 

Doves farm gluten free baking powder

For the Coffee Buttercream

90g

 

Vegan margarine or butter

2 tbsp

 

Camp coffee syrup

450g

 Silver Spoon Icing Sugar

1 tbsp

 

Water

100g

 

Walnuts (halves)
Recipe Reviews
Unfortunately I did not read the reviews first. I will in future. It took an extra 15 minutes to cook and then was very grainy as though the sugar had not fully melted. Very difficult to ice as it kept falling apart. Not quite the 21st birthday cake I was hoping to make for my newly vegan (for health reasons) daughter. We are both gluten free so I'm used to adjusting receipes, but didn't think I would have to for one advertised as vegan and GF.
I was hoping that this would work but it did not! It was not cooked in 25 minutes so I gave it another 10 mins. It was cooked but fell apart when I put it onto the cooling rack! its not a cheap recipe so please can you get it right! the one star is for flavour
It tastes nice, but unfortunately the mixture made for weak cakes that disintegrated. I had to stick the vases back together with icing, unfortunate, needs more binding substance!
Ingredients
For the Coffee Cake

285g

 Billington's Unrefined Dark Muscovado Sugar

285g

 

Doves farm gluten free self-raising flour

5 tbsp

 

Flax seeds (ground)

285g

 

Vegan margarine or butter

2 tbsp

 

Camp coffee syrup

100g

 

Walnuts (halves)

10 tbsp

 

Warm water

1 tsp

 

Doves farm gluten free baking powder

For the Coffee Buttercream

90g

 

Vegan margarine or butter

2 tbsp

 

Camp coffee syrup

450g

 Silver Spoon Icing Sugar

1 tbsp

 

Water

100g

 

Walnuts (halves)