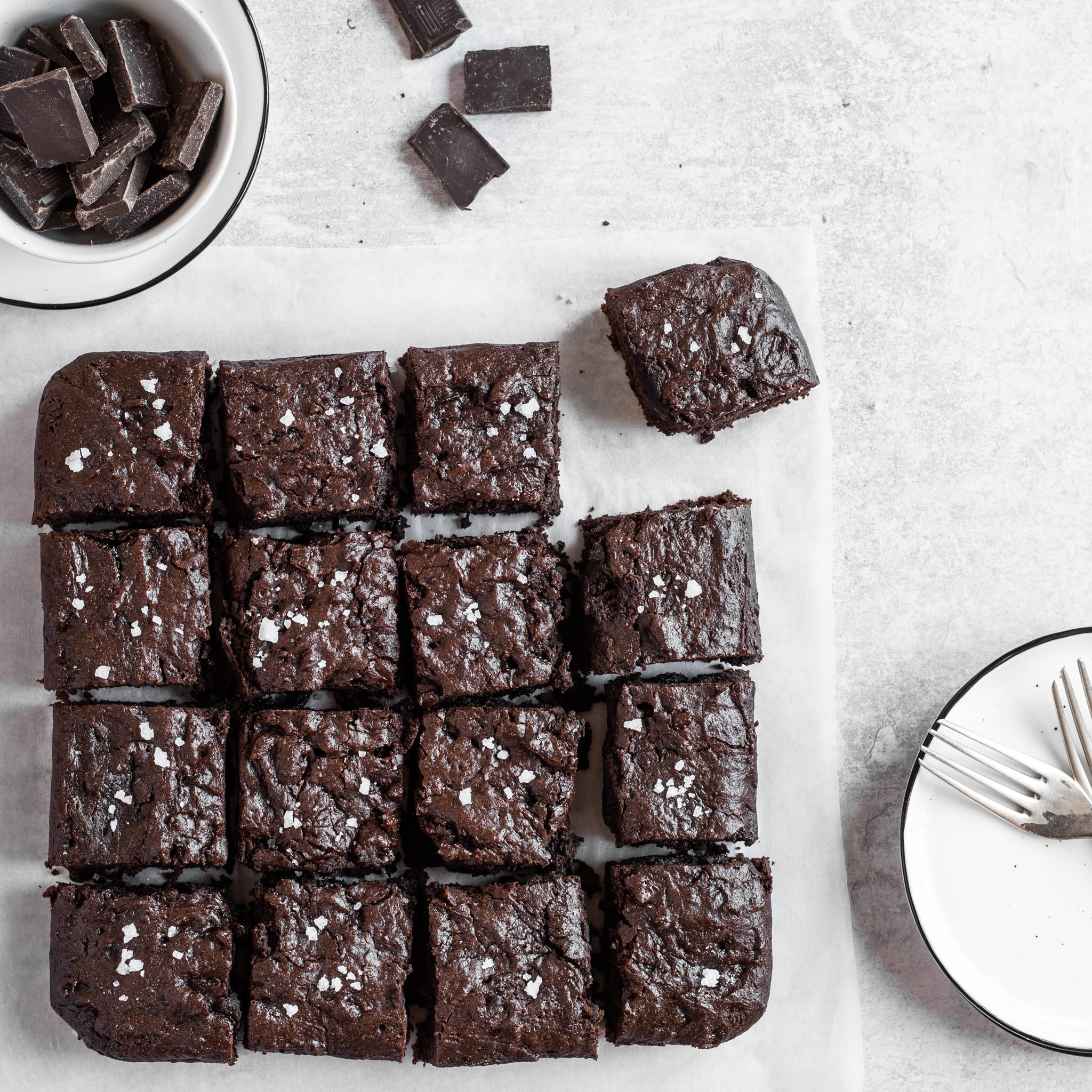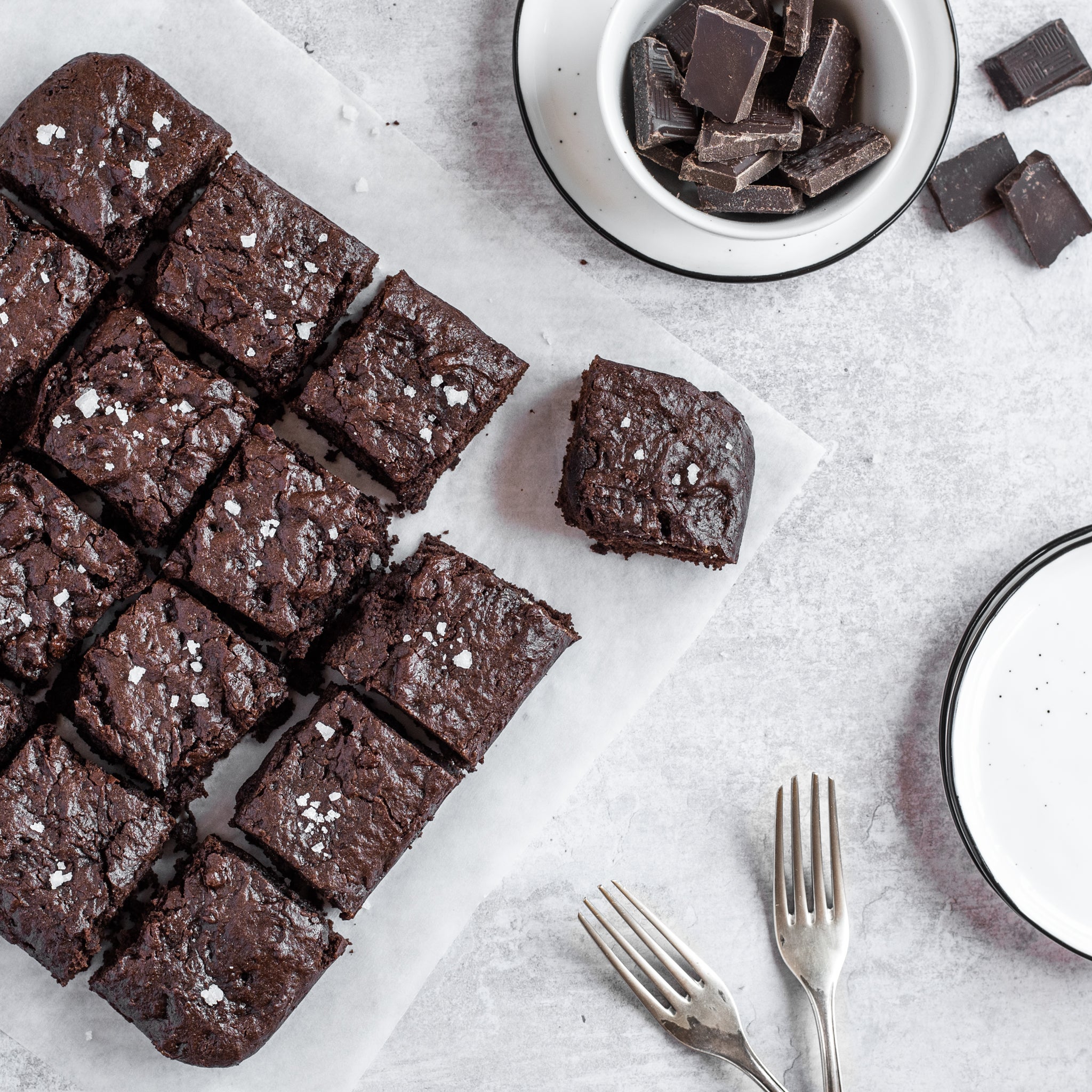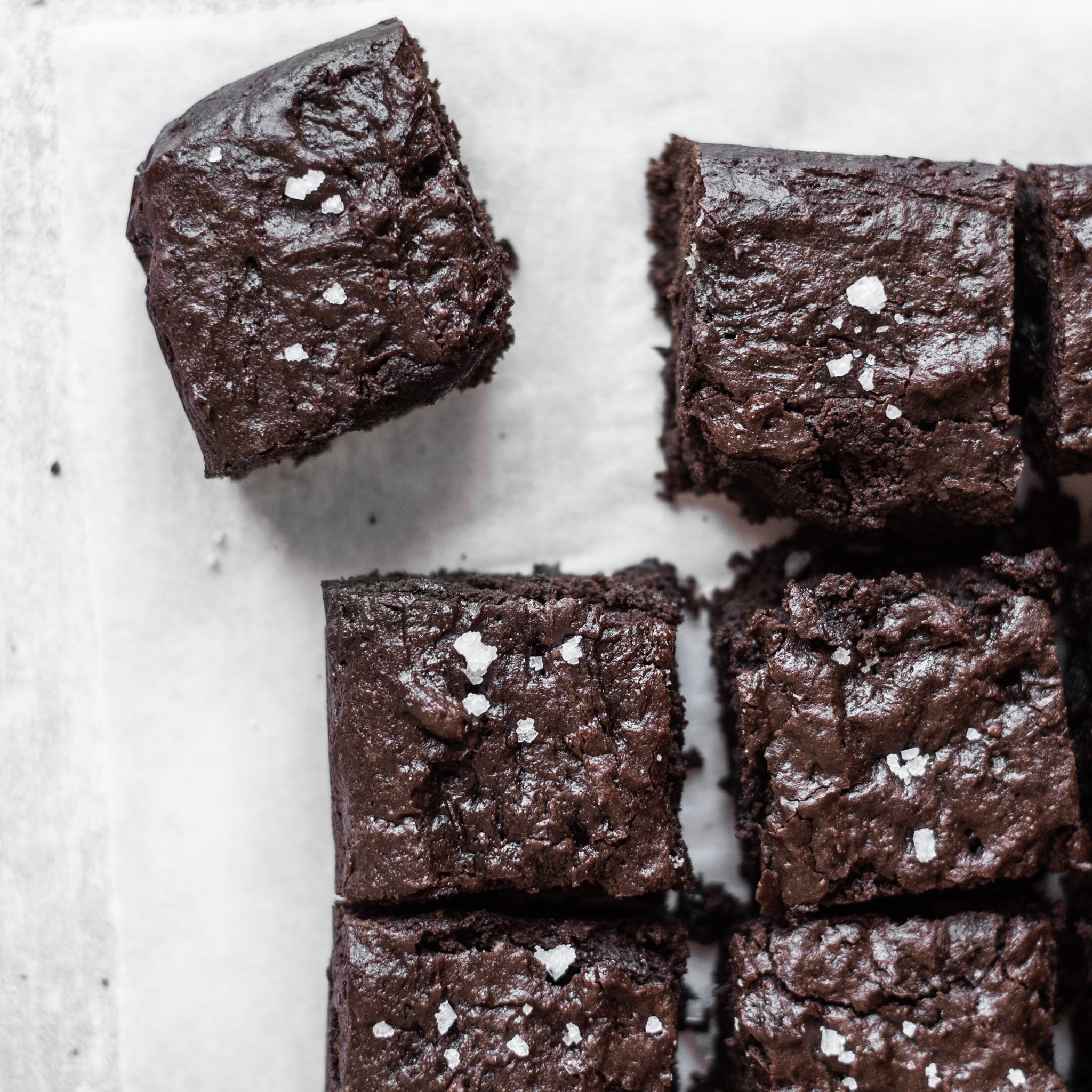 About the bake
We've finally perfected the Gluten Free Vegan Brownie! You may find vegan baking has many challenges along the way, but do not fear this deliciously rich and gooey Vegan Gluten Free Brownies will satisfy all of your chocolate cravings and is really simple to make. Perfect for all the Free-From bakers out there! Brownies are a wonderful treat any time but our special Vegan Gluten Free Brownies are really something else.
Method
Step 1:

Prepare the 'flax egg' by mixing 2 tbsp of ground flax seed with 3 tbsp of warm water. Leave to one side so that it activates and thickens.

Step 2:

Preheat the oven to 180°C /160°C Fan/ Gas mark 4 and line a square 20cm baking tin with baking parchment.


Top Tip

If you make the baking paper stick out of the tin on all sides, it's easier to lift the brownies out once they are baked.

Step 3:

Mix the buckwheat flour, xanthan gum and baking powder in a bowl and leave to one side.


Step 4:

Chop the dark chocolate finely and place into a large bowl, along with the cocoa powder and instant coffee. Add the boiling water and stir well to melt the chocolate.

Step 5:

Melt the coconut oil in a small pan and add to the chocolate mixture, along with the dark muscovado sugar and the flax seed mixture and stir gently to combine.


Step 6:

Add the flour mixture to the chocolate mixture and stir gently until combined.


Top Tip

Be careful not to mix the batter too much as it will make your brownies too stodgy.

Step 7:

Transfer the brownie batter to your prepared tin, gently level out the top with a spatula and bake for 20 - 25minutes, until the top of the mixture has set and is coming away from the sides of the tin but still has a slight wobble.


Top Tip

Leave the brownies to cool in the tin before removing them.

Step 8:

Leave to cool in the tin before cutting into squares.
Ingredients
For the brownie

2 tbsp

 

Ground flaxseed

2 tsp

 

Gluten free baking powder

100g

 

Vegan dark chocolate (we prefer over 70% cocoa)

1 tsp

 

Instant coffee

100ml

 

Boiling water

40g

 

Cacao powder

225g

 Billington's Unrefined Dark Muscovado Sugar

90g

 

Coconut oil

3 tbsp

 

Warm water

0.5 tsp

 

Xanthan gum

225g

 

Dove's Farm Buckwheat Flour
Utensils
20cm square baking tin

Mixing bowl

Spatula

Baking parchment
Recipe Reviews
They look the best brownies I have ever seen! They look as though they are very crumbly though, but as a whole they look delicious! The smell when they come out of the oven is to die for!😁
Nice and tasty, though mine crumbled a bit even though i used flaxseed instead of egg....
Ingredients
For the brownie

2 tbsp

 

Ground flaxseed

2 tsp

 

Gluten free baking powder

100g

 

Vegan dark chocolate (we prefer over 70% cocoa)

1 tsp

 

Instant coffee

100ml

 

Boiling water

40g

 

Cacao powder

225g

 Billington's Unrefined Dark Muscovado Sugar

90g

 

Coconut oil

3 tbsp

 

Warm water

0.5 tsp

 

Xanthan gum

225g

 

Dove's Farm Buckwheat Flour
Utensils
20cm square baking tin

Mixing bowl

Spatula

Baking parchment