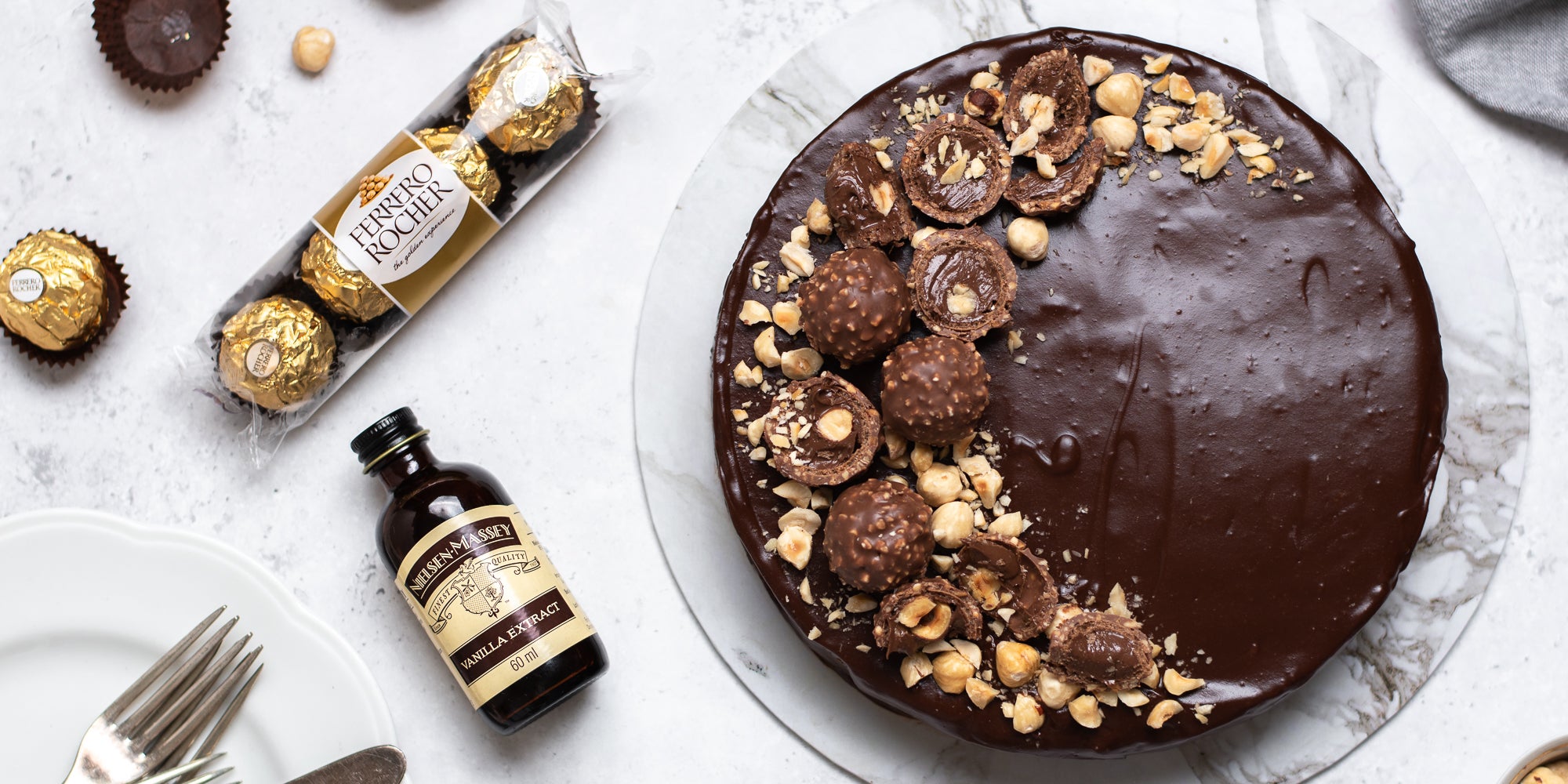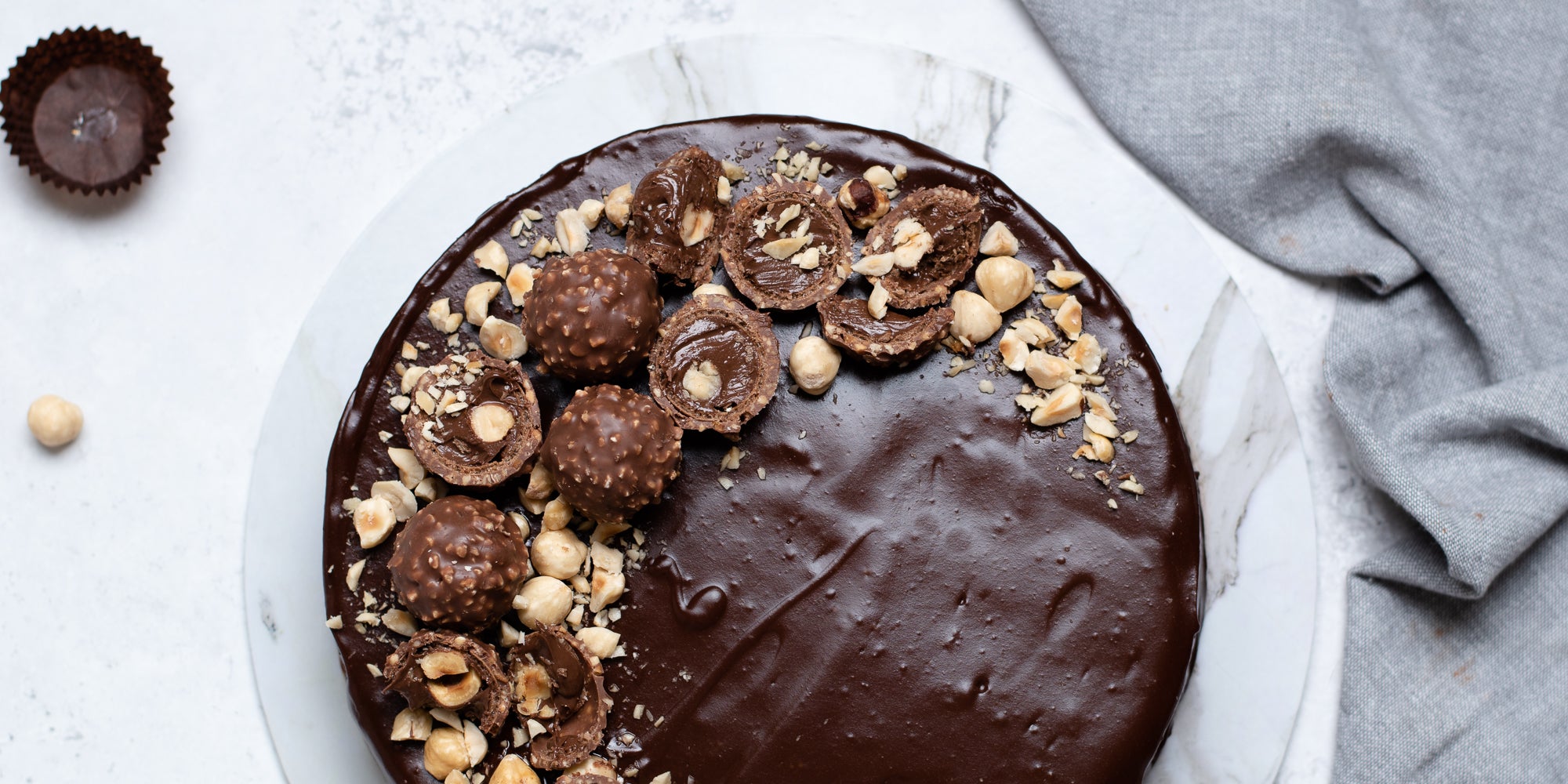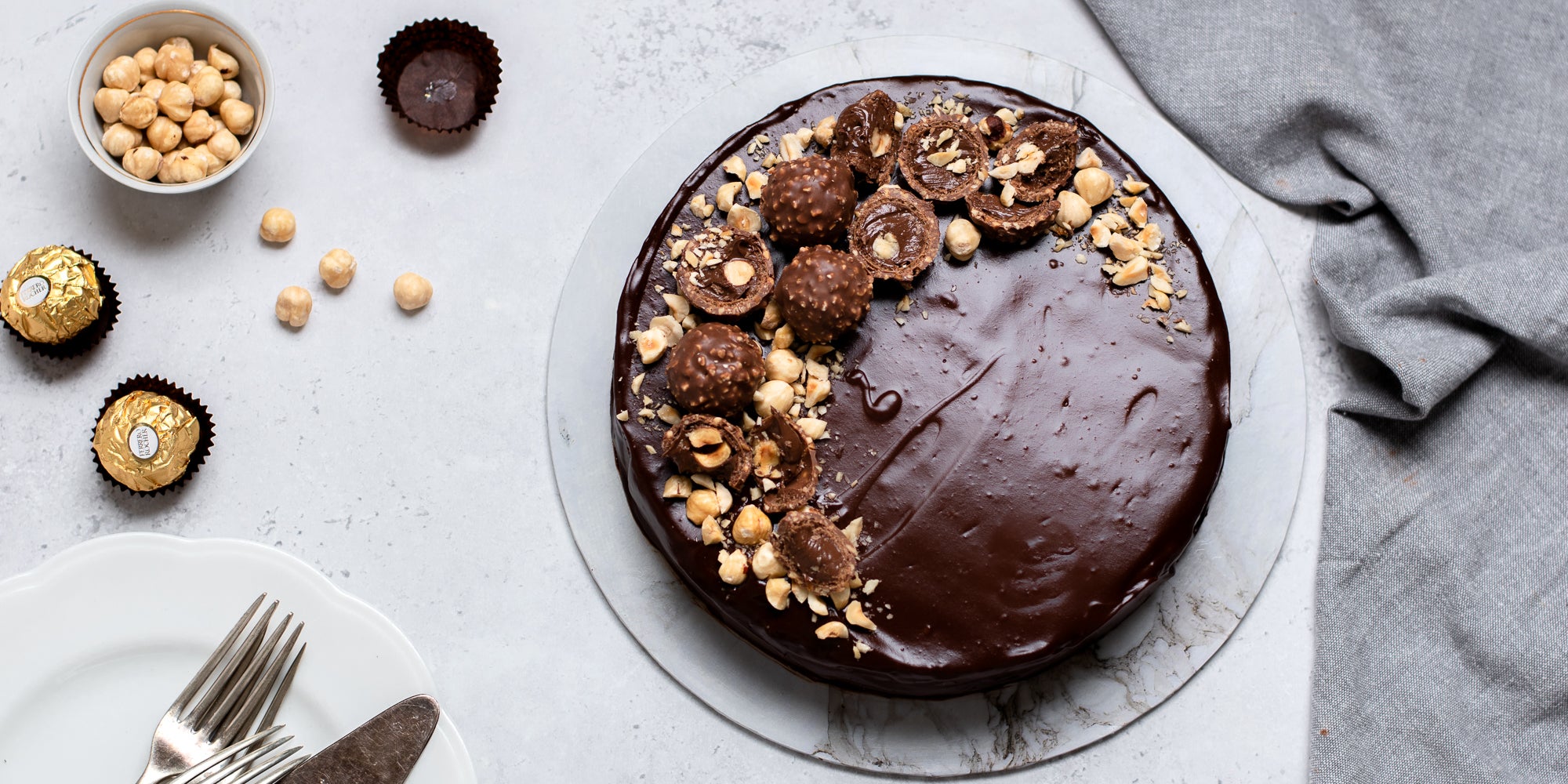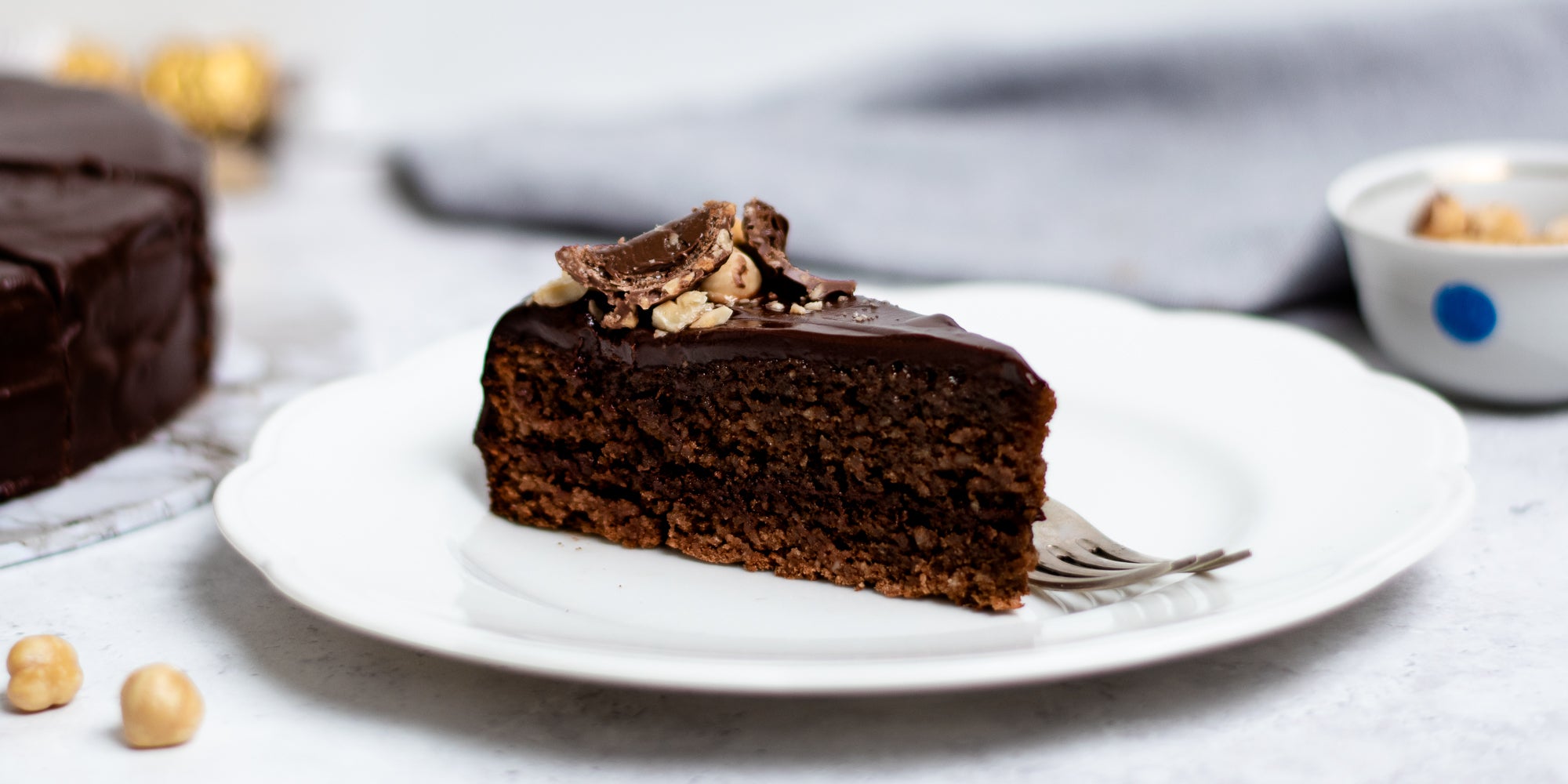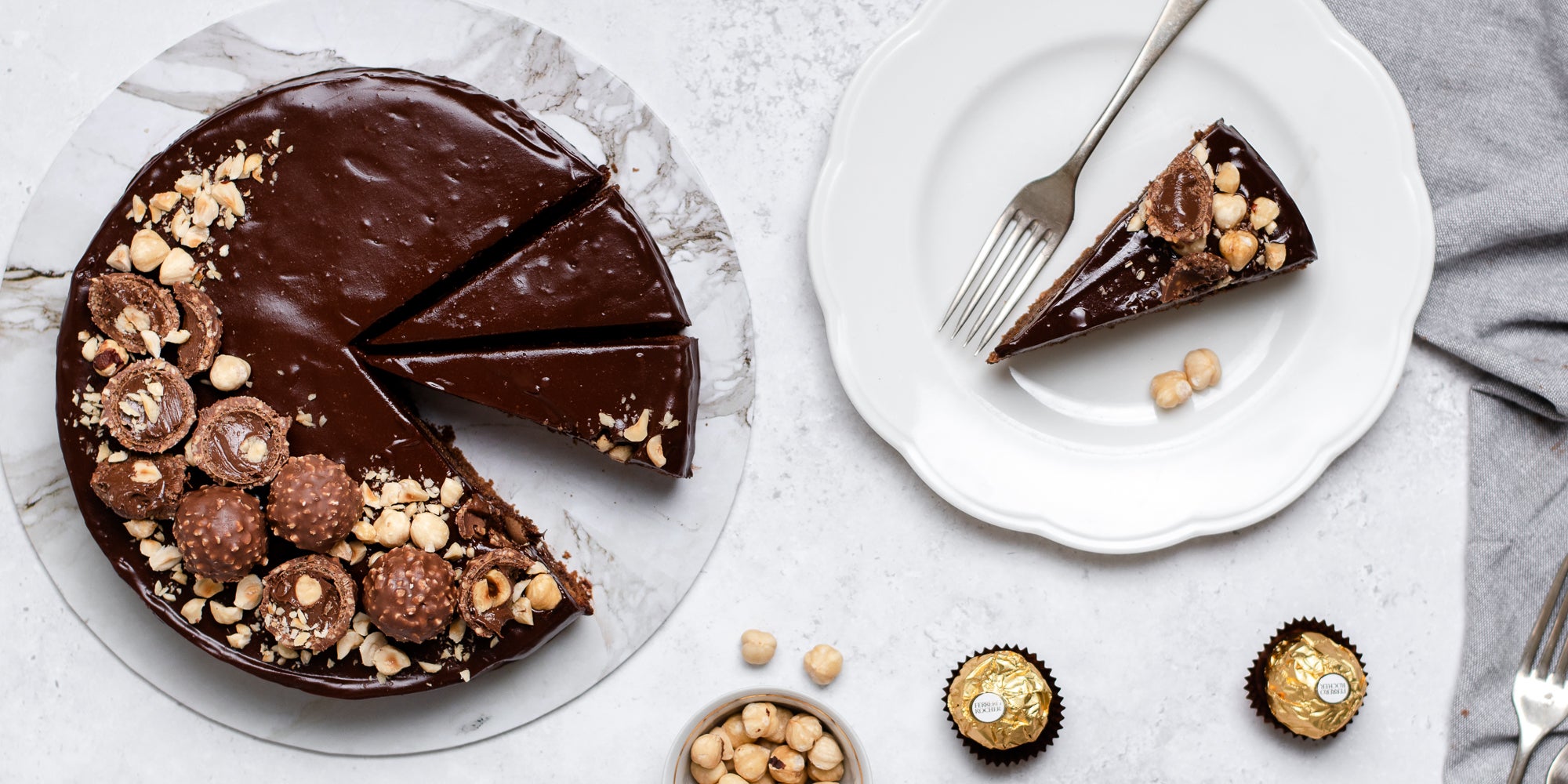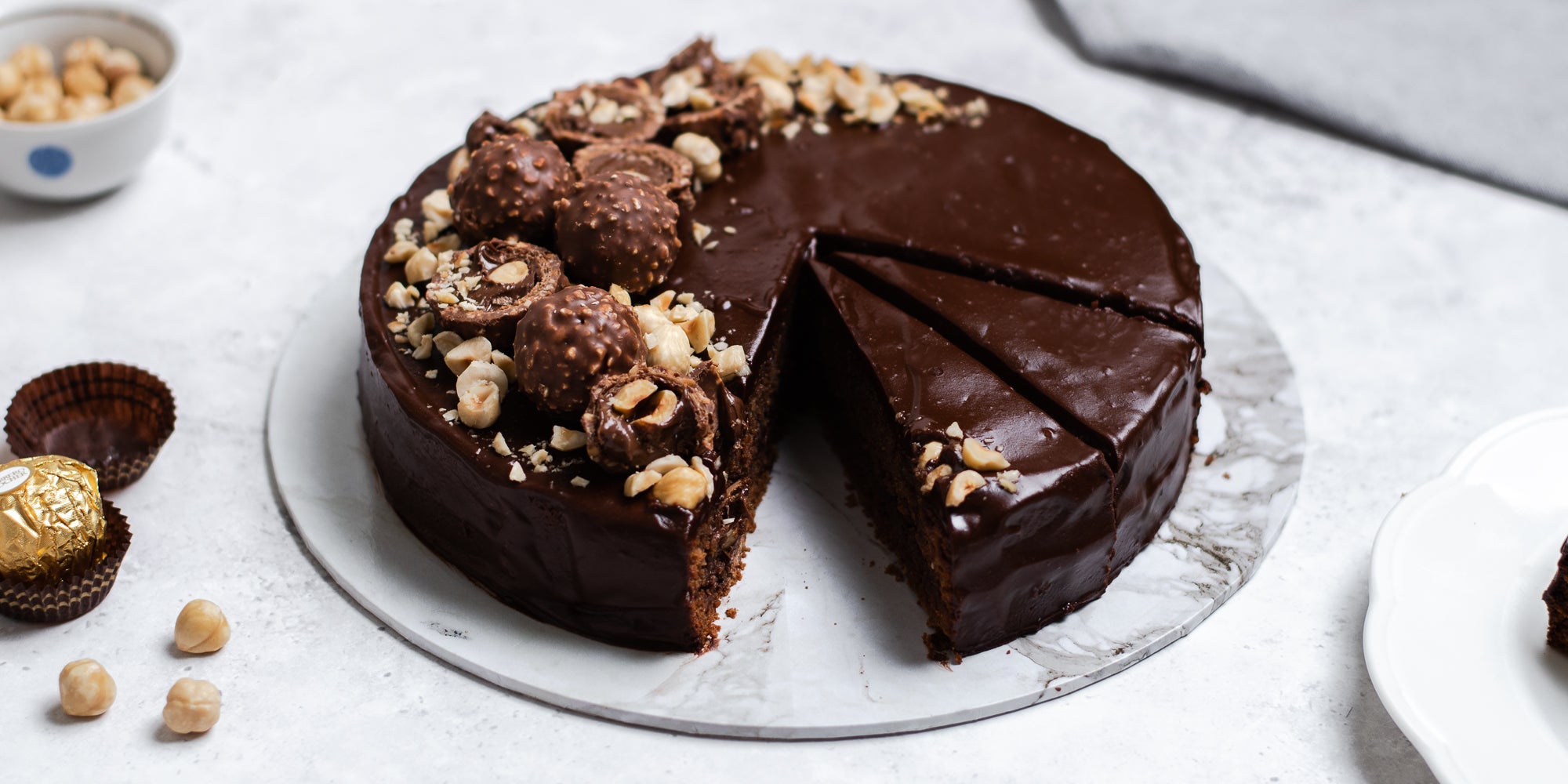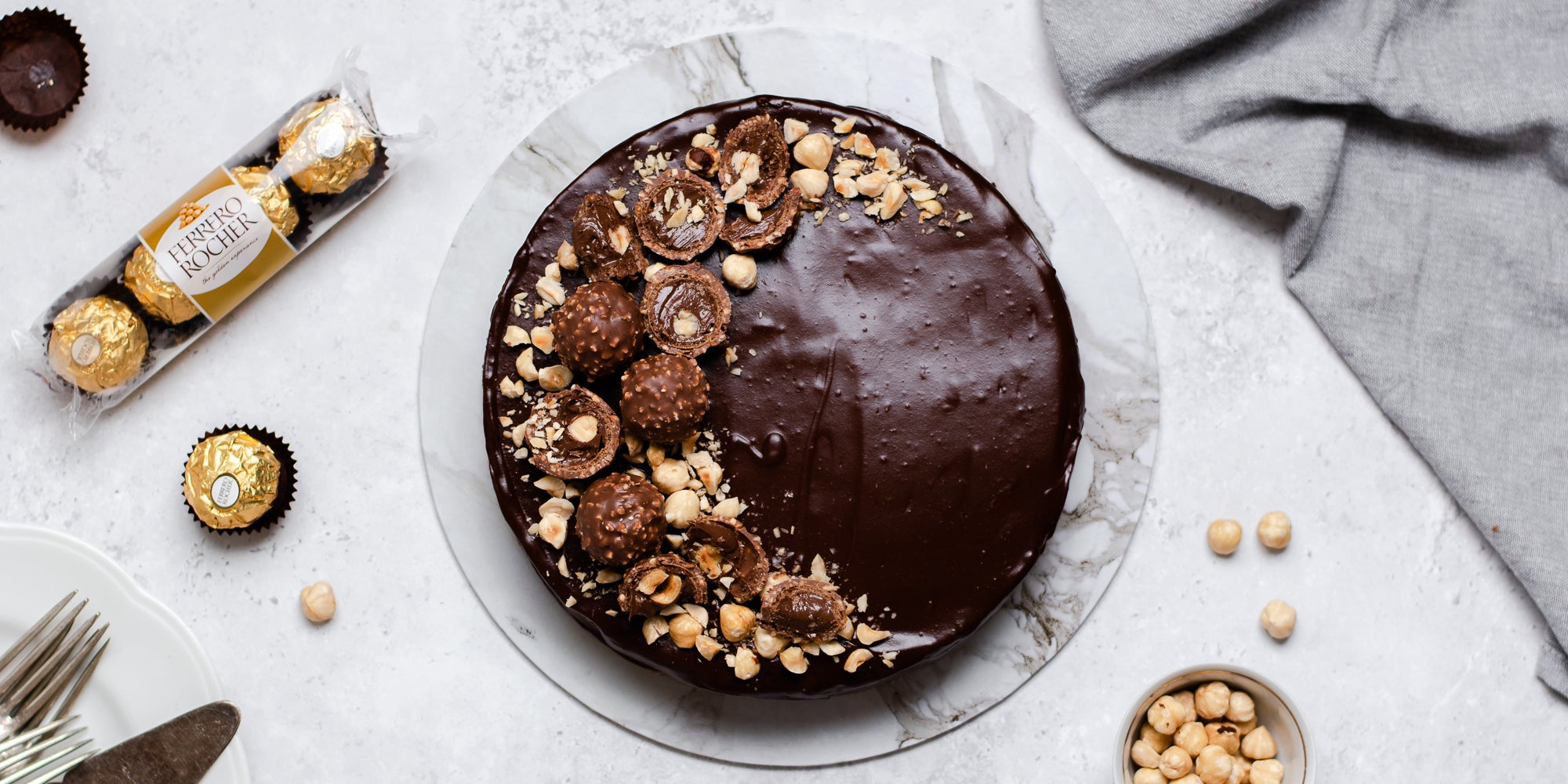 About the bake
Looking for a delicious gluten free treat? Look no further than this incredibly moreish chocolate truffle sachertorte. Made with ground almonds, this gluten free alternative locks in the moisture and gives a really smooth texture. Note: We have decorated this particular Sachertorte with Ferrero Rochers, however, these are not gluten free. We suggest finding a suitable gluten-free alternative.
Method
Step 1:

Preheat your oven to 180°C (160°C fan, 350°F, gas mark 4) Grease and base line a 20cm (8in) spring release tin.


Step 2:

Cut 125g of the butter into pieces and place in a bowl with the sugar and half of the broken up chocolate. Place the bowl over a pan of simmering water heat gently until all of the ingredients have melted.


Step 3:

Remove the bowl from the heat and allow to stand for 5 minutes. Beat in the egg yolks and vanilla extract, then stir in the ground almonds.


Step 4:

Whisk the egg whites until stiff. Stir about 45ml (3tbsp) of the egg white into the chocolate mixture to lighten it, then carefully fold in the remaining egg white.


Step 5:

Pour into the prepared tin and bake for about 40 minutes. Once cooked, let the cake stand in the tin for about 10 minutes, then turn out and cool on a wire rack. Once the cake is fully cool, slice the cake into two layers using a sharp knife or floss.


Step 6:

For the filling, mix together the icing sugar, butter, cocoa and water. Then spread over the cooled cake, sandwiching the two layers together.

Step 7:

Break the remaining chocolate into a saucepan. Add the orange liqueur and remaining butter and heat gently until melted. Stir well until smooth then pour over the cake. Spread with a palette knife so that the chocolate icing covers the top and sides of the cake. For a finishing touch decorate with chopped hazelnuts and Ferrero Roucher.

Ingredients
For the Cake

150g

 

Unsalted butter (softened)

200g

 

Dark chocolate (broken into pieces)

1 tsp

 Nielsen-Massey Vanilla Extract

150g

 Billington's Unrefined Golden Caster Sugar

4

 

Free range large egg yolk(s)

200g

 

Ground Almonds

4

 

Free range large egg white(s)

For the Filling

40g

 Silver Spoon Icing Sugar

20g

 

Cocoa powder (sifted)

30g

 

Unsalted butter (softened)

1 tbsp

 

Water

30ml

 

Orange liqueur

For the Decoration

6

 

Ferrero roucher (or gluten free alternative)

50g

 

Chopped hazelnuts
Utensils
20cm (8in) circular spring release tin

Sharp knife/floss
Recipe Reviews
Recipe calls for 150grams of butter. Instruction #2 is "Cut 125g of the butter into pieces and place in a bowl." What happened to the other 25g of the butter?
Hello,
That is added in in step 7,
Hope this helps
Happy Baking!
Hello, I just want to ask if preheat is needed?
Hi,
Yes preheat your oven at 180°C (160°C fan, 350°F, gas mark 4) before you begin baking.
Happy Baking
The Baking Mad Team
Sorry, please ignore previous comment. I just noticed your warning comment at the end about the Ferrero Rocher. With embarrassment... Avigail
This is a delightful looking recipe that I am keen to try. But it is misleading to have the Ferrero Rocher on top and still call it gluten-free. Ferrero Rocher have a wafer inside that is made of wheat...
This cake went down a storm! It is really tasty and rich without being over the top and it is easy to make - although I did muck up the outer chocolate layer (I think it had something to do with the drinking of the orange liqueur!) a bit.
Fab recipe, really moist and tasty, and so easy to make. However, please note that Ferrero Rocher are not gluten-free, so if you have coeliac disease or are allergic to wheat, please don't use them as decoration.
Ingredients
For the Cake

150g

 

Unsalted butter (softened)

200g

 

Dark chocolate (broken into pieces)

1 tsp

 Nielsen-Massey Vanilla Extract

150g

 Billington's Unrefined Golden Caster Sugar

4

 

Free range large egg yolk(s)

200g

 

Ground Almonds

4

 

Free range large egg white(s)

For the Filling

40g

 Silver Spoon Icing Sugar

20g

 

Cocoa powder (sifted)

30g

 

Unsalted butter (softened)

1 tbsp

 

Water

30ml

 

Orange liqueur

For the Decoration

6

 

Ferrero roucher (or gluten free alternative)

50g

 

Chopped hazelnuts
Utensils
20cm (8in) circular spring release tin

Sharp knife/floss