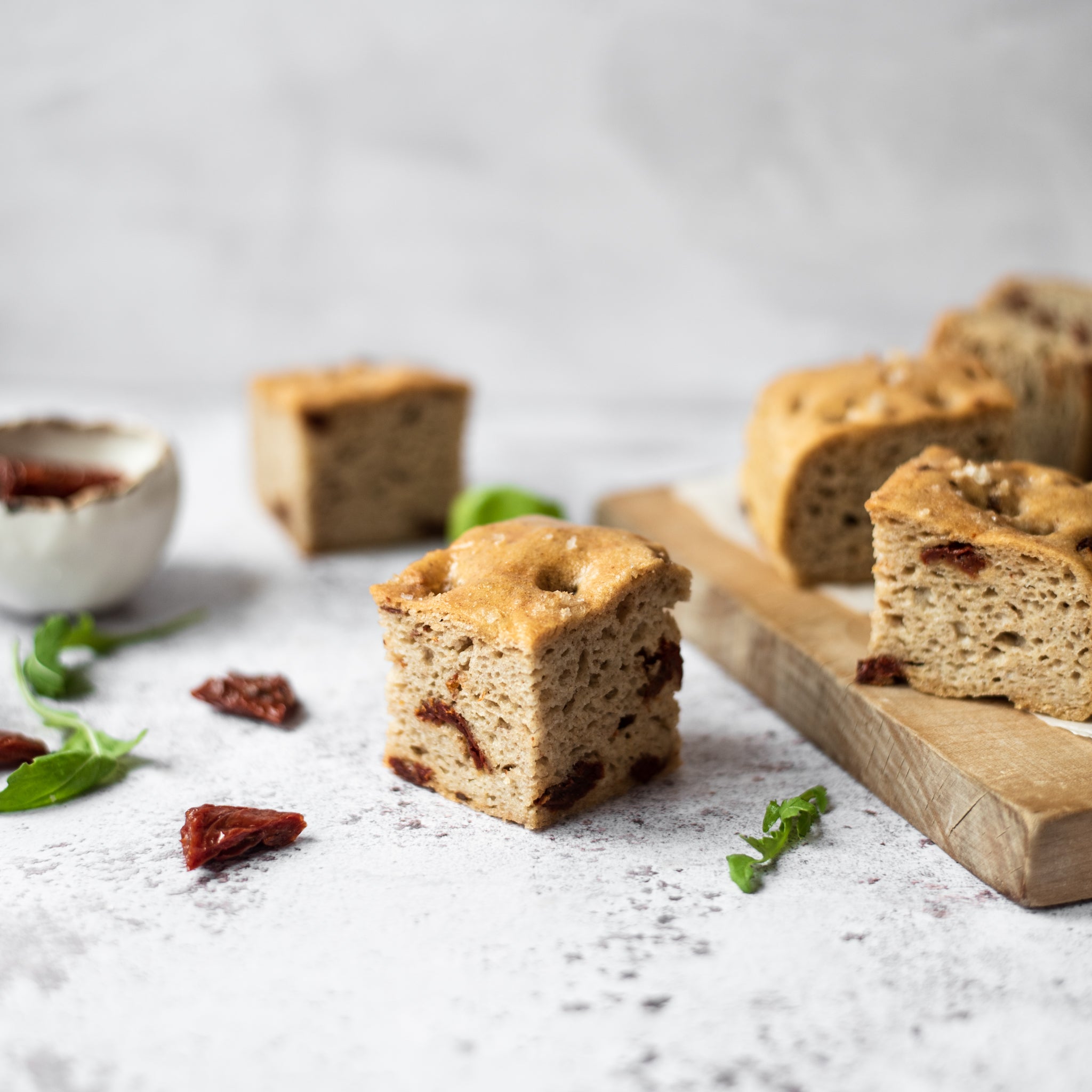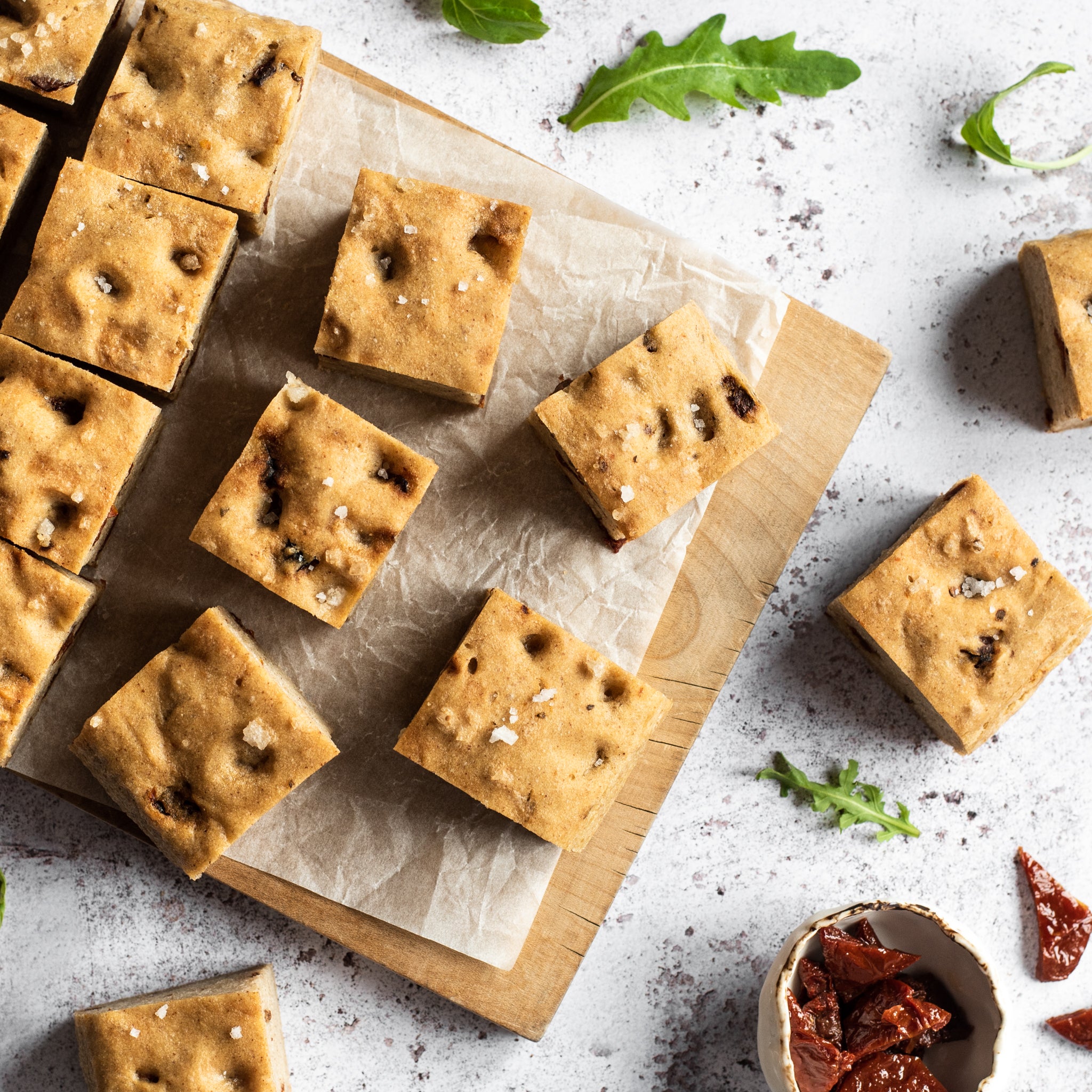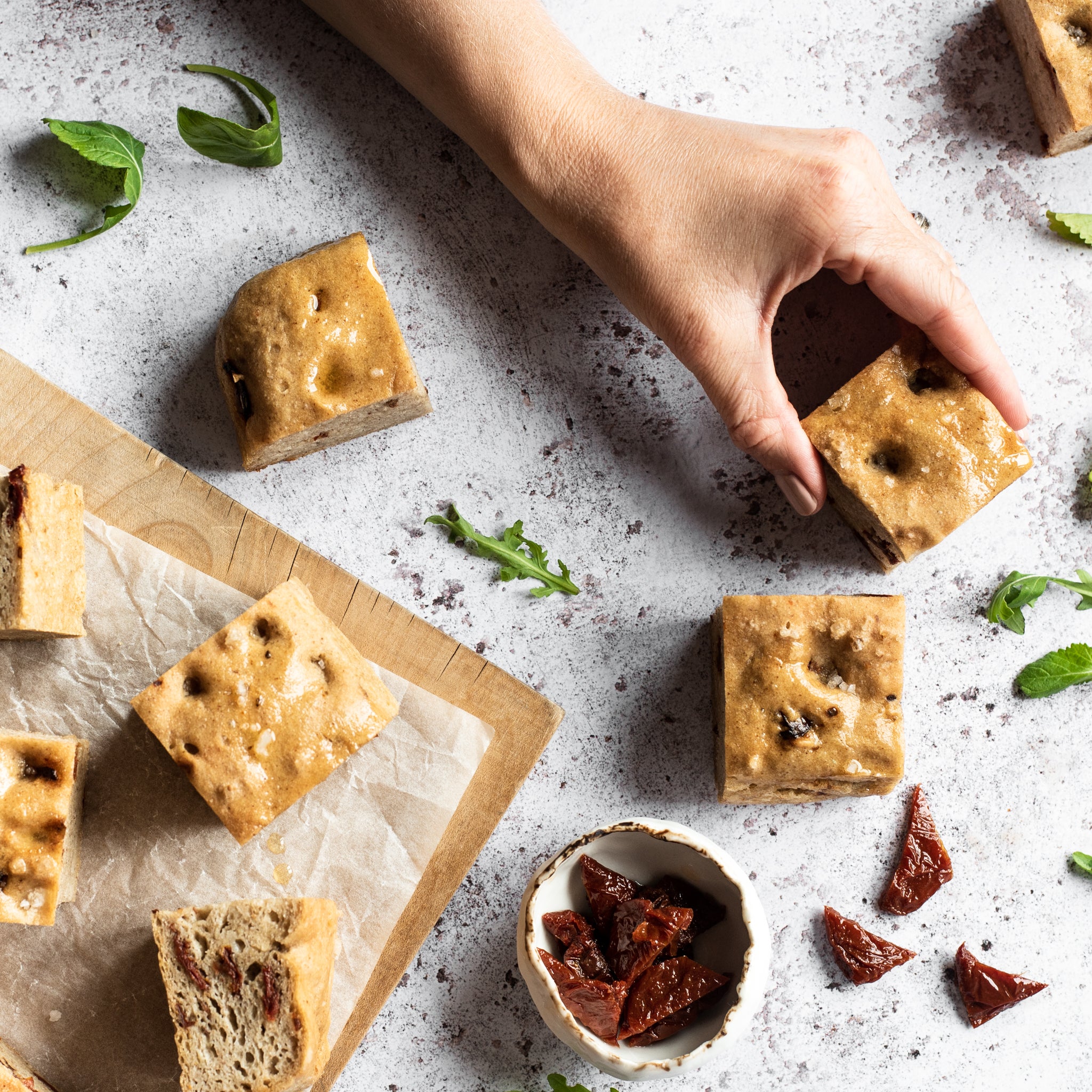 About the bake
This gluten free sundried tomato focaccia is a doddle to make. We've used gluten free buckwheat blend flour which is perfect for getting a rise out of breads. Rest assured bakers, taste and texture is not compromised with this gluten free alternative flour blend, and what's better, you can freeze your focaccia for zero waste! Seal in an airtight bag or container for up to 3 months. Defrost at room temperature and serve.
Method
Step 1:

Line the bottom of a 25cm square, deep sided tin with baking parchment and drizzle some olive oil over the paper.


Step 2:

To prepare the dough, stir the flour with the xanthan gum and dried yeast in a mixing bowl. Dissolve the salt in the water and add the cider vinegar, egg whites and olive oil. Make a well in the centre of the flour and pour in the liquid ingredients then combine the ingredients using a whisk. Stir in the chopped sundried tomatoes.


Step 3:

Scoop the soft dough into the prepared tin and spread out using the back of a wet spoon or spatula then wet your hands and pat the surface of the dough to smooth it out completely, you may have to wet your hands a few times. Dip your fingertips into water and press holes in the dough, all the way to the bottom, randomly across the dough. Wet your fingers again if they start to stick.


Step 4:

Drizzle olive oil over the surface of the dough, making sure all the holes are filled then sprinkle with flaked sea salt. Cover the dough with an oiled piece of cling film then set aside in a draught free place to rise until the mixture looks puffy (about 90 minutes at room temperature or 45 minutes in a proving drawer).

Step 5:

About 20 minutes before proving time is up, preheat the oven to 240°C/ 220°C/ Gas mark 9, place a roasting tray on the bottom of the oven to heat up.


Step 6:

Carefully pour half a cup of boiling water onto the hot tray in the bottom of the oven to create steam and place the focaccia on the shelf above. Bake for 20 minutes and then turn the temperature down to 220°C/ 200°C/ Gas mark 6 for a further 15 minutes, until the base is crisp. You can check this by carefully lifting it out of the tin using the baking paper.

Step 7:

Cool on a rack and wait to tear or slice it until it is only just warm. Wrap the loaf in parchment or a waxed cloth and freeze anything you won't eat within 24 hours.
Ingredients
for the bread

8g

 

Xanthan gum

1 sachet

 Allinson's easy bake or time saver yeast

7g

 

Salt

300ml

 

Luke warm water

2 tsp

 

Cider vinegar

2

 

Egg whites (from large eggs)

50ml

 

Olive oil

100g

 

Sundried tomatoes (in olive oil, drained weight)

1g

 

Flaked sea salt for sprinkling

350g

 

Dove's Farm Buckwheat Flour
Utensils
25cm square, deep sided tin (or something similar)

Mixer with a dough hook (optional)

Baking parchment
Recipe Reviews
My friend needs a gluten free diet and has been struggling to find a tasty bread - bought or otherwise - so when I saw this I thought it would be worth a try. I tried a little of it myself and thought is was tasty with a nutty flavour and a reasonably good crumb. I scaled up the recipe on this page to use the whole bag of flour and it made quite a large loaf (it would make two smaller loaves easily). My friend has just phoned and she says it is one of the best breads she has tasted since being diagnosed as having coeliac disease last summer. I'm off to buy more flour and I'm going to try the Teff Blend as well. Thank you Allinson's.
Ingredients
for the bread

8g

 

Xanthan gum

1 sachet

 Allinson's easy bake or time saver yeast

7g

 

Salt

300ml

 

Luke warm water

2 tsp

 

Cider vinegar

2

 

Egg whites (from large eggs)

50ml

 

Olive oil

100g

 

Sundried tomatoes (in olive oil, drained weight)

1g

 

Flaked sea salt for sprinkling

350g

 

Dove's Farm Buckwheat Flour
Utensils
25cm square, deep sided tin (or something similar)

Mixer with a dough hook (optional)

Baking parchment