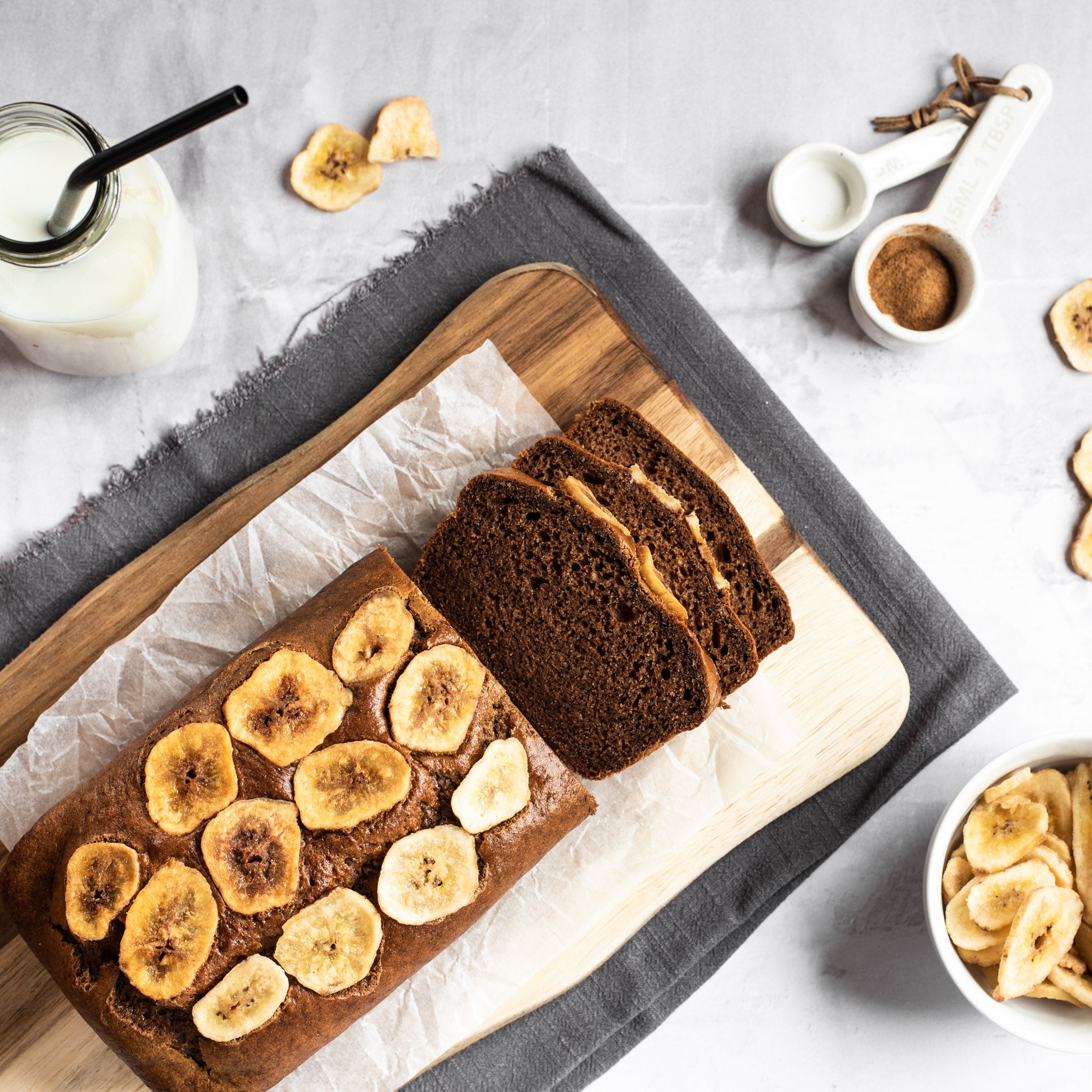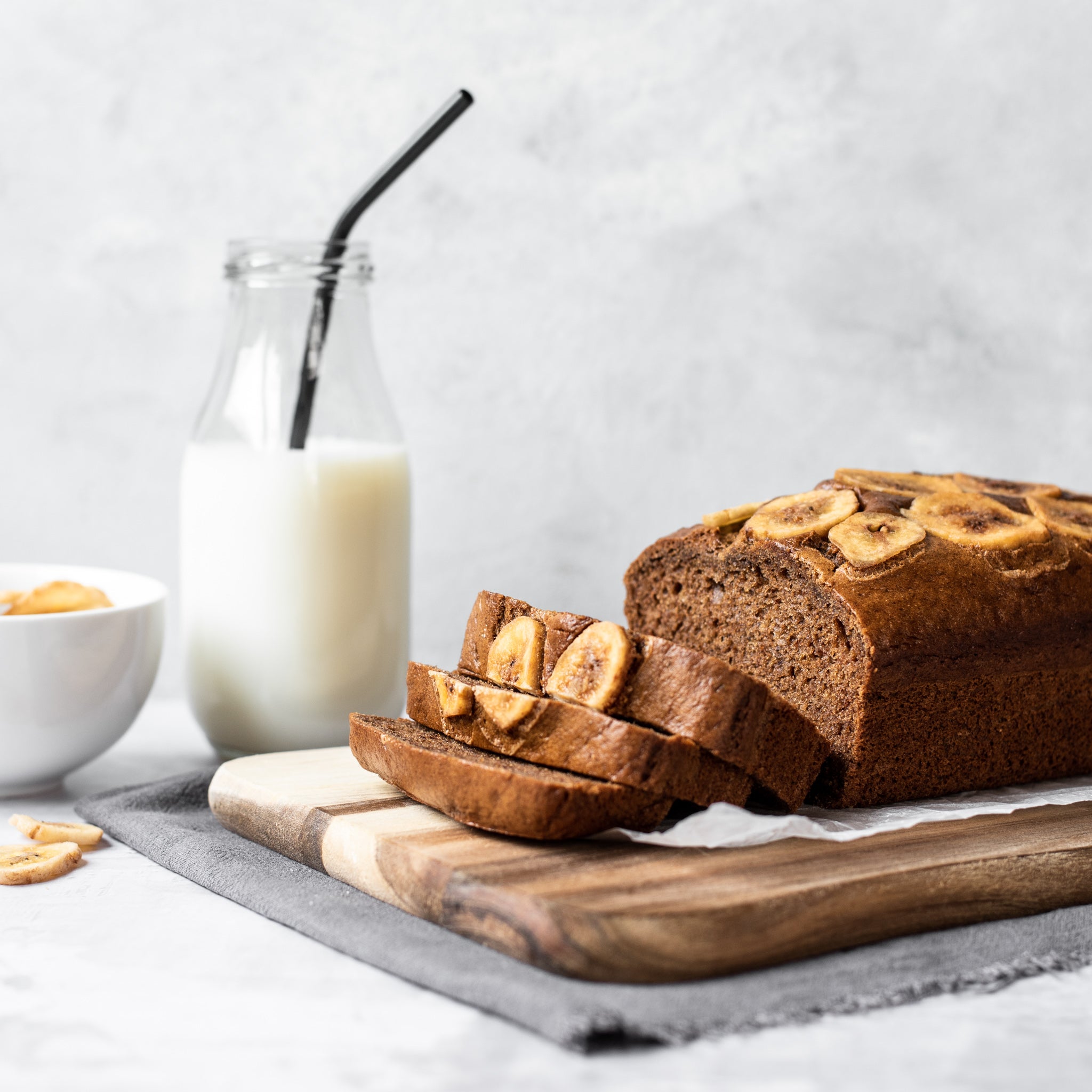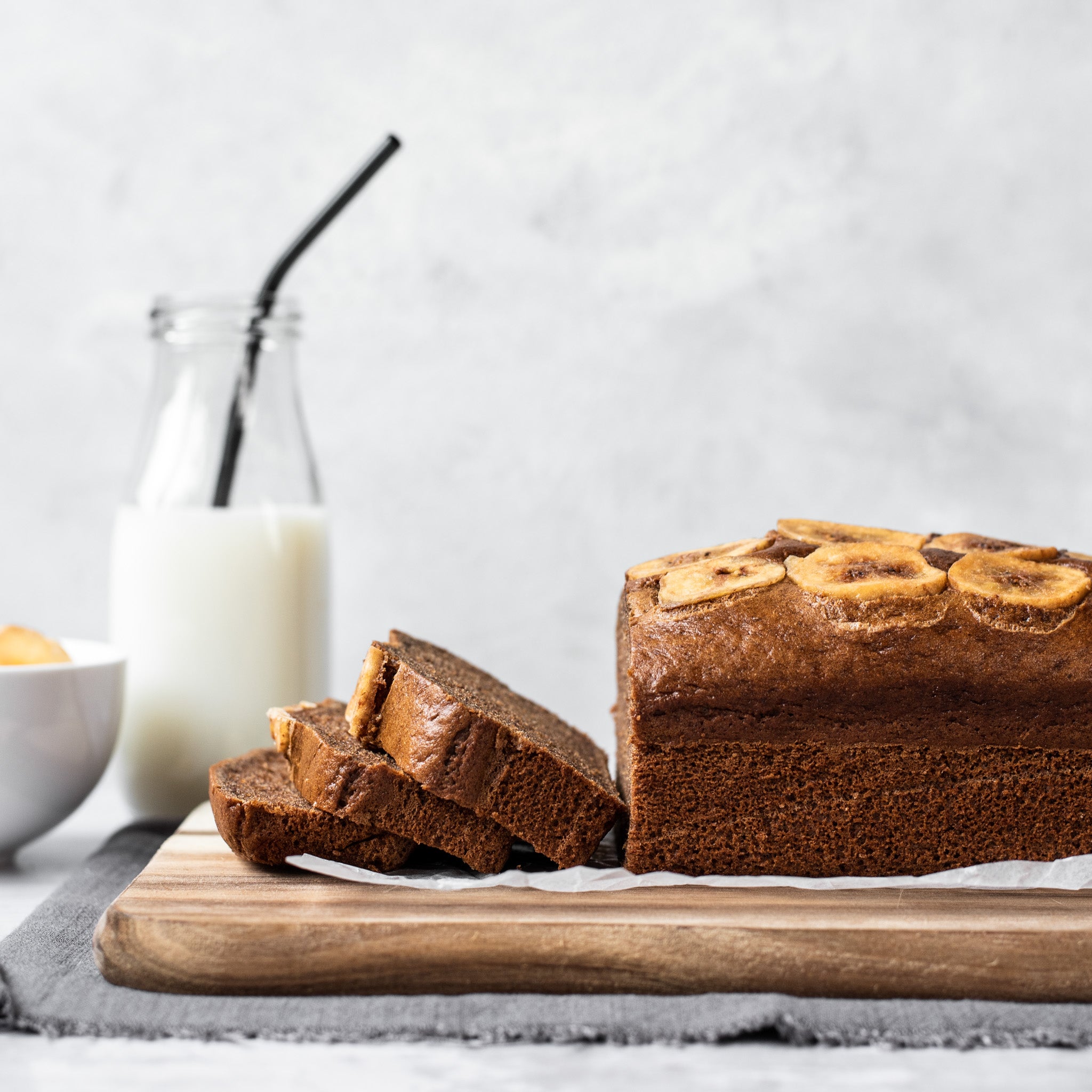 About the bake
This classic banana bread is made using gluten free teff blend which is full pf texture and a great alternative to standard flours for creating bakes such as this banana bread. This recipe doesn't contain any eggs or dairy either. This recipe is a timeless classic and perfect for any time of year and any time of day! Store in a container at room temperature and eat within 3 days.


For variety add a few chopped walnuts or pecan nuts to the cake batter before baking. If you enjoyed this recipe, we think you'll love our gluten free sponge cake.
Method
Step 1:

Preheat your oven to 170°C/ 150°C Fan / Gas mark 3 . Lightly grease and line a 900g (2lb) loaf tin with baking parchment.


Step 2:

In a food processor, blend the bananas with the oil, soya milk, lemon juice, vanilla extract and sugar.


Step 3:

In a separate bowl mix the flour, baking powder, bicarbonate of soda and cinnamon. Slowly pour the banana mixture into the flour mixture and mix well with a spoon or spatula to form a thick batter.


Step 4:

Transfer the batter into the prepared tin and top with the banana chips. Bake for 45 -50 minutes until well risen, firm to touch and when a skewer is inserted it comes out clean.


Step 5:

Allow the banana bread to cool for a few minutes in the tin then transfer to a wire rack to cool completely.

Ingredients
For the loaf

3

 

Bananas (ripe and mashed up)

1 tsp

 Nielsen-Massey Vanilla Extract

60ml

 

Light olive oil

90ml

 

Dairy free milk (soya or nut)

1 tbsp

 

Juice of one whole lemon

125g

 Billington's light muscovado sugar

180g

 

Dove's Farm Teff Flour Blend

1 tsp

 

Gluten free baking powder

1 tsp

 

Bicarbonate of soda

1.5 tsp

 

Ground cinnamon

Handful

 

Dried banana chips (to decorate)
Recipe Reviews
This is a horrible recipe!

The measurements are not correct leaving my bread tasting so bitter and acidic like!!

Very disappointed
Love this banana bread! I've frozen some so I can have a nice treat with a coffee every now and then.
This is just delicious, we made a double quantity in a bundt tin and it turned out perfect.
Very yummy. And I used my common sense by swapping cow's milk with oat milk to keep it dairy free. Thank you for the recipe
Ingredients
For the loaf

3

 

Bananas (ripe and mashed up)

1 tsp

 Nielsen-Massey Vanilla Extract

60ml

 

Light olive oil

90ml

 

Dairy free milk (soya or nut)

1 tbsp

 

Juice of one whole lemon

125g

 Billington's light muscovado sugar

180g

 

Dove's Farm Teff Flour Blend

1 tsp

 

Gluten free baking powder

1 tsp

 

Bicarbonate of soda

1.5 tsp

 

Ground cinnamon

Handful

 

Dried banana chips (to decorate)