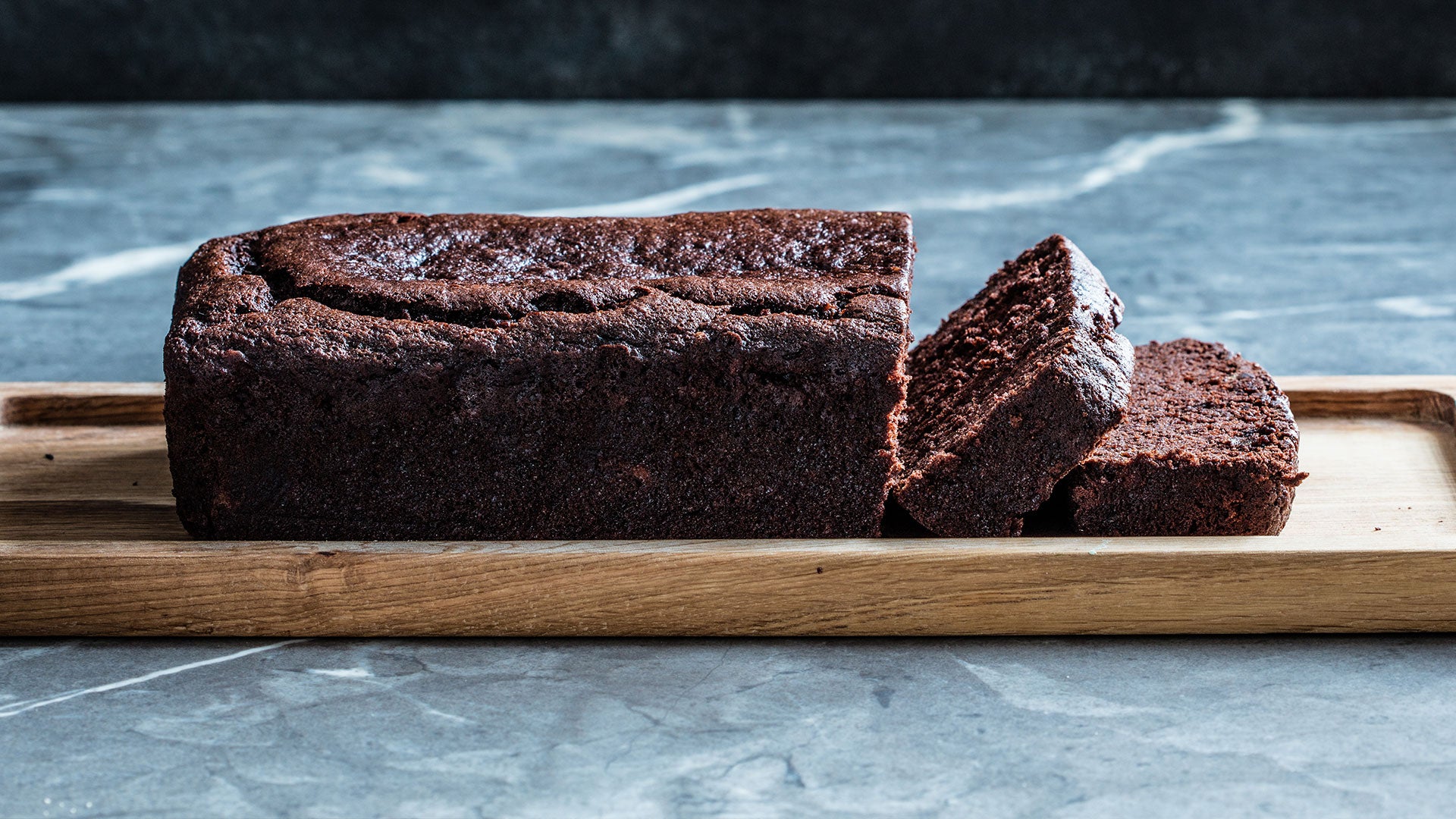 About the bake
Banana bread is a great solution to use up those leftover bananas. It also tastes delicious too, especially when combined with chocolate. This recipe is gluten free and suitable for vegans which is an added bonus.
Method
Step 1:

Preheat your oven to 180°C /160°fan / Gas Mark 4. Grease and line a 2lb loaf tin with parchment.


Step 2:

Sift together the flour, cocoa, baking powder, bicarbonate of soda and salt.


Step 3:

In another bowl mix together the sugars, oil, bananas, milk, vanilla and vinegar until there are no lumps of sugar left.


Step 4:

Combine the wet and the dry ingredients and mix to a smooth batter.


Step 5:

Pour into your prepared tin and level the top. Bake for 50 minutes and check for doneness, you may need an extra 5 minutes.


Step 6:

Allow to cool completely in the tin before slicing.

Ingredients
175g

 

Plain gluten free flour

60g

 

Cocoa powder

1 1/2 tsp

 

Gluten free baking powder

1/2 tsp

 

Bicarbonate of soda

1/2 tsp

 

Salt

100g

 Billington's Unrefined Dark Muscovado Sugar

120g

 Billington's Unrefined Light Muscovado Sugar

300g

 

Bananas (very ripe, mashed)

70ml

 

Vegetable oil

90ml

 

Soya or almond milk

1 tsp

 Nielsen-Massey Vanilla Extract

1 tsp

 

Apple cider vinegar
Utensils
2lb loaf tin

Parchment paper

Mixing bowl

Wire cooling rack
Recipe Reviews
Great Recipe, Cake tastes great and you would not even notice it is GF & Vegan. I think I reduced the cocoa powder though as it was a bit too much.

However for those who are gluten Free you need to be careful and sub White vinegar for a different vinegar as it is NOT GF as it contains Malt barley which contains gluten. I think I used whatever I had in the cupbaord, might have been cider vinegar and worked fine.
As I bake for a living I am very aware of allergens and luckily noticed this small mistake, as I was making this to sell.
Please edit your recipe as not everyone is aware.But overall happy with the recipe :)
I altered the recipe a bit (changed cocoa powder into more flour, and bananas into avocados) but everyone still loves it.
Yum the best easiest banana bread ever so moorish
Omg this recipe is so easy and tasty it is very moist would highly recommend the longer you leave it the better it is
Ingredients
175g

 

Plain gluten free flour

60g

 

Cocoa powder

1 1/2 tsp

 

Gluten free baking powder

1/2 tsp

 

Bicarbonate of soda

1/2 tsp

 

Salt

100g

 Billington's Unrefined Dark Muscovado Sugar

120g

 Billington's Unrefined Light Muscovado Sugar

300g

 

Bananas (very ripe, mashed)

70ml

 

Vegetable oil

90ml

 

Soya or almond milk

1 tsp

 Nielsen-Massey Vanilla Extract

1 tsp

 

Apple cider vinegar
Utensils
2lb loaf tin

Parchment paper

Mixing bowl

Wire cooling rack