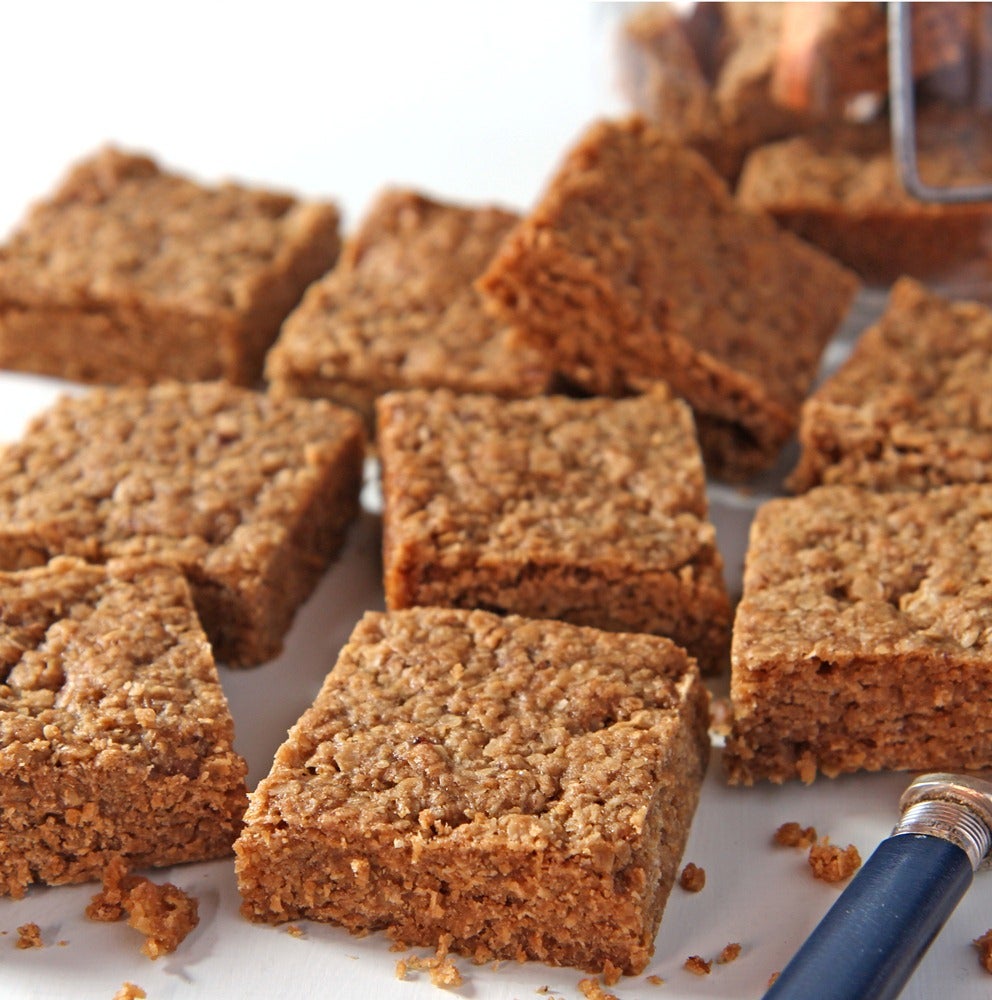 About our gluten free flapjack recipe
There are a lot of reasons to love flapjacks – how easy they are to make is definitely one of them! These gluten free flapjacks are so scrumptious and perfect for coeliacs to enjoy.
If you enjoyed this recipe, check out our gluten-free cupcakes.
Method
Step 1:

Preheat oven to 190°C (170°C, 375°F or gas mark 5). Lightly grease a shallow tin measuring approximately 30 cm x 18.5 cm or 13in x 7.5 in.

Step 2:

Melt the butter in a medium saucepan. Weigh out the sugar, then weigh the syrup by spooning it on top of the sugar. Add this to the melted butter and heat through to slightly dissolve the sugar.

Step 3:

Remove the pan from the heat and add the oats. Spread the mixture in the tin and pat down to make sure it is even. Bake for 20- 30 minutes until just golden brown.

Step 4:

Be careful not to over bake it as it will make the flapjacks too hard and
crunchy. As soon as you take them out of the oven cut them into bars and leave in the tin to cool.
Ingredients
170g

 

Unsalted butter (softened)

110g

 Billington's unrefined demerara sugar

55g

 

Golden syrup

225g

 

Gluten free porridge oats
Utensils
30 x 18.5cm

13in x 7.5in tin

Saucepan
Recipe Reviews
My husband loves these, very easy to make and very scrumptious to eat xx
These are so easy to make & so tasty. 😋
Recipe is fine but it made only 8 flapjacks and we're not a large family! Next time I'll double the quantities
We love them I only cooked them for 15 mins on 170c in fan assisted oven.
Ingredients
170g

 

Unsalted butter (softened)

110g

 Billington's unrefined demerara sugar

55g

 

Golden syrup

225g

 

Gluten free porridge oats
Utensils
30 x 18.5cm

13in x 7.5in tin

Saucepan