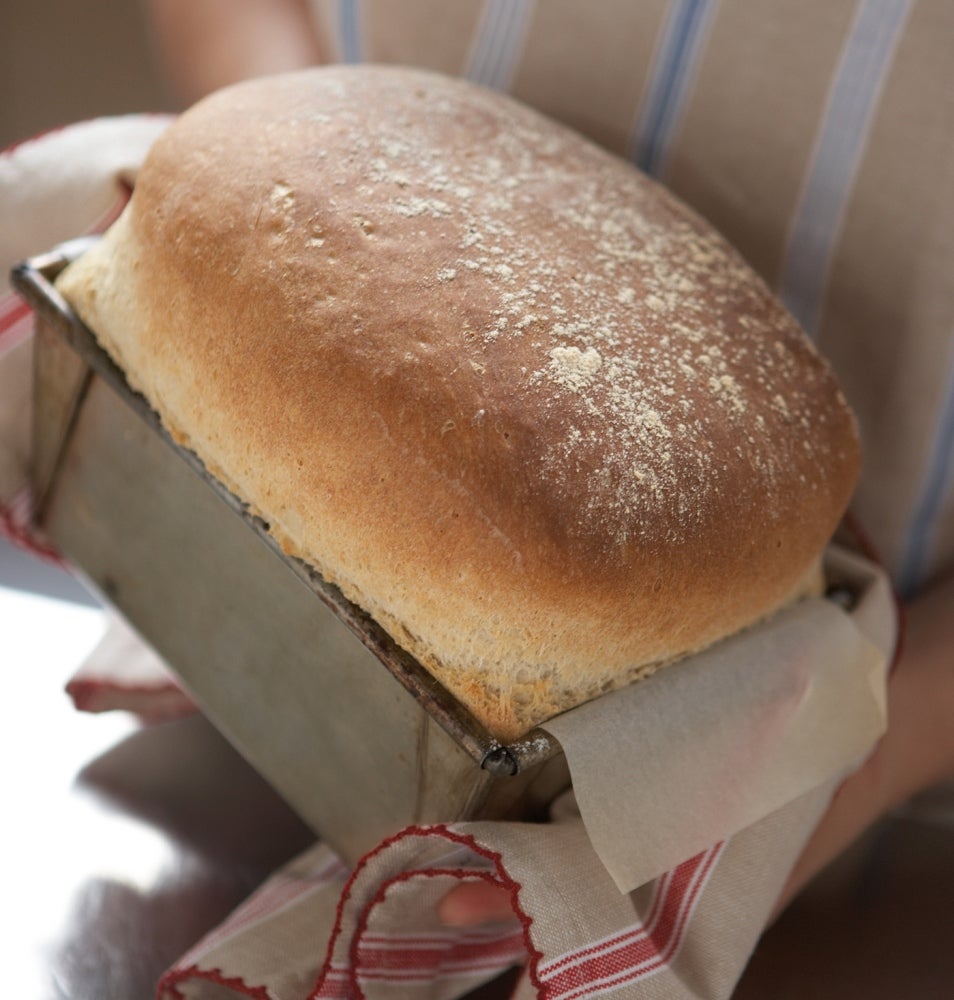 About the bake
Why not try this handbaked traditional white loaf, make it for lunch or for breakfast. Once you make you're own bread and smell that fresh baking smell you won't go back to buying shop bought bread!
Method
Step 1:

Place 150ml warm water (1 part boiling water and 2 parts cold water) in a 600ml measuring jug. Sprinkle over the yeast and sugar, whisk well and leave in a warm place until the yeast froths up about 1 cm. This will take about 15 minutes.


Step 2:

Mix the flour and salt in a large bowl. Rub in the butter or stir in the oil. Stir in the yeast and a further 150ml of hand hot water. Mix together until a soft dough starts to form. Turn the dough onto a lightly floured surface. Knead until smooth and elastic, this can take up to 10 minutes.


Step 3:

Return the dough to the mixing bowl and cover with cling film or a damp tea towel. Leave in a warm place until doubled in size. Ideally in a a warm kitchen or airing cupboard, or near a warm oven.

Step 4:

Pre-heat your oven to 230°C (210° fan, 450°F, gas mark 8). Lightly oil a 900g /2 lb bread tin.

Step 5:

Turn the dough on to the work surface again, punch back the dough and knead for 5-10 minutes. Shape the dough into a loaf shape to fit the tin and place in the tin. Cover with a damp tea towel or oiled cling film and allow to rise in a warm place until it has doubled in size and has come to the top of the tin.

Step 6:

Sprinkle the dough with a little flour to create a crisp, rustic coating on top of the bread. Place in the centre of the pre-heated oven and bake for 15 minutes then reduce the oven temperature to 200°C (180°C fan, gas mark 6) and cook for a further 15-20 minutes until the bread is risen and golden brown and sounds hollow when tapped underneath

Step 7:

For rolls, bake just for 15-20 minutes at 230°C (210°C Fan, 450°F, gas mark 8). Turn out the bread and cool on a wire rack .
Ingredients
12g

 

Allinson's dried yeast

1 tsp

 Silver Spoon Caster Sugar

500g

 Allinson's Strong White Bread Flour

1 tsp

 

Salt

15g

 

Unsalted butter (softened)

300ml

 

Warm water
Utensils
Measuring jug

Tea towel/cling film

Large mixing bowl

2lb loaf tin
Recipe Reviews
I've made a few recipes over the years but this one is fantastic! Came out incredibly soft with a crispy edge. Delish!!
First time I've made this recipe and I'm really happy. They were easy to make and super tasty. I will definitely make this my new go-to recipe. The only downside is it didn't last very long with my hungry family...LOL now to make more!
Very impressed with the results I got from this recipe. Thank you
Love this recipe. 1st time I split the mixture (6 buns and 1 small loaf). I find I have to knead it for longer than 10 mins and occasionally add a couple of drops of water. It's much less sticky and messy than other recipes I've tried. I can knead this on my countertop without any flour or oil. Also like activating the yeast, it seems to rise really well. Today I did half and half of white and country grain flour. I added 1g more yeast and a smidgen of sugar as I find brown or grain bread doesn't rise as well. Making 12 buns - hopefully a success! Will report back but the first rise is looking great.
First time I've made bread since leaving school 40 years ago.
This was so simple a recipe to follow, and wonderful results. The loaf looks like I've just bought it from the bakers, and it tastes fantastic. Feeling very proud of myself. This is definitely going to be a weekly bake.
Going to try a homemade pizza today.
Wonderful, excellent - I have used this recipe numerous times now since lockdown,
Ingredients
12g

 

Allinson's dried yeast

1 tsp

 Silver Spoon Caster Sugar

500g

 Allinson's Strong White Bread Flour

1 tsp

 

Salt

15g

 

Unsalted butter (softened)

300ml

 

Warm water
Utensils
Measuring jug

Tea towel/cling film

Large mixing bowl

2lb loaf tin