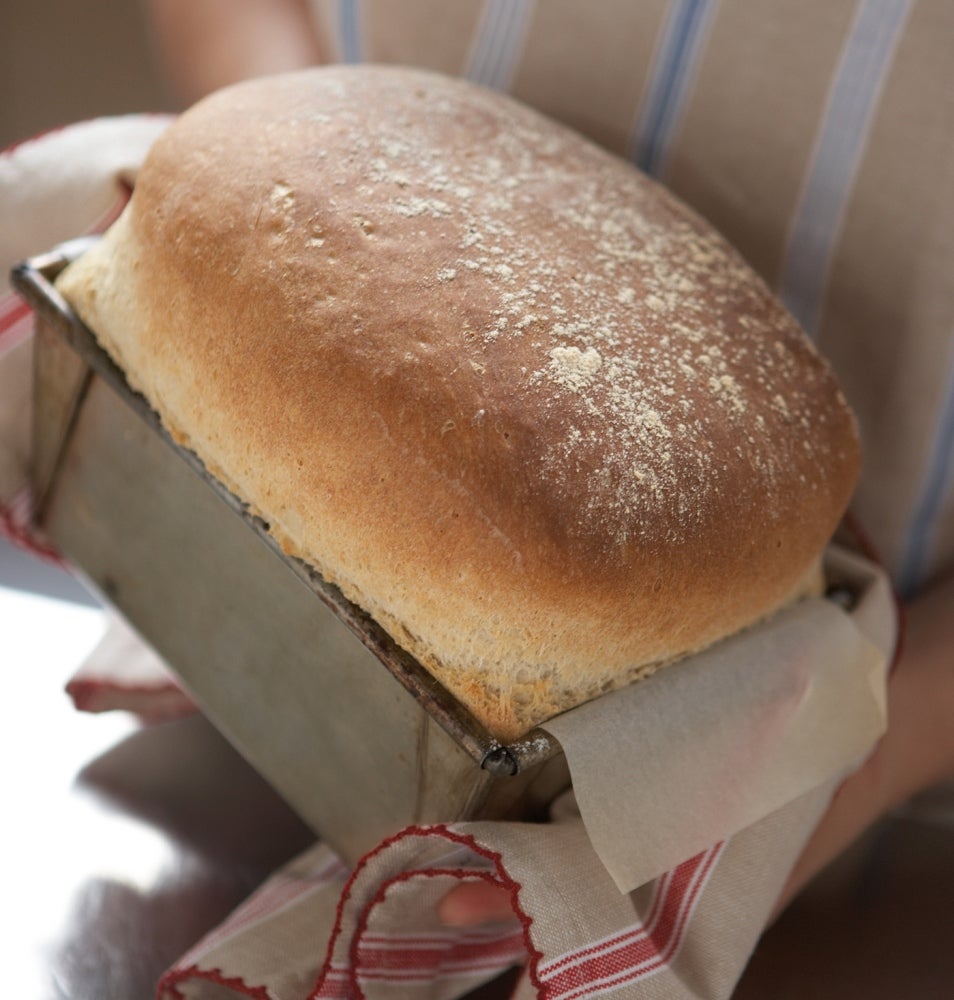 About the bake
Why not try this handbaked traditional white loaf, make it for lunch or for breakfast.
Once you make your own bread and smell that fresh baking smell you won't go back to buying shop bought bread!
If you enjoyed this recipe, give our white bread rolls a try!
Method
Step 1:

Place 150ml warm water (1 part boiling water and 2 parts cold water) in a 600ml measuring jug. Sprinkle over the yeast and sugar, whisk well and leave in a warm place until the yeast froths up about 1 cm. This will take about 15 minutes.


Step 2:

Mix the flour and salt in a large bowl. Rub in the butter or stir in the oil. Stir in the yeast and a further 150ml of hand hot water. Mix together until a soft dough starts to form. Turn the dough onto a lightly floured surface. Knead until smooth and elastic, this can take up to 10 minutes.


Step 3:

Return the dough to the mixing bowl and cover with cling film or a damp tea towel. Leave in a warm place until doubled in size. Ideally in a a warm kitchen or airing cupboard, or near a warm oven.

Step 4:

Pre-heat your oven to 230°C (210° fan, 450°F, gas mark 8). Lightly oil a 900g /2 lb bread tin.

Step 5:

Turn the dough on to the work surface again, punch back the dough and knead for 5-10 minutes. Shape the dough into a loaf shape to fit the tin and place in the tin. Cover with a damp tea towel or oiled cling film and allow to rise in a warm place until it has doubled in size and has come to the top of the tin.

Step 6:

Sprinkle the dough with a little flour to create a crisp, rustic coating on top of the bread. Place in the centre of the pre-heated oven and bake for 15 minutes then reduce the oven temperature to 200°C (180°C fan, gas mark 6) and cook for a further 15-20 minutes until the bread is risen and golden brown and sounds hollow when tapped underneath

Step 7:

For rolls, bake just for 15-20 minutes at 230°C (210°C Fan, 450°F, gas mark 8). Turn out the bread and cool on a wire rack .
Ingredients
15g

 

Allinson's dried yeast

1 tsp

 Silver Spoon Caster Sugar

500g

 Allinson's Strong White Bread Flour

1 tsp

 

Salt

15g

 

Unsalted butter (softened)

300ml

 

Warm water
Utensils
Measuring jug

Tea towel/cling film

Large mixing bowl

2lb loaf tin
Recipe Reviews
Easy recipe to follow. The bread was a huge hit with my family.
Best recipe in the world 🌎 🌎🌍🌏🌎🌍🌏🌎🌍🌏🌏🍞🍞🥖🍞🥖🍞🍞🍞🥖🍞🥖🥖🍞🥖🍞🍞🥖
I'm just letting it prove now it getting bigger when I made focaccia last time it did not even double this recipe is amazing I'm soo lucky I found it.
I love making this bread, always turns out great. It never lasts long!
I haven't baked bread in ages and wanted to check the amount of Allison's dried active yeast to use as various of my bread recipes said to use different amounts. I tried this recipe today and it has worked beautifully. The loaf tastes delicious and has a lovely crust.
I used 15g yeast as per the recipe and it has made a very well risen and soft textured loaf.
The short video was helpful to show roughly how wet it needs to be and to remind me how to knead. So lovely to have the smell of fresh bread in the house and therapeutic to make it too. I will definitely be baking it again!
Ingredients
15g

 

Allinson's dried yeast

1 tsp

 Silver Spoon Caster Sugar

500g

 Allinson's Strong White Bread Flour

1 tsp

 

Salt

15g

 

Unsalted butter (softened)

300ml

 

Warm water
Utensils
Measuring jug

Tea towel/cling film

Large mixing bowl

2lb loaf tin